The Country Living Fair is full of things to see and buy and learn. I don't know about you, but when I go to these things, I get fatigued pretty quickly. Too much visual stimulation, I guess. And people. I got there early because I have an Early Bird Pass and it was so much saner at 8:30. By 11:00 or so the crowds were very big and trying to see anything in a booth was liking trying to run a gauntlet. I was Instagramming all day long, so you've seen some pics if you follow my feed. I was also using my big girl camera, so I have lots to share with you but I'm too tired to sort through it all today. I'll start posting photos of the Fair on Sunday.
Today I'm going back primarily to hear my two pals, Heidi and Elyse, give presentations, as well as do a quick meet-up with the Hometalk group of bloggers. I'll probably go early again (got a good parking space that way) and take my Kindle along in case I need to kill time.
One thing I noticed was that things seemed pricey. I suppose that's the nature of the game, price up and give a discount if someone asks for a better deal. But a lot of the items I saw I knew I could find around here for much less money. That being said, the inventory vendors were selling was amazing, with much that made my heart go pitter-pat. I kept thinking that it would be perfect if one was able to save up a $1000 or so in time for the Fair. As you know, my budget is nada, but I did buy a piece of miniature pottery. I'll show it to you soon. It only cost me $6.00. I figure that's a good deal!
But here's the big news (at least, to me)….look what I saw when I got home!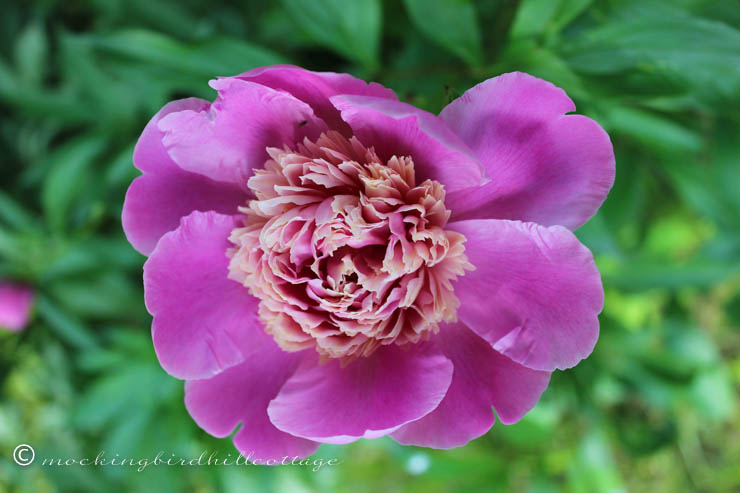 One of the two peony bushes has started to bloom! I ran down there with my camera to take some photos, but not before I inhaled the heavenly scent. Those of you who are long-time readers of this blog know that peonies are my favorite flowers. I was thrilled to discover two long-established bushes on this property. In fact, they'd just finished blooming when I first saw the cottage.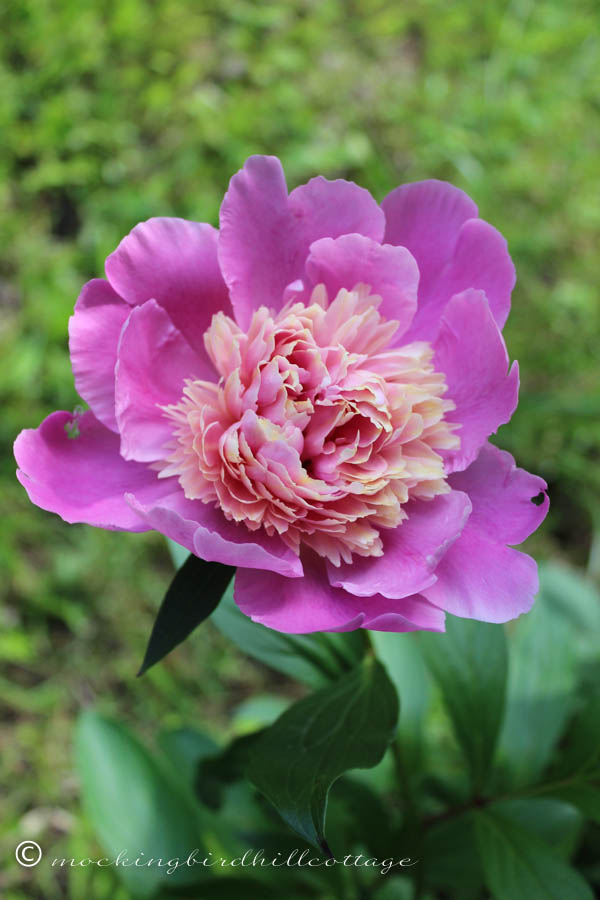 This particular bush is under a tree that has matured a lot in the past 9 years and I was worried it wouldn't bloom because a lot of it is in shade now. But it came through.
The other bush is just about to bloom. It's going to be warm this weekend so I would say within the next 2 days.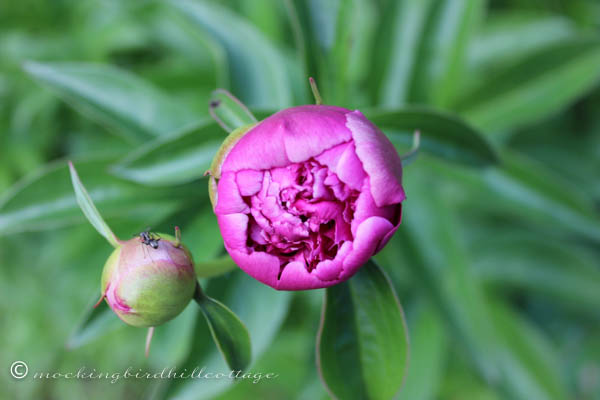 See? That bud is just yearning to open.
My first day lily bloomed today, too.
I love my garden.
Happy Saturday.