Before I get in to my visit to Chautauqua Miniatures, I want to take a moment to thank you for the outpouring of messages on Don's birthday. It just confirms what I already know: you are the best! Don thanks you from the bottom of his heart. He loved reading them. As for his day, he played the guitar and drove to a new Mexican restaurant he had discovered to treat himself to a birthday dinner. Don, a San Diego native who grew up on Mexican food, is always in search of a good Mexican restaurant and this one is the first he has found in our area that meets his standards.
In honor of his birthday, I treated myself to a delicious veggie burger and fries on the grounds of Chautauqua.
Hey, why not?
Now, onto Chautauqua Miniatures. Let me say right off the bat that the interior photos are not at all good. I've done the best I can with them. But the iPhone, while quite wonderful outdoors, is not so good indoors, especially when the room is relatively dark. So the photos are slightly blurry. Normally, I would have trashed these but I know you want to see the shop. (Wishing I had my big girl camera yet again!)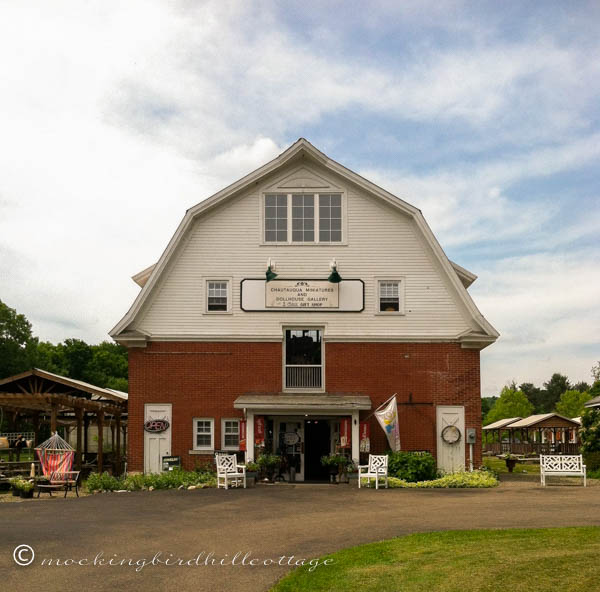 The shop is just down the road from the Chautauqua Institution. I could have walked there had I wanted to. It's in an old barn and is surrounded by pretty gardens and (this is for you, Meredith) two yarn shops. The owners of Chautauqua Miniatures also carry decorative items for the home and toys in their space.
Let's go inside.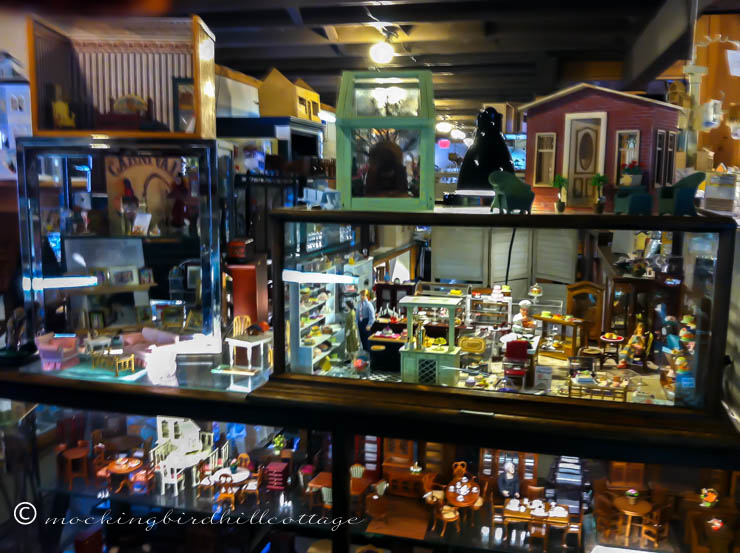 There are display cases everywhere in the shop that are full of miniatures. Some of them are designed by artisans and are truly spectacular. (I asked the owner for permission to photograph the shop and we agreed not to show closeups of the artisan pieces, as the artists don't want their ideas copied.)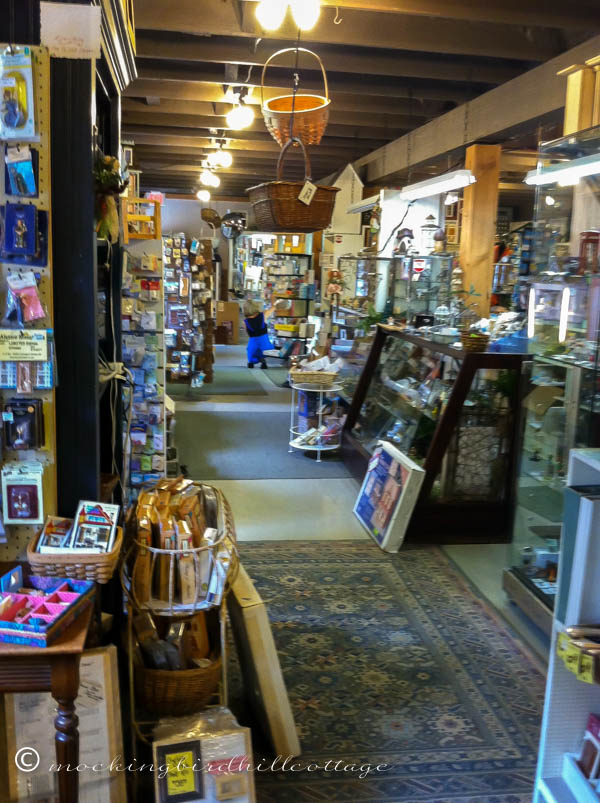 Everywhere you turn, there are miniatures. That's one of the owners in the back, putting something in a display case.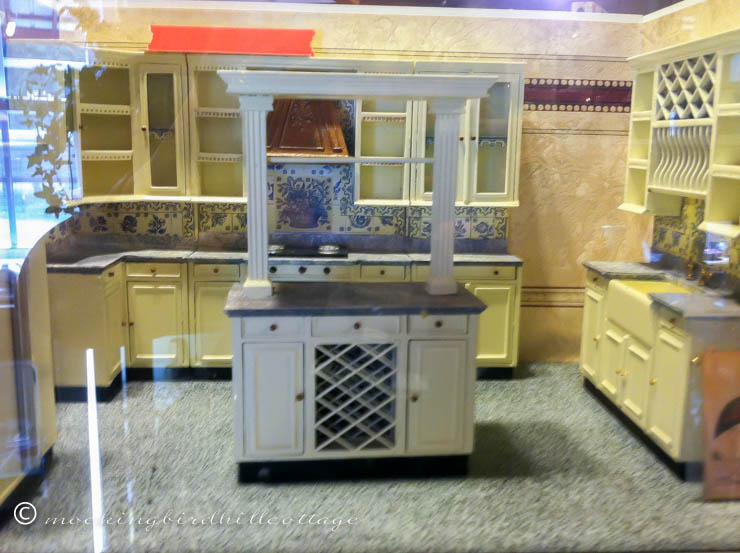 This kitchen was on display in a room box. Loved it.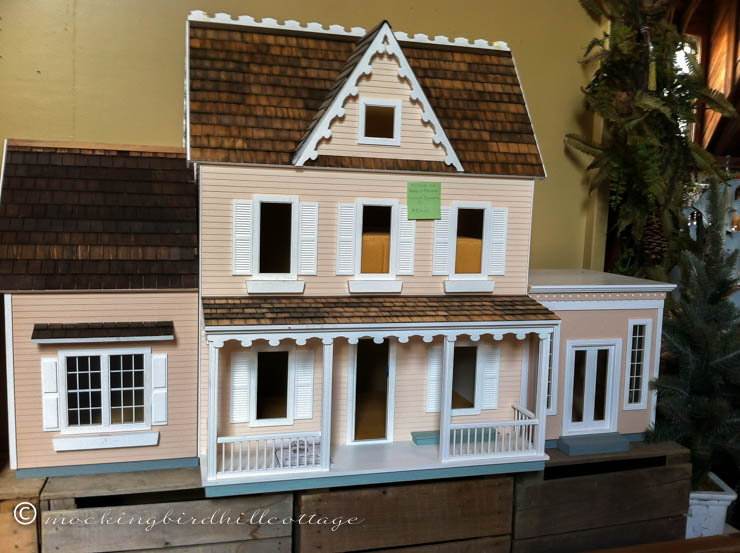 There are dollhouse kits, as well as finished dollhouses, on display. This has always been one of my favorites – The Vermont from Real Good Toys.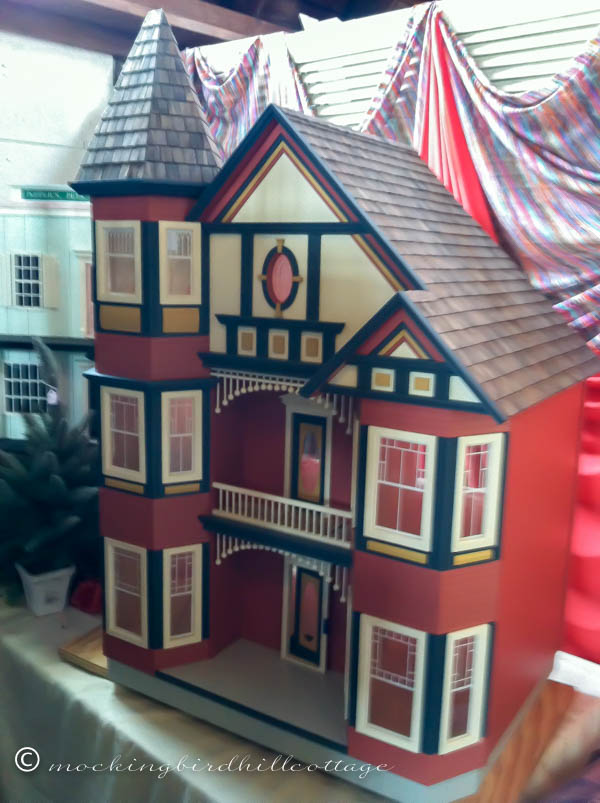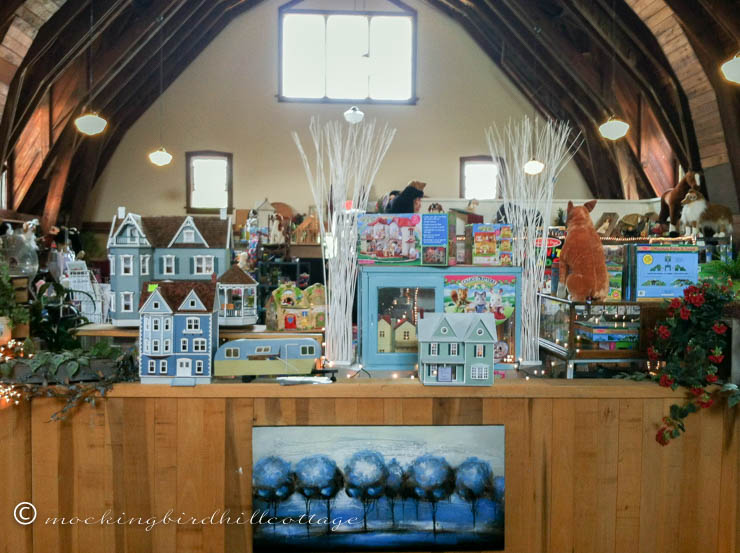 My dollhouse is in 1-inch scale, but there are many miniaturists who work in ½-inch scale. That smaller dollhouse you see up there is built to that scale. It can be hard to find furniture and accessories in ½-inch but Chautauqua Miniatures has a lot of inventory on hand. And they have a website, so you can order directly from them.
After much consideration, I came home with some treasures.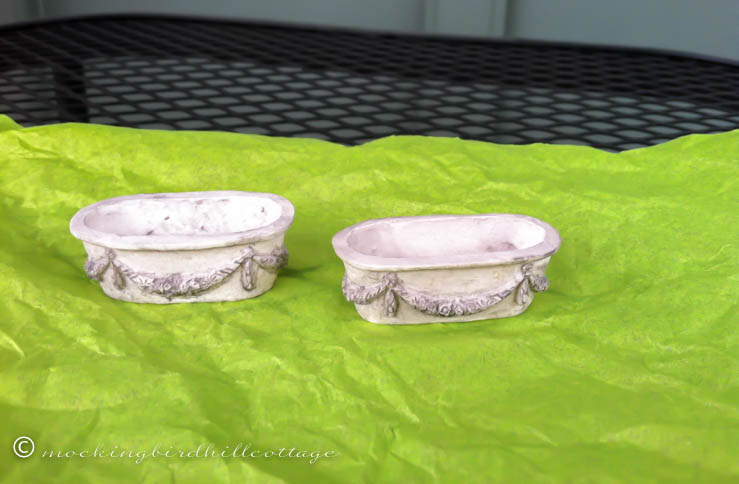 Two planters for the rooftop garden.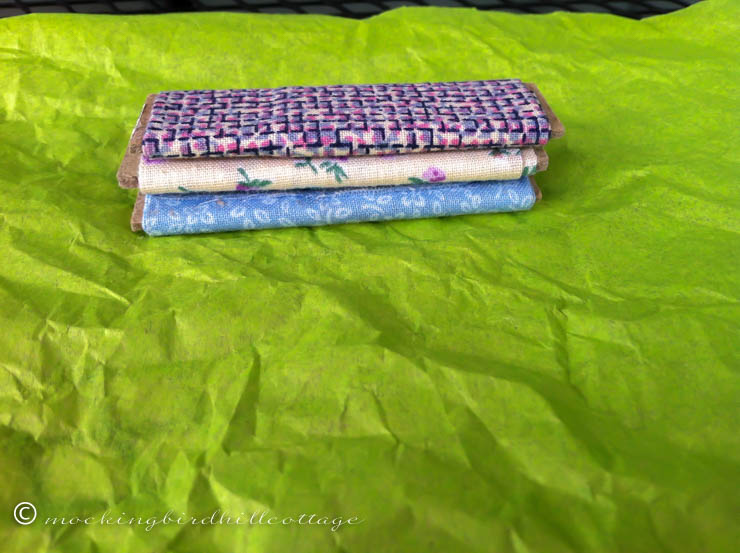 Fabric bolts for the studio.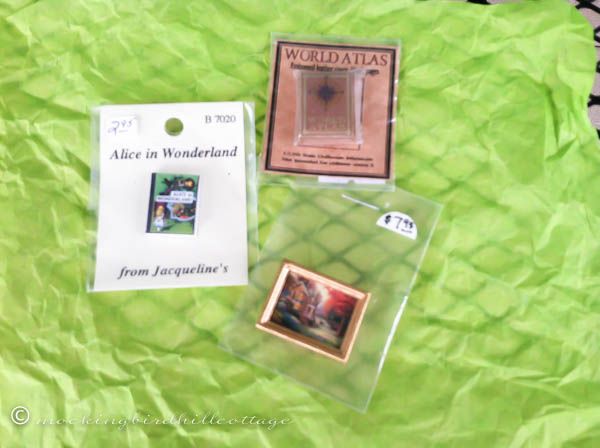 Two books – Alice in Wonderland and a World Atlas. And a darling little painting of a cottage.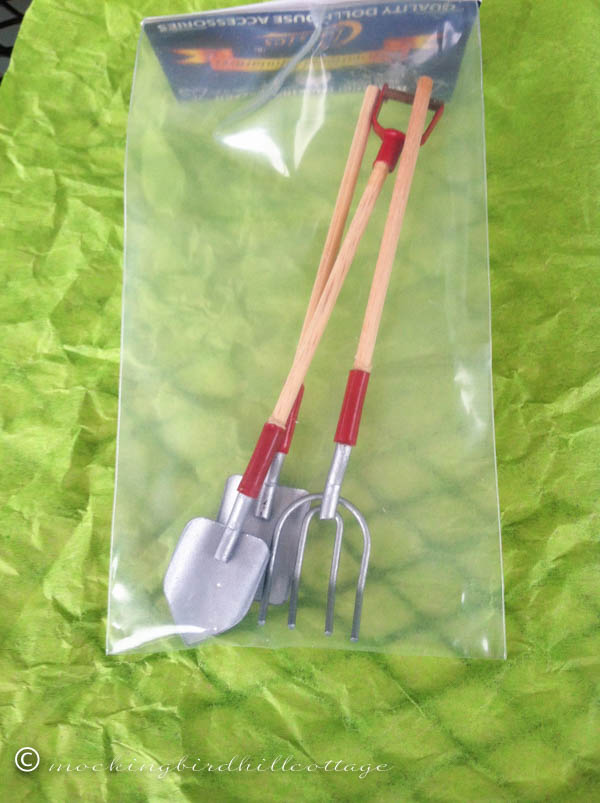 Garden tools for the potting room/rooftop garden. I think I'll have to rough them up a bit.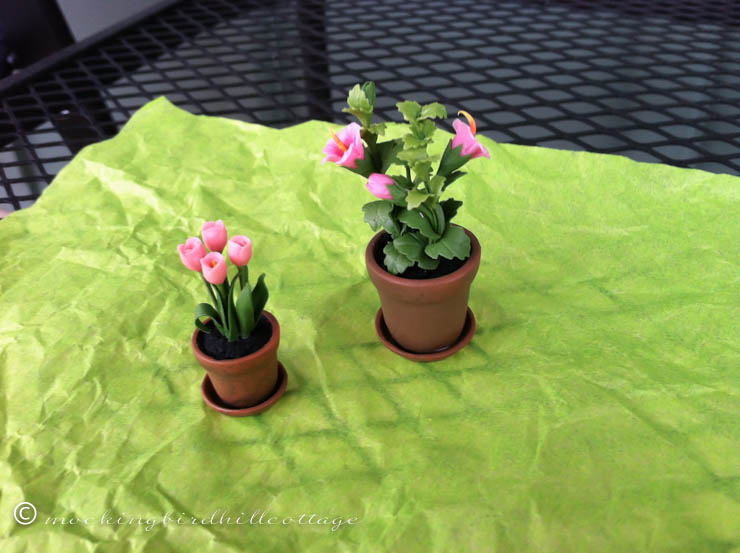 Two potted plants for the roof.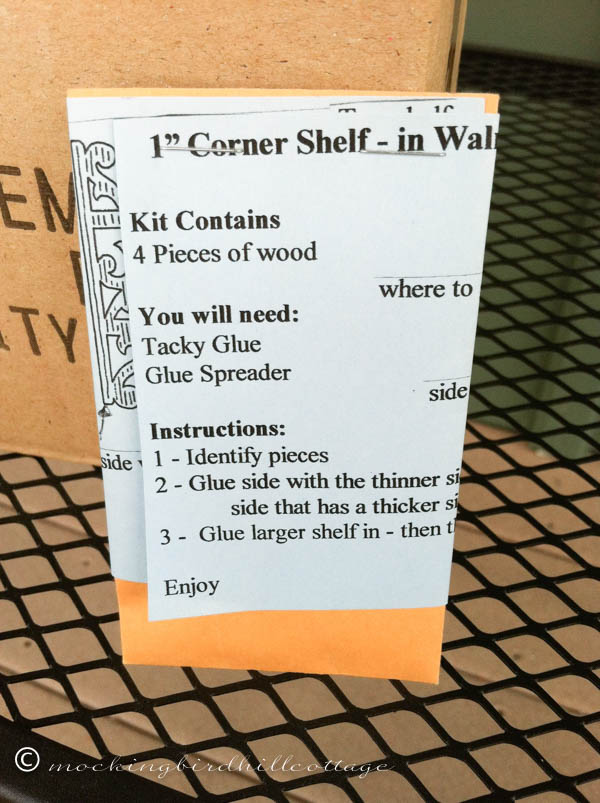 A kit for a Victorian corner shelf.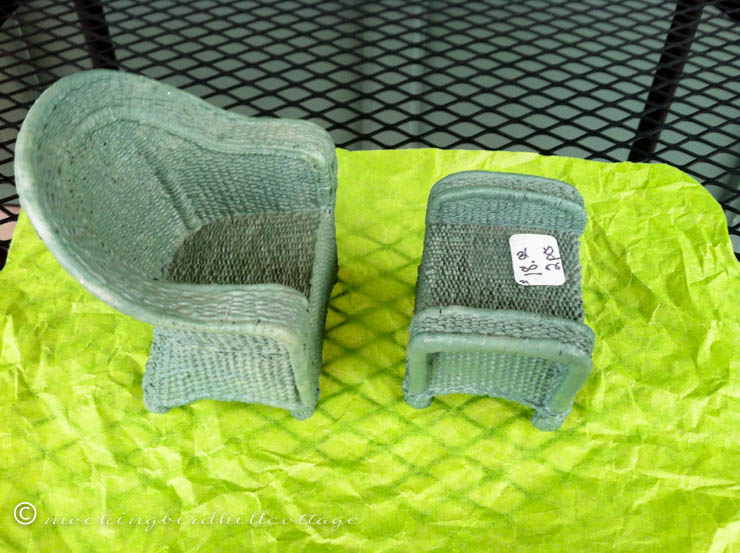 And this 'wicker' chair and ottoman made out of resin. I couldn't resist. There were only two of them left. A fellow shopper liked my choice so much, she grabbed the other one. The owner of the shop was pretty sure they weren't being made anymore, so I'm glad I went for it. I think I'll have to make some cushions, don't you think?
What an amazing shop! I spent a fair amount of time there and could have stayed even longer, but it was very humid outside and the shop didn't have any air conditioning. I emerged a sweaty mess and headed back to Chautauqua.
We are in tech rehearsals now. I'll be in and out of rehearsal today, depending on how slow the process is. I attended the Tom Brokaw interview the other day and it was terrific. The amphitheater was packed and I decided to stand in the back against a wall. There are a fair amount of Chautauqua residents who use motorized scooters and let me tell you, some of them need a remedial driving course! Several scooter-ites drove past me and almost ran over my feet. They were completely oblivious to anyone around them. Since I was against a wall, I couldn't move out of the way. Yikes! It would make a good Saturday Night Live sketch if it wasn't so scary!
Don't forget to visit my post entitled A New Path (In More Ways than One.) Oxytrol for Women and More Magazine are launching an Open A New Door contest for women over 50. Go on over and read the details and enter!
Happy Wednesday.