Yesterday was the official Opening Day of the Chautauqua Institution for 2014. All in all, a very festive day around here. People everywhere, lemonade stands, the local fire department had a chicken barbecue (as a vegetarian, I did not partake,) children and adults were eating ice cream cones, music wafting through the air….and perfect weather. The morning started out with the Opening Service, which took place in the amphitheater.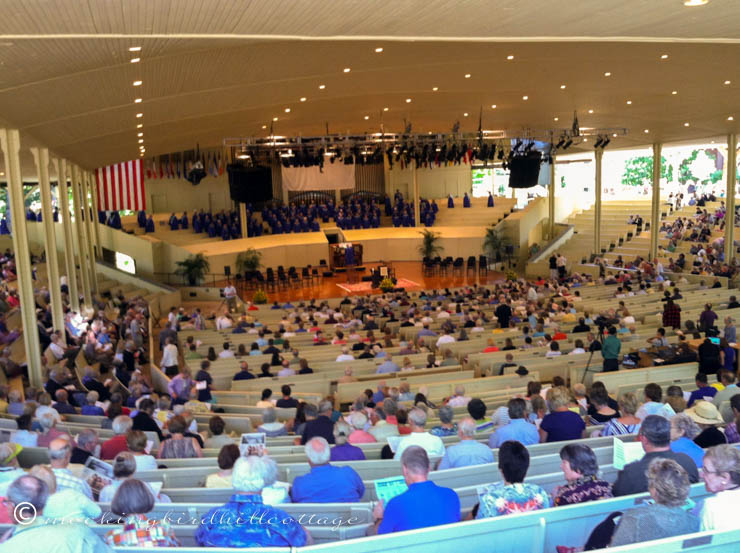 The choir sounded lovely, the organ music was beautiful (I'm a sucker for organ music) and the speakers were inspiring. The President of the Chautauqua Institution officially opened the summer with 3 raps of a gavel.
Then the theater company met inside the theater and the summer season of the Chautauqua Theater Company was launched. It was lovely opportunity to meet the rest of the students and staff. From there we walked over to another amphitheater where the Friends of the Theater had an opening event. It was a lot of fun. Each student this summer will be 'adopted' by a couple that lives in Chautauqua. I expect that some home-cooked meals will be on the docket – a nice relief from dorm food.
All of this took most of the day and as I left the Friends event and headed home, the sounds of an orchestra drew me once more to the amphitheater, where a concert was being offered.
It really is magical here. Music, dance, theater, symposiums, book clubs, life-long learning…such a wonderful place! Today, a series with author Roger Rosenblatt begins. Each day, he will interview an author. Today? Tom Brokaw. Tomorrow? Margaret Atwood. These events take place at 10:45 am and I am going to try to catch some of the Brokaw interview before I head to Chautauqua Miniatures.
Tonight, the Canadian Brass are playing in the amphitheater.
Pretty cool!
I poked around some shops this week.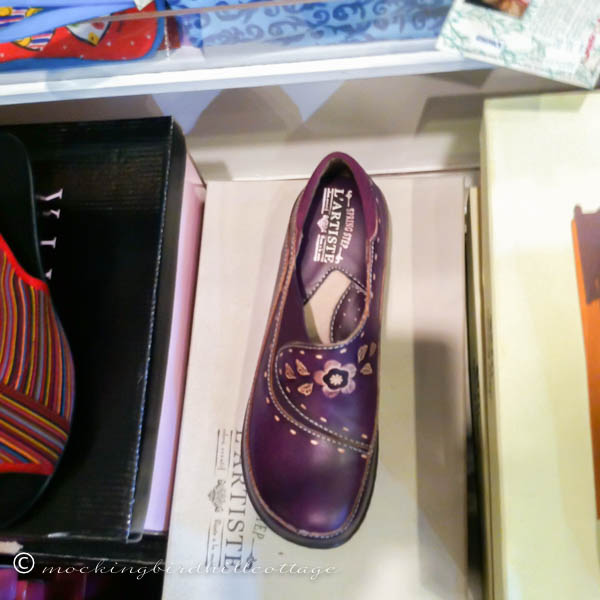 I saw my red shoes in purple, which is the other color I would have chosen had I purchased another pair. Gosh, I love these shoes! But I didn't buy them. (I haven't even received my first paycheck yet.)
I do like to buy something vintage, preferably something I collect, wherever I travel and I found that something in the one and only vintage shop on the grounds.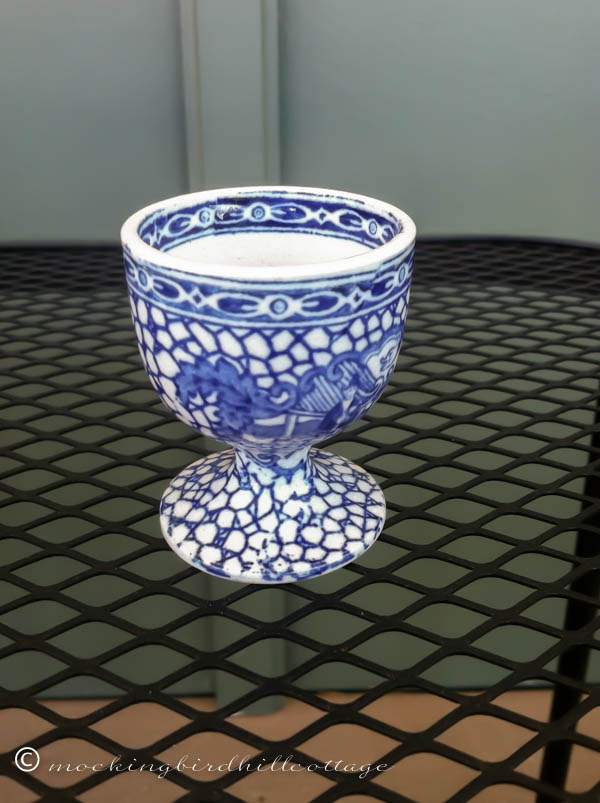 An egg cup! This one is on the petite side but is very heavy, with the feel of ironstone. The transferware scene depicted  looks either Chinese or Japanese, with three figures against a scenic background.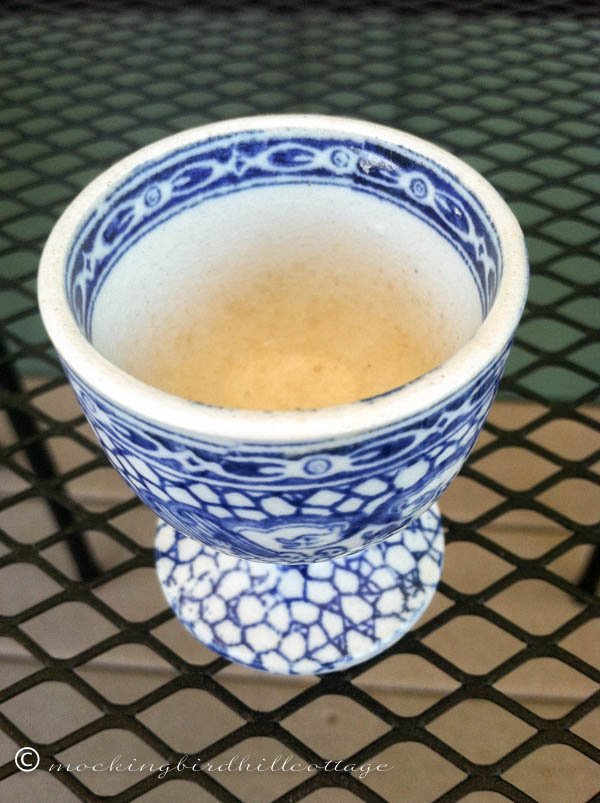 Only six dollars.
After taking part in all the day's activities, I decided to opt out of the Company Barbecue last night and grab the opportunity for a few hours alone here in the apartment. I'm so glad that I did. Made some dinner, watched 60 Minutes and a documentary on Frederick Law Olmstead on PBS, fell asleep on the sofa for about an hour, then did a little more TV watching. It really helped. I need some solitude that had been sorely lacking.
Today…Chautauqua Miniatures! I'm so excited! I'll take some photos – though shop photos with an iPhone are always iffy.
I hope you are all well.
Psst! Tomorrow is Don's birthday. If you could all come around tomorrow and leave a birthday greeting for him, I would be most appreciative! I don't like being away from him on his birthday, but we'll celebrate when I get back home. So, since he'll be alone tomorrow, I bet your Happy Birthday greetings would make his day! Tomorrow is also Little Z's birthday (my newest nephew). We think it's just wonderful that Z and Don share the same birthday.
Happy Monday.