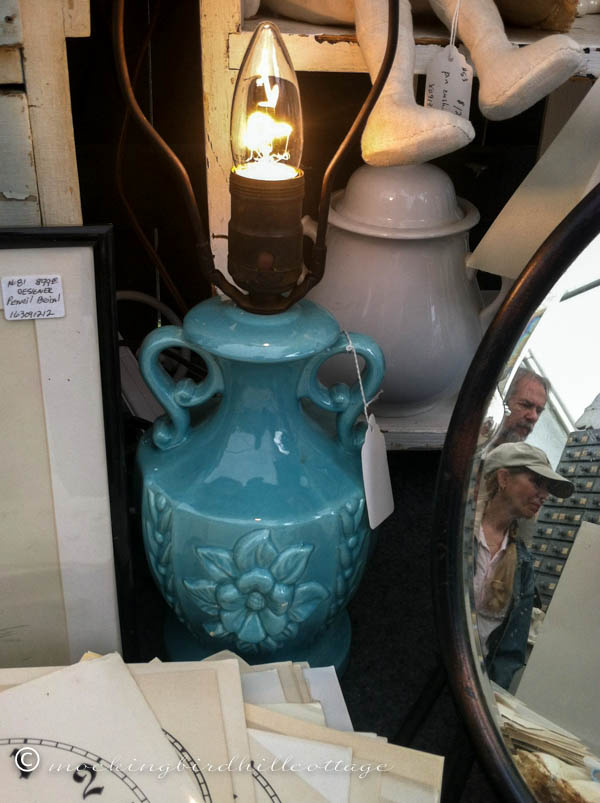 Greetings on a Sunday morning from one exhausted fair goer.
Two days at the Country Living Fair is about one more than I could handle. I ended up going twice because I wanted to see my friends' presentations (more on that tomorrow) yesterday. If I could do it all over again, I would have combined everything into one day. On the other hand, going back enabled me to get the lamp you see in this photo. There were two small pottery lamps in aqua that I loved. They are hard to find. I kind of loved the other lamp even more than this one, but it was gone when I returned to the booth yesterday. But I'm very happy with this beauty.
If you snooze, you lose. I lost out on two things I had my eye on. On the first day, I saw a Nelson McCoy piece with a parrot that I'd never seen before (in aqua), at a very reasonable price. I held off for an hour or so and when I returned to that booth? Gone. Sob. Same thing with the other lamp. Attending for two days really enabled me to see what pieces had been sold – especially by viewing my photos this morning. I look at them and think "Oh, that piece was gone by yesterday."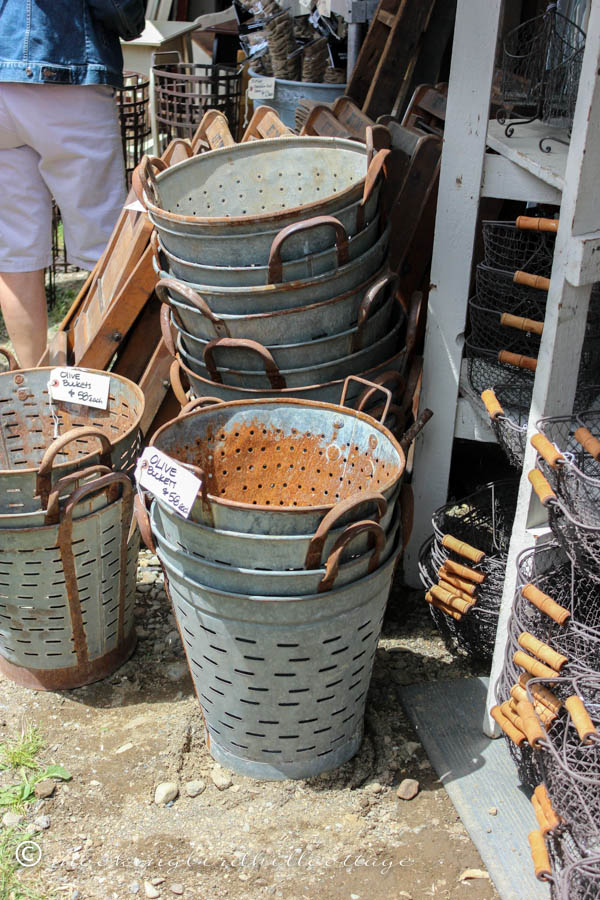 I'm dubbing this year's Fair as the Olive Bucket Fair. They were everywhere and the prices varied depending on the age and condition. If any attendee was in the market for an olive bucket, he/she certainly hit the mother lode this weekend.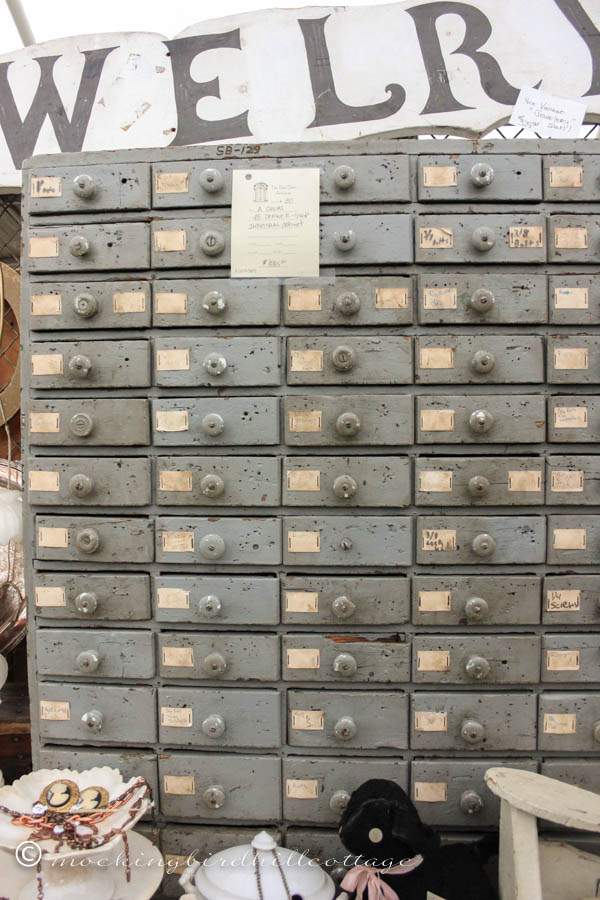 Be still my heart. What is it about little drawers or cubbies? Add the chippy paint and, my goodness, this is gorgeous.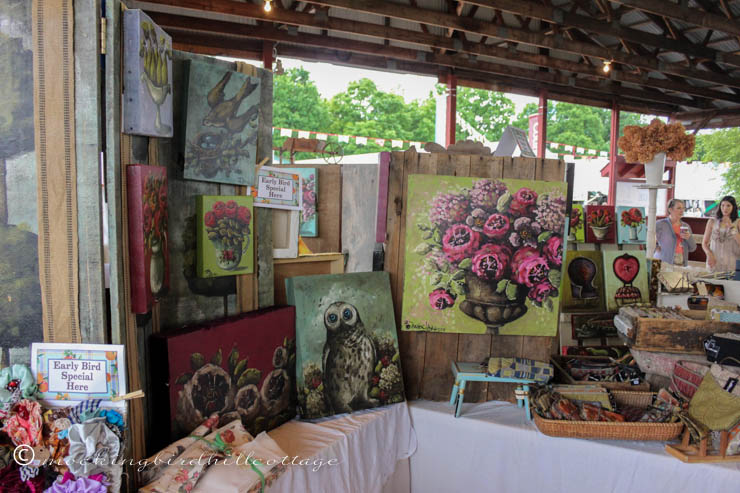 Earth Angels Studios showcased a lot of their artists, including Jennifer Lanne. I love her paintings.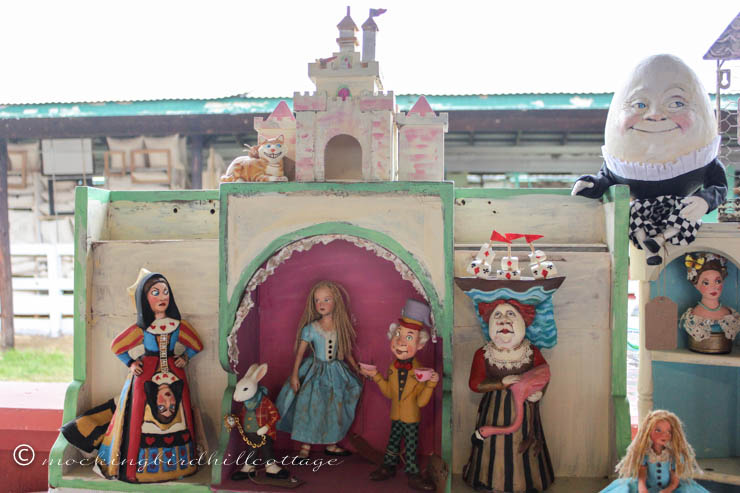 Also from Earth Angels – Nancy Wiley's exquisite Art Dolls. This Alice In Wonderland piece was so beautifully done.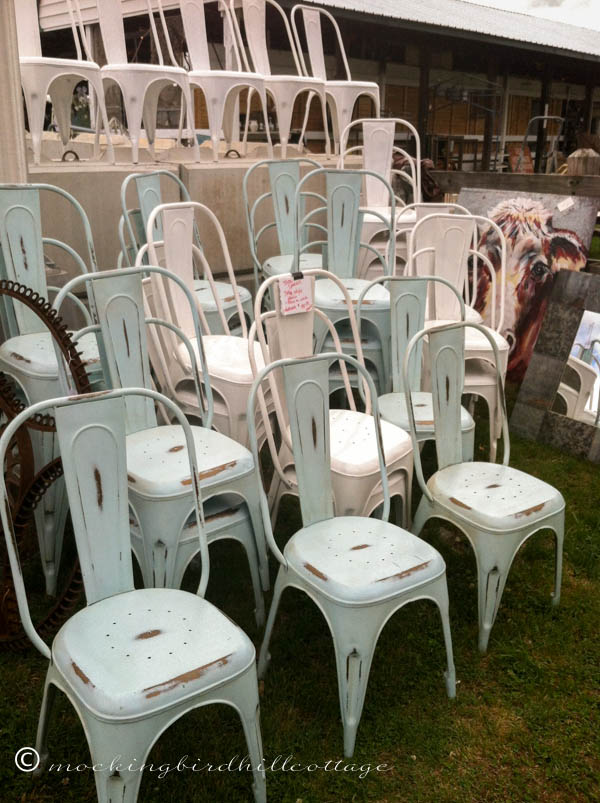 Hello chairs. These Tolix-style chairs were hugely popular and many of them were gone early on during the first day. Clearly painted and 'aged' for the CL audience.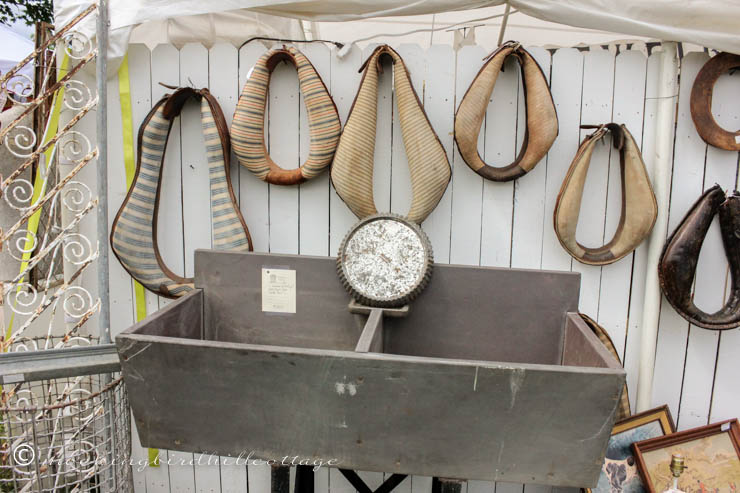 This gorgeous zinc double sink was gone by yesterday. Sigh.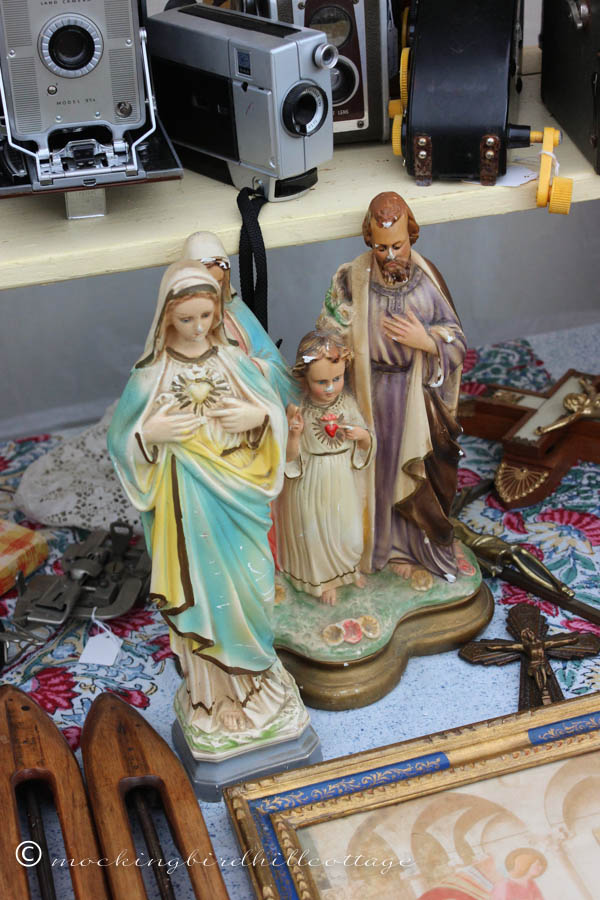 This religious statuary reminded me of my friend, Donna. She collects them.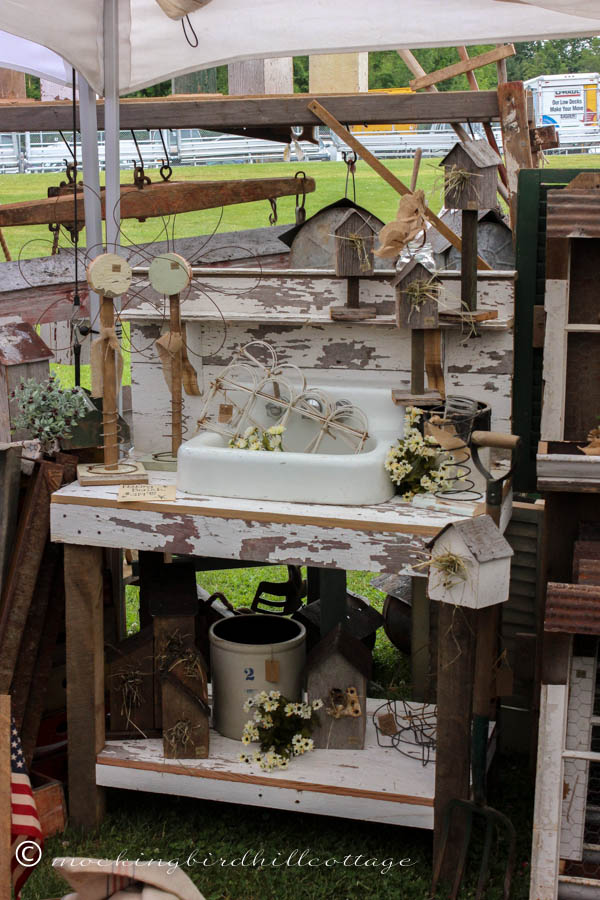 Doesn't this potting bench with the sink remind you of the one in my dollhouse? I guess I'm more in tune with what's in style than I thought!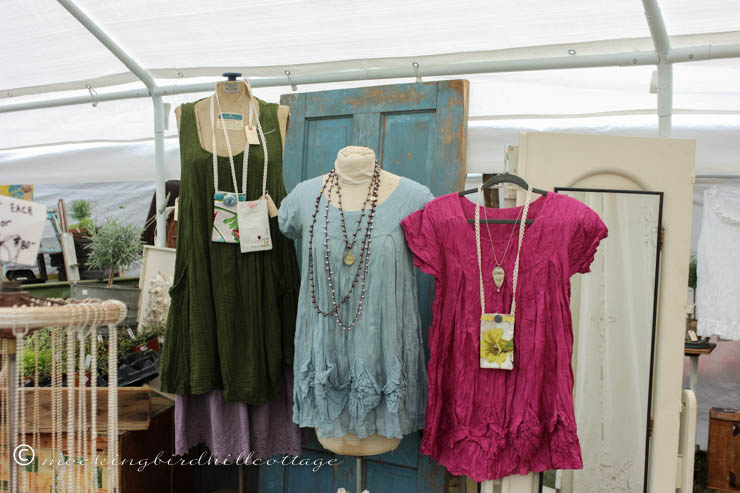 I loved these and saw them in at least 3 different booths.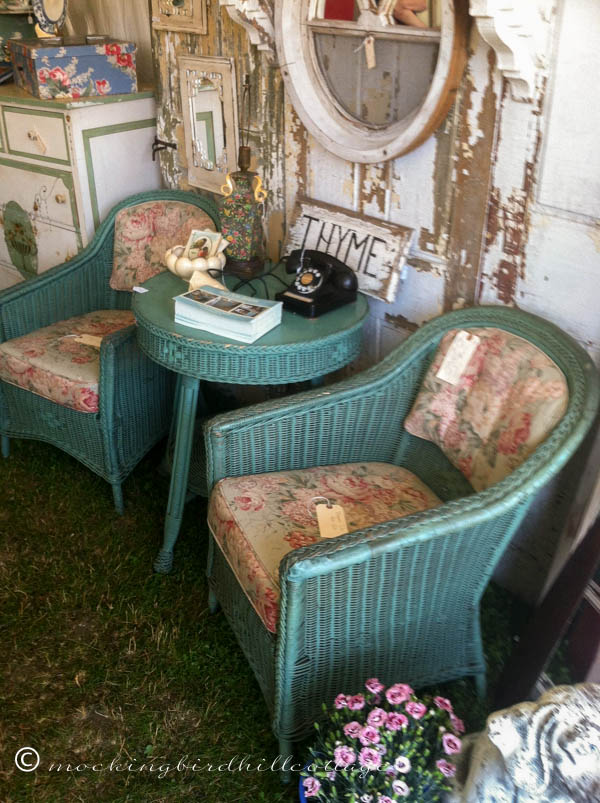 Be still my heart – again. This was a four-piece set consisting of four chairs and the table. Vintage, original paint, fantastic condition, cushions recently redone in Ralph Lauren fabric. $1800.00
Why am I not wealthy?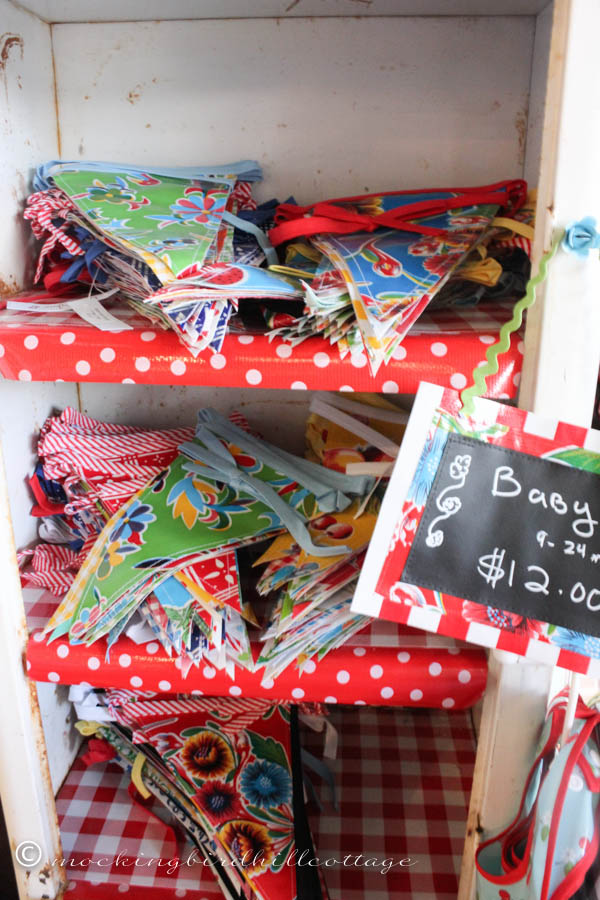 Oilcloth creations in Modern June's booth.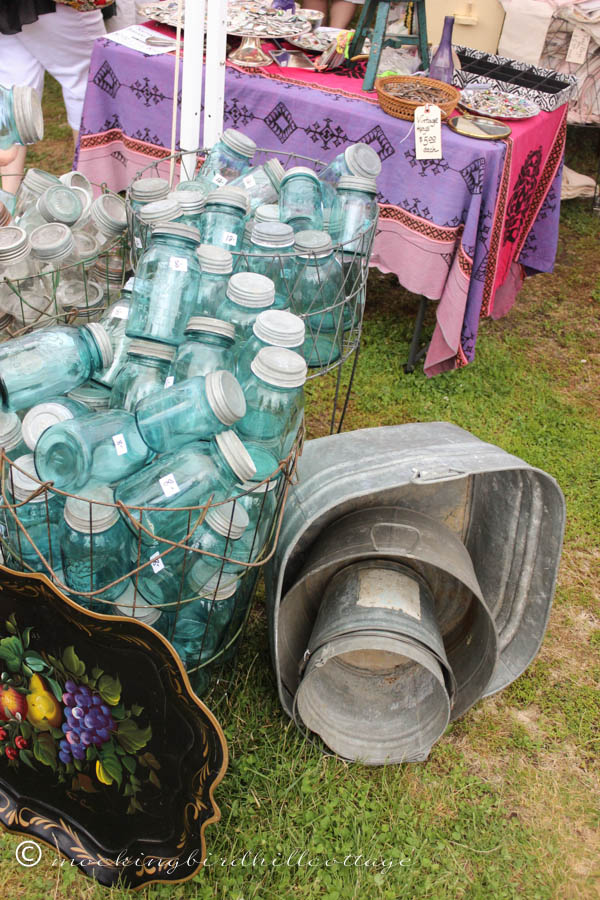 Mason jars and galvanized anything were everywhere.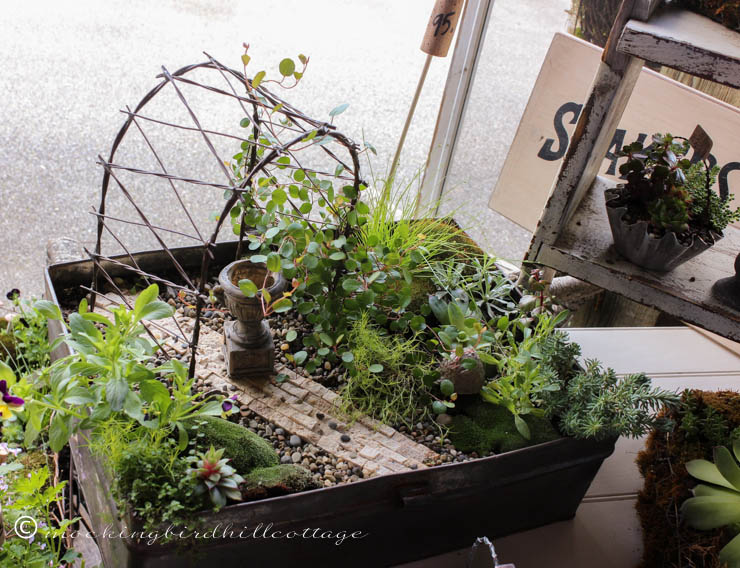 This exhibitor created the most beautiful Fairy Gardens, all of them set in aged metal containers. I've been suffering from a case of fairy garden fatigue – I see them everywhere. But these beauties made me rethink my fatigue. Here's another one: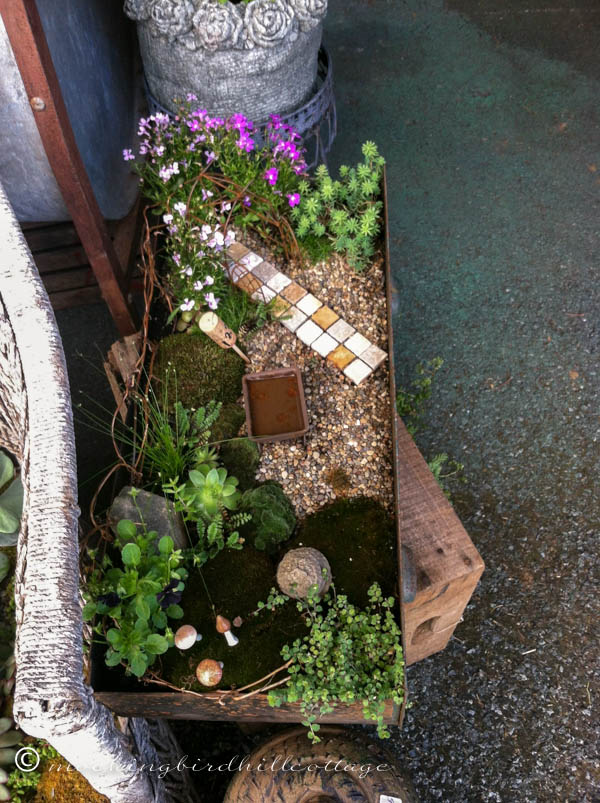 Works of art.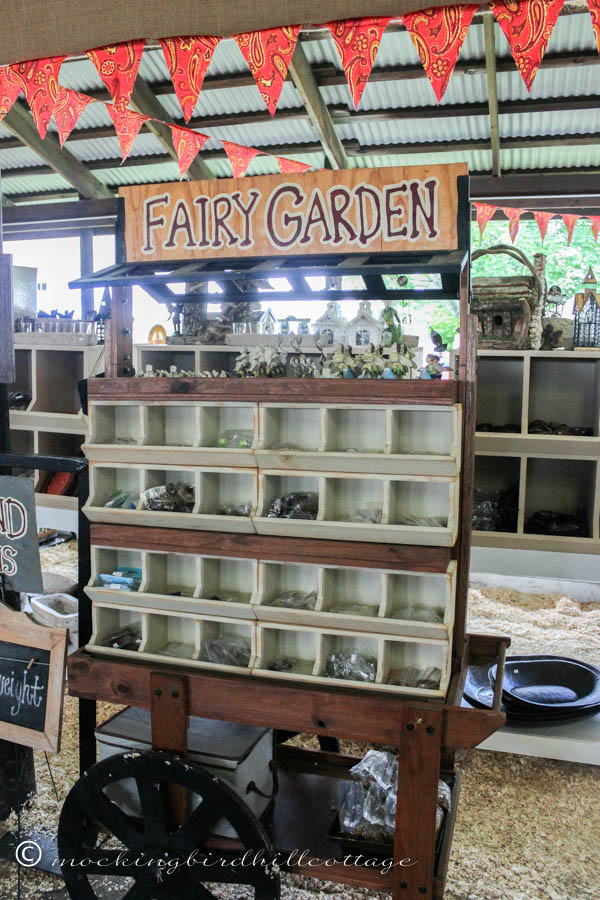 There was even a booth that sold miniature supplies for fairy gardens.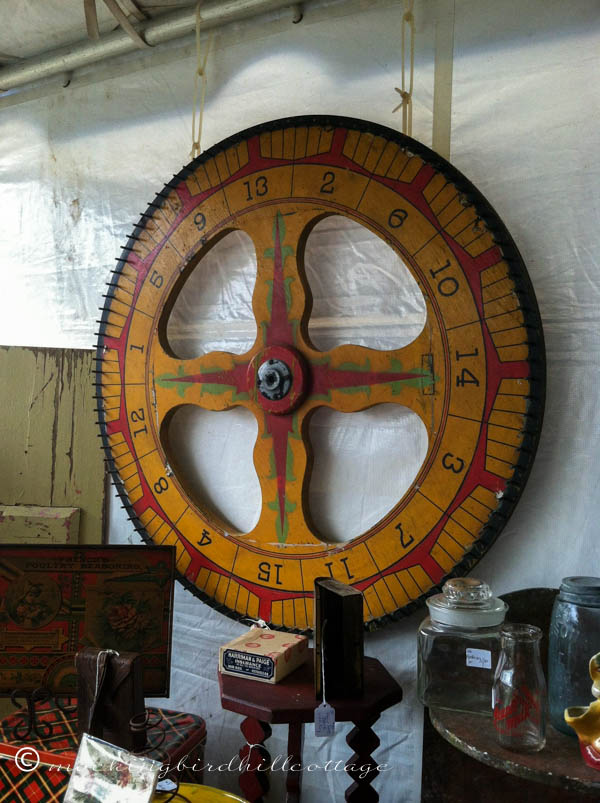 Would I like this in my house? An emphatic yes.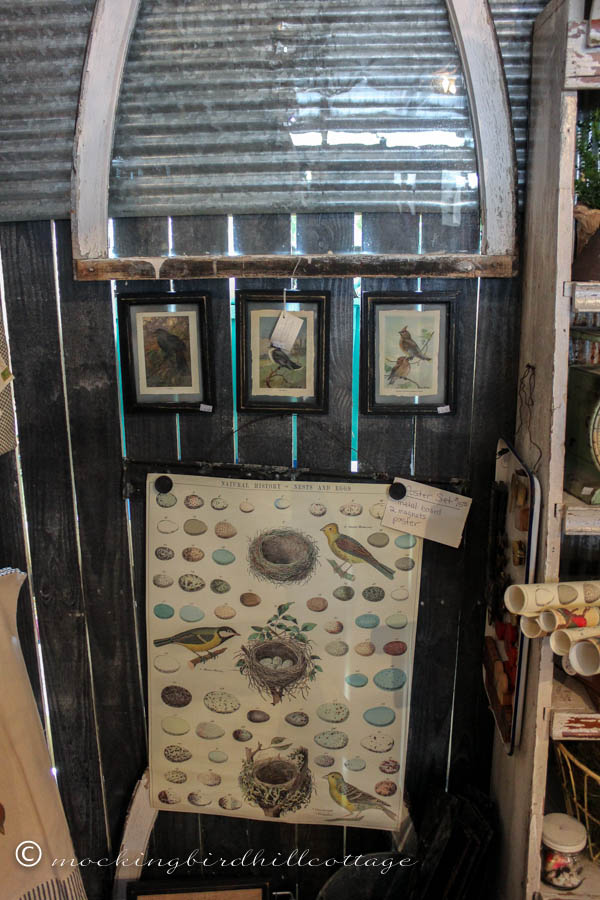 I was tempted to buy this poster, but wall space is extremely limited here. Isn't it lovely?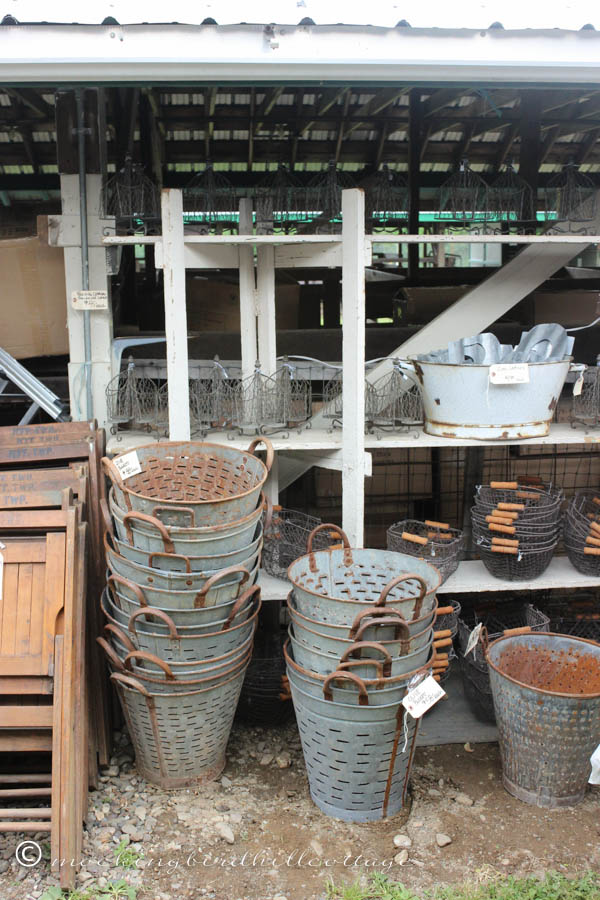 Yes, more olive buckets.
Hope this gives you an idea of what was on display this year. Lots of the industrial, rustic, wood-and-metal look. Lots of fairy gardens. Lots of garden things; seeds, plants, tools, vintage tools. Lots of architectural salvage. Lots of antiques and vintage. Lots of vintage fabric and sewing notions. Lots of birds/nests/faux eggs. You can tell that the exhibitors know what is on trend and they understand the kind of person that is drawn to the Country Living Fair. They know their audience.
It was a visual treat, that's for sure. But, boy did it get crowded! Yesterday was hotter than Friday and I was wilting by about 11:00. I stayed to watch Heidi and Elyse give their presentations and meet up with some of the bloggers from Hometalk, where I got the opportunity to chat with Country Living's new editor. Then I came home and collapsed.
More on all of that tomorrow.
My dear friend and colleague Darko Tresnjak is up for a Tony for Best Director of a Musical (A Gentleman's Guide to Love and Murder) tonight. I'm so hoping he wins!!
Don't forget to visit my post on Gardening with Hydrangeas from the Endless Summer® Collection for a chance to win a $100 Visa Gift Card!
Happy Sunday.