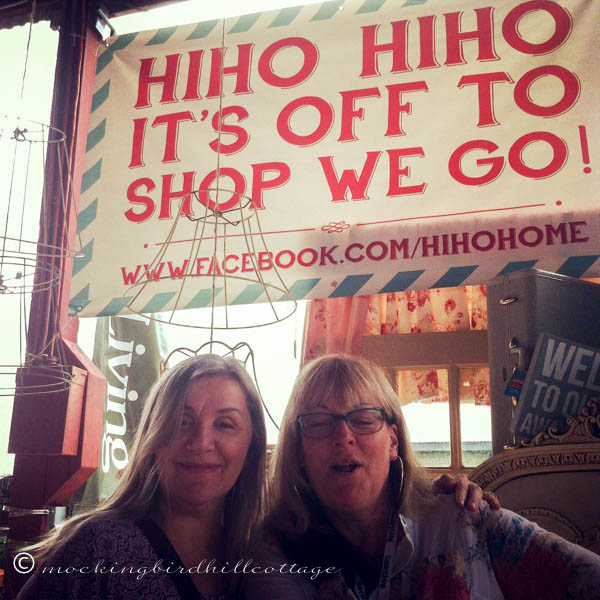 Part of what made the Fair so much fun was seeing my friends do what they do best. Heidi designed a great space at the Fair, chock full of all her finds. She might not have a brick-and-mortar shop anymore, but she's still merchandising and styling. Her space was packed, her daughter Whitney and son-in-law Cory were on hand to help, the inventory was fantastic. Our friend, Susan Hill, took this picture. We both worked with Heidi at the shop, so at one time there were three of us Hills on the staff.
Heidi gave a presentation on Saturday and she was great.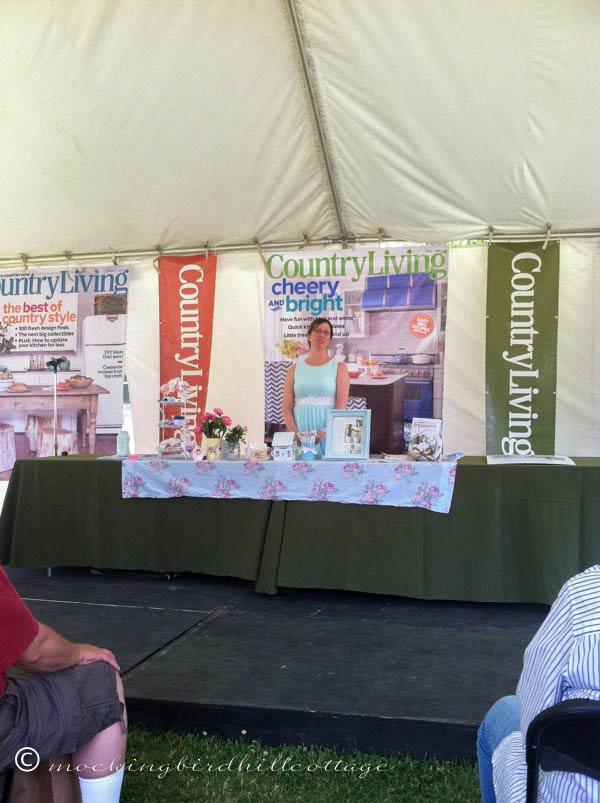 Then there is my longtime blogging friend Elyse. She is a delight. Her presentation focused on 'from blog to book.' Her blog, Tinkered Treasures, showcases her charming crafts made out of simple materials. She also writes for several magazines. Her second book, Seaside Treasures, has just been published and I couldn't be happier for her.
We had a chance to meet about 4 years ago when I was working in Providence, RI. We met for breakfast and never stopped talking the whole time. So I was very happy indeed when Elyse told me she was going to be at the CL Fair. We had a chance to catch up before and after her presentation.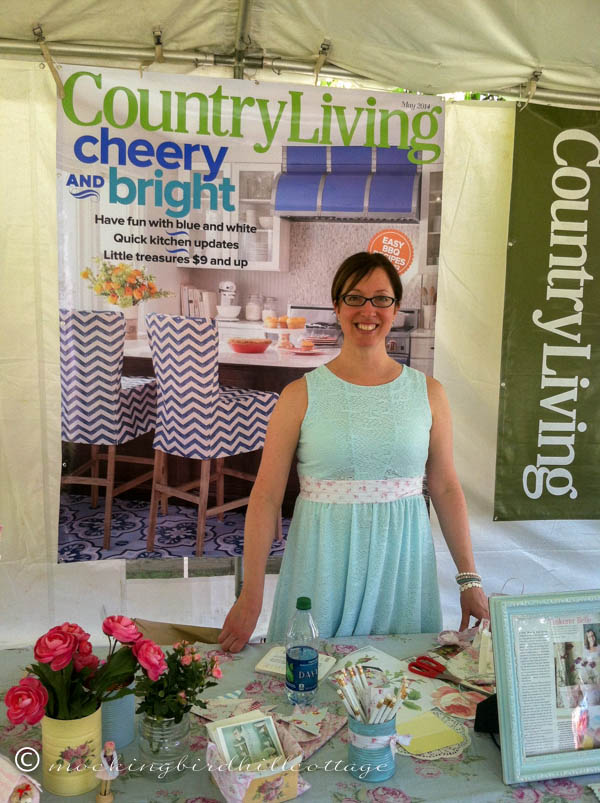 So proud of her! (Boy, was it hot under that tent! We were wilting.)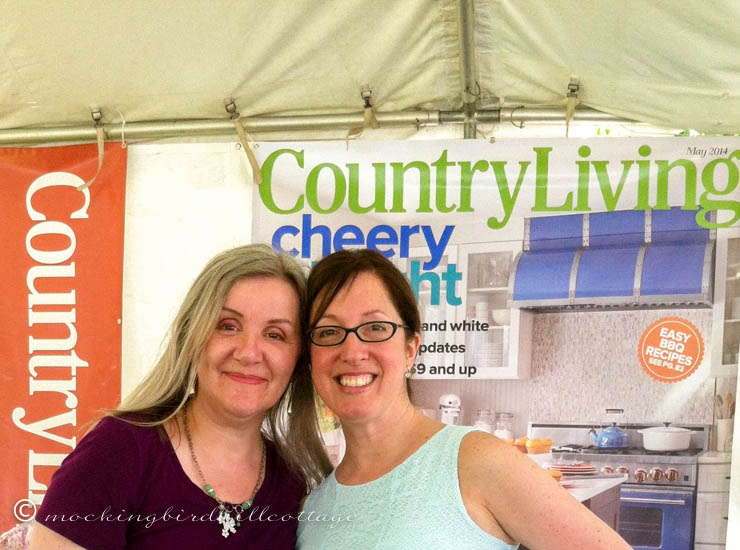 My hair was wilting, I was wilting, Elyse was wilting…..
Right after Elyse's presentation, I headed home.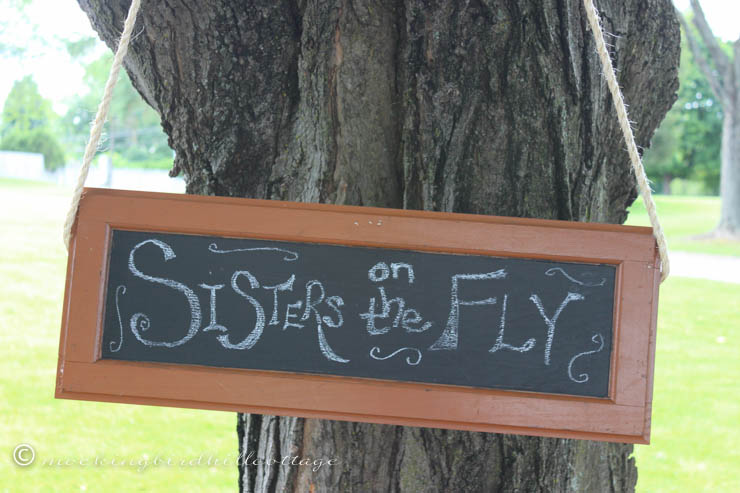 But, at the end of the first day, I ran across some of the wonderful Sisters on the Fly. Have you heard of them? They have vintage trailers and travel all around the country for meet-ups, some fly fishing, some campfires and a lot of fun. Four of the 'sisters' had their trailers on display. Since I've always wanted to have a little trailer that I could renovate and decorate, I had to take a peek.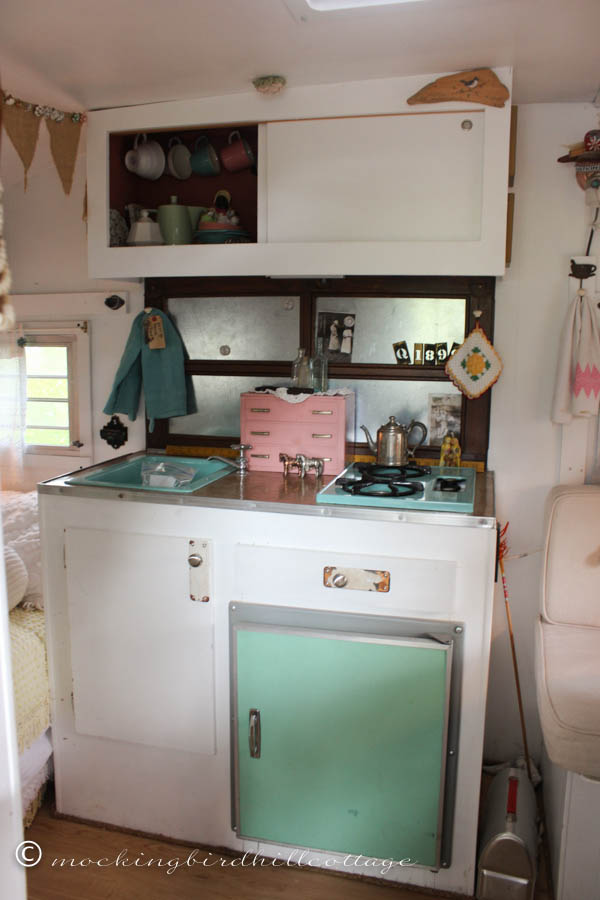 Adorable. Pink and jadeite green.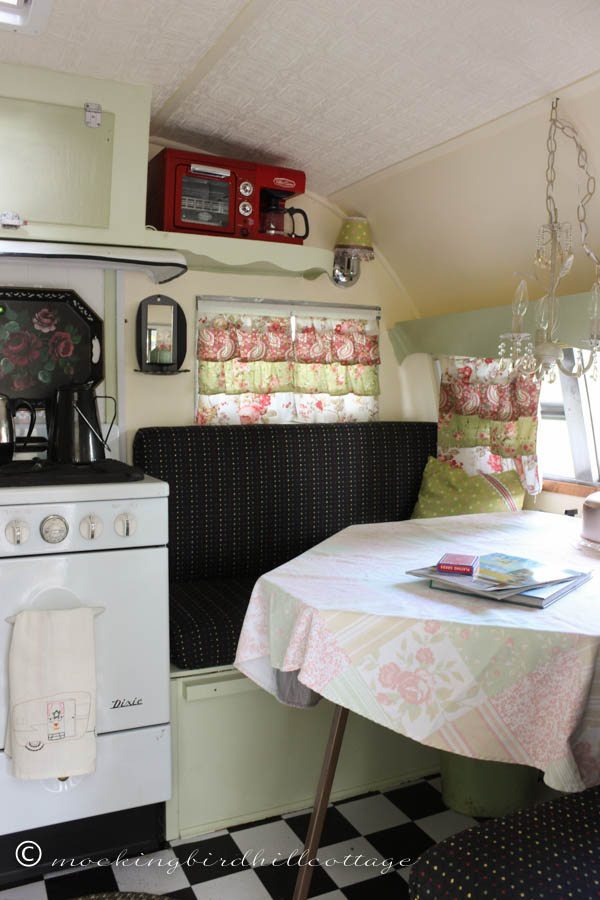 Another trailer. Check out the floor and the vintage stove and the charming curtains and chandelier….hello!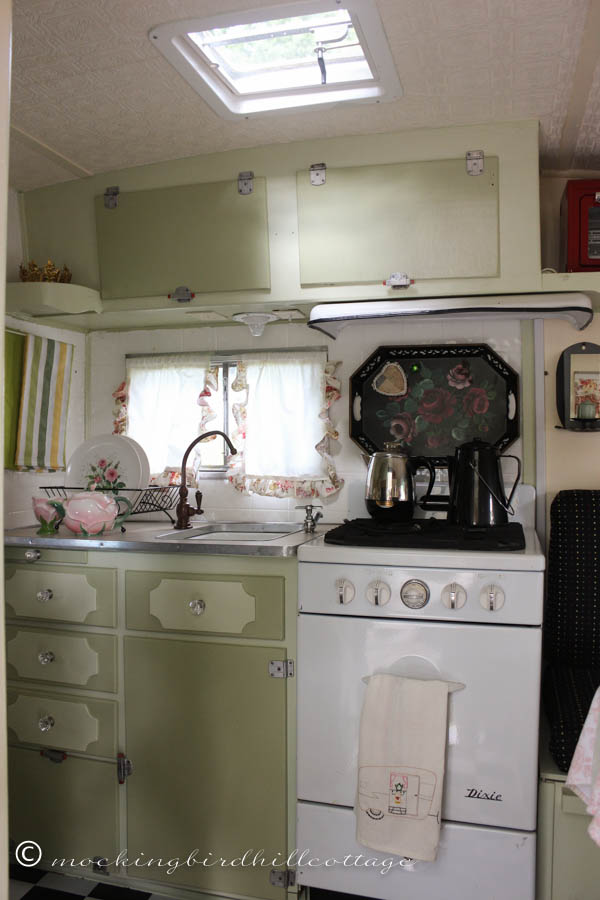 Please, Don…may I have one?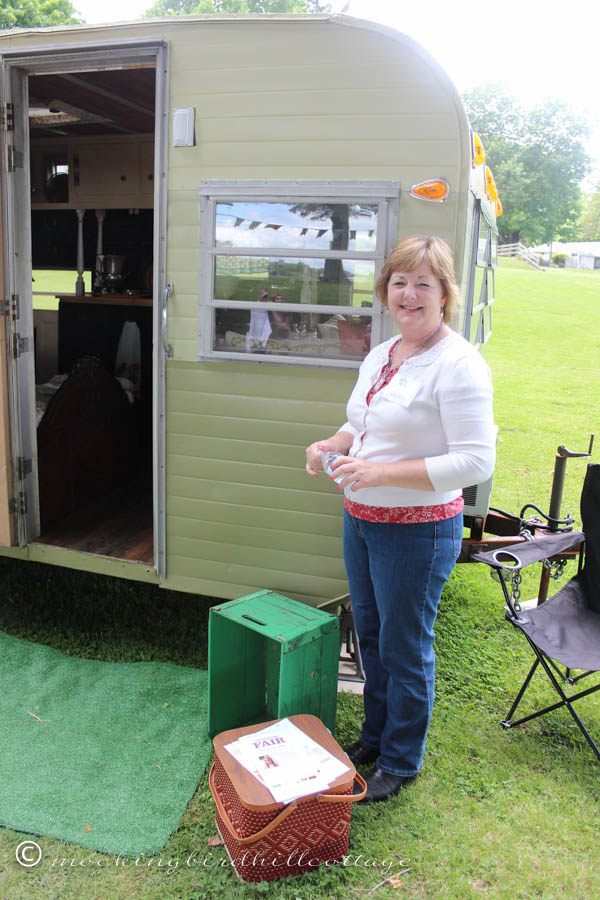 But the trailer that was the most amazing, by far, was the one that belongs to this lady, Janine. You won't believe what she's done with it. (She's a veteran of this, having renovated several of these beauties.) When you first peek in the trailer and look to the left, this is what you see: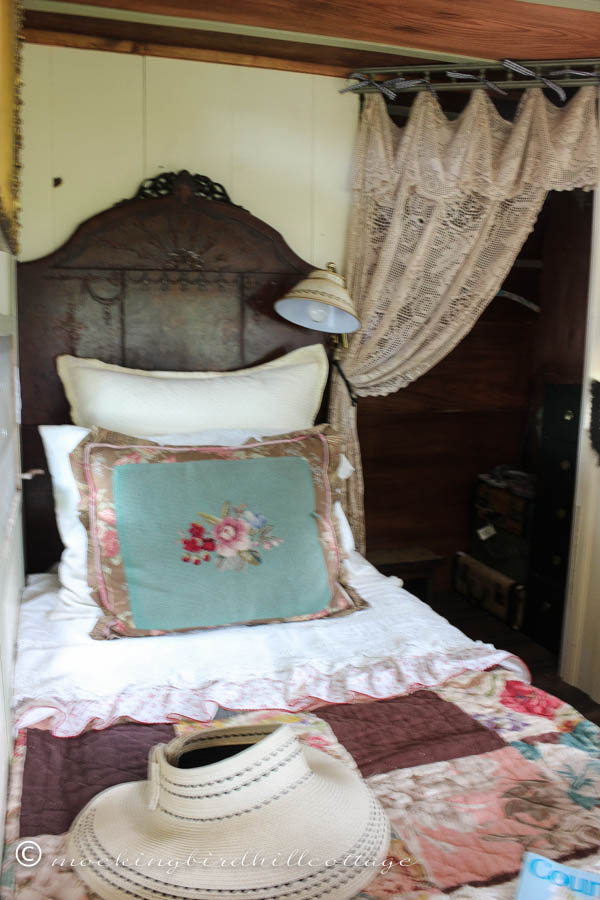 Sorry for the very blurry photo, but I wanted you to see this single bed she found on Craig's List. She cut it down so it would fit. Oh my goodness!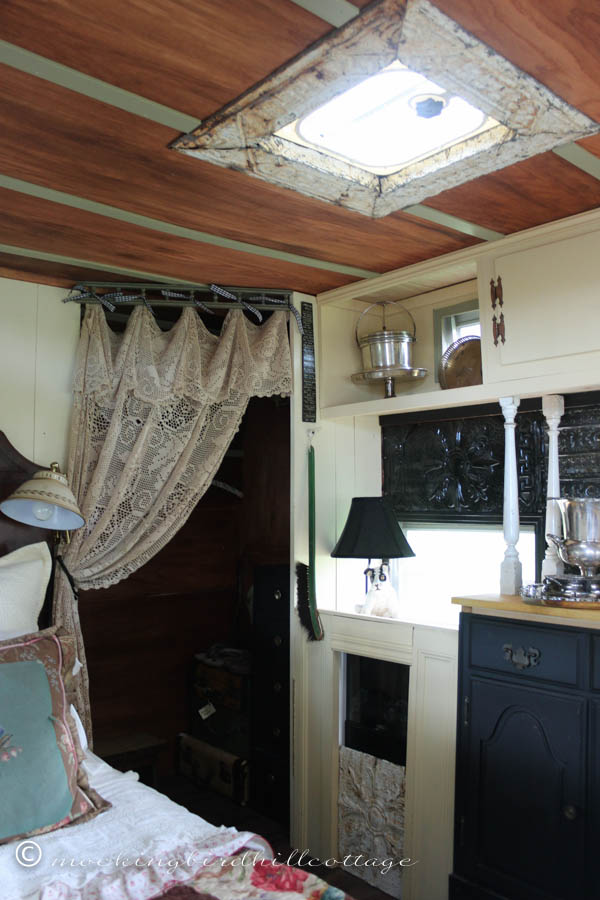 I believe that's a cleverly disguised heater. The toilet is behind that curtain and to the left.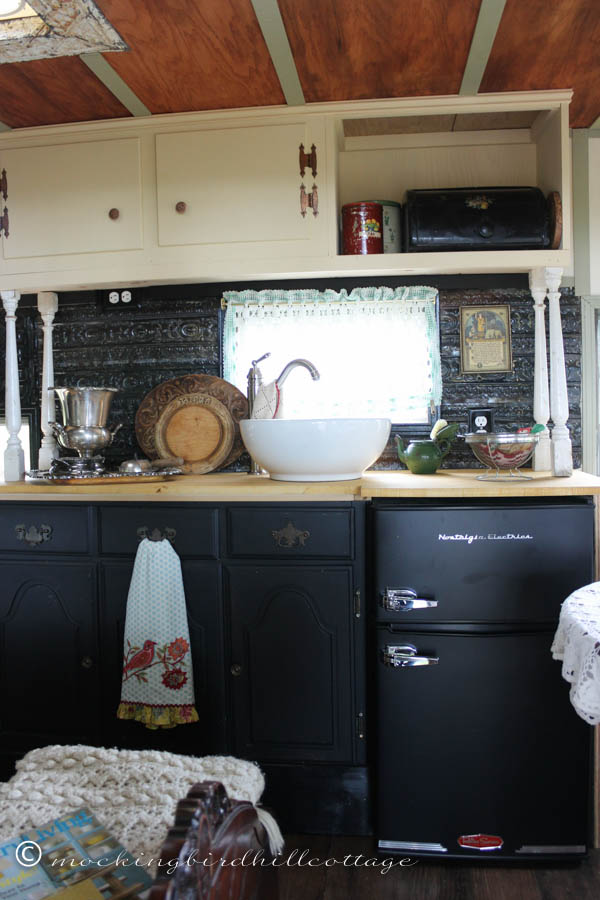 The sink. The sink! The tiny refrigerator.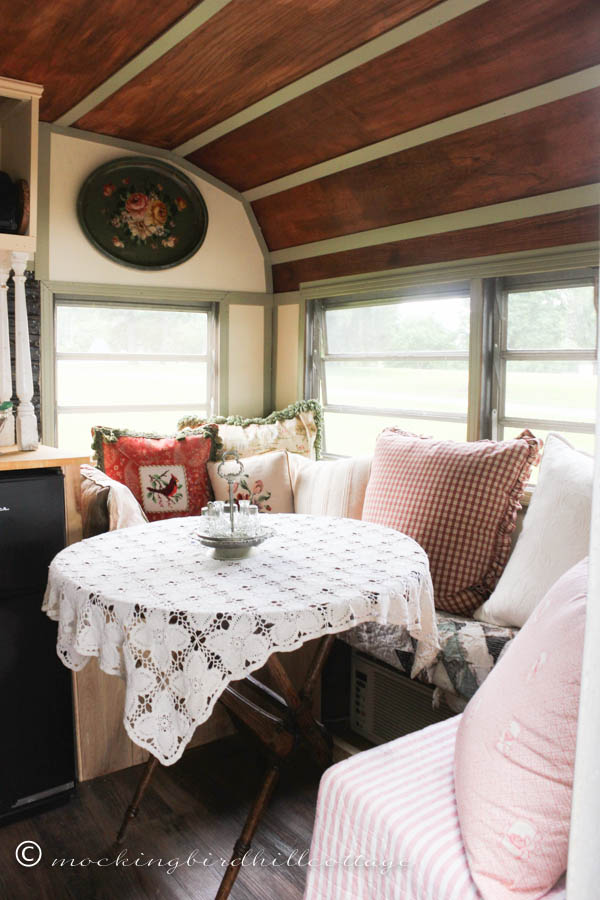 The perfect folding table, lots of pillows, a tole tray and that ceiling! This seating area converts to a bed.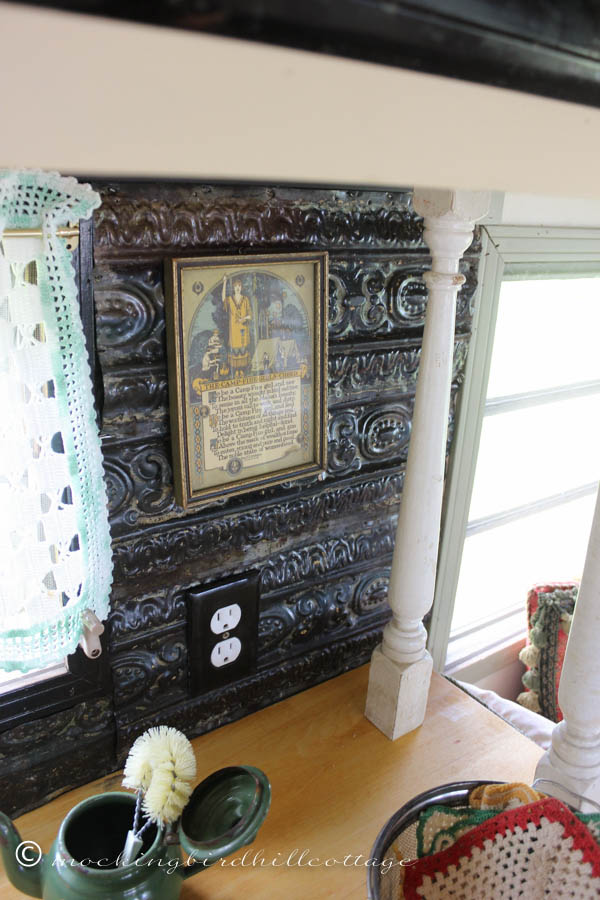 Janine told me she had the tin that she used for the backsplash in her stash. And the motto on the wall is The Campfire Girls Creed. Perfect.
I've always wanted one of these little gems. Now I want one more than ever.
In other business, Janie F. is the winner of a copy of Eyes on You by Kate White! Congratulations, Janie. I'm sending you an email. I need your mailing address.
And my dear friend and colleague Darko Tresnjak (he's the director I work with in Hartford) won the Tony Award for Best Direction of a Musical last night! A Gentleman's Guide to Love and Murder (first performed at Hartford Stage and then at the Old Globe) also won Best Musical. I'm thrilled for Darko and Hartford Stage. I screamed and jumped up and down when I heard his name announced – by Clint Eastwood, no less.
Finally, while I was at the Fair on Saturday, I got a call from an Artistic Director who wanted to know if I was available to coach a production of A Raisin in the Sun that starts rehearsals today. It's a quick turn around – just 2 ½ weeks, so I'm headed out of here on Wednesday. I'm taking the train to the western side of New York state to work at the Chautauqua Theatre, part of the renowned Chautauqua Institute.
Needless to say, I'm bit discombobulated. There's much to do before I can turn over the cottage to Don – even for just a couple of weeks. But I'm so grateful for the work – we need the income. So I'll miss a lot of peony time and goodness knows what else will be blooming but it's only a couple of weeks, right?
Happy Monday.