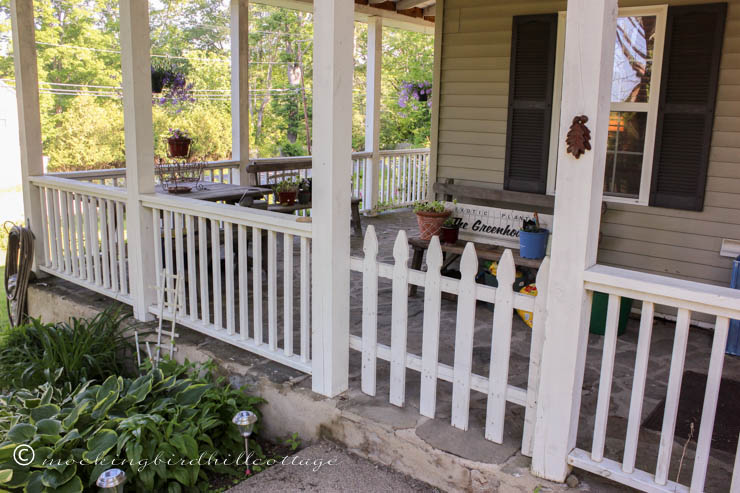 Welcome to the porch!
Imagine the end of a long day of house hunting. Imagine coming to view the last property on that day's list and seeing this wrap-around porch.
I gasped when I saw it. I've always been a porch girl, I grew up with one. But years of living in apartments had denied me the pleasure of porch sitting for so long that I thought I might never have one again.
Until I saw this porch. It clinched the deal for me. (For Don the clincher was the kitchen with its high ceiling.)
The picket gate that you see was a later addition. I wanted something to secure the porch when the dogs were out there, so I used this section of picket fence, along with two metal pieces that allow the gate to be easily put in place and just as easily removed. You can find out more about it in this post.
The leaf door knocker was used at our previous rental. I nailed it to the post. No, that's wrong. I screwed it to the post.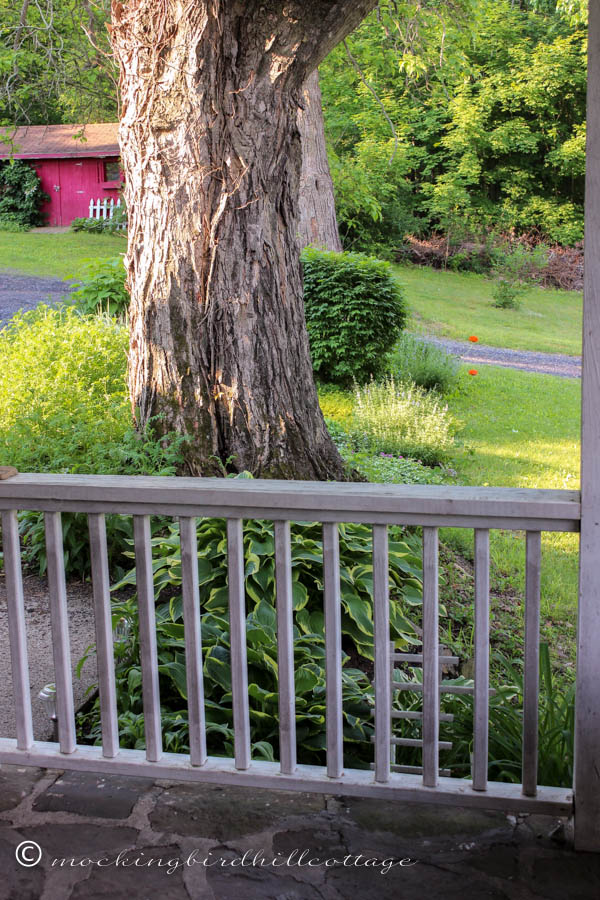 This is the view from just beyond the entrance to the porch. You can see the large garden bed and the shed and lots of hostas.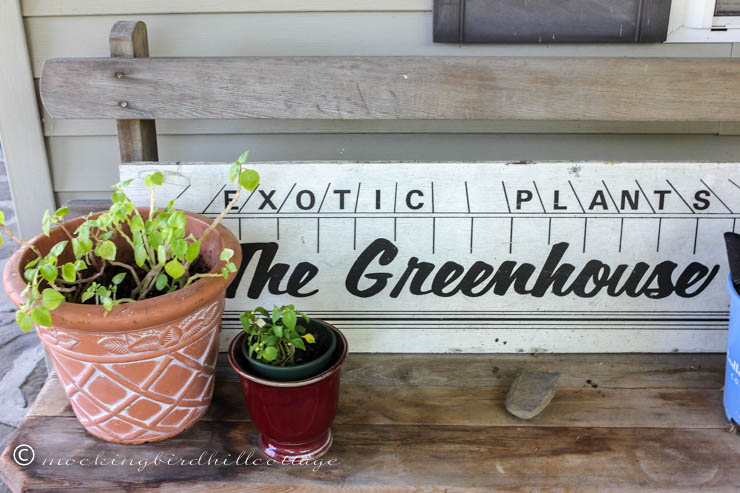 The first thing you see after arriving on the porch is this bench. I got that sign about 7 years ago at an antique shop.
But if you want the entire view of this bench, you'll see why it functions as a potting/stash/supply area.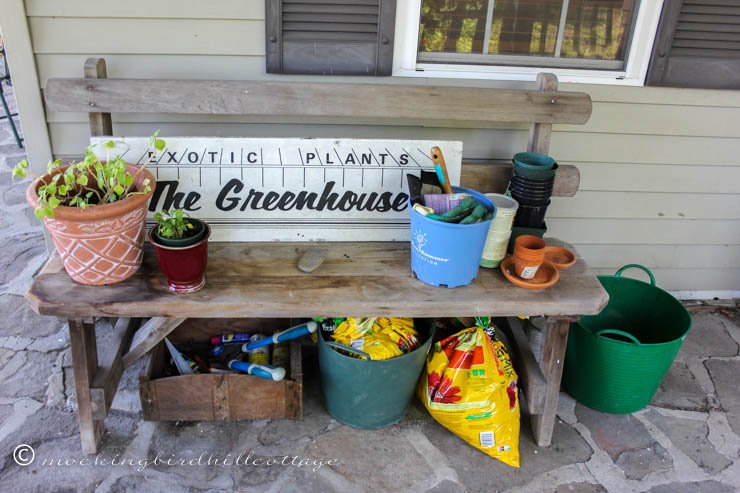 Bags of potting soil, tools, buckets, pots, garden gloves – you name it, it's there. Unlike the owner of the dollhouse, I don't have a dedicated shed/room for potting.
The teak furniture that you see was a Don find. Just down the road from us is another road where we would frequently take the dogs for a walk. There's only one house on that road and the furniture (consisting of four benches- two with backs and two picnic benches, as well as a big picnic table) was sitting out near the road with a For Sale sign. Don negotiated with the owner and we got the whole shebang for $25.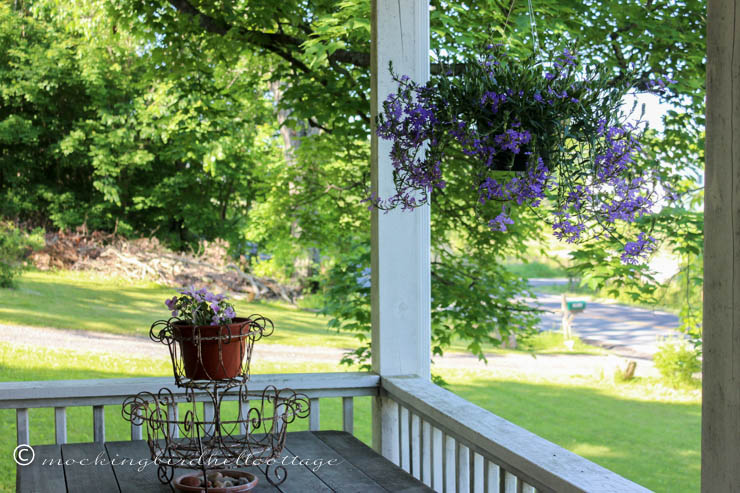 That's the picnic table.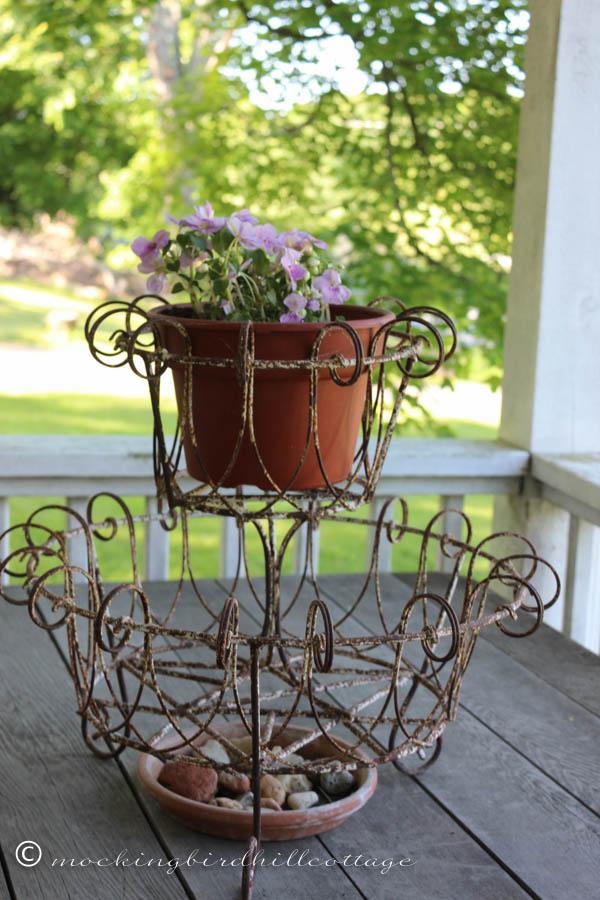 And that's the wrought iron plant stand or Wrought Iron Thingy (its official name) that I bought several years ago while working in California. I had to ship it home, but it was worth it because I love the way it looks out here on the porch.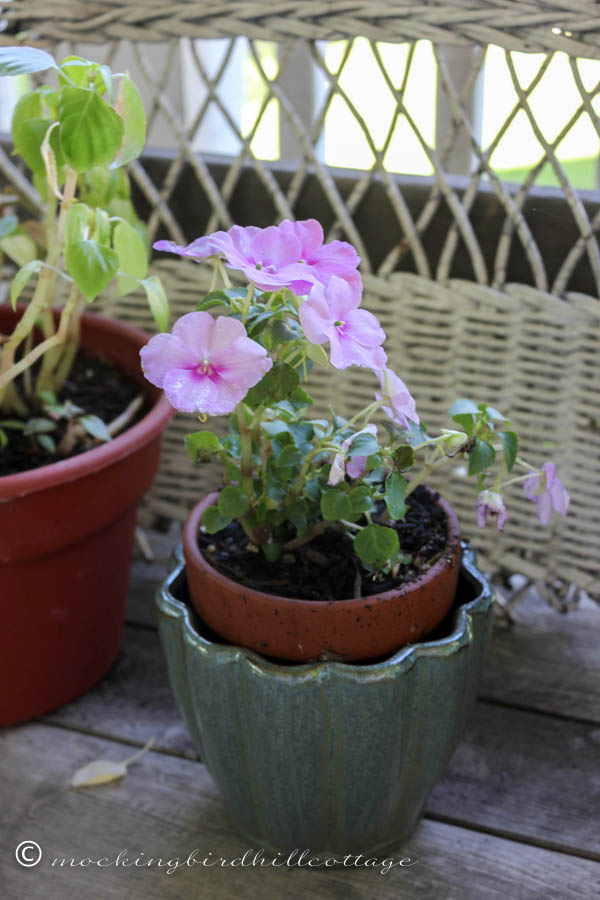 As you turn the corner, there is another bench filled with potted plants and a piece of vintage wicker.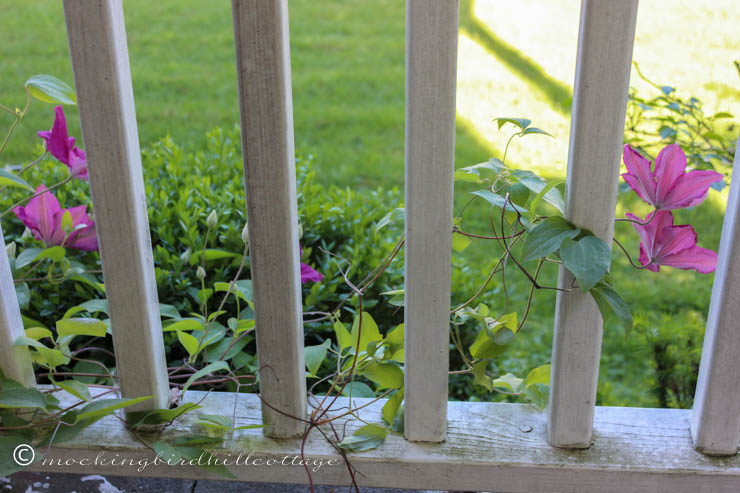 The clematis winds it way in and out of the porch railing. (No, I haven't cleaned the porch railing yet. And I just may not!)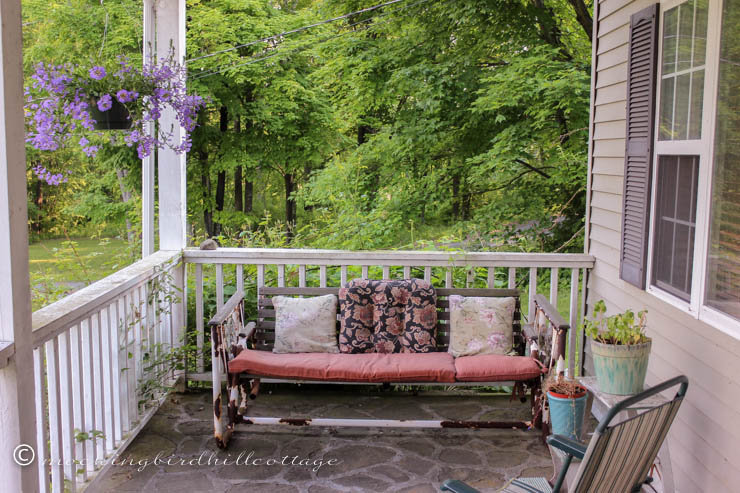 On the far end of the porch is the glider – another $25 Don find from our time living in San Diego. It's rusty and funky from years of use. I've been tempted to paint it, but I like the rust. I like the vintage, weathered look of it. I spend lots of time on this glider. It's also great for taking a nap. That's a vintage wooden step stool on the right.
You can see the roses pushing their way through the porch spindles. The garden bed behind the glider is full of hydrangeas and roses and soon they will be framing this view. I'll be sure to share that with you.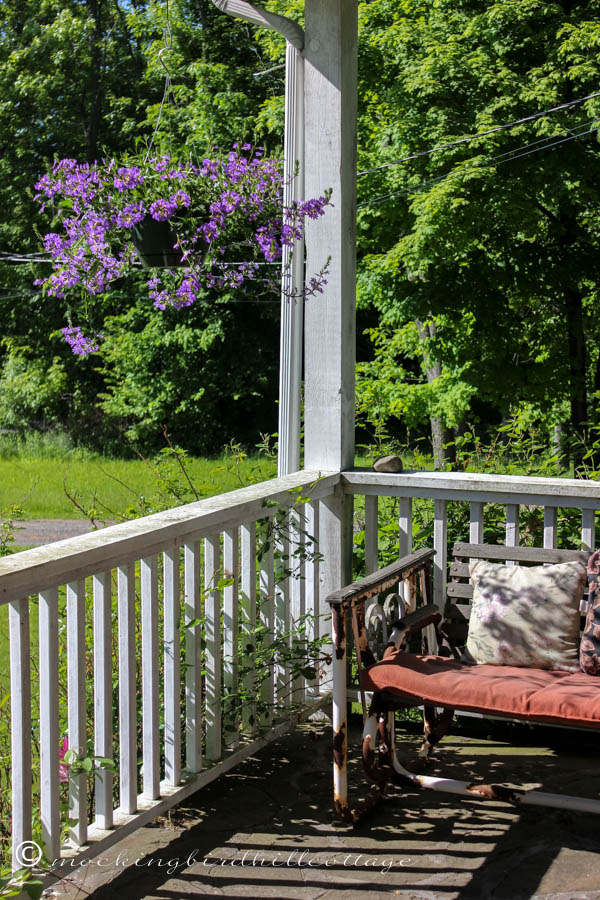 I'm on a strict budget. Actually, even a budget is non-existent at the moment, so I am limited in what I can add to the porch this summer. However, this porch is made for hanging baskets, so I limited myself to two.
I've chosen the same plants for the last few years.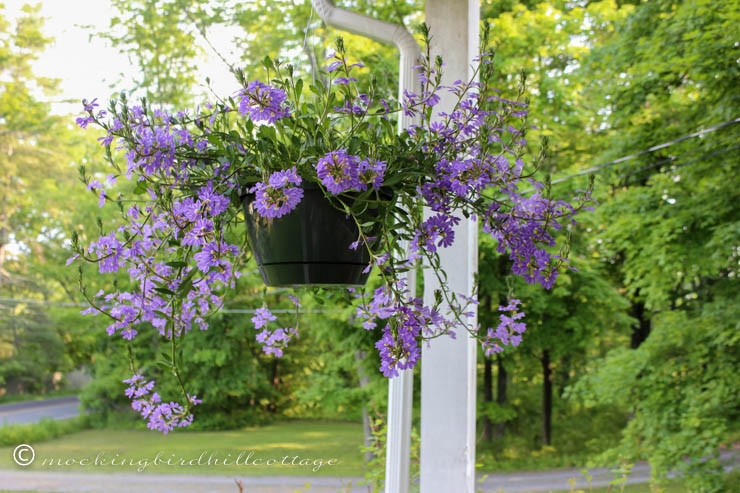 This is a Scaevola hybrid called Whirlwind Blue. It's a gorgeous trailing plant and here's the best part: it lasts all the way to the first hard frost. I have no choice but to be frugal, so I don't want to use early spring blooming flowers that eventually die in the summer. That means I would have to buy more flowers. No can do.
These babies are beautiful and long-lasting and I don't have to do a thing but water them.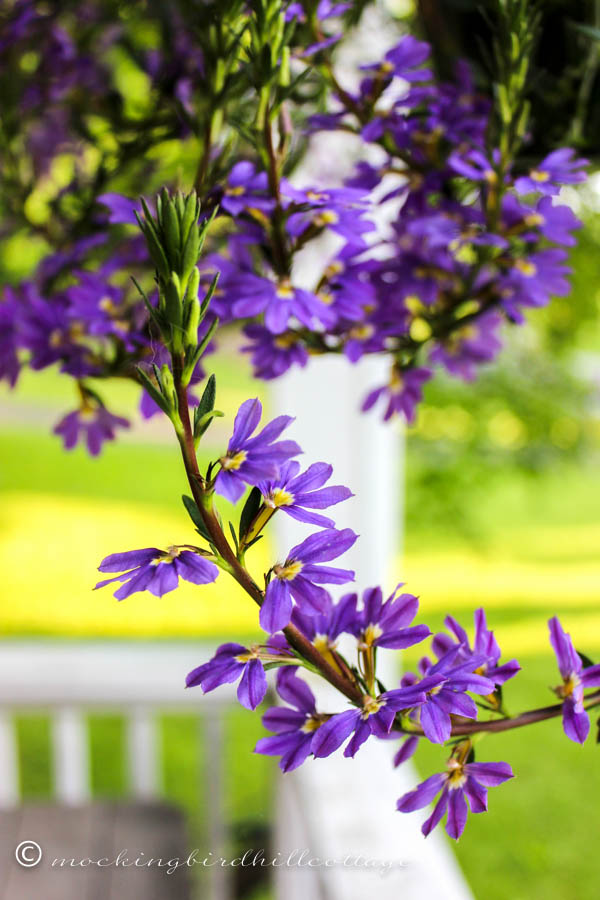 See? Gorgeous.
If I could, I would have a hanging plant in every framed opening on the porch.
Someday.
I see so many beautiful porches out there in blogland. Many of them have painted floors and never seem to get dirty. They have lamps and beautiful furniture. They have curtains wafting gently in the breeze. I can only surmise that those porches are more protected from the elements than mine. Since my porch is a wrap-around porch and it's on a little hill, the wind and rain and snow that we get sweeps through, leaving leaves and dirt and snow and ice and rain behind. It's just not practical for me to have anything too 'decorated.' That doesn't work with our northeastern weather or with the way our cottage is situated. So I do my best to make it naturally beautiful and the teak pieces have been the perfect solution. Simple works best here.
You can see why this is a favorite place to read a book, do some crocheting, drink some early morning coffee or just rock gently on the glider.
The bluestone floor is simply beautiful. The view of the gardens and the property makes my heart sing.
Thanks for stopping by!
(The winners of tickets to the Country Living Fair are Arianna and Cherie. Congrats!)
Happy Tuesday.