You might have noticed that I've changed to a new layout here on the blog. This idea came to me yesterday and, like a dog with a bone, I spent all day on it. All day. I took a break to take a shower, water the plants and to feed Scout, of course, but the rest of the day? Lost in cyber world. Don was lost in music composing world, so it worked out well. No one felt neglected.
I'm on WordPress and I use the Genesis operating system, which uses what are called 'child themes' that individualize websites and blogs. So, changing the blog involved working with a new theme while my current theme was still running. I thought I had it all done but when I hit the button late in the day to change over, it looked like a mess. Back to the drawing board. I still need to tweak it a bit, but I really like the new post font and the amount of white space there is on the blog. The old theme was feeling a bit crowded and cluttery. Having ads can do that. And though I'd still love to cut down on ad clutter, I need them. So, adding some 'air' to this space helps a bit.
It's a change and if you loved the other theme, it may take some getting used to. I loved the other theme, too. But a girl has to try something new every once in a while.
Here's the one snag. I cannot get Leave a Comment to show below the post. I've got a support request in and hopefully will have it figured out soon. But in the meantime, you have to scroll back up to the top of the post to click on 'Comments', okay? Scroll back up, click, and you'll be taken to the comment page. Update: Fixed it!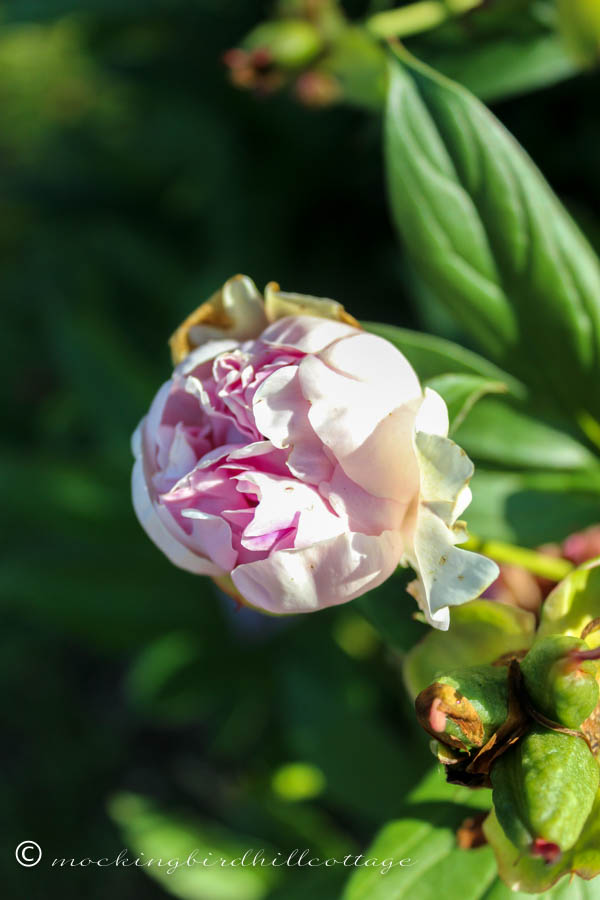 I strolled down to the mailbox yesterday and glanced at the peony bushes, which had long since stopped blooming. Wait a minute….what is this? A pale pink peony. Neither of the bushes has flowers in this color. I'm amazed. I wonder if it will open?
It was a nice surprise for this girl who hated leaving her cottage when the peonies had just opened.
This is what I got Don for his birthday: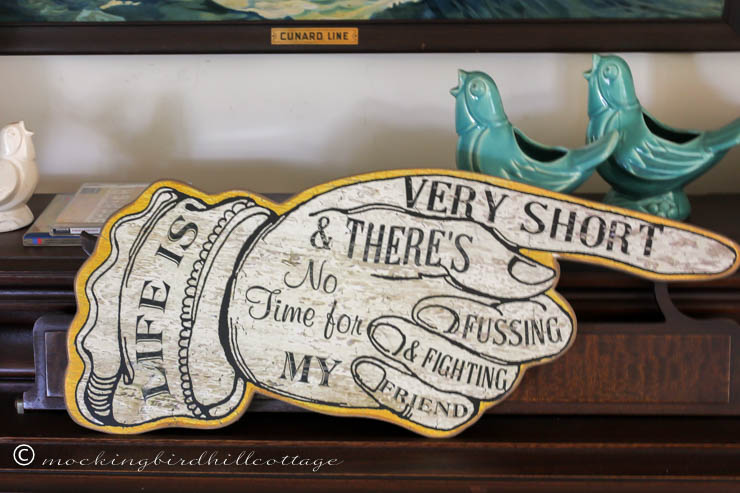 I found it at the Country Living Fair. I saw it on my first day there, didn't buy it, and kept thinking about it after I got home. So, the first thing I did on Saturday was find the vendor who was selling the sign and grab one.
Don loves signs. He loves the Beatles with a devotion that has never wavered over the years. What could be better than a sign with these lyrics that remind us to avoid fussing and fighting and sweating the small stuff?
Now we have to figure out where to hang it. We've used just about every bit of wall space in this little cottage.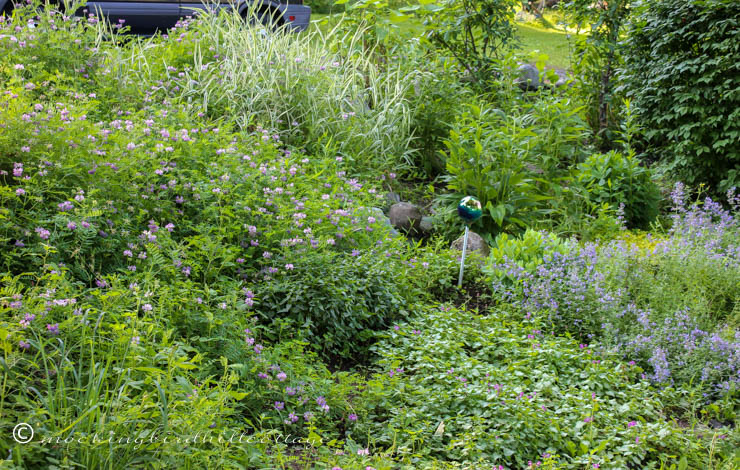 The shade side of the big garden bed is full of crown vetch and ground covers and catmint and grasses and soon-to-be-blooming white coneflowers. Every bit of soil that was bare had been taken over by humongous weeds in my absence, so I had to do a lot of weeding on Monday. Everywhere.
How is the weather where you are? Boy, is it hot and humid here! It was that way when I left Chautauqua, too.
Not a fan of humidity. It makes my hair curl and my brain turn to mush.
Not a very attractive picture, is it?
The winner of a copy of Supreme Justice is Donna. Congratulations! I'm sending you an email, Donna.
Happy….wait…let me check the calendar….Wednesday.