We had more thunderstorms last night. Wind, sheets of rain, the rumbling sound of thunder that went on and on. There was a time when Scout would have been going nuts. Border Collies have very sensitive ears and any sort of thunderstorm (or fireworks) made her incredibly agitated.
She doesn't really hear them anymore. It makes things easier for us, but I confess it also makes me sad. She has cataracts. She doesn't hear very well. She has arthritis.
But she remains the bright, precious spirit that she has always been. She still has a twinkle in her eye. I love my girl.
Do you remember when I went to the Country Living Fair? I mentioned in passing that I bought a little piece of miniature pottery on my first day there. What with the sudden offer of a job in Chautauqua and the flurry of packing that ensued, I never got around to showing it to you.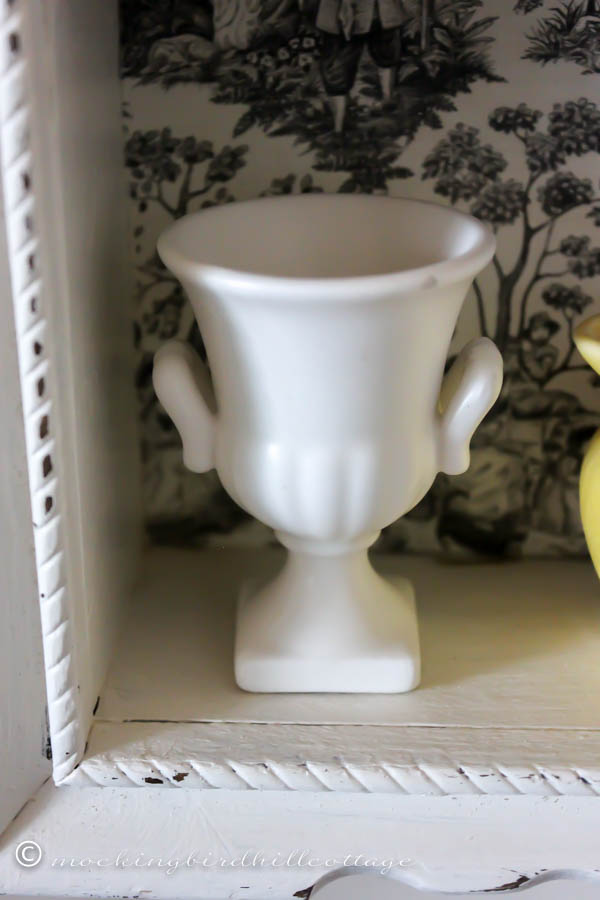 There it is. I rather like it.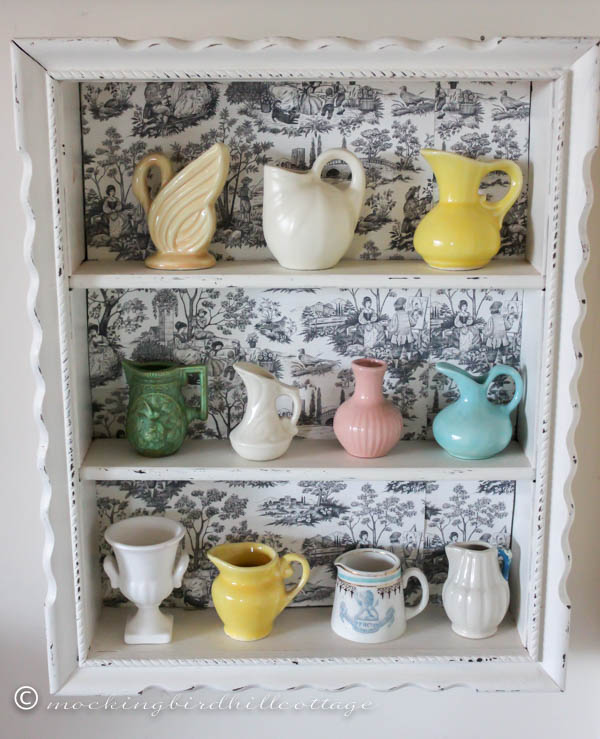 And here it is with its brothers and sisters. I think I'm going to have to find another display shelf….I'm running out of room!
I tend to collect lots of things. (That's an understatement.) One collection has required no monetary investment, just a good eye. The items are found here and there, on the property or on the road. I don't have room for a Cabinet of Curiosities, but I do have a Transferware Plate of Curiosities. And yes, I do curate it. I just did that the other day. I cleared out and cleaned up and here it is: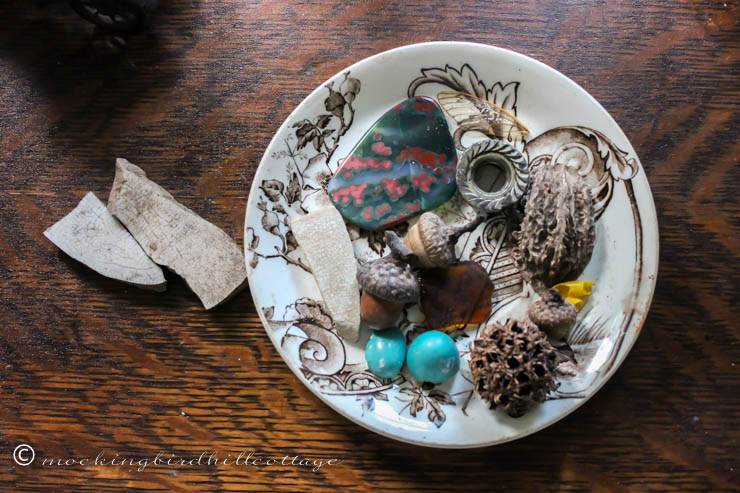 Next to the plate: two pieces of china that I unearthed in our woods the other day. Love the crazing.
On the plate, starting from left center and moving clockwise:
A piece of china I found on the shores of Chautauqua Lake. The edges have been smoothed by the water.
A polished agate that Don gave me.
A cicada wing.
A piece that Don found. It looks like some sort of nozzle. I love swirly design in the metal.
One half of a nutshell. Love the texture.
Part of a yellow eggshell that I found on the property last year. Still haven't determined what sort of bird egg it is.
An acorn cap.
These pods fall from the trees in the park I frequent when I am working in Hartford.
A robin's egg that I found this year on our property. You know how I feel about that particular shade of blue.
Two acorns.
A piece of glass that I found on the shore of Chautauqua Lake. I'd call it sea glass, but I suppose a more accurate term would be lake glass.
All of them live on the sideboard in the living room. I like to stop and look at them a few times a day. They make me happy.
I'm so glad you like the book blog, by the way. There's another post up today. Just click on this link. Needless to say, with two blogs up and running, I've been busy!
Happy Wednesday.