The last three days? Insane.
The attack started on Wednesday and continued through yesterday. The techs at my host assured me that kind of attack isn't personal – it's done by a bot with some sort of script and they just keep at it. And at it. Anyone with a blog has been on the receiving end of a hacking attempt – they might not know it's going on, but it is. Usually, they are a few hours long. But this one was a whole new thing. By Thursday, I decided to add another level of security, even though I really didn't want to spend the money.
My blogs mean a lot to me and feeling peace of mind about any future attacks makes the expense worth it. Unfortunately, these DDoS  attacks and Brute Force attacks are becoming more and more common. You'd think these idiots could find something better to do with their time.
When I was on Blogger, my blog was hacked four times. That's why I moved to WordPress. On Blogger, getting any tech help is next to impossible and after the first hacking attempt, no one answered my questions. Not one person. I felt helpless. And as I scrolled through the Blogger Help Forums, I saw lots and lots of unanswered pleas for help. Some people had lost their blogs, some were hacked, sometimes Blogger just deleted a blog for some reason or another. Very disheartening. At least with WordPress, I can get help. I can add security. I have a host that will answer my questions and solve the problem. I have my security company that, I have to say, worked overtime yesterday to get everything in working order. But there were lots of hiccups on the way, which is why you saw 403 and 404 errors.
My body was so tense from hours of sitting hunched over my laptop that I went outside and mowed part of the lawn just to get some sort of physical release.
Anyway, all is well.
And, once again, I am reminded that I have the best readers in the world. The best friends in the world. Thank you for your support and for the emails alerting me to problems. Thank you for responding to my test posts. Bless your hearts. I am so, so grateful for your presence in my life.
Unfortunately, I ended up the day feeling feverish and achy. I'm not feeling much better today. I have a lot of congestion – maybe a sinus infection? I'm not sure. So I'm going to be laying low for the rest of the day.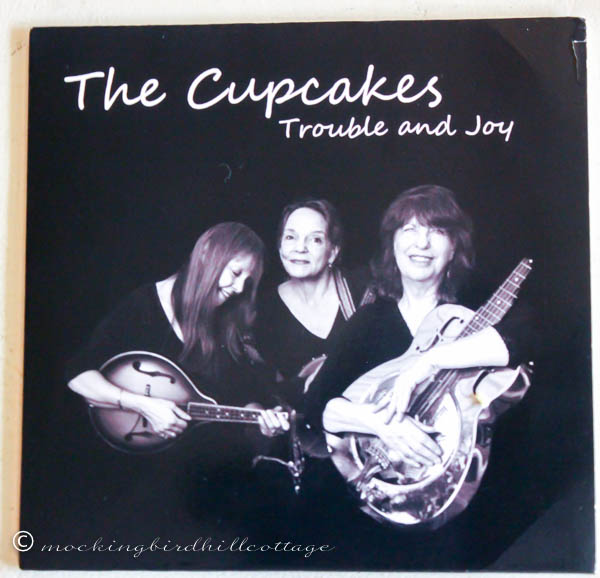 These ladies are The Cupcakes. They are extremely talented and I really love their work. They are based out of Woodstock, NY. The area I live in is full of musicians. Somehow, the Hudson Valley, including Woodstock, attracts musicians and there's always lots of music going on. This is their new CD. The title song? A song written by my husband.
I'm busting my buttons with pride. Don is a very talented songwriter and musician. The Cupcakes have been singing their version of Trouble and Joy for a couple of years now and they decided to use it as the title song. Isn't that neat?
You can go to their site on ReverbNation to hear Trouble and Joy.
Tonight is their CD Release Party. I hope I'm feeling better so I can go!
Oh, and in case you missed it, there was a new post on Just Let Me Finish This Page yesterday.
Oh and Bloglovin' is somehow showing that I have a new post up, but when you click on it the text is blank. Don't know why that is happening and, frankly, I find it sort of a pain in the tush. So do me a favor: if you see I have a new post up, just come on over directly to the blog. That's the way I'd like you to read the posts anyway…I work hard at my blog design and the look of a post and readers don't really show any of that. I'll try to figure it all out at some point, but now? I'm tired.
Happy Saturday.