This is what I saw when I let Scout out this morning: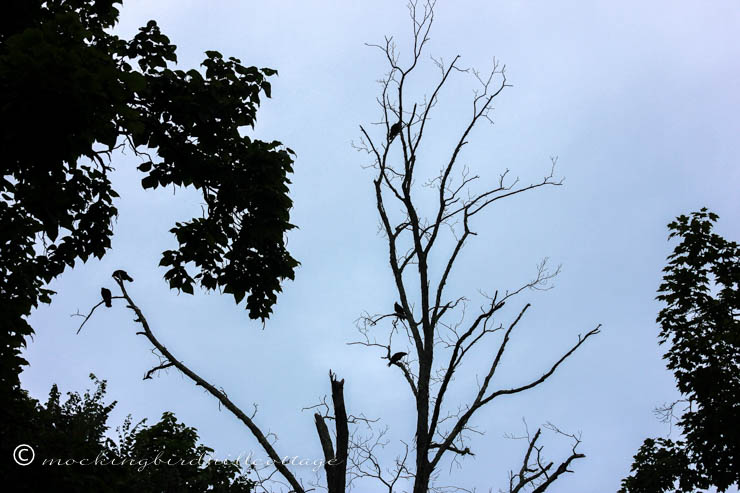 Five crows hanging out in our dead tree. At first, I thought they might be turkey vultures because I saw one up in the tree the other day. But their noisy calls soon told me they were crows.
We watched It Happened One Night yesterday. It has to be one of my favorite movies ever. It makes me happy. It's funny and sad and wise and happy and it's directed by the great Frank Capra, with a cast of wonderful character actors and, of course, Claudette Colbert and Clark Gable (in what I personally think is his best performance ever.) It was the perfect way to end a bit of a tough day. Thank goodness for TCM On Demand. We almost went with Roman Holiday, which was airing live on TCM, but I own that movie and we knew we could see it anytime.
Have you seen It Happened One Night? I have so many favorite scenes, but the scene on the bus with everyone singing "The Daring Young Man on the Flying Trapeze" has to be one of them, along with every scene taking place in an 'Auto Park,' little groups of cottages where you could spend the night as you journeyed across America in your car. Don and I watch the scene inside the little cottage as the rain falls outside and wish we were back in that time, when traveling in a car was new and exciting and full of adventure.
(I just took a break from writing this because Don got up and we immediately started talking about how much we love that movie.)
In the past week or so, we've watched three of our favorite movies: Ball of Fire, His Girl Friday and It Happened One Night. I could watch them again and again.
I also just finished a beautifully written mystery by a new author – Invisible City by Julia Dahl. Brilliant! It centers on a reporter who investigates a murder in the enclave in Brooklyn that is home to the Orthodox community of Hasidic Jews. Absolutely riveting, fascinating and so well plotted. I can't decide whether to officially review it on the book blog or just talk about it. But I will say that I recommend it highly. An absolutely stellar debut novel and the first in what will be a series about reporter Rebekah Roberts. (Yay!) I am not exaggerating one bit when I say I couldn't put it down.
Now I'm starting The Marco Effect by Jussi Adler-Olsen. I read four of his mysteries in succession earlier this year. He's a wonderful writer. I'll write about Adler-Olsen and his books in an upcoming post on Just Let Me Finish This Page.
Happy Saturday.