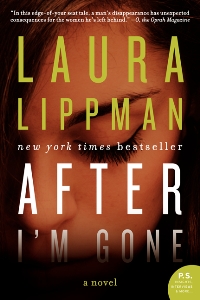 Hello, everyone. Today I am reviewing After I'm Gone by Laura Lippman for TLC Book Tours. As always, I am provided with a copy of the book in return for my honest review.
About the book (from the publisher): When Felix Brewer vanishes on July 4, 1976, to avoid serving a fifteen-year prison sentence for mail fraud, he leaves behind five devastated women: his sophisticated wife, Bambi, their three lovely daughters, and his devoted young mistress, Julie. Though Bambi has no idea where her husband or his money might be, she suspects his mistress does. When Julie disappears ten years to the day after Felix went on the lam, everyone assumes she's left to join her old lover – until her remains are discovered in a secluded park.
Now, twenty-six years later, Roberto "Sandy" Sanchez, a retired Baltimore detective working cold cases for some extra cash, is investigating her murder. What he discovers is a tangled web of bitterness, jealousy, resentment, greed, and longing, stretching over five decades. And at its center is the enigmatic man who, though long gone, has never been forgotten by the women who loved him.
Felix Brewer left five women behind. Now there are four. Does one of them know the truth?
My review: Laura Lippman is an author who has been on my radar for a long time. Her Tess Monaghan mysteries receive rave reviews. So, I jumped at the chance to read and review her newest book. This one, as does the Tess Monaghan series, takes place in and around Baltimore. The premise is a fascinating one and Lippman does a bang-up job of moving between the present and the past. While Sanchez investigates the murder in the present, we are taken back to the day Felix vanishes. From there, we move in and out of the subsequent years after his disappearance, each time from a different character's point of view. This is a powerful way to tell the story. We get to know the five women in the story as little peeks into their lives at a given point in time are revealed to us – very much like a jigsaw puzzle where each piece reveals a bit more of the big picture.
Lippman is an incredibly skilled writer, the plot is complex and detailed. She dangles a hint here, a hint there, as the story moves forward, all of it making sense, but not making quite enough sense to figure out who the murderer is. I was kept guessing right up until the end. Oh boy, do I love that!
Baltimore is clearly a city Lippman knows and loves. It figures prominently in her books and she paints a vivid picture of that city and its environs. It's a character in and of itself. As for the rest of the characters in the novel, they are fully realized and fascinating, to boot. How are those women impacted by Felix's disappearance? What are the ramifications for them as they move forward in their lives? How does it mark them?
You'll have to read the book to find out.
I have become a fan. (I look forward to starting the Tess Monaghan series!) Laura Lippman has written a fascinating and un-put-downable mystery.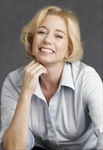 About the author: Since her debut in 1997, Laura Lippman has been heralded for her thoughtful, timely crime novels set in her beloved hometown of Baltimore. She is the author of twenty works of fiction, including eleven Tess Monaghan mysteries. She lives in Baltimore, New Orleans, and New York City with her family.
Good news! One of you will win a copy of After I'm Gone. Just leave a comment on this post and I will pick a winner on Sunday evening.
Happy Thursday.