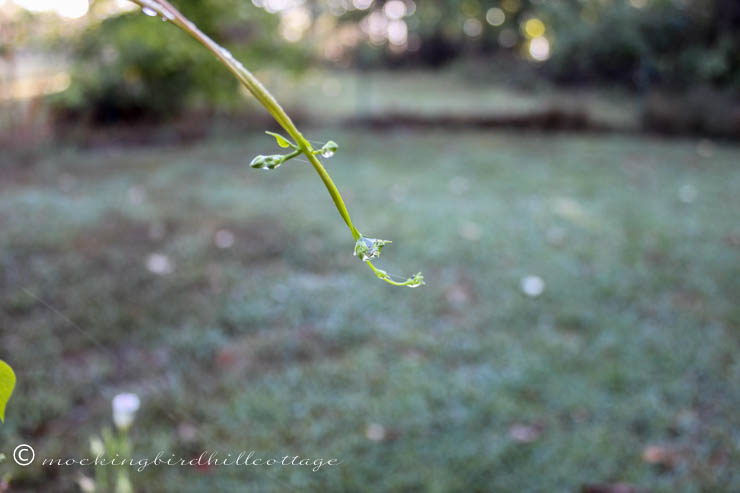 Last night, the temperatures dropped – it may have been the coldest night in the last few months. Leaves are scattered around the property. Autumn is definitely on its way…but no, it is not here yet. I have no desire to rush headlong into a new season before it actually starts. Yesterday was quite warm during the daylight hours. When Autumn officially arrives in a week or so, I will greet it with a smile. But not until then.
I am not a seasonal decorator. I'm not counting Christmas, of course, but even then, my decorations have been winnowed down in the last few years to a group of very special items that we love. Let's face it: there is a lot to look at in my cottage. China and pottery is everywhere, favorite prints and paintings are on the walls, there's always lots of color, books are everywhere. I've written about this before in a post called Confession: I Don't Decorate for the Seasons. And it still holds true.
Why? Well, it could be because we live in a part of the country that has four distinct seasons, each of them glorious. I can look out my window or sit on my porch and see nature's seasonal decorations. And who could ever top that?
But even when I lived in San Diego, vastly different than the Northeast, I didn't decorate for the seasons. I might have used some indian corn at some point during my eight years there and we carved a pumpkin or two around Halloween. Those were the days when we had trick or treaters, so we did it for them.
This cottage seems to adapt to the seasons quite well on its own. In the spring and summer, our many windows provide lots of light and give us peeks at trees and flowers and butterflies and birds. In the fall, the light changes and the cottage seems cozier, though I haven't done anything specific to honor the seasonal change. Lamps are turned on a bit earlier. The throws that are always (in any season) in a basket in the den are used more frequently. But I don't decorate with them. I see the glorious colors of the changing leaves right outside my windows. In the winter, as the light changes yet again and is reflected off the snow, the cottage becomes even cozier- a haven from winter's cold and falling snow.
But I don't do any of that. The cottage itself morphs and adapts and nature's splendors are right outside our doors – always on view.
I also must confess that I have an aversion to tchotchkes scattered around the house with the words Autumn or Fall or Spring! or whatever on them. Likewise 'Snow!' I avoid the seasonal displays and decorations at stores like Michael's like the plague. Definitely not my thing. I've never been able to figure out why I need some words or decorations to tell me what season it is.
Oh, I know. I'm most likely the odd one out here. I understand. I know I often march to a different drummer.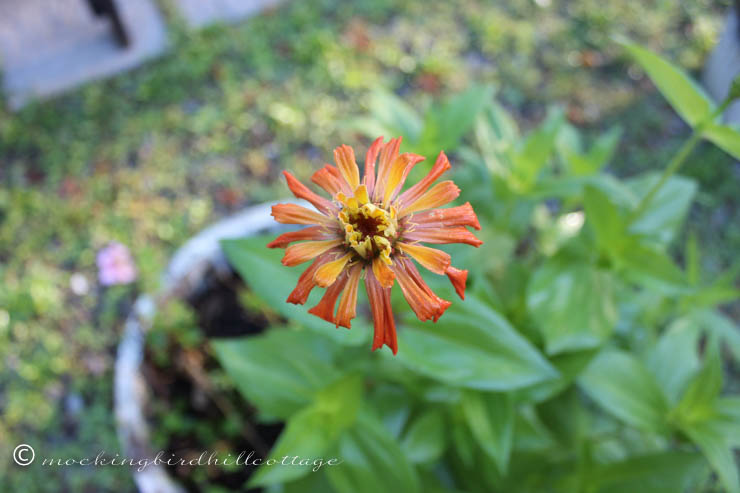 Ah…. see? Mother Nature designed this zinnia and its autumnal colors are perfect for this time of year. I take no credit. I'll soon be seeing these colors in the leaves as they turn. I'd rather look at this 'decoration' than anything I could display in my house.
(By the way, Don, this is for you. More zinnia pictures are coming your way.)
Also, the thought of having to seasonally decorate my home makes me want to take a nap. I'm betting, however, that a lot of you love to do just that. And more power to you!
Just don't stop by expecting to see gourds and pumpkins and indian corn and the word, 'Autumn,' everywhere.
You'll be disappointed.
(New post on Just Let Me Finish This Page: "On Not Wanting a Book to End." Please stop by.
Happy Monday.