• First of all, did some of you miss yesterday's book review? I'm thinking that must be the case because I'm giving away a copy of Deborah Crombie's newest, To Dwell in Darkness, and where are all the comments? There should be a lot more than there are. You're not interested in a free hardcover edition of an excellent book?? Really?
• Too much reality television. Too much. As I man the remote here at the hotel, I am stunned by how much of that inferior, lowest-common-denominator stuff there is on the tube. First of all, it's not reality, it's pretty much engineered and scripted to appeal to a demographic that likes to slow their cars to gawk at car accidents. Will this trend never end? I find it demoralizing and very sad, indeed. And yes, before you say it, I know there are exceptions in this genre. But very few. So, it's Law and Order reruns once again.
• What is with 'gah?' – I now see it everywhere, including blog posts. Is this the new way of saying 'yikes' or 'oy' or 's*#t?' I'm not a fan. It's singularly unimaginative. But then again, those using it don't care whether I'm a fan or not.
• I have now gone through so much kleenex, I should own stock in Puffs. Or Kleenex with lotion. I bought a mega sized box yesterday, with fingers crossed that it's the last one I have to buy.
• Why do advertisers assume that any woman of 61 years must be ready for Depends, must have so many aches and pains that she absolutely wants to hear all the product-shill information that pharmaceutical companies have to offer repeatedly on television, must be ready to retire, must be un-hip, must be a mere shadow of who she was? I get so sick of this crap. I see it on television, throughout the media and even in the ad opportunities I get on this blog. It drives me nuts. For the record: I work in the Arts, I don't need Depends, I'm funny and witty and pretty gosh-darned hip for my 'age.' I'm well read, I'm a fighter for social causes, I'm active, I mow a massive front lawn and a back forty that would make your head spin, I am passionate and, my husband tells me, sexy. And I'm a consumer. Put that in your pipe and smoke it.
Stop generalizing about your target groups. All twenty-somethings aren't alike. Likewise every other age group. Show some originality.
End of that rant.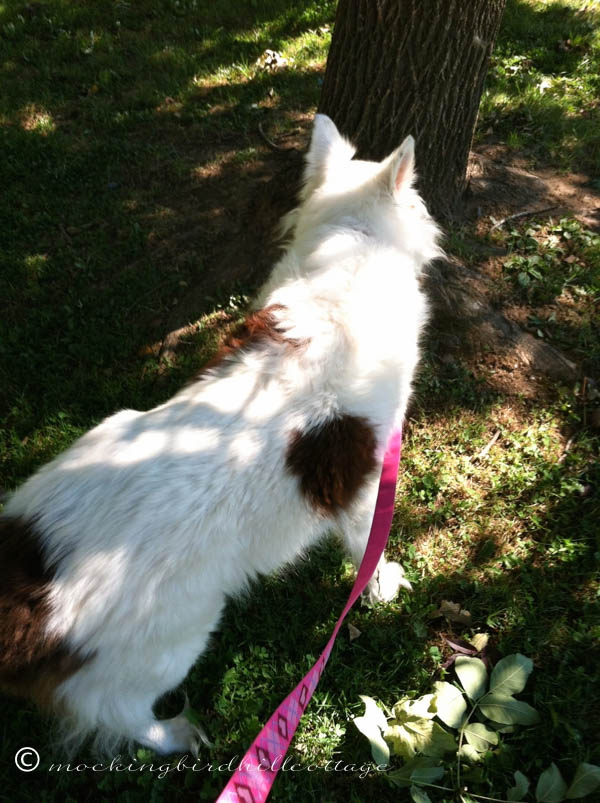 • I know everyone isn't a dog lover. I get it. But my dog, always on a leash, is – let's face it – adorable. She's beautiful. She smiles. She has a twinkle in her eye. And when I'm walking her, she does a little hop on her right front leg that, at the very least, usually brings a smile to a passer-by's face, and often the question "What's wrong with her?" It sparks concern. It's endearing, in a slightly loopy way.
I take no credit for her beauty, of course, but she is beautiful. She is sweet, At this point in her life she barks rarely, and she shyly stops to greet everyone.
But there are those who look right at her as she smiles at them with what I can only describe as a very mean look – a look filled with animosity and/or contempt. It's very strange. Now, let me assure you, most of the people Scout encounters smile at her, or ask if they can pet her. And I'm not counting those who are busy and whose minds are clearly on something else. I get that.
But mean looks? Those are the people I don't want to get to know, thank you very much. You are not going to be my friend. Yes, you may be lukewarm on the subject of dogs. You may be a cat person. Or you may be a no-pets-at-all person. I respect that. But a mean look? No. That ain't gonna cut it.
• Still sick, but slowly getting a bit better each day. It's now in my chest, but I'm 'expectorating' and I just have to be patient. Very tired, of course. But I have a light day today, which helps.
Happy Tuesday.