Did I tell you I got locked out of my bathroom the other day?
It was Tuesday afternoon, right after I had made a run to Target and Trader Joe's for food and rugs. By the time I got back to the apartment building, I had to go to the bathroom. Badly. But in the meantime, I had to unload the car and make three trips to the building with my packages, then move the packages near the elevators, then try to hold the elevator door open so I could move all those bags inside the elevator.
Still had to go to the bathroom.
At one point, I enlisted the help of one of the maintenance men to hold the elevator door for me, so that I could grab the last couple of bags. I didn't want to inadvertently send the elevator up and on its way to an unknown floor without me.
Fast forward to my arrival on my floor. Again: hold the elevator door with my foot, unload all the bags. Then move the bags to right outside my apartment door. Unlock the door, move all the bags inside the door. Say hi to Scout. Head to bathroom, because by this time, I really had to go.
The door, which I had shut earlier in the day in order to keep Scout from slipping on the floor while I was out, was locked.
Oh no.
I tried a few more times. Locked. By this time, I was doing a frantic little dance and wondering what the heck I was going to do. I ran out the door, thinking that maybe the guy from maintenance was still downstairs. As I headed to the elevators, amazingly, there he was, on my floor. I begged him for help.
When we got inside the apartment, he looked at the doorknob and said we needed some sort of wire, about 3 inches long,  which he would push into that little hole on the knob to eventually release the locking mechanism. Well, I'm in theater housing, with just the basic necessities. I opened drawers. I looked in closets, I even tried to straighten out the wire on one of my pierced earrings. Nothing worked.
By this time, I was in danger. You know that feeling.
Finally, he suggested a wire hanger and I found one in the closet. It looked rocky for a while there, as he tried to straighten the wire enough to get it through the hole, but he finally managed to release the lock.
A voice was screaming in my head, "Thank you, now get out so I can go!"
But I thanked him profusely and walked him to the door.
Then I ran into the bathroom.
Scout just watched all this with the sort of bemused air of a dog who has seen her parents do all sorts of weird things.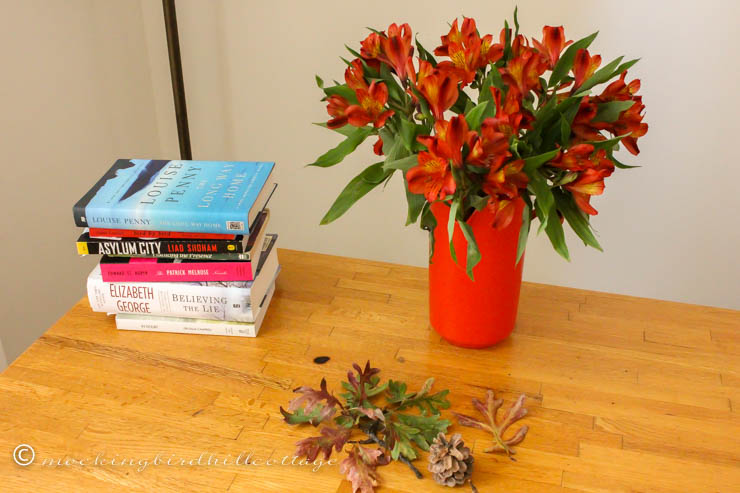 I can't take a walk in the park with Scout without bringing back something. A leaf, a pinecone, an acorn. I did the same thing last year.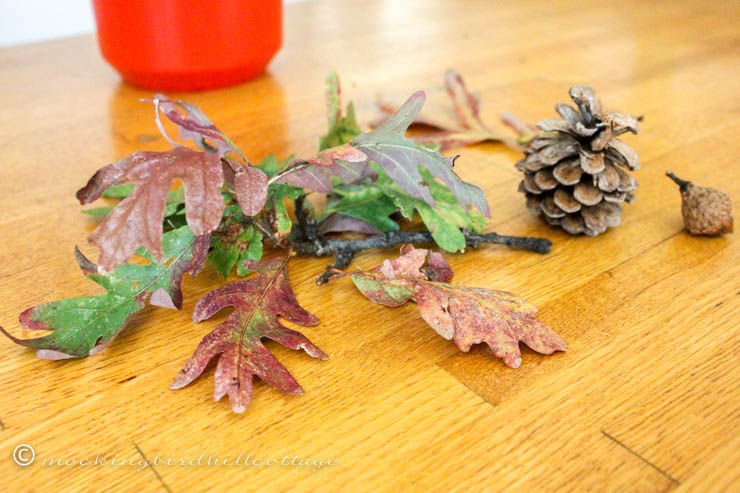 I hunt and gather and everything is placed in the middle of the dining room table. An unintentional vignette (because you know I like to arrange things but I'm not really a vignette sort of person.) I do love the colors of those oak leaves.
I'm missing autumn at home. I should be raking leaves right about now. I was going to go back home on Monday for an appointment, but I just can't bear the thought of it. I haven't really had a day off in about two weeks. And that would increase to three weeks without a day off if I headed home. So I'm staying here with my little girl. We're going to take some nice walks. Maybe I'll run a few errands. But we aren't going to drive for four hours, that's for sure.
Remember my recent post about blogging and the New York Times article centering on Young House Love (the Petersiks)? They've decided to stop blogging. Read the post here. I'll miss them and their wonderfully honest presence on the Web, but I admire them for the bravery of their decision.
New post up at Just Let Me Finish This Page. It's a review of Personal by Lee Child. Stop by!
Happy Friday.