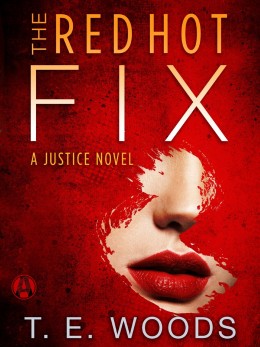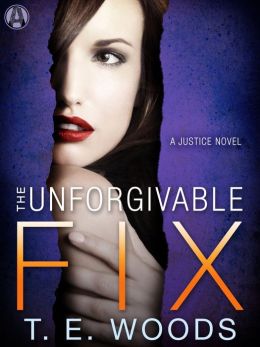 Today I am reviewing two books by author T. E. Woods for TLC Book Tours. As always, I am provided with a copy of the book in exchange for my honest review.
About the books – The Red Hot Fix: A little more than a year after The Fixer killings, Detective Mort Grant once again has his hands full. In the last four months, seven men have been murdered in seedy pay-by-the-hour motels: first strangled, then tied with rope and set on a bed of crushed mothballs, with a red lipstick kiss planted on their foreheads. Speculation abounds that the killer is a prostitute who's turning tricks into dead men. The press has taken to calling her "Trixie."
As Mort follows scant leads on the case, he can't help but feel continued guilt over his involvement with The Fixer. Though the public holds her up as a folk hero, a vigilante who seeks justice when the system fails, Mort cannot shake the fact that serious crimes have been committed. And though legend says she has vanished, Mort knows exactly where The Fixer is – and he's conspiring to keep her hidden.
As Trixie strikes again, Mort suddenly finds himself and his family in the crosshairs. Because these new murders are not random, and their perpetrator is hell-bent on luring Mort into a sick and twisted game. If he's not careful, he's going to need Fixing.
The Unforgivable Fix: Detective Mort Grant has finally decided to sell. The home where he and his late wife raised two kids feels too large and too full of old memories. His son is married and raising a family of his own, and despite efforts to find her, Mort has lost touch with his wayward daughter. That is, until the day she walks back into her childhood home and begs for his help.
In the last four years, Allie Grant has been the lover – and confidante, confessor, and counselor – of one of the world's most powerful and deadly men. But a sudden, rash move has put Allie in the crosshairs of a ruthless Russian crime lord. Mort knows of only one place Allie will be safe: with the Fixer.
As a hired desperado, The Fixer has killed twenty-three people – and Mort was complicit with her escape from the law. She has built an impregnable house, stocked it with state-of-the-art gear, armed it to the teeth, and locked herself away from the world. But even The Fixer may not be able to get justice for Allie when real evil comes knocking.
My Review: These two books are part of a Justice Series by T. E. Woods. I reviewed the first novel in the series, The Fixer, here. All three novels center around Mort Grant, who is a detective in the Seattle Police Department, and Lydia, a psychologist, as well as Mort's colleagues, his son Robbie and his daughter Allie. I don't want to give away anything by telling you who The Fixer is, but the relationship between Mort and The Fixer is complicated and fraught with feelings of guilt.
In both of these novels, the characters established in The Fixer reappear. We come to know more about them as more of their history is revealed. Both novels have plots that are complex and, ultimately, riveting. T. E. Woods knows how to use pacing to create tension, layering more and more intrigue until the final moments of the book provide a resolution.
What's intriguing about this series is that the main characters are still battling their own demons on the final pages and one knows that the battle will continue in the next book in the series. And, of course, the most intriguing thing about the series is the idea of vigilante justice. Who of us hasn't thought about that? It's what routinely happened in old Western movies. Someone had to take the law in his/her hands in order to stop a very bad guy from hurting any more people. In this series, we have the modern-day version of the lone gunfighter and you just might find yourself cheering The Fixer on, despite whatever moral code you live by.
These can be read as stand-alone novels, but it's awfully fun to read them in order. They are not available as hardcover/paperback books, but instead, are available as eBooks on Amazon and Barnes & Noble. They are only $2.99 each. That's a great deal! I'm hoping that as these novels gain an audience, they can also be published in three-dimensional form. They deserve to be available in both forms. I think you'll really like these books.
About the author: T. E. Woods is as eager as her fans to return to the thrilling world of the Justice series. She's busy writing the next installment and is developing a new series based in Madison, Wisconsin.
The tour will include a Rafflecopter giveaway for a $25 Gift Card to the eBook retailer of the winner's choice as well as a copy of The Unforgivable Fix. Here's how to enter:
Happy Wednesday.