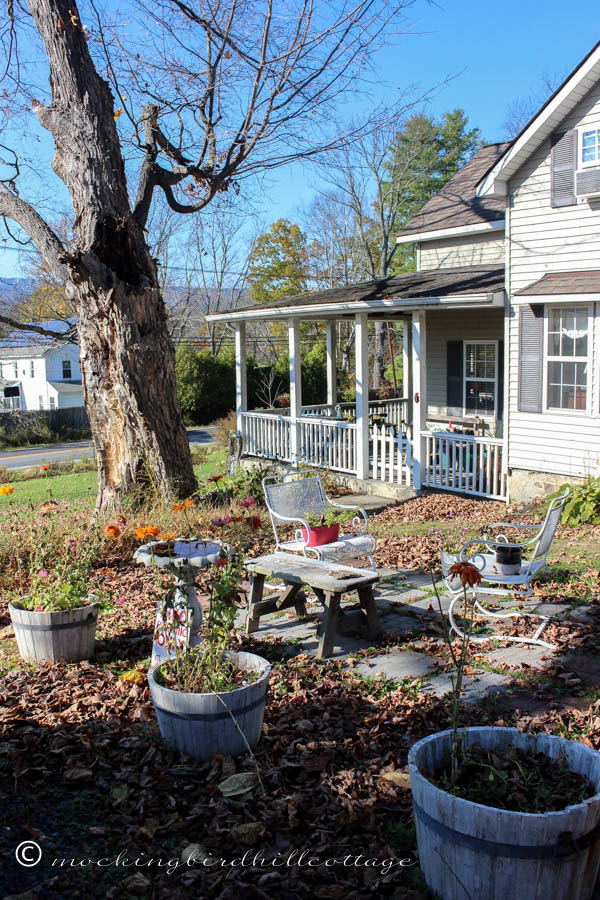 We've got some leaves here. No leaves left on our trees. Oh my goodness. I have a LOT of raking to do.
My neighbors, by the way, did a stellar job of clearing out our gutters and I am so grateful to them. We are very lucky to have them nearby.
I drove home with no stops, hoping to get to our post office to pick up the mail before it closed at noon. We arrived in our little town at 12:15. Darn. Packing everything up, going up and down the elevator countless times, loading the car, waiting to get Scout in the car before I pulled up the rugs – all of that took a bit longer than I thought it would. Meanwhile, Scout got increasingly more hyper as she realized something was going on. By the time we got here and she watched me unload everything and sniffed around her corral, she was exhausted.
I also think she misses the park. So do I. I've noticed by the way she goes up the steps from the den that she seems stronger. So little trips in the car so she can take a walk are definitely a must. I don't want her losing that strength she has built up.
But we miss the park. And, though I was happy to be home, suddenly being done with all my work in Hartford and coming home to a house that's been closed up and is missing my husband made me a bit blue. This transition will take some time.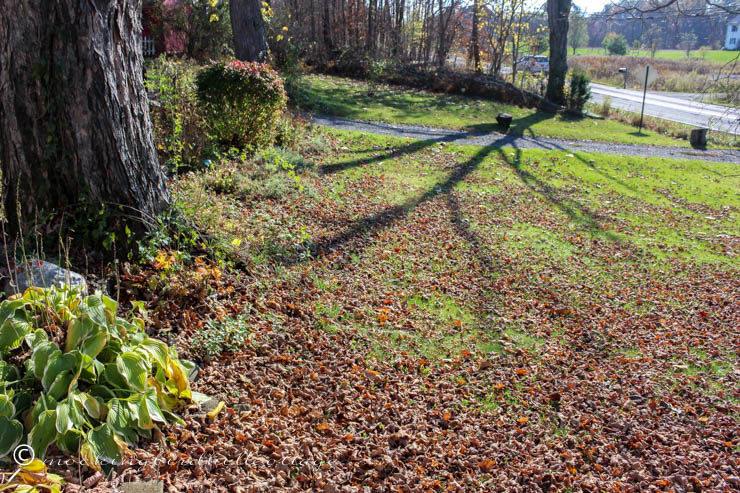 But I have leaves to rake. And grocery shopping to do.
There must have been a frost while I was gone. I don't think it was a hard frost, but it was enough to kill the morning glories and a lot of the zinnias. I did find this morning glory bud: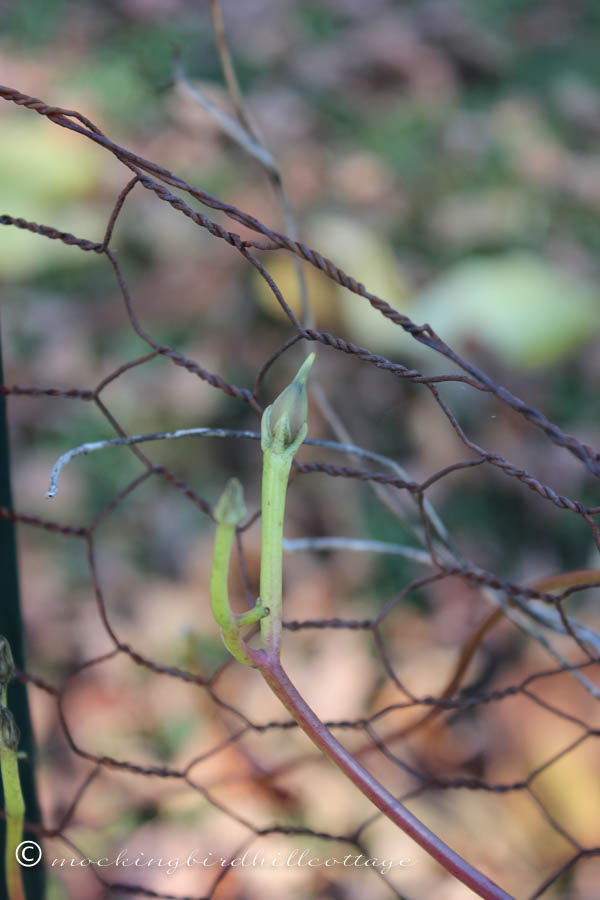 It's supposed to get a bit warmer this week, so perhaps we might see one more flower?
To my delight, some of the roses are still blooming: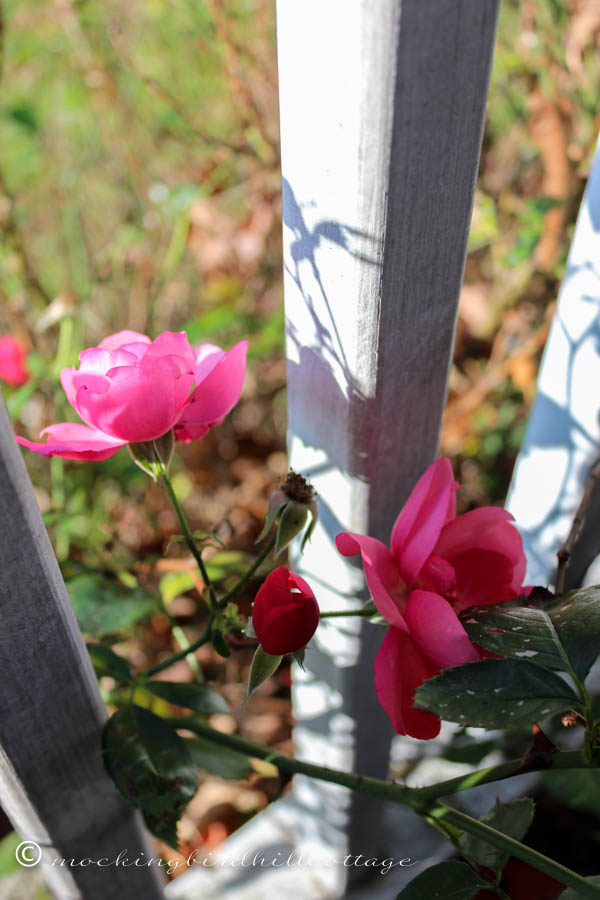 The zinnias in the barrels are still alive, though bedraggled. I'll share some photos of them tomorrow.
And my impatiens, sitting in pots on the porch, without water for three weeks?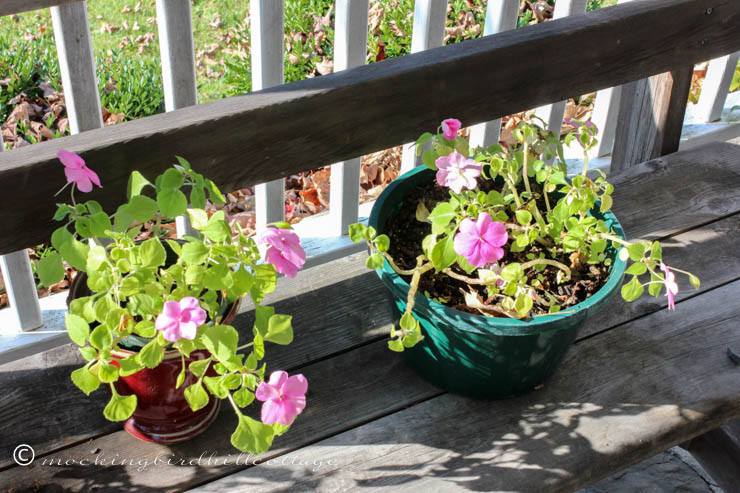 Still blooming. These are the same impatiens I overwintered. They are amazing.
I guess I'll be overwintering them again.
The television, which you might remember was on its way to its final demise before I left, bit the dust yesterday. I turned it on and the sound was doing its noisy clicks and pops and then suddenly the picture went crazy and that was it. All I wanted to do, of course, was watch the World Series. I managed to register online with MLB so I could watch it on my laptop. (I could watch it upstairs on the old TV in our bedroom, but I didn't want to abandon Scout so early in the evening, especially since this whole moving thing is so confusing for her.)
So, on the agenda: new television, washer repair and/or replacement (remember it died, too?), paint the kitchen, bookshelves in the den, and sort and organize each room of the house.
And read books I have to review.
And rake. And rake again. And rake again.
While putting away the food I brought back from Hartford yesterday, I came across a little treat that I hadn't had time to eat before I left: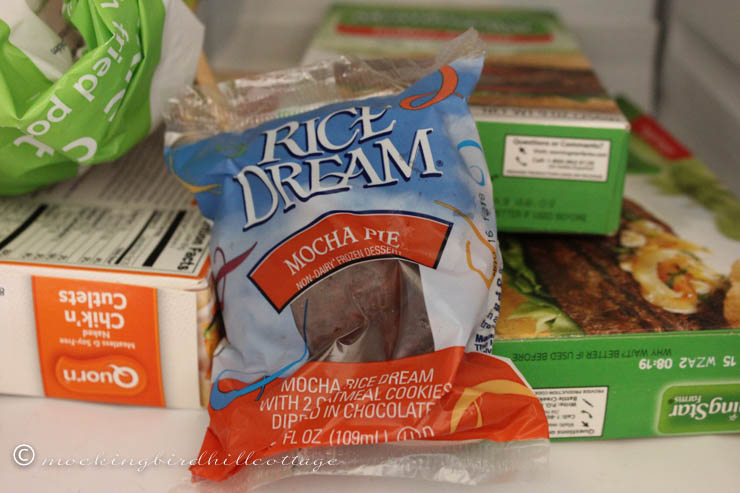 What a nice surprise!
It's all gone now.
Happy Sunday.