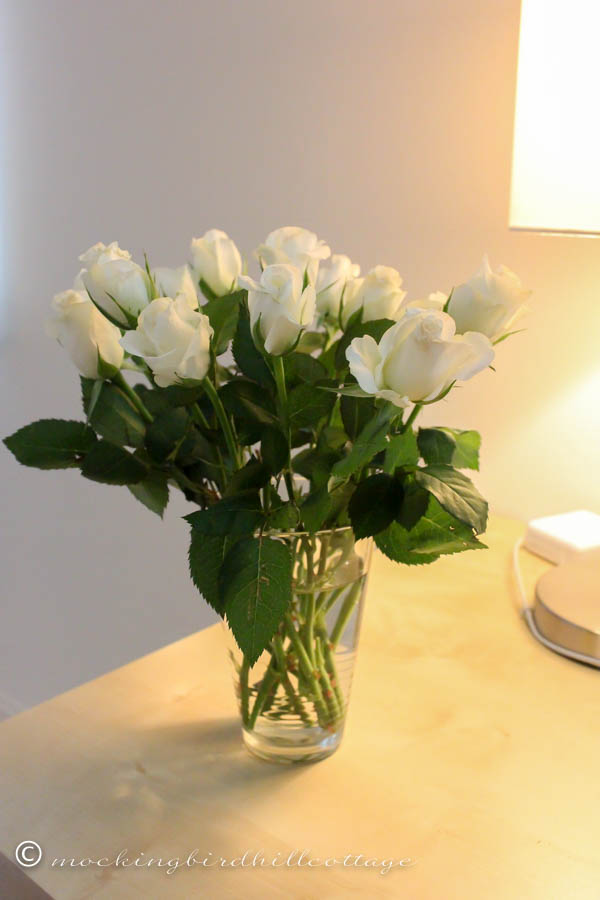 I don't often buy a bouquet of white roses but we usually exchange a single white rose (or at least try to if we're both at home) on our anniversary. These were relatively inexpensive at Trader Joe's so I bought them on Sunday in anticipation of Don's arrival on Monday.
The best laid plans….
So I spend some time yesterday cutting off the thorns and, lacking another vase, I put them in a drinking glass. They're on my desk. And they're awfully pretty.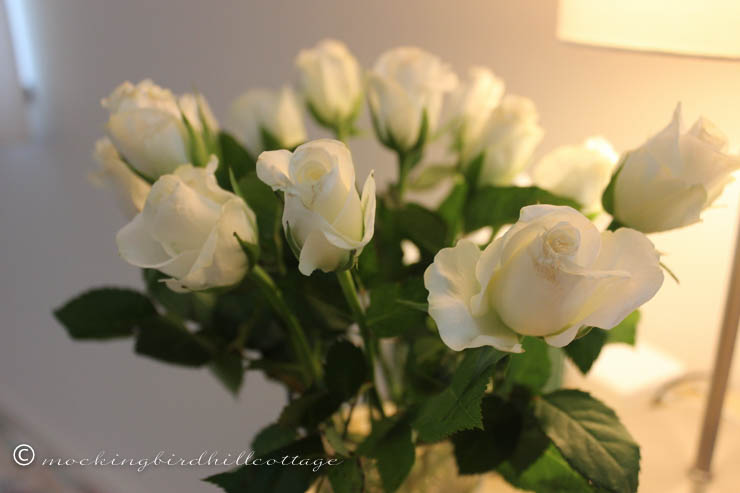 There are now three different vases of flowers in this apartment. I can't tell you what a difference that makes in a home-away-from-home. My rules for creating a cozy residence on the road? Bring a quilt or two, bring some books, pack a couple of loved accessories (a framed picture or a piece of pottery,) bring your camera, your favorite coffee or tea, a scented candle, add some fresh flowers, and you're set. In my case, add my laptop and my Kindle. And this time, my dog.
Sometimes I bring Mabel, my Featherweight sewing machine – depends on whether I'm in the mood for a project and how far away I'm traveling. Mabel is heavy.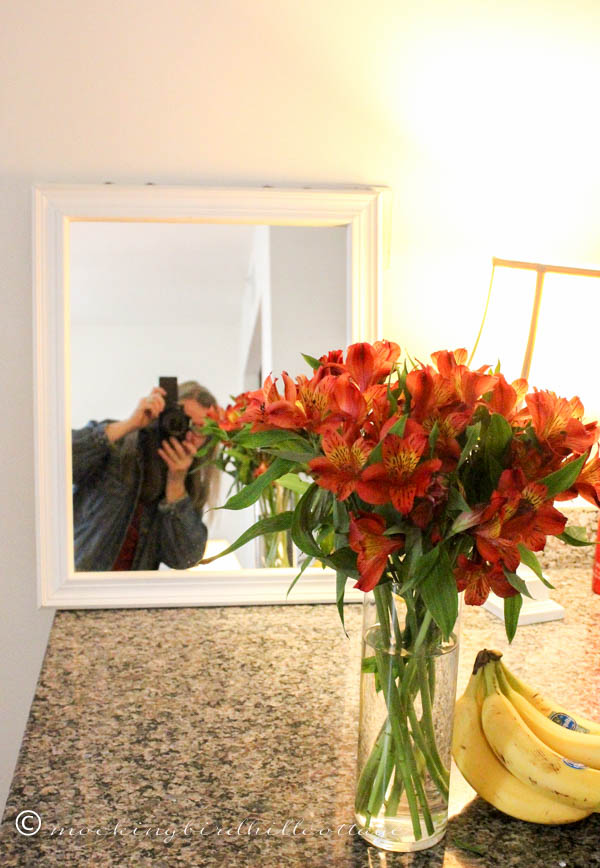 You'd be surprised what a difference those things can make, even in an over-decorated hotel room. They really make a statement in this loft-like apartment. They add pops of color, they add touches of home. I don't do well if I have to stay for an extended length of time in a space devoid of warmth. If it's just a week or so, I can get by with minimal. For example, earlier in the summer I spent two weeks in Chautauqua in a very nice, though minimal, apartment. But I was there for a limited amount of time and I had roommates. Not the time to do too much decorating. But if it's just me? Absolutely. A simple touch or two makes it a home.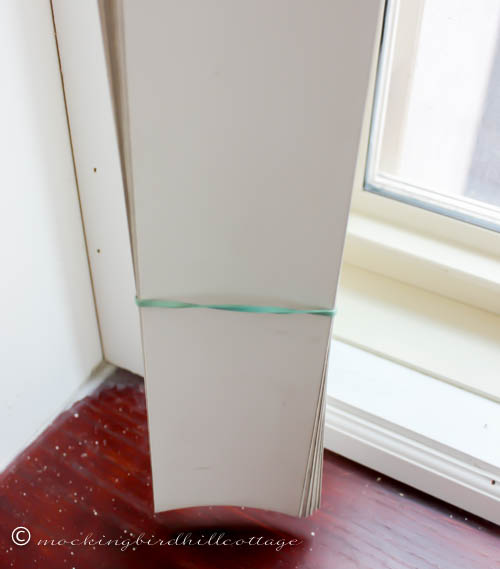 And a big fat NO to any vertical blinds. I'll be honest here and say I detest vertical blinds. When I had to stay in the apartments in San Diego, I never used them. Instead, I bought inexpensive scrim-like curtains from IKEA for $4.99 and thumbtacked them to the window frame. I don't use them here, either. The rubber band is to keep them from rattling when the air conditioning is on. They are moved to the side and hidden as best I can.
(If you like vertical blinds, great! I say this, and I probably won't say this kind of thing again, because sometimes (thankfully, very seldom) there are readers who take offense when I have an opinion on something, as if my opinion is a comment on their taste or their decisions. It isn't. It's purely my opinion. Opinions are, by nature, subjective. Let me say for the record: When I share my thoughts on something, they are simply my thoughts and have nothing to do with anyone else's preferences or choices. Other than saying that officially, there's not much else I can do about it. It's my blog, it's about my life, therefore, you're going to hear my thoughts on various matters.)
Back to the main subject. This apartment is in an old office building. Hence, the high ceilings and tall windows. It's not large, but the high ceilings make it seem fairly spacious. No windows in the bedroom, but there is a cut-out at the top of the wall that lets some light in from the living room windows.
I like it. I've stayed in a lot company housing and these apartments are my favorites. The furniture is practical, much-used, and not necessarily what I would choose, but I can make the pieces work by draping a quilt or throw on the sofa, adding flowers in a vase to the dining room table, adding a quilt to the wall and a quilt to the bed (instead of the duvet provided.) This time, I brought a couple of small lamps from home as well. When I stayed in San Diego for 6 months and another time for 10 weeks, I shipped boxes full of quilts and pillows and accessories because I knew I would need them.
Absolutely worth it.
Several months back, I ran across an article on the web featuring an apartment in Massachusetts, just north of here. It, too was in an old industrial/office building, and when I looked more closely, I realized that it had to be designed by the same designers/architects that did this building. I'm not kidding – the kitchen is the same, the cut-out in the bedroom is the same, the only thing that's different is the design of the windows. Here's the link if you're interested. It's a great lesson in what you can do with a very small space.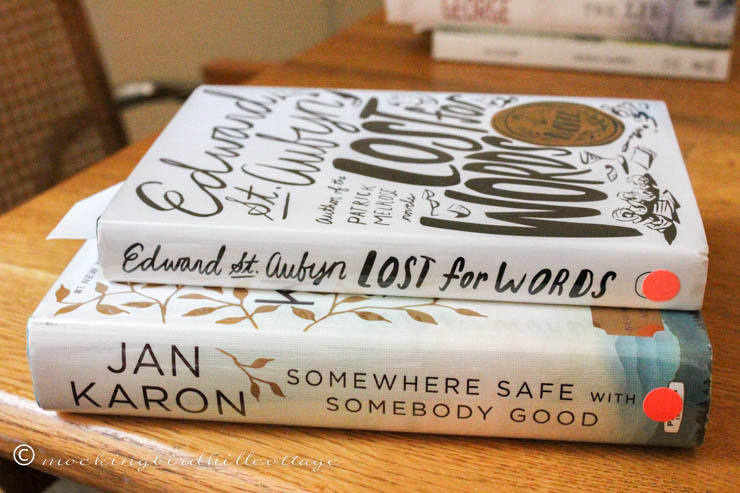 Yesterday, I visited the Hartford Public Library, my favorite place in Hartford. Seriously, if I lived here, I would apply for a job there. I just love it. (Interestingly, the guy at the desk told me they were hiring!) I went there to take a lot of photos for a feature on the library that will be on Just Let Me Finish This Page tomorrow. But, of course, I was drawn to the New Fiction section. Immediately, my eyes hit on two books I wanted very much to read but didn't think I could buy at the moment. I was pretty sure my card had expired and the man at the front desk verified it. Drat. I said I was working at Hartford Stage and was it possible to renew it? I didn't think he would renew it without a Hartford Stage ID, which I didn't have, but to my surprise, he did! So I checked those books out. Don't know how I'm going to read them both in the less-than-two-weeks I have left here, but I'm determined to do it.
I've started Lost for Words, which is a satire. Oh my, it's very funny, indeed.
Happy Tuesday.