After doing my research like a good girl and responsible consumer, I headed over to Best Buy on Wednesday. I had narrowed down my choices to either Samsung or Sony Bravia. The prices were comparable. After looking at them and sending pictures to Don, I spoke to the salesman and asked which one he would recommend. (I kept quiet about the one I thought had the better picture.) Sure enough, he recommended the Sony, which to me, had a significantly better picture. So, that's what I bought. (Both were Smart TVs, which means, for us, that we can get Netflix on a big screen.)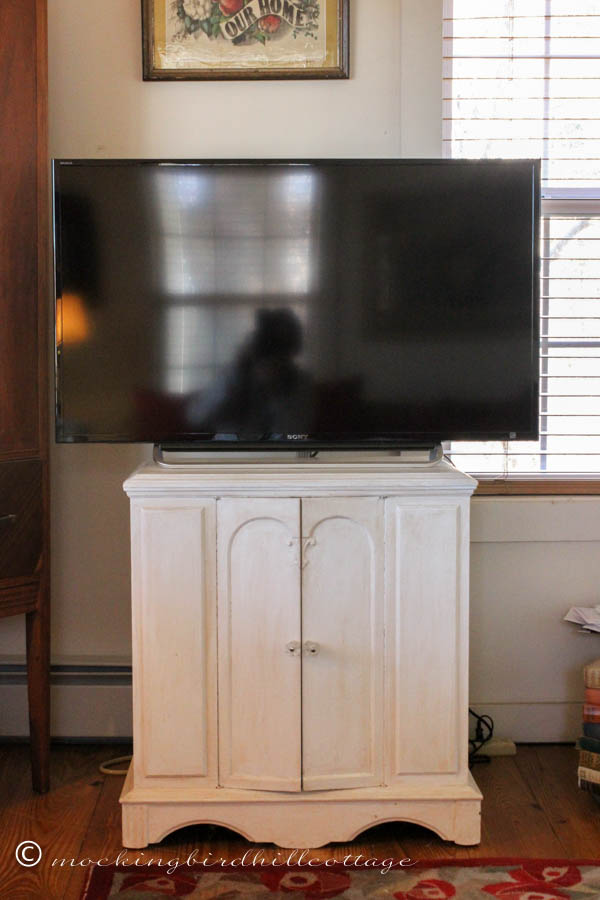 Ain't she purty? Our older flat screen, gosh it must have been about 8 years old, was so much heavier, so heavy that I have to wait for Don to get back home before I can move it out of the den. This set is almost too lightweight. It's also a 40″ screen; the old one was 32″.
I figured out how to connect all the cables and wires and managed to get through all the prompts on the screen and….voilà! By the time the World Series started, I was nestled into the sofa texting Don about how great the picture was. (Not happy about the results of the World Series. Not happy at all.)
That cabinet is one I bought at auction for $5.00. It was the perfect size for our den, I brought it home and cleaned it up, repainted and 'aged' it, added some glass knobs and now it holds this stuff: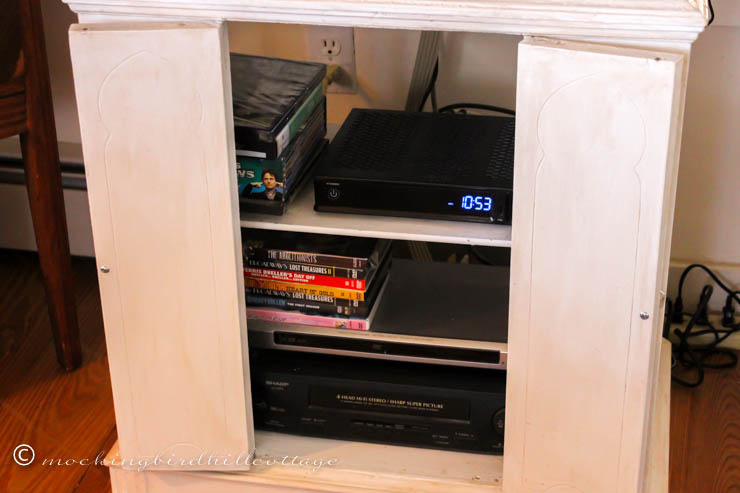 Including a VCR that we never use anymore. Perhaps I should remove it someday. And yes, you see cords on the right. Ultimately, I don't care about that sort of thing. It's life. We live (and often work) here. If you live in the 21st century, cords are going to be everywhere, and trying to deny their existence is silly – at least to me. It's the kind of thing I just don't have the energy to care about.
Okay. I went off onto a slight tangent there.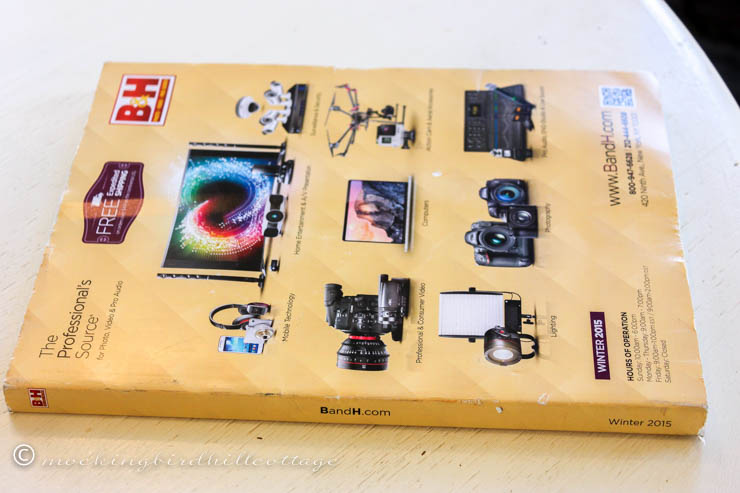 Speaking of tech and cords, the new B&H Photo Video catalog arrived yesterday. It weighs a ton. B&H is an incredible store in Manhattan that I've written about before. It's where I buy my cameras and probably where I would buy my television if I lived in the city. Since I've purchased items there, they send me this mammoth catalog every year. And just for a moment, I pretend I'm a professional photographer, since they seem to think I am. It's really fun to look through.
Changing subjects: Teresa, a loyal reader of this blog, sent me a package. I picked it up from the post office box on Monday. Let's see what was inside.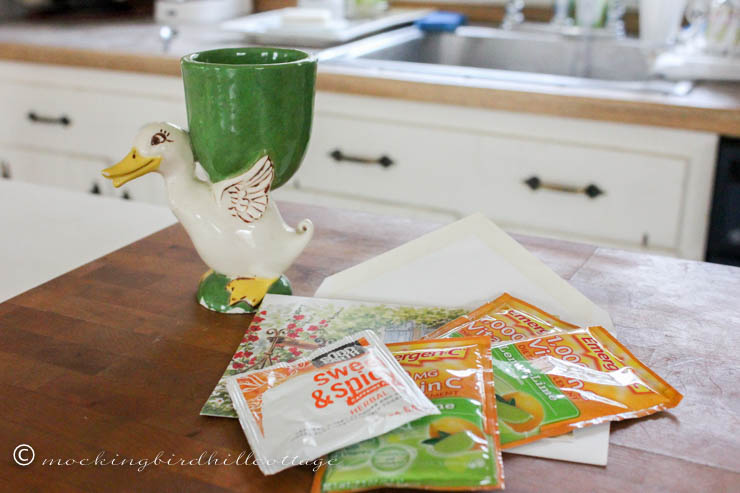 Oh my! Three packets of Emergen-C – always needed in this household (I wish I could send some to Don right now), some Sweet and Spicy herbal tea (there were two bags, but I've already had a cup – delicious), a lovely note, and this egg cup which has stolen my heart.
Look at that adorable face!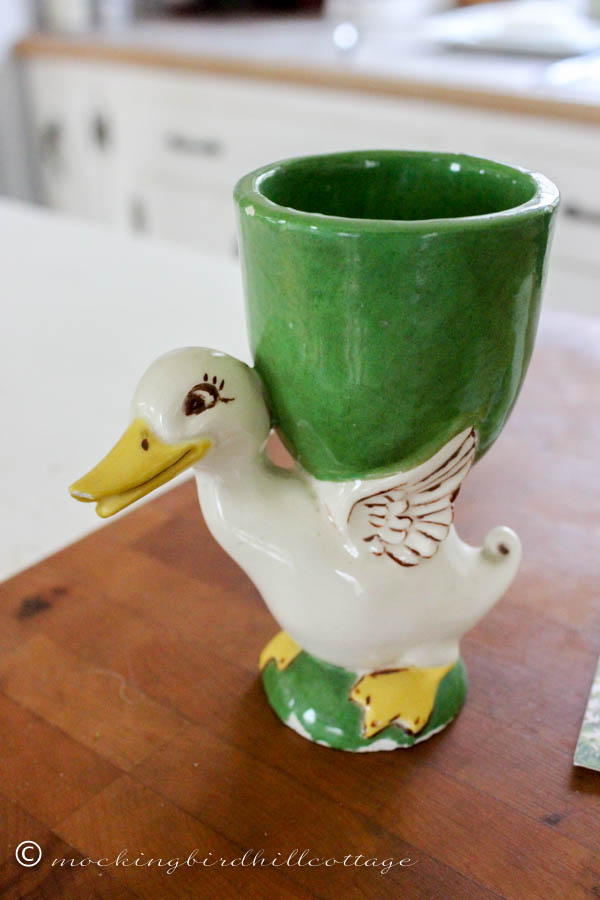 It's on the tall side and I'm totally smitten. I also think it was hand painted.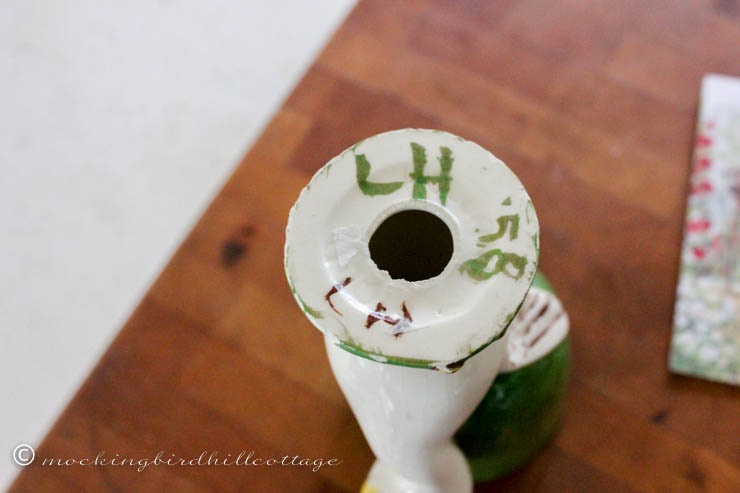 In 1958. Thank you, LH. You did a great job.
And thank you, sweet Teresa, for this lovely gift. Another egg cup that has a wonderful story. You know how much I love that. Every decorative item in a house should have a story and not a story about how a decorator found it. It should be a story of love and friends and things longed for, discovered, saved for, collected over time, received as presents from caring friends, of books well-read and thumbed through, of the lovingly well-worn, of things that bring one joy.
And on and on I could go.
It got cold last night. The leaves are falling from the catalpa, a sure sign that the temps were freezing overnight. Time to bring the impatiens in for the winter. Say it ain't so!
New post up on Just Let Me Finish This Page.
Happy Friday.