• I did a lot more raking yesterday; piles and piles of leaves. Then I mowed the dog corral and the front lawn for the last time this year. Since this weekend is going to turn very cold, with a frost warning, I figured now was the time.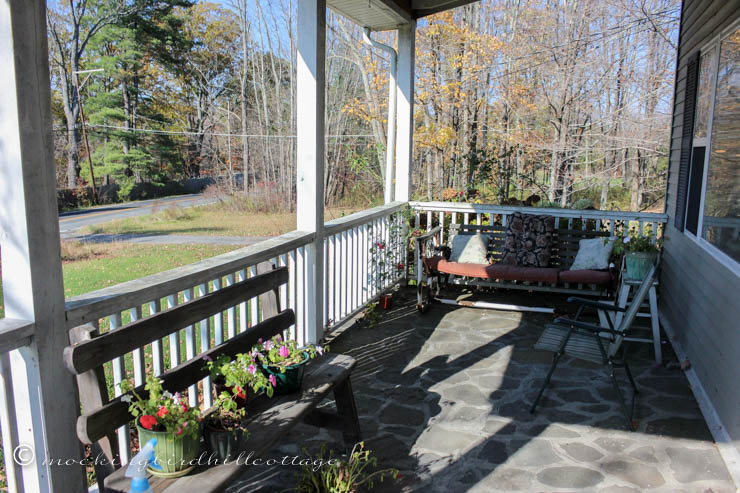 Soon, I will be out on the porch, gathering up my potted plants to bring them inside once again. Where the heck am I going to put them? I can't ignore them, they've been hanging in there for a year and half, planted last summer, overwintered, back outside for this spring and summer – performing beautifully. They need to be rewarded for their stellar performance.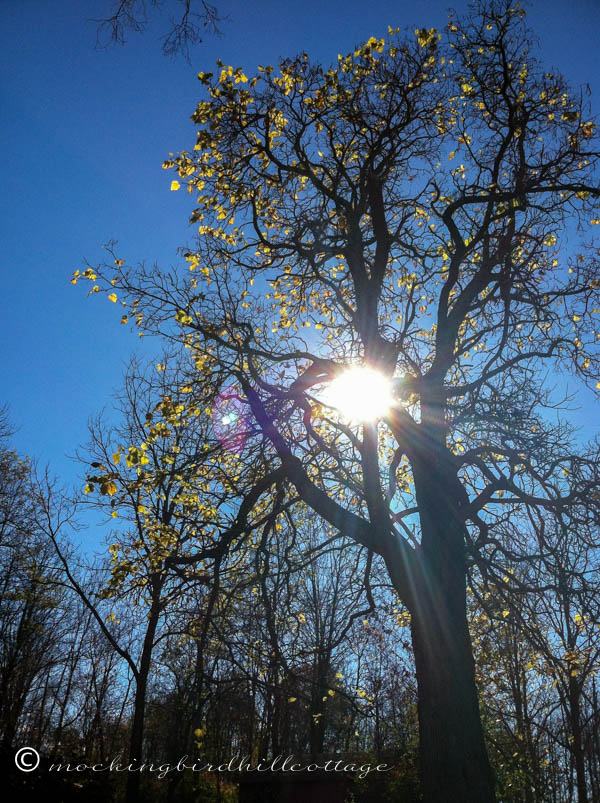 The leaves are off all of the trees, save for a few on the catalpa. Leaf clean-up, at least as much as I'm willing to do, is over. I ignore the leaves in the back forty.
As far as garden clean-up goes, I really do nothing. Shocking, I know. There's a lot of advice, all of it good, about putting the garden to bed for the winter. Maybe I'm a wee bit lazy about it, but there's a method to my madness. The leaves that have fallen stay on the garden beds. They work as mulch, protecting the plants, and eventually decomposing to add nutrients to the soil. The perennials stay as they are. I don't cut them back. Why? A couple of reasons: they function as architecture for the winter garden, their shapes beautiful in the bleaker winter landscape. And they provide food and shelter for birds and wildlife. So they stay as is. In the early spring, as I clean up the garden beds, I trim any dead leaves and stems. But not until spring.
I don't do anything to my roses, either. Last winter was hard on them, and this winter promises more of the same. I may trim a dead cane or two – I had to do that in the spring – but, for the most part, they really seem to do just fine. They come back strong every spring.
This is just what works for me. I live in a northern climate, where it gets very cold and there is usually a lot of snow. The cottage gets a lot of wind, as well. The perennials in my garden beds come back beautifully every spring. And they look gorgeous in the snowy landscape.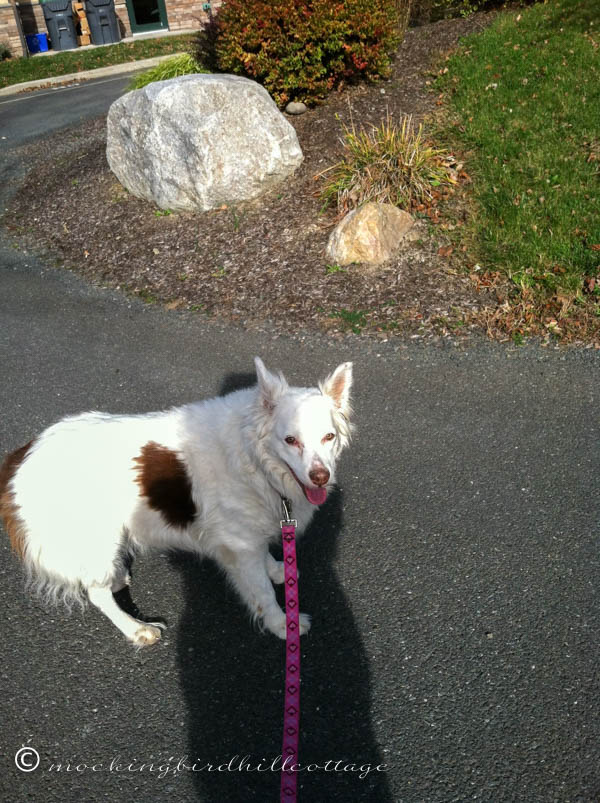 • Scout and I had a little adventure the other day walking on the library grounds. As soon as she hit the long, winding driveway, she started to gallop. That girl! Of course, she was exhausted all day yesterday, but I aim to make sure she has a two or three adventures every week. She needs the exercise and the stimulation. I had a lot of fun with her that day. We even walked from the library to the post office, where she went inside with me to mail some bills!
She also watched the World Series with me last night: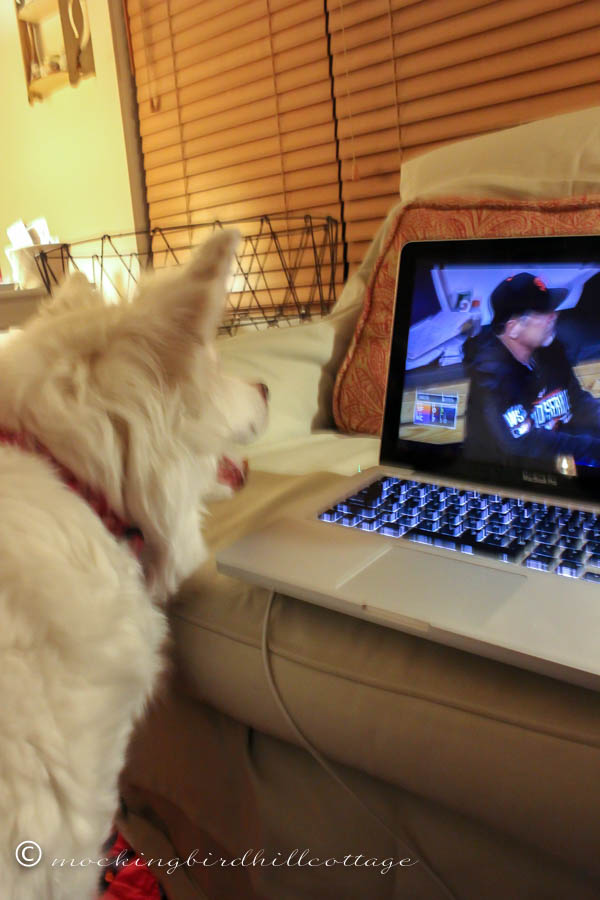 Honest. She kept poking her head right up to the laptop screen, eyes wide, watching the action. She's cheering for the Royals. So am I. Game seven tonight! Oh boy.
• I don't know about you but I was a big, big fan of The Association when I was young. I saw them in concert. I played their albums over and over again. Now, these many years later, through my husband, I am a friend of Terry Kirkman, an original member of the band. (I can't tell you how thrilled about that I am!) Terry wrote some of their hits, including Cherish, which has to be one of the most beautiful pop songs ever written.
Yesterday Terry posted a link on Facebook to a Pat Metheny version of Cherish. Since I am also a big Metheny fan, I immediately clicked over to it. Oh my goodness. Oh my goodness again. This has to be one of the most beautiful versions of Cherish I have ever heard. So beautiful that I couldn't stop playing it yesterday. Over and over again. Then I bought it on iTunes.
Enjoy.
New post up on Just Let Me Finish This Page – Displaying Books: What are Your Solutions?
Happy Wednesday.