Dear friends, I'm putting out a call for help.
I have long wanted to buy some roll-up blinds that IKEA carries to replace the blinds I'm using in the living room and bathroom. But, because of budget, funds, not being able to get to IKEA, you name it, I put it off. I had planned to buy them at the IKEA in New Haven, which happens to be right next to where Don will be performing in Our Town. So, the other day, I went online to check stock at IKEA New Haven.
None.
And when I clicked on the box "Check future stock" I got a message that said the blind was being discontinued. Oh no!
So, like a crazy person, I checked stock at several IKEAs. Many were totally out. Some had a few. The one in Tampa showed low levels of stock. So I sent my sister there yesterday and she was able to find one in the width I need: 31″. I need four. Or, at the very least – three.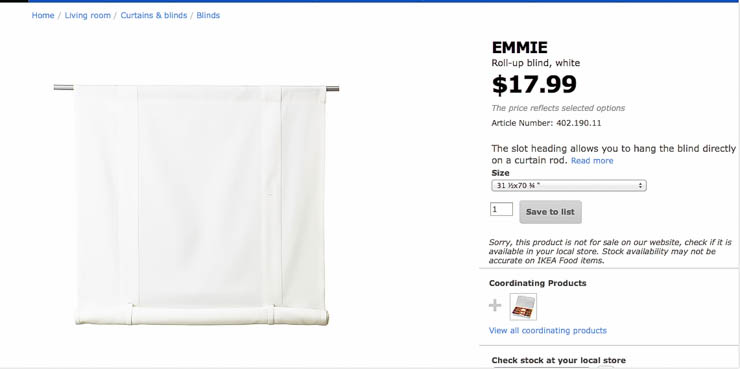 The odds are not in my favor and I'm so disappointed I might have missed out on these! If you live near an IKEA and are willing, can you call and/or stop by to see if there are any of these left in stock? Emmie Roll-Up Blind – 31½ inches. Maybe, just maybe, there might be some available. I tried to check stock this morning, but the levels aren't loading correctly – unless all stock mysteriously disappeared overnight.
Anyway, it's a longshot, but I thought putting out an SOS to all of you might do the trick.
I will pay you, of course!
Maybe IKEA Canada, as well?
I've seen them on eBay, where 'entrepreneurs' are now selling them for $50. Really? That's quite the mark-up!
If you are willing to check, I would be so very appreciative. They aren't available online, only in the stores.
Now I'm worried that because it's October 1st and no stock is showing, that the line has been discontinued officially.
Edited to add: If you check online, it will show as not available. It would be best to call the store directly to see if there is any stock left.
Update again: I used the link that reader Donna sent me and bought 2 more blinds on eBay. Not for $50, but for $29 each. Yes, more than at IKEA, but much less that what I'd been seeing on eBay. I could use one more, so if anyone finds one hanging about at an IKEA, I'd be most appreciative! Thank you, lovely readers.
Boy, timing is everything, isn't it?
Thanks so much.
I'm off to cough and cough and cough, which is all I seem to do lately.
Happy Wednesday.