First off, Scout is much calmer, much more the girl I usually see every day. Thank goodness.
Part of that is due to getting used to this new space, to seeing me leave and come back (Mom isn't going to abandon me) and, ta-dah! some more rugs. I had some coaching sessions in the morning yesterday and a note session with the cast and the director, after which I ran back here, walked Scout, gave her some food, and took off for Target.
I was at my most efficient because I wanted to get back before rush hour and an impending storm. Target. Trader Joe's. Back in a little over an hour. There was no time to explore other options; my schedule is full, and this break in the day was an unexpected gift. The rest of the week involves lots of run-throughs and my presence will be required.
After thinking and worrying and studying the whole thing, I decided two long, inexpensive runners would do the trick in the long hallway. That way I could use the green mats which had previously been scattered up and down the hallway in the kitchen. And maybe a rug for in front of/under the dining room table – the area where Scout likes to explore, then slip and fall down. Budget is always a concern for us, as it is for most everyone, so I wanted to get rugs that we could use at home, if necessary. Remember, we have hardwood floors at home and they are becoming more slippery for Scout as she ages, so I can see the runners being used in the kitchen.
I'm happy to say that Dame Scout is a much happier doggie. In fact, she is going to be your tour guide: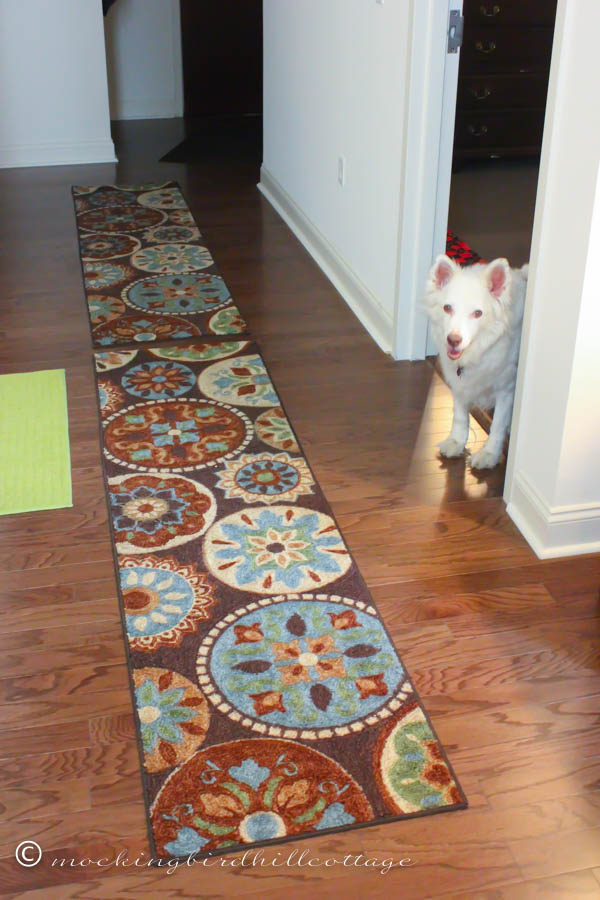 I was going to get a solid color, but there was nothing available that I liked. However, a little aqua in a sort of Pennsylvania Dutch Hex pattern is very sweet. Do you agree, Scout?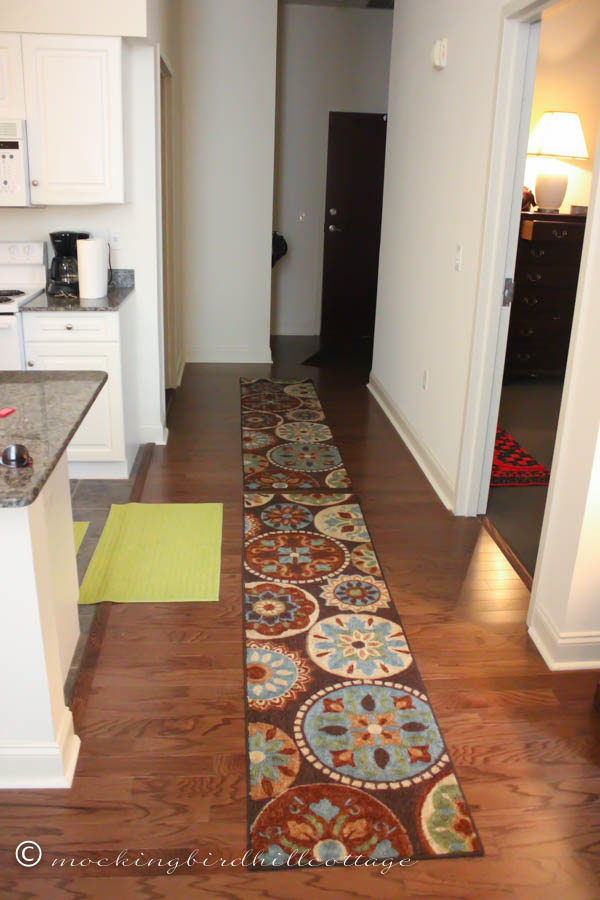 Sans Scout.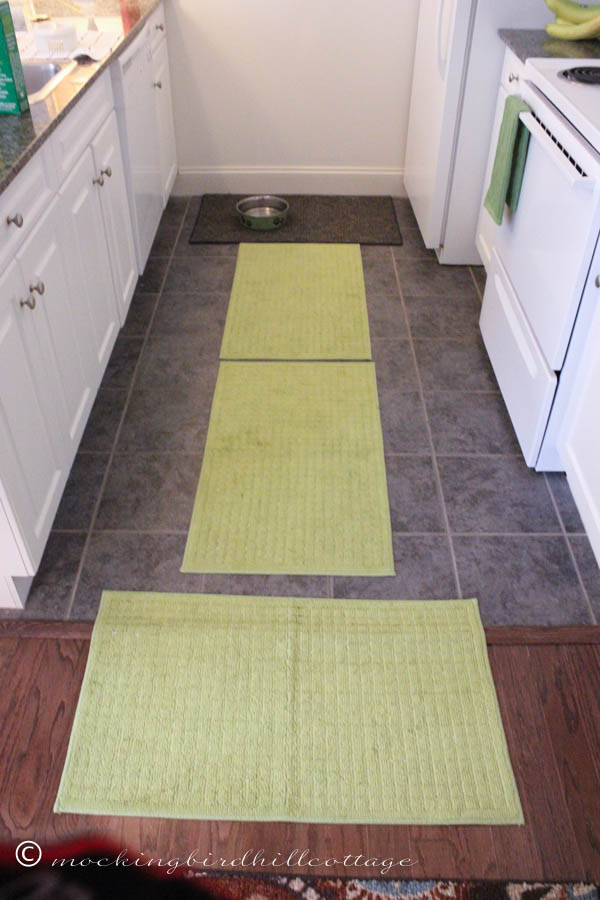 A green mat trail to the water dish.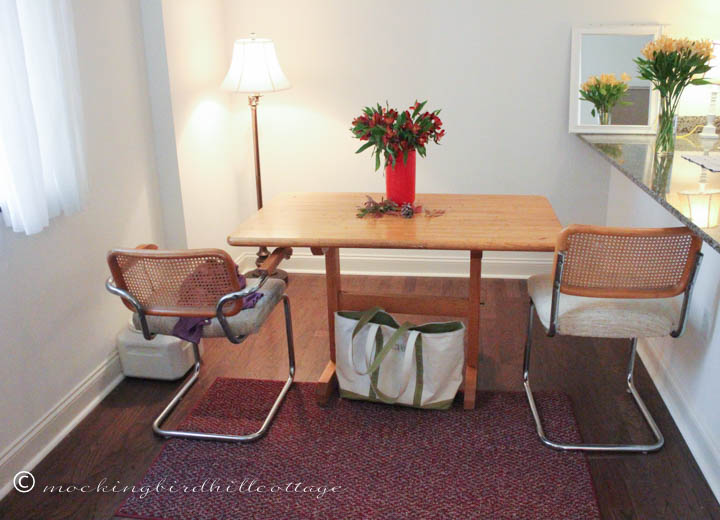 The Wall. This is the not-so-pretty solution to a forbidden, slippery area of the room. That red rug will work perfectly just inside our kitchen door.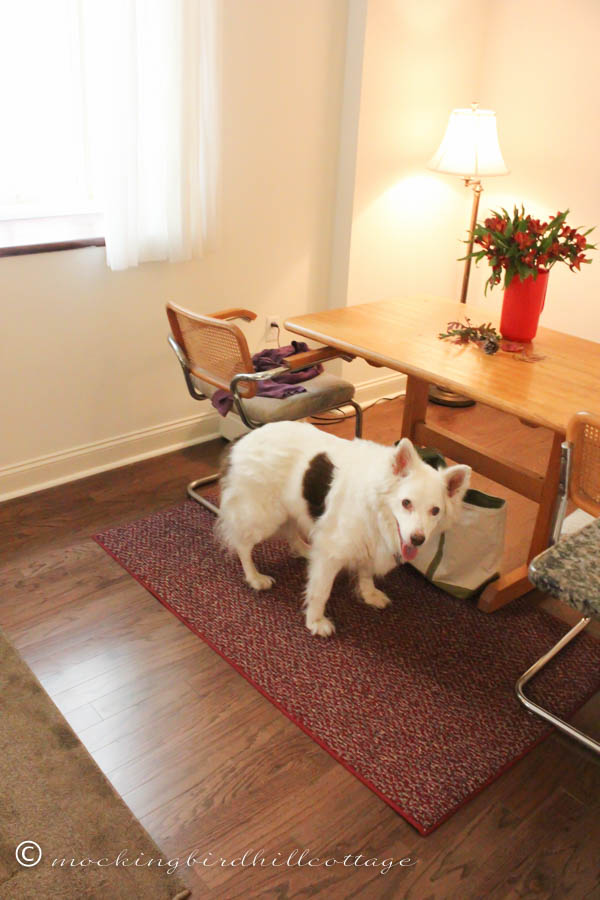 Take that, Scout the Explorer!
The flowers from TJ's are in a plastic pitcher found in the cupboards. Where there's a will, there's a way.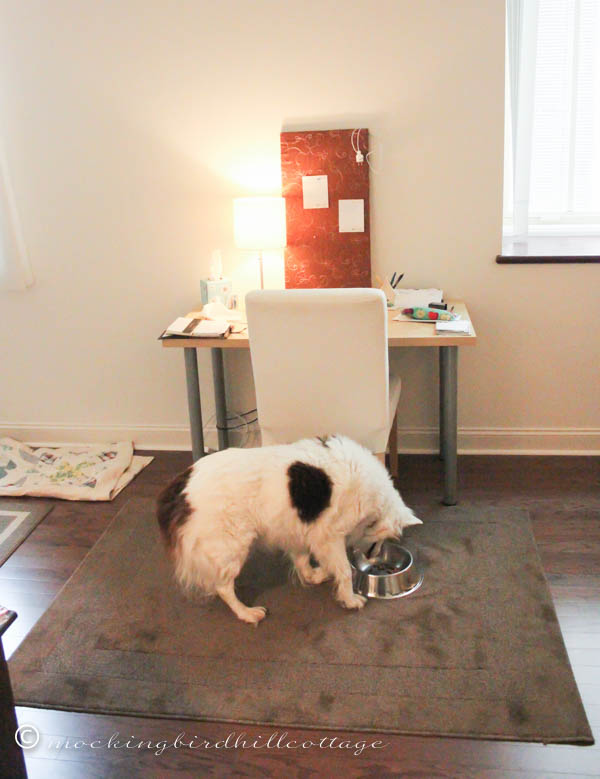 This rug was already here. And you can see a glimpse of the one in front of the sofa, supplied by company management. And Scout's quilt, of course. She fell asleep on the quilt last night.
Excuse Scout while she dines.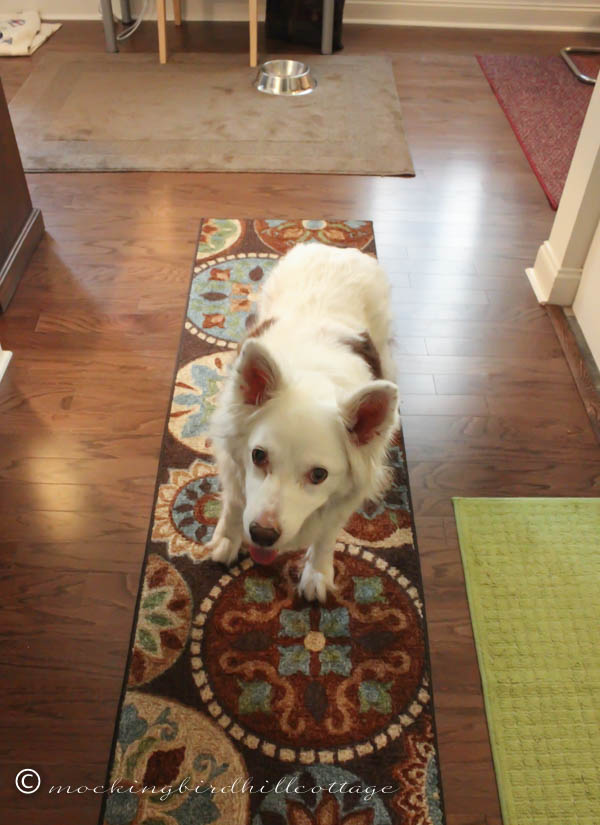 See? Happier. More secure. Worth it.
There are about 6 more rugs than I would prefer in this space but Miss Scout's safety and security is the most important thing here in Hartford. Once I realized she was adjusting to her new pathways, my shoulders dropped.
Then I got that feeling I get when I've settled into a new space. Same feeling I had when I moved into a tiny studio apartment in Philadelphia as I was just about to start graduate school. There was only one window – a small one at that – in that space. It looked out onto a back alley. But when I got my things in there and turned on the lamps and everything was in place, I had my own little shelter, my own little nest. That feeling has repeated itself in my life whenever I've moved into a new space, whether it was a studio apartment (and there were many), a bedroom in a house, a dorm room, a rental house, a hotel suite, our little cottage, or temporary company housing. If I can add little or big touches that make the space more personal, regardless of the size or location, then I'm a happy camper.
Now it feels like our little haven away from home. Now we're back to the good part of our adventure.
New post up on Just Let Me Finish This Page.
Happy Wednesday.