If you subscribe to my Instagram feed, you've seen a photo of our new snowblower. By the way, my Instagram feed isn't all that exciting and I'm definitely not a serial Instagrammer. I go through periods where I post a photo a day, as well as periods where I do not make an appearance. I like it, though. It's fun. I just have to remind myself to do it.
Same thing with this blog's Facebook page.
I try.
Anyway, back to the snowblower. Don did his research and also quizzed our neighbor about his snowblower – the same neighbor who rescued me twice last winter when I simply could not shovel all the snow by myself – and we trotted off to Lowe's yesterday morning. About an hour later, we returned home with a shiny new Troy-Bilt snowblower.
But then we had to clean out part of the shed so we could fit it in with all of the other crap that's stored there.
Side note: after nine years here, most of the stuff that's stored there is clearly completely off our radar. And the mice have attacked some of it. One day we are going to rent a bin or a dumpster or whatever it's called and fill it with all of the aforementioned crap. Then we'll send it on its merry way.
The snowblower wasn't cheap, which is much of the reason that we didn't purchase one until yesterday. That, and the fact that we felt ourselves to be entirely capable of shoveling snow. And we are; however, our backs and Don's hernia are begging for some sort of relief. I'm grateful we had a little extra money on hand this year to invest in one. We're getting too old to deal with all the snow around here and if predictions hold true, this winter will be just as bad as last year's. And if you believe in climate change/global warming – and I do – well…you get the picture.
It just started snowing. We're in for at least 8 inches, maybe 12. Don is eager to try out his new toy. Go for it, Don! In the meantime, at several points in the day, I will shoveling a path for Scout. We're also going to try to clear an area just outside the gate for her to do her business. Going up the icy hill was hard for her last year and we don't want her slipping and sliding and hurting herself.
Winter has lost its charm for this girl, born and raised in Michigan, who has spent far too many winters in the Midwest and Northeast.
On another note, I've received some gifts in the mail lately. Yippee! One was from Jeannine, who was fascinated by the Random Crap tin Don gave me. (Crap seems to be a recurring theme in this post.) She wanted to contribute some fun items for the tin.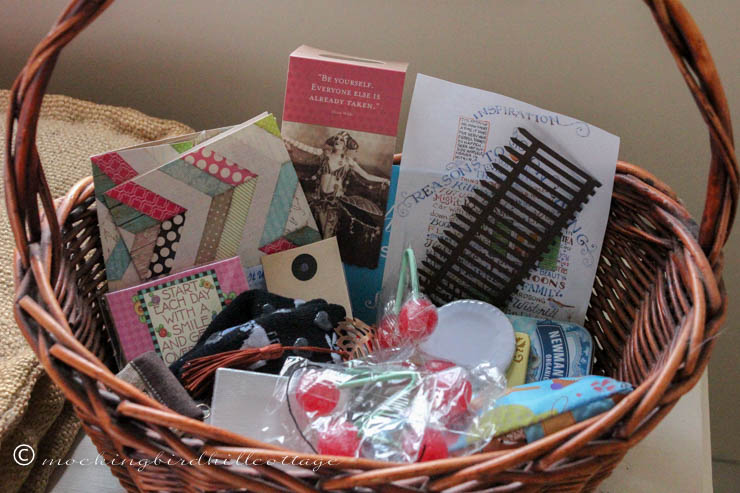 Candies, pastilles, mini canvasses, magnets, a fence for my dollhouse, socks…everything brought a smile to my face. In some cases, I laughed out loud. My favorite was a ceramic bathroom set – eensy-teensy style. Since there was a toilet in the set, Jeannine thought it was begging to be included in the items for the Random Crap tin.
She also sent some treasures for Don:
Don was tickled pink! Jeannine suggested we have a bubble blowing contest with the Hubba Bubba – we just might while away the hours on this snow day by doing just that very thing. Thank you so much, Jeannnine! You are such fun!
On Monday, another package arrived. This time, from my longtime blogging friend Linda of A La Carte. That little minx totally surprised me with these gifts for my birthday!
A beautiful piece of McCoy pottery and a darling egg cup with salter (the tail). Linda and I like the same things, so she knew exactly what would float my boat. I absolutely love them.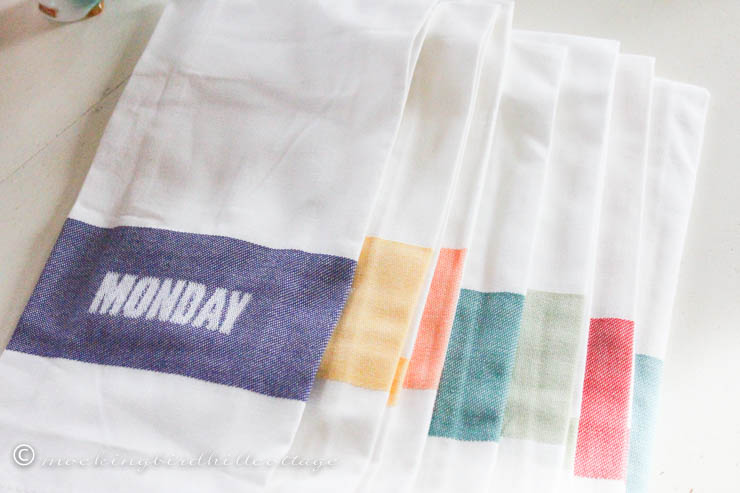 Also included were these darling day-of-the-week towels. Oh my goodness! I told Linda that I have to keep them away from Don, who invariably wipes his salsa/tomato sauce/whatever-ridden hands on my dishtowels.
And finally, this little gem for the dollhouse: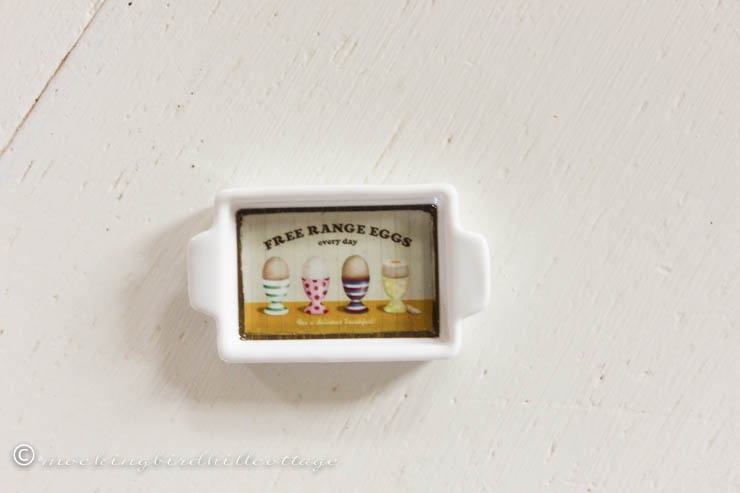 Stop. Just stop. Could anything be more adorable or more perfect for Hummingbird Cottage?
In fact, I was just thinking the other day that I needed to find some egg cups for the dollhouse. Linda found this at perhaps my favorite Etsy shop, A Lavender Dilly. Carrie Lavender creates all sorts of wonderful minis from her home in Australia. I've repeatedly poured over the contents of that shop and somehow never saw this, which makes the surprise all the more delightful.
Thank you, thank you, dear Linda!
Another package arrived yesterday. More on that another time.
The snow has just about covered the ground while I've been writing this. I'm sure I will have more snowblower adventures to share with you in the not-too-distant future.
Happy Wednesday.