Thank you for the lovely birthday wishes! Between this blog and Facebook, I was truly blessed by messages from friends near and far. Goodness!
My husband spoiled me, as usual. (I think he's better at this sort of thing than I am.) The morning was spent on long, lovely phone calls with my sister and my best friend. Then it was off to our local tea room for tea and a sweet something.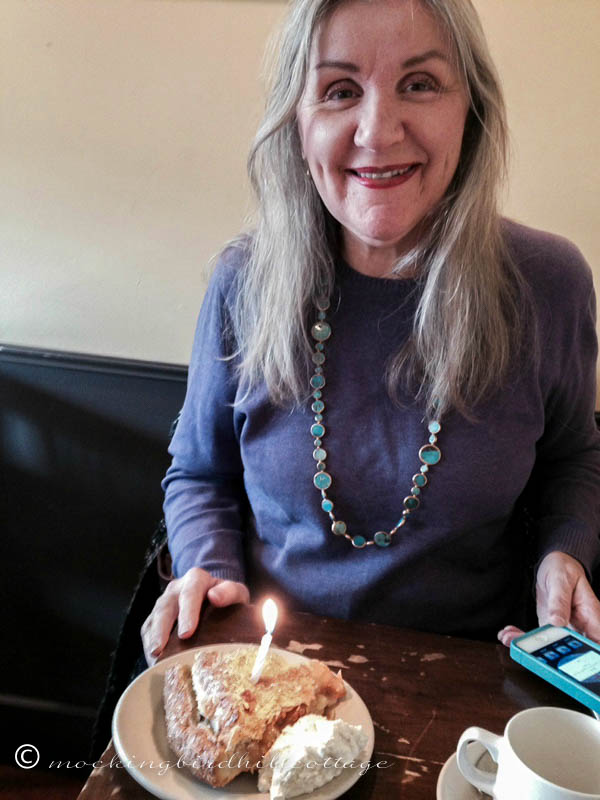 Birthday Apple Pie with whipped cream! Yum. Yum. Yum!
We love this little tearoom which is in a very old building in a neighboring town.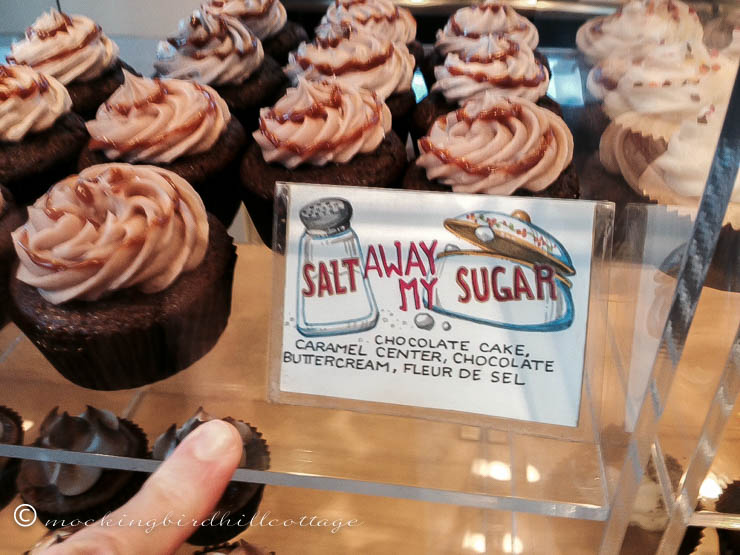 We stopped off at our local cupcake shop and picked out four cupcakes, including one of these.
Another wonderful phone call from two dear friends that I've known for 30+ years.
Then Don made my favorite dinner – remember me talking about those faux crab cakes? Oh, lordy, it was good! Then presents and cupcakes.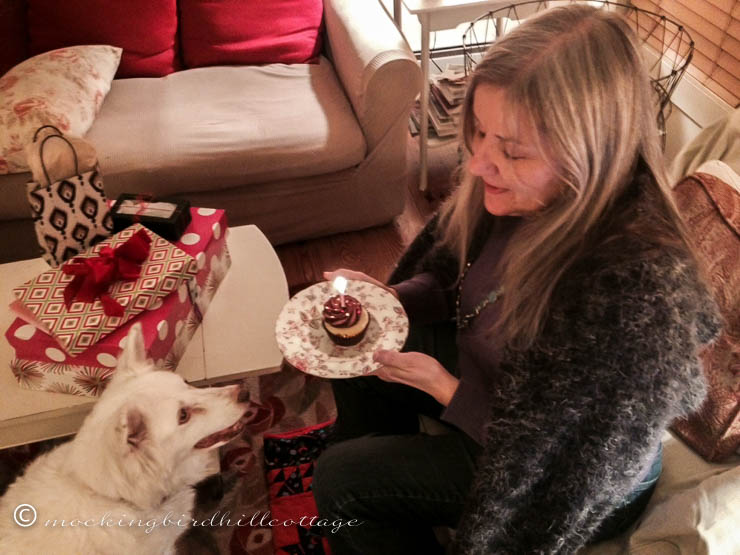 Someone was very interested in that cupcake. Oh, that girl! I believe I was making a wish when Don snapped this picture.
What did I get? Not one, but two pair (or is it pairs? the rules seem to be changing) of Nick and Nora flannel pajamas. For those of you who love them, I got the sock monkey design in red, and the macarons design in pink. Hello! I'm all set for winter. At this very moment, in fact, I'm wearing the sock monkeys. I got a bottle of my favorite cologne, Amazing Grace by Philosophy. I got a sweet bracelet. And somehow, Scout found a wonderful wooden egg cup from the forties! How did she do that? She is full of surprises.
My cup runneth over.
I couldn't have asked for a nicer day.
On another note:
Bill Cosby has been in the news a lot lately. Many women have come forward to share their stories. They don't know each other, but each of them has an eerily similar story to tell.
If you're sitting on the fence on this one, let me tell you that one of my former students, who continues to be a friend and who is someone I trust implicitly, had an frightening encounter with Cosby in 1994. I won't go into the details because it's her story to tell, but she's a smart and savvy woman who saw his dark side and got out of his house before anything could happen. That didn't stop him. He kept calling her house after the incident, insisting that she needed to come to his house to work on her 'acting technique.'
And if that isn't enough, a friend of a friend had the same thing happen to her. Both of them are actresses. Both of them dodged the bullet. But clearly, many, many women weren't as fortunate.
It's one thing to read about it in the news and hold back, thinking 'Bill Cosby wouldn't do that!" Or watch the news, as Don and I did, and think that it sure seems like these women are telling the truth and know, at the same time, that it will be impossible to prove anything.
It's another thing entirely to know someone who saw that reality.
America's beloved icon isn't a nice man. Image and reality are two very different animals, aren't they?
I leave it at that.
Happy Saturday.