During the drive home on Friday, the sky treated us to an always changing, amazingly dramatic array of colors and clouds and vivid blue skies. It was late afternoon, that time before sunset, when nature sometimes puts on a dramatic show. Honestly, we kept gasping as we drove west in the Interstate – it was better than any movie, always surprising, always shifting.
I was driving and Don kept taking pictures with his iPhone.
Here's how it looked when we got home (from my camera):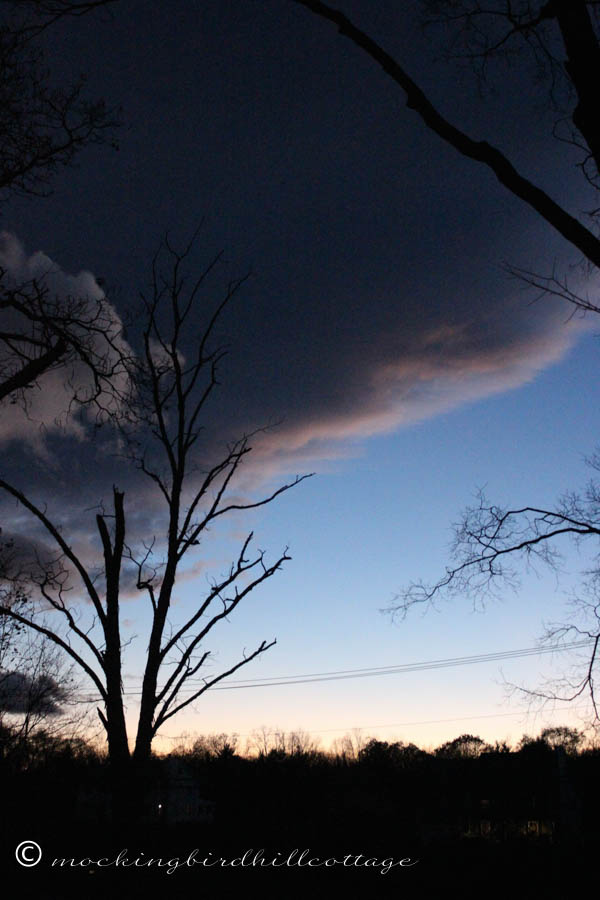 I admit it. I am now fully into dollhouse mania. The only somewhat major thing I have to do is figure out the rooftop garden. Beyond that, it will be all about adding little touches throughout the rooms. I like adding accessories, but I don't think I will be the kind of dollhouse decorator where every room is chock full of little things, as tempting as that may be. Maybe I'll rotate things in and out of the rooms. I like creative clutter, as you know, but not clutter-clutter. And detail is wonderful, but the eye does need someplace to rest. But who knows? I may keep adding and adding.
Anyway, my friends, here are a few more photos of recent additions to the dollhouse; Hummingbird Cottage, if you, like me, sometimes forget that it has a name.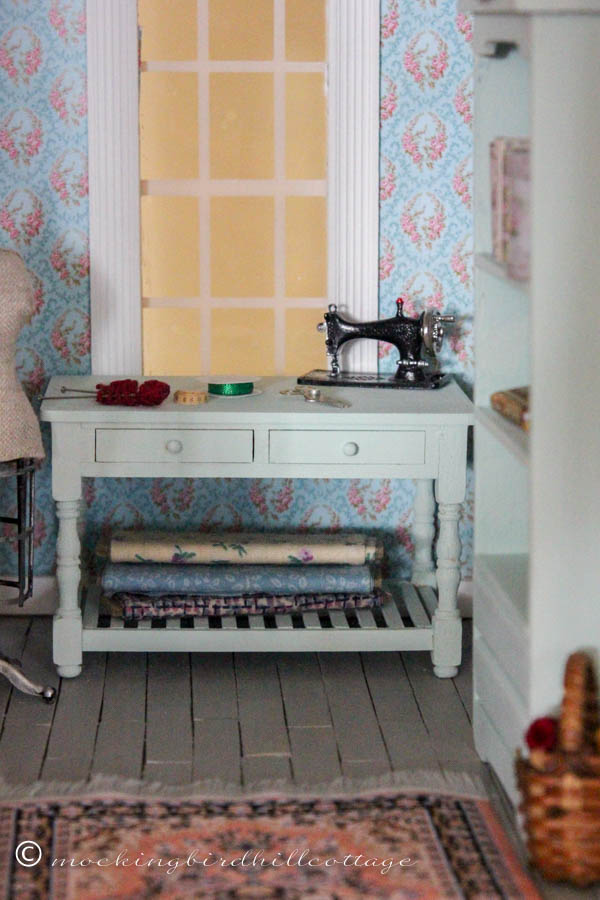 These are the fabric bolts that I bought in Chautauqua at Chautauqua Miniatures.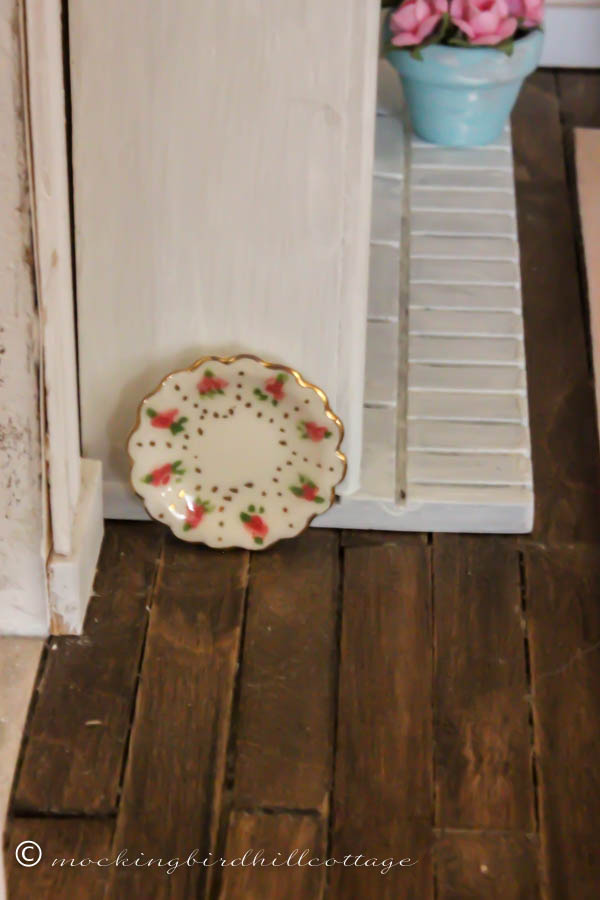 One of the plates from Barbara (it's normally in the kitchen, but I propped it up here so you could see the pattern.)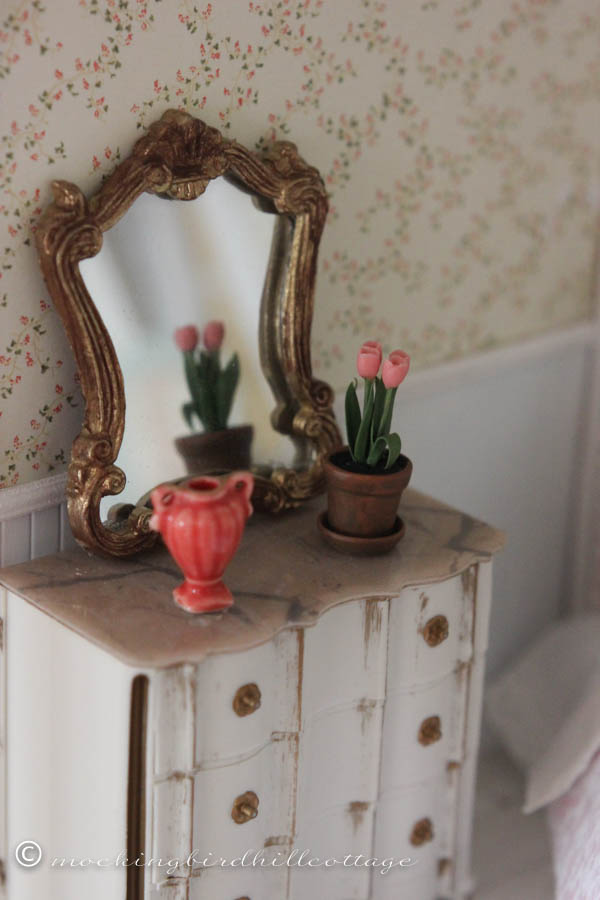 I purchased the pot of flowers from Chautauqua Miniatures.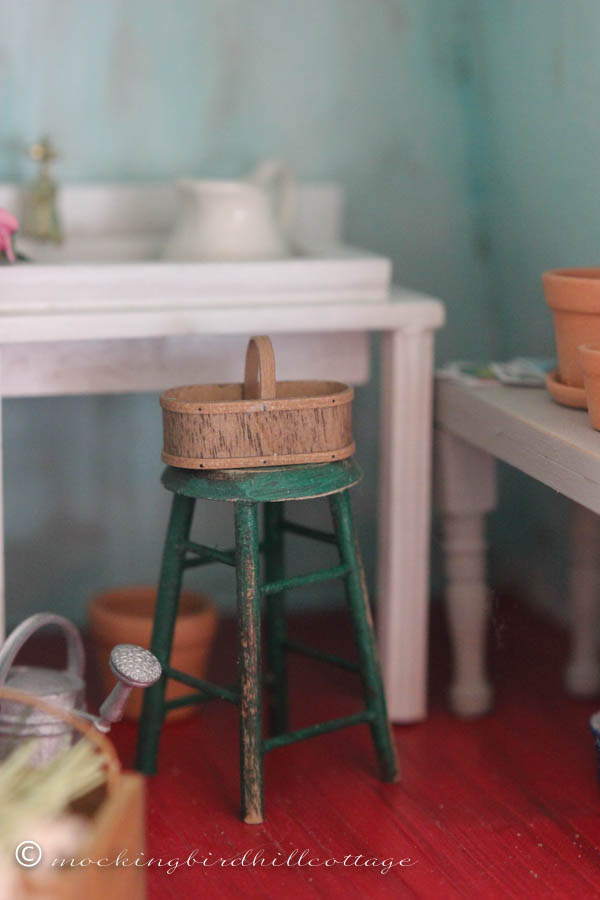 I'm calling this a trug. It's from Barbara.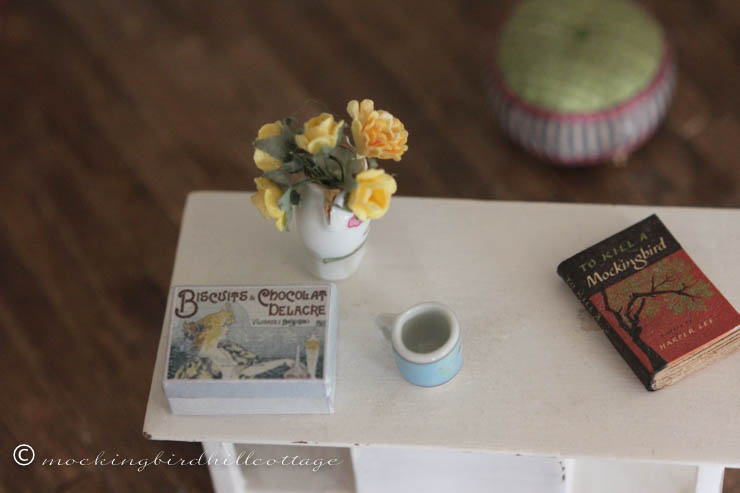 The box of biscuits was made by Norma. The owner likes to sip her coffee and snack on some chocolate biscuits. Her name is Caroline. Why? It's my middle name, in honor of my grandmother, Caroline. And it's also the name of my great-niece.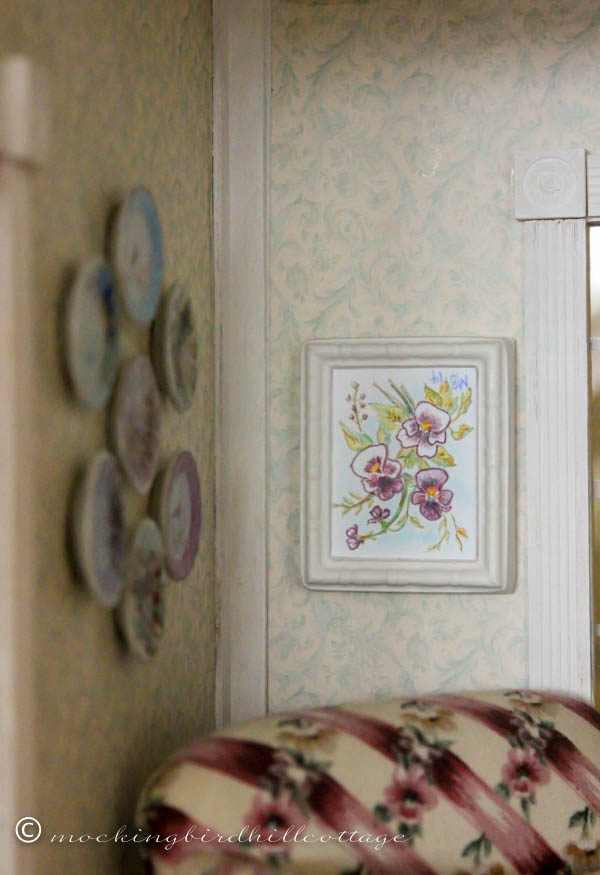 This pansy painting was one of the items I got in the mini swap. It's very sweet.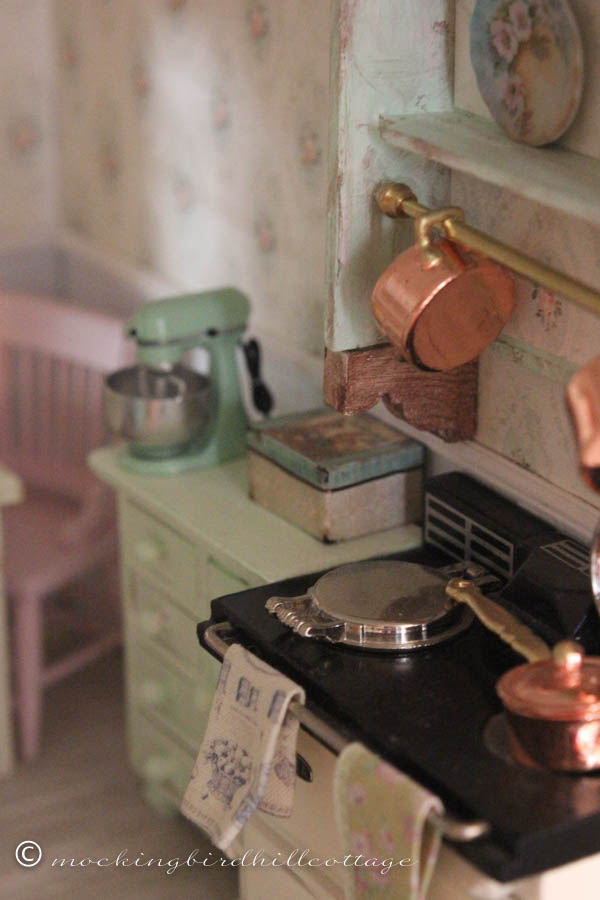 There's the other tin from Barbara, right next to the mixer.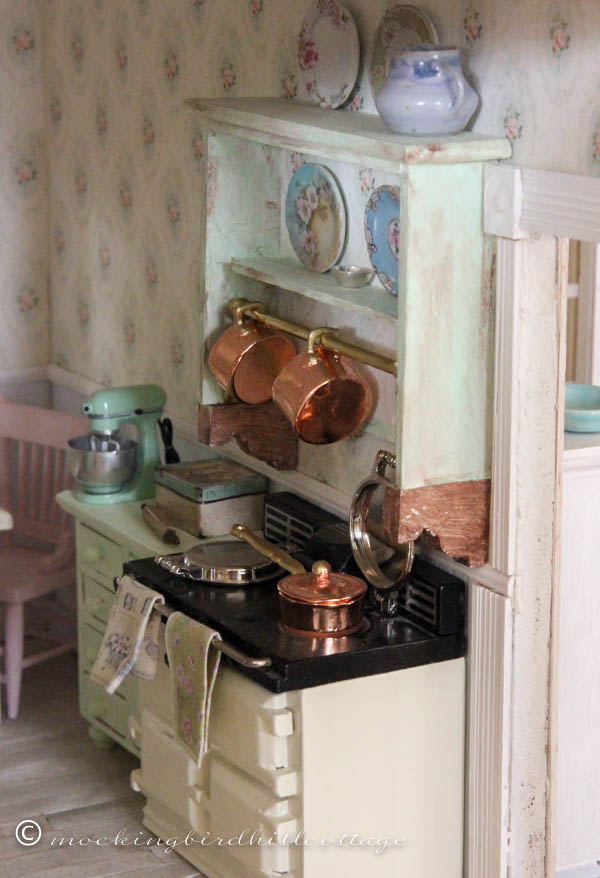 At the top of the shelf unit is a lovely pottery jug from Barbara. And on the shelf is a little silver tea cup, another item I received in the swap – it was handmade by one of the participants. Amazing. (I have to straighten that tea towel!)
I added some links to the Dollhouse section up there on the navigation bar. They link to some dollhouse posts that give some helpful information to those of you who are interested in decorating and finding your very own dollhouse. Sue, your request is what got me thinking about adding the links, so thank you!
And I also started to write down – room by room – where I got each piece in the dollhouse. Some pieces have been purchased, some I've found and rehabbed, and many have been gifts. I want to do a post soon with pictures of each room and all the information as to each piece listed below. Then I'll list sources and links.
Am I soon going to be done with the dollhouse? Doesn't seem possible, but it just might happen.
Nah.
Tomorrow, a book review for a great new mystery. I really loved it. (I'll be giving away a copy of the book.)
Happy Sunday.