No, I don't mean a Fun House of the carnival sort. I mean our house.
From my observation station in the den, I sometimes look at the cottage with the sun pouring in the windows and see the colors that are everywhere and the things we've collected and smile. The other day it hit me. We have a Fun House. It brings a smile to our faces and the faces of others who visit us. Remember the cable guy that walked in the door and immediately said, "This is a happy house. I can tell. This is a happy house."?
No greater compliment.
Don and I are, in all modesty, very funny people. We have a strong sense of the absurd. We make people laugh. And we love offbeat, whimsical, silly and happy. We also like comfortable, well-worn, and vintage.
So with that in mind, I took some photos of the cottage for you.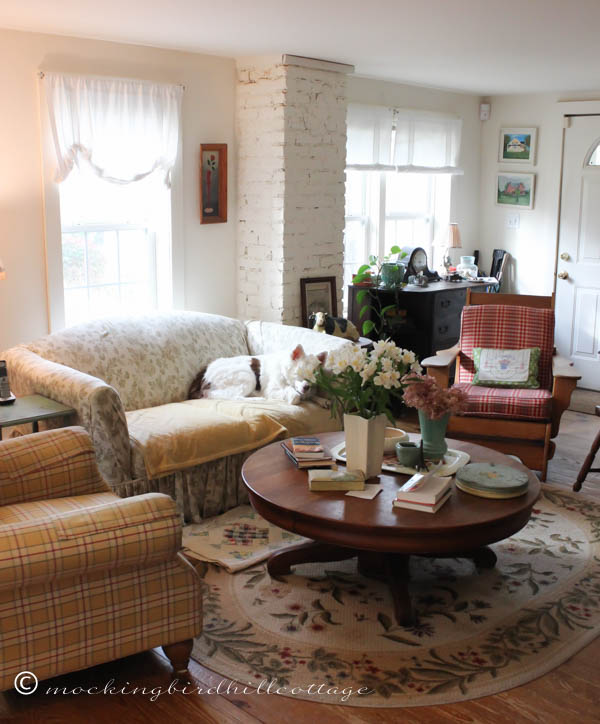 First off, some views of the living room. Can you spot Scout? She is most definitely fun. (Still waiting for the other Emmie blind.)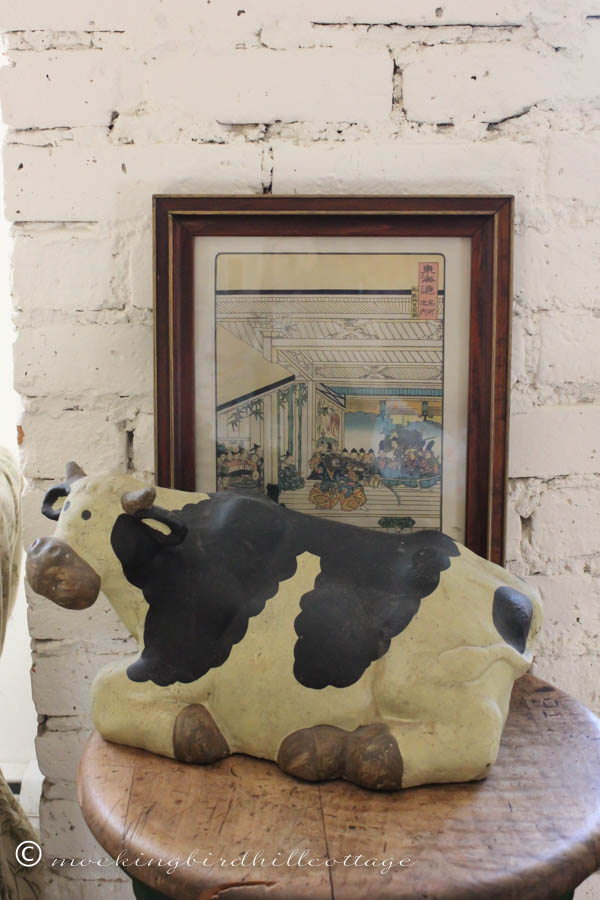 Monty the Cow is watching over the living room.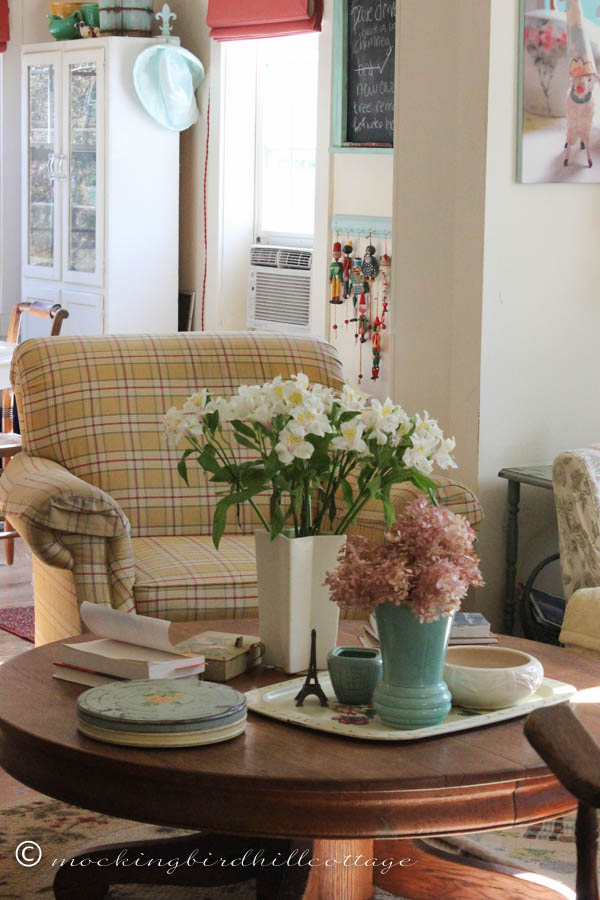 An old film can that has been painted and decoupaged adds a touch of whimsy. As does the McCoy pottery that is everywhere in this house. That cream colored planting bowl holds bright yellow Mah Jongg tiles.
A closer look: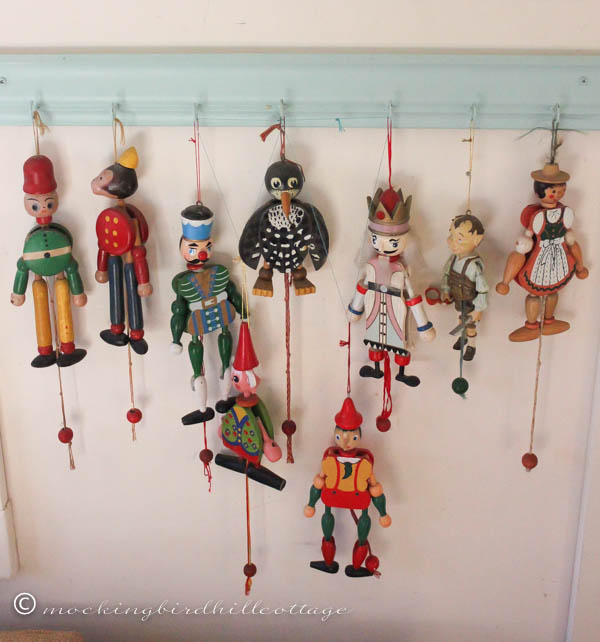 Don's Jumping Jack collection, which hangs right under the chalkboard in the kitchen. We often give them a little pull when we're heading out the door.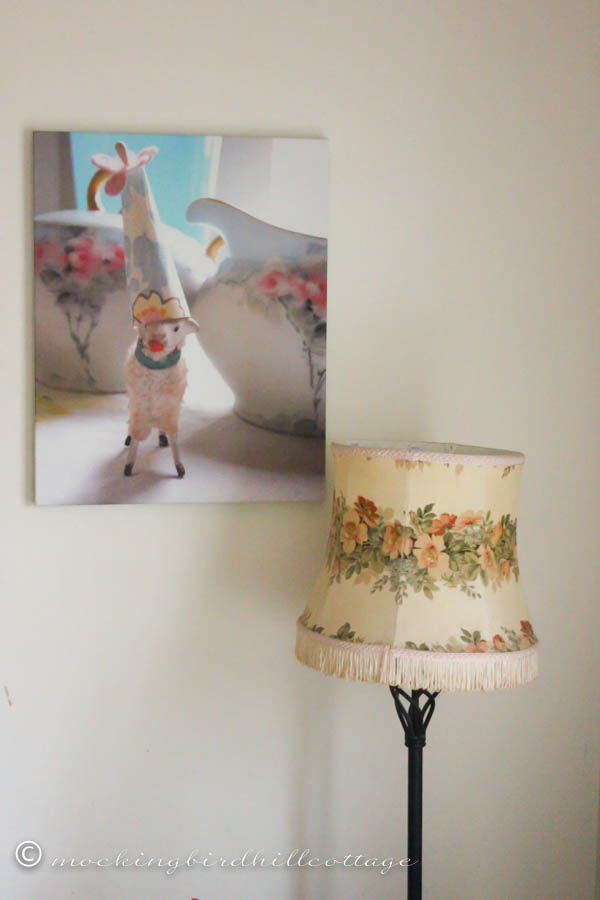 The canvas wrapped print I had made of the Lamb with the Party Hat. It hangs in the living room.
A dollhouse, definitely fun, sits in the living room. (There's Dame Scout again.)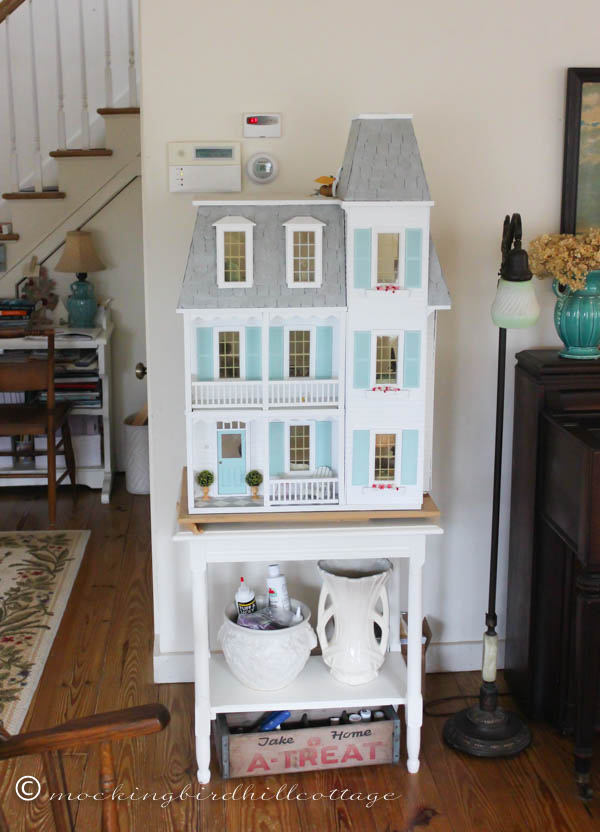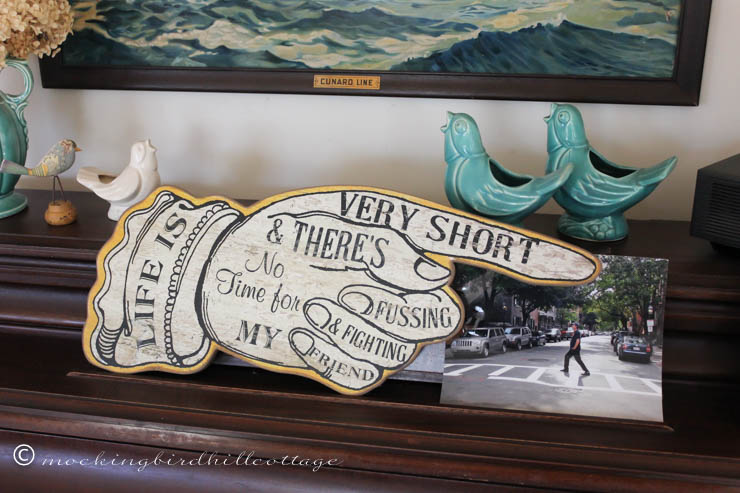 A sign and a photo of Abbey Road Don sit on the piano. Adding to the whimsy, McCoy birds are singing. What better place than on a piano?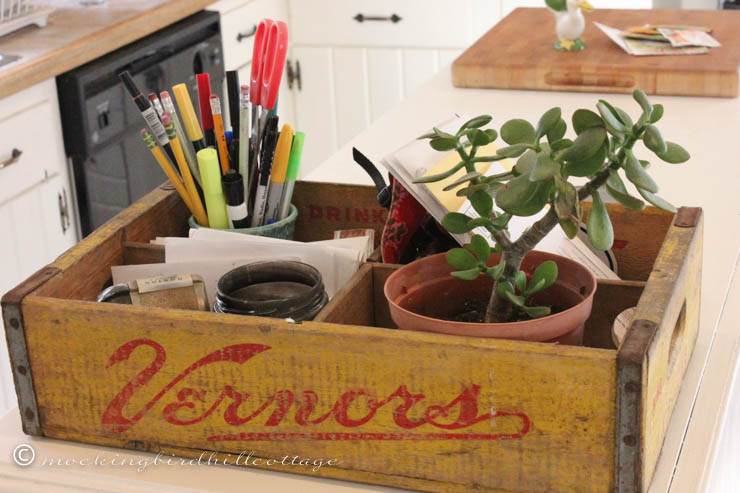 In the kitchen, a bright yellow Vernors crate sits on the island. I smile every time I see it.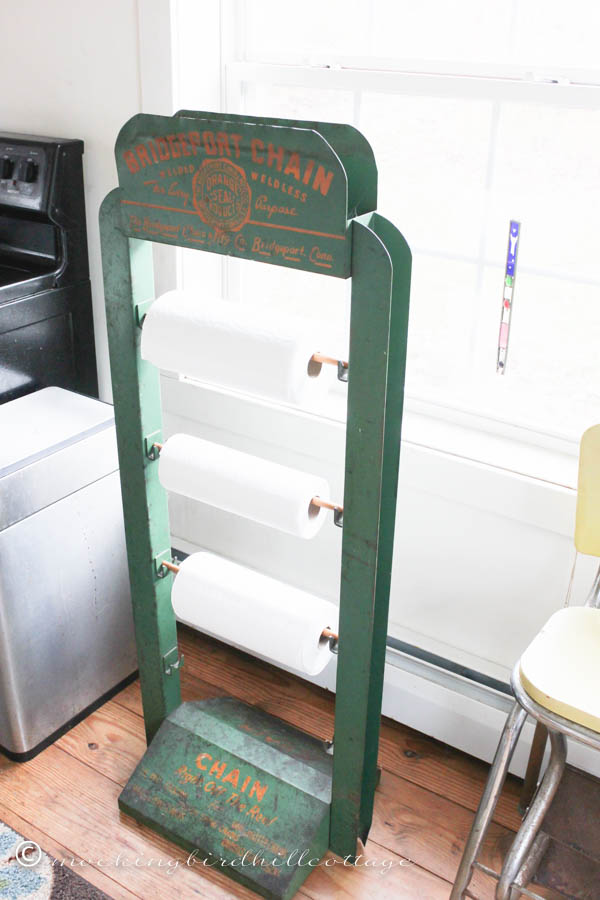 I smile when I see the vintage chain display rack we transformed into a paper towel holder. I can't imagine our daily life without this wonderfully rusty rack that we found at an auction and bid for on a whim.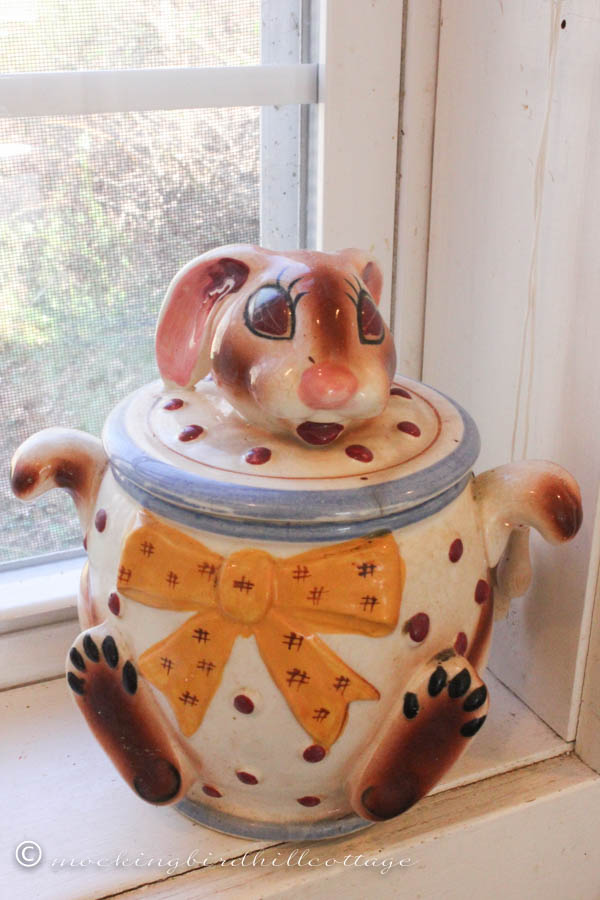 Our Bunny Rabbit Cookie Jar sits on the window ledge over the sink. We often spot the real thing right outside these windows.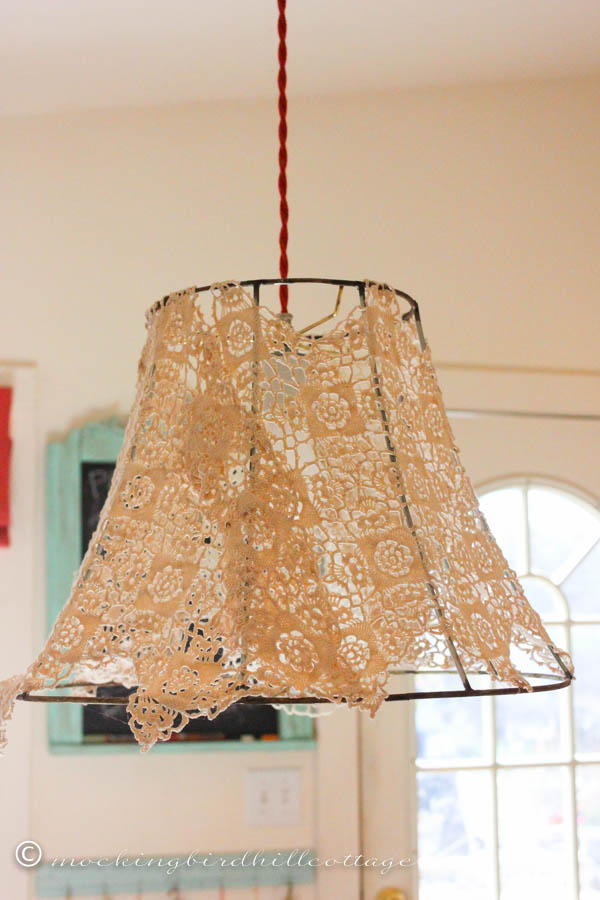 A hanging lamp made from an old lamp shade frame and some vintage doilies hangs over the kitchen table.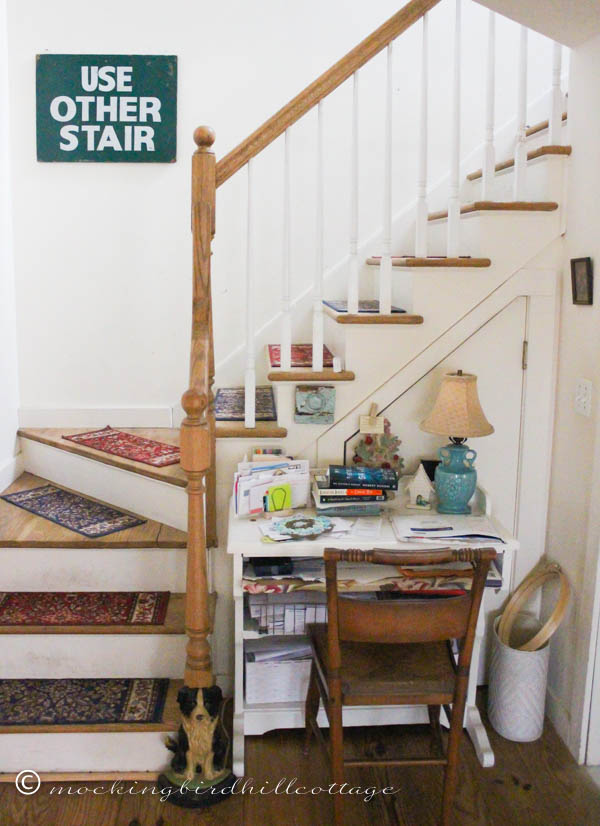 One of my favorite things: the vintage Use Other Stair sign that hangs above the landing. (There is no 'other stair' in this cottage.) Add to that the alternating red and blue carpet treads, the Border Collie doorstop, the found-for-free desk Don brought home and that I transformed, and the aqua pottery lamp.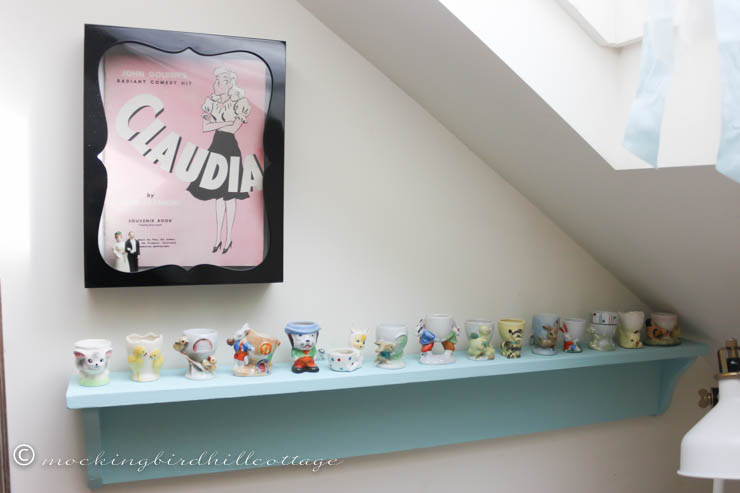 Then there are the whimsical figural egg cups that are everywhere. Here are some on an old mantel that I use as a shelf in my 'studio.'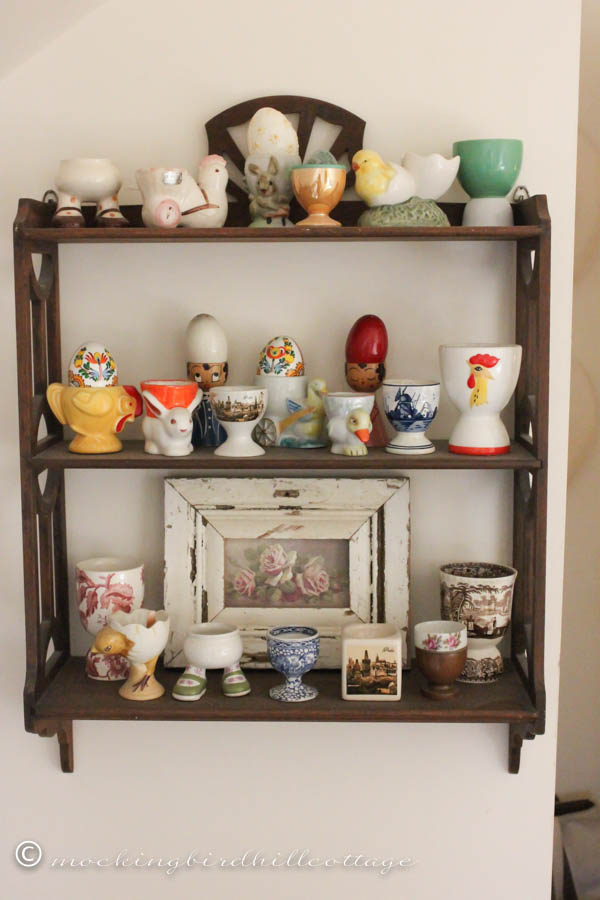 More in the bedroom.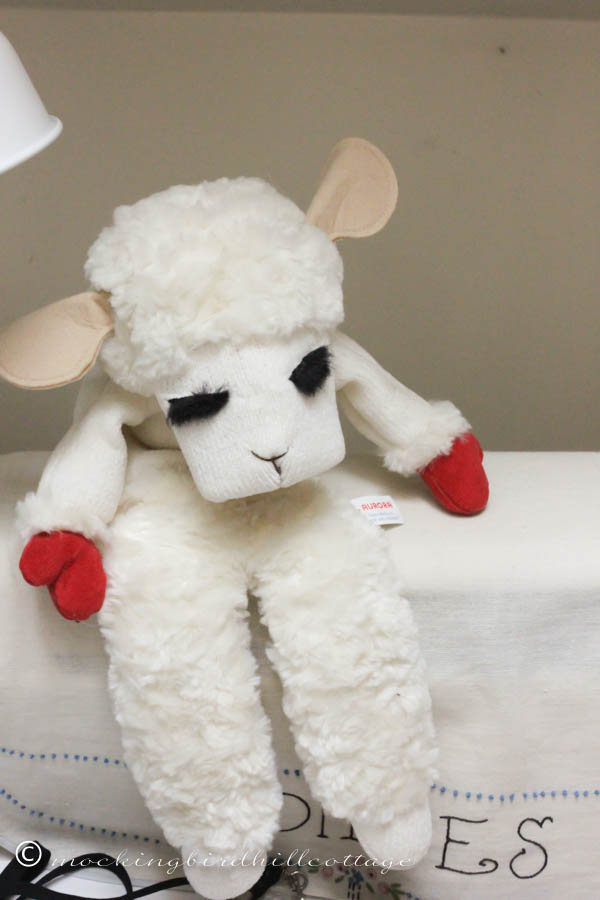 Lamb Chop, who supervises all activities on the upper level of the cottage.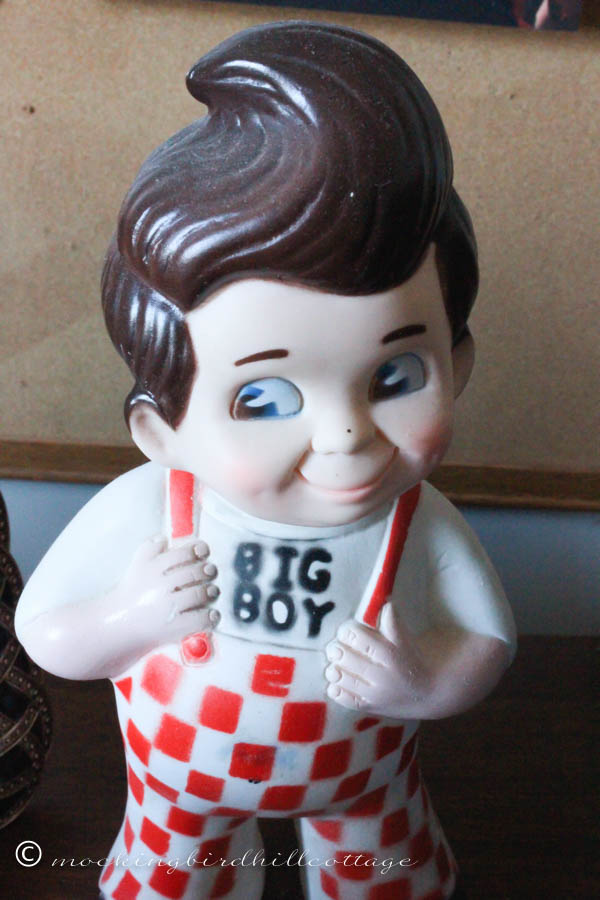 Big Boy, who sits on the desk in the guest room/office/studio. (And looks a little spooky here.)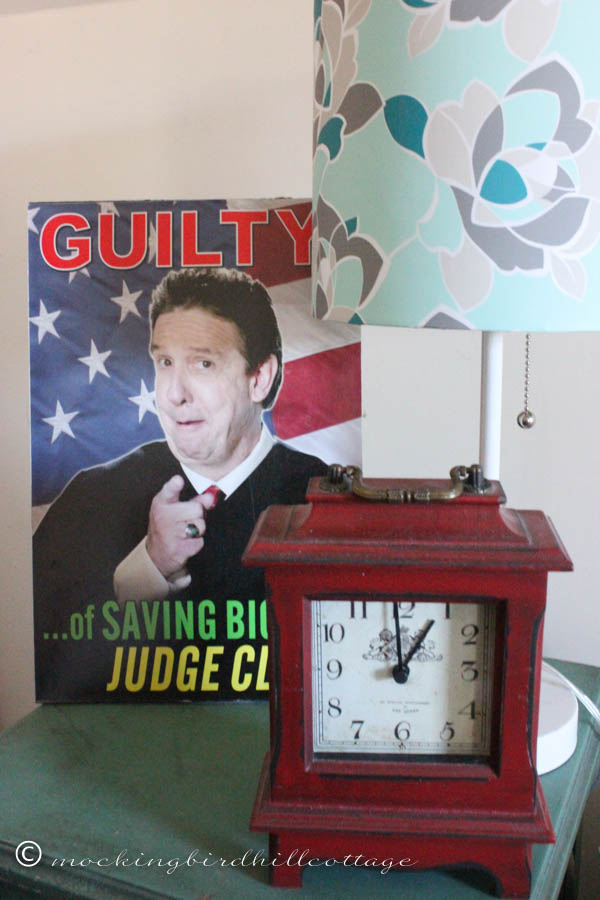 And this souvenir from a Law & Order shoot. Don played a Judge who owned a car dealership. How could we resist?
There's more, of course. The McCoy pottery with colors that cannot help but make us smile; the miniature pottery on a little shelf in the den; the dolls that live on top of the cabinet in the studio; Little Lamb, Wayfrum and Maggie Rabbit, who currently live on top of the bookshelf in our bedroom…all of these things have been welcomed into our home and add to the fun, whimsical ambience here.
It's nothing we did on purpose. It's just a reflection of our personalities and our sense of style.
Though I love looking at all kinds of homes, I tend to be drawn to those with PERSONALITY. In caps. Personality that is immediately evident when you walk in the door. Frankly, I cannot imagine having a home that looks 'decorated.' Of course, this house is decorated, but you know what I mean. A home might be beautiful and luxurious and sleek and lush (all of which are very nice, indeed) but if a sense of the owners' personality is missing along with a little touch of fun, I don't want to linger there.
Apparently, from looking around our home, we're big on fun and laughter and whimsy.
Happy Monday.