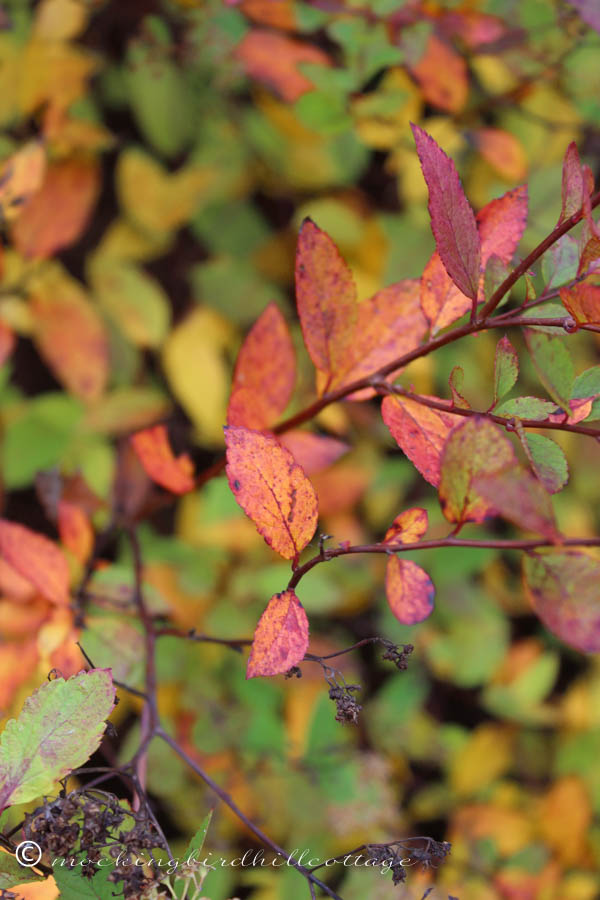 I do love fall colors, don't you?
• Why, oh why do we keep having to change the time twice a year? It drives me nuts. I've read all the reasons behind the original idea and they seem entirely outmoded now. Now I have an entire winter of darkness arriving at 4 or 4:30 to look forward to. Thanks a bunch.
• I'm still making coffee the new way. I really love it. The coffee maker hasn't been used once since I returned home. What I find amazing is that the taste is so much better and the ultimate cost is so much less. Filters and coffee. That's it. And I find myself really looking forward to the ritual of pouring the water into the filter, bit by bit, until I have a full, aromatic mug of coffee.
It's the little things that can turn out to be big things in the end.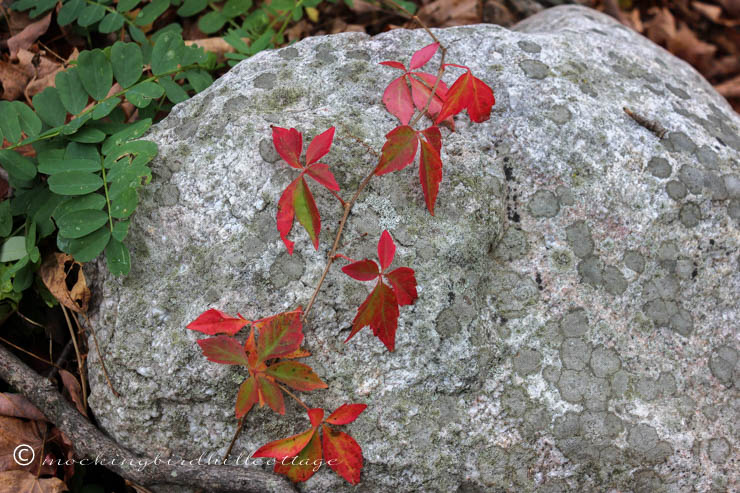 • I caved yesterday and ordered one more Emmie Blind from someone on eBay. It was more expensive than the ones I previously ordered, but there seem to be only a couple of them left out there in the width I need, and as I walked into the bathroom and saw the same dreaded tie-up blind that I had in the living room, I knew I had to do it. I've searched and searched for something comparable on the internet and haven't found it. And interestingly, the fabric blinds I did find were all more expensive than the one I was dithering about on eBay, so what the heck? I did it. By the end of this week, Emmie should be happily established on all the living room and bathroom windows.
• Goodness, am I enjoying watching Netflix on the new television! We all know there is a dearth of quality programming on most of the networks, so having the option of watching Netflix on a big screen rather than my 13″ laptop is greatly appreciated. I've been watching the BBC series Luther, starring the amazing Idris Elba. Have you seen it? It's a gritty cop series that takes place in London. Excellent writing, acting and direction. I can't wait for Don to get back home and see our new television. I envision many cozy evenings ahead.
• I'm not watching Death Comes to Pemberley on PBS. Not because I don't want to, but because I want to read the book first. I usually avoid all those Pride and Prejudice take-offs like the plague (why mess with the best?) so I avoided this one. But I am a huge fan of P.D. James (I met her once!) and I know anything she writes is of the highest quality. I was having a conversation with Darko's assistant, Sarah, when I was in Hartford. She's a fellow book lover and her mother is a librarian, so we loved talking books. She raved about it, which was enough for me. It's now on my list. A list, by the way, that is so long I could easily be daunted if I thought about it for any length of time. So I won't.
• Missing my mom. I had a hard day yesterday in that regard.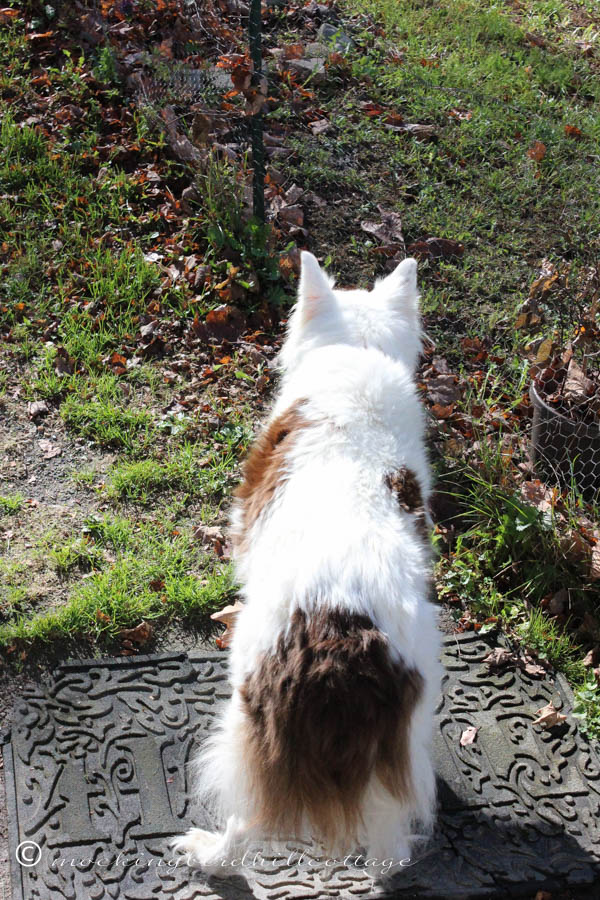 • Scoutie slipped off the loveseat and fell yesterday. She usually jumps up there and looks out the window before she lays down and her two rear feet are on the outside edge of the cushion. Sometimes she slips because she her feet are too close to the edge. I heard a thud from the living room and ran in there to help her up. I think she must have really bruised herself as she was definitely in pain last night. Today, she's a bit better. Poor girl. We will take it easy today and I'll give her some more Rimadyl, which seems to be the only medication she can tolerate. I worry about my baby girl so much.
• I drive to New Haven on Friday to bring Don home. It's been way too long. Our pack needs to be back together in our little cottage. It can't come soon enough.
Happy Sunday.