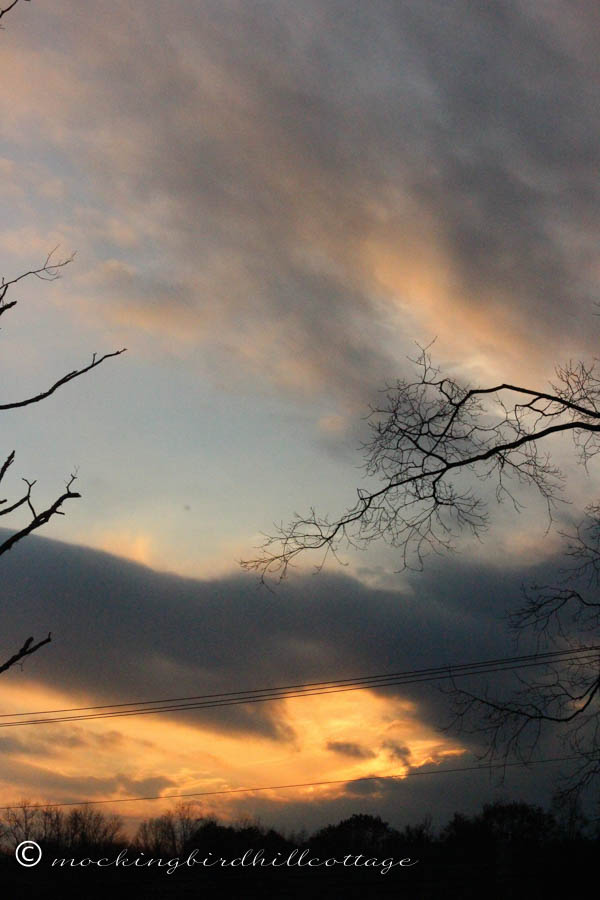 The gorgeous sunsets just keep on coming here at Mockingbird Hill Cottage.
Oh, friends, I'm sharing a book review over at Just Finish This Page that I want you to read. I hope I've written it in a way that makes you want to get a hold of the book ASAP and dive right on in. It's titled Small Blessings: A Novel and it's by Martha Woodroof. I simply loved it. I can't say it enough. I know you will love it, too. It's wise and funny and charming and moving and uplifting. So please stop by the other blog and read about the book. I don't normally wax rhapsodic on both blogs about a book, but I am so much in love with this novel that I'm throwing caution to the winds.
Speaking of waxing rhapsodic, if you haven't watched any of Last Tango in Halifax, do. It usually airs on PBS. I believe there have been two seasons. We caught the second season on PBS and are now watching the first season on Netflix. It stars Derek Jacobi and Anne Reid and a cast of wonderful actors. When I say wonderful, I truly mean it. Such amazing work by each and every one of them that Don and I are enthralled. It's about many of the same things Small Blessings is about: second chances, the yearning to be loved, finding one's way through life. Brilliant.
Also very, very happy that Newsroom is back on HBO, along with The Comeback. Sunday night was a happy night here at the cottage. This is Newsroom's final season which makes me very sad, indeed.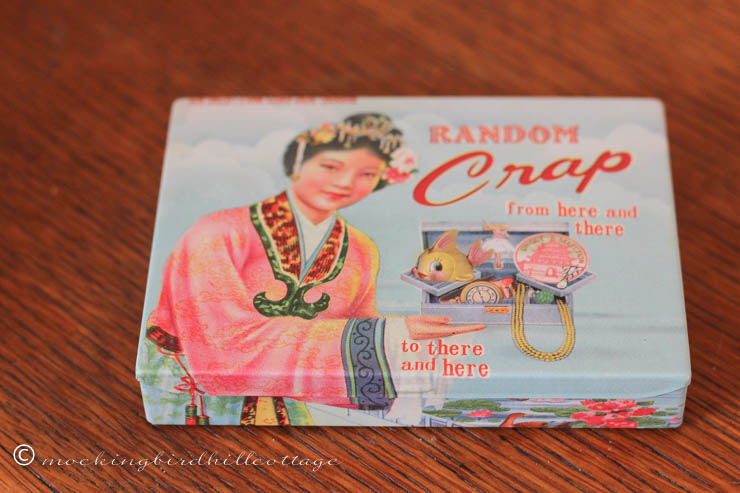 Don bought this little tin for me in New Haven. I love it. I don't know about you but I have a lot of random crap. Love the graphics.
We've been taking Scoutie on walks on the grounds of our little library. She likes it there and she invariably does a little gallop down the sloping driveway. Adorable – a word I seem to be using fairly frequently to describe my girl. Can't help it. The other day we walked by the little pizzeria in our town, succumbed to the aromas coming out of the building, and the next thing we knew, Don was inside ordering a pizza.
Here's Scout, waiting with me for her dad to come out of that door.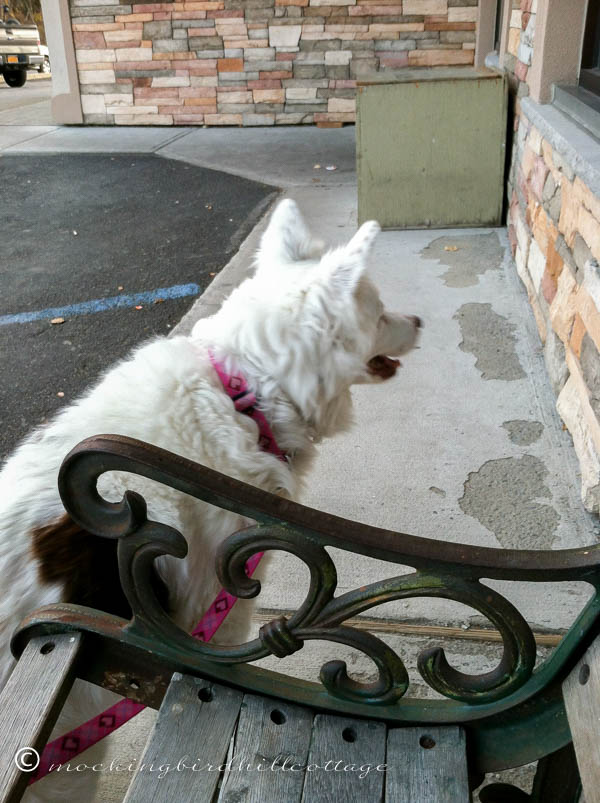 He's right inside that window!
Happy Wednesday.