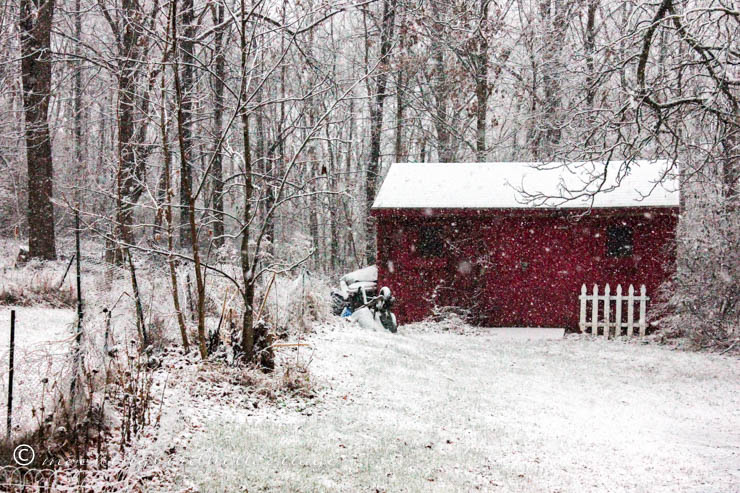 During the Nor'easter.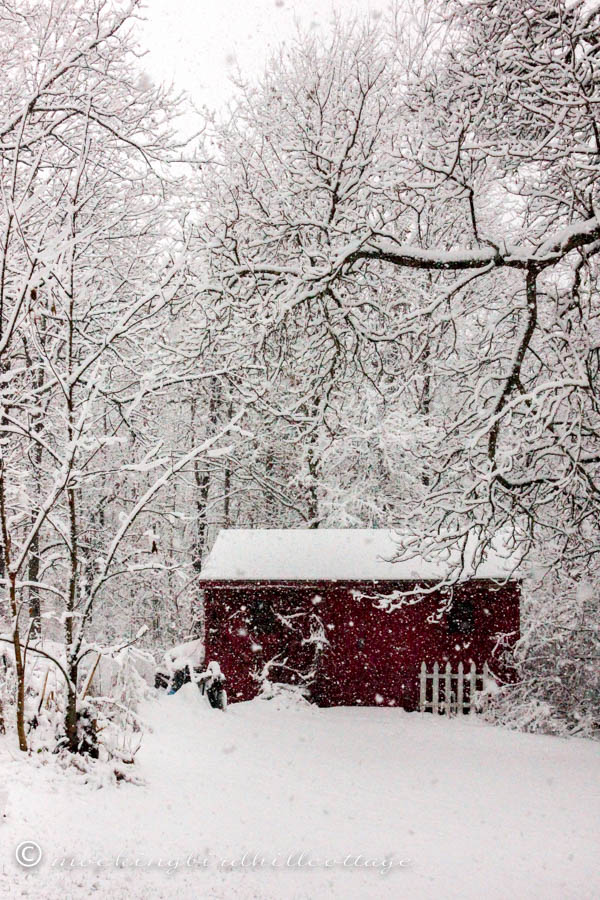 Later.
We had quite the event here on Wednesday. The snow started in mid-morning: heavy, wet, sticking to branches, power flickering off and on all day long. Thankfully, the power never went out, though it certainly did for many in the Hudson Valley. Don went out to the shed and played around with the level of the 'shoes' at the bottom of the snowblower. Since we have gravel on our driveway, a certain amount is going to get thrown while operating it and the idea is throw as little as possible. Even so, half-way through snowplowing, Don had to adjust them again.
For a first time effort, he did really well! The snow was so heavy and wet that it would have been very, very hard to shovel it all. Even so, there are areas around the house and the driveway that have to be shoveled. We did that yesterday and my back, which is unused to all the shoveling after nearly a year off from that nonsense, is crying out a wee bit today.
We're so thankful for our new snowblower.
We didn't get as much snow as predicted and since it's early in the season, it will start to melt in the next couple of days. Good, I say!
Someone in this house loves the snow, but all of her sniffing and exploring and adventuring has her all tuckered out: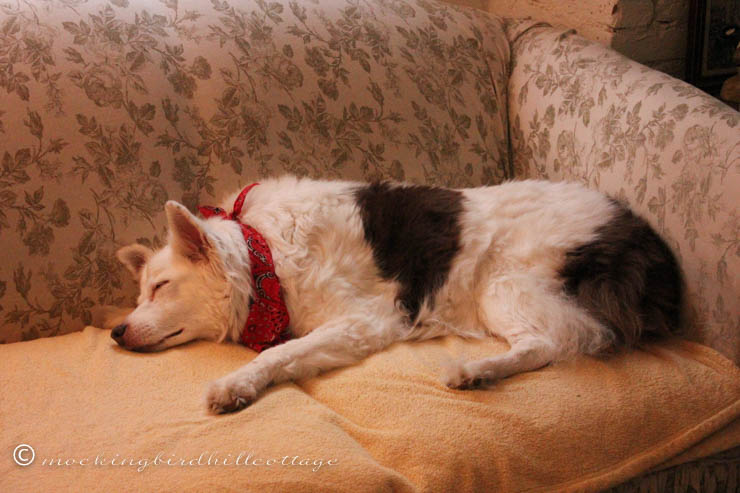 We had a lovely Thanksgiving. We had plans to dine at our friends' house, but, in the end, decided to stay home because with all the driving, plus dinner, we would have been away from Scoutie too long and we didn't feel comfortable with that. We also didn't feel at all right about going there, eating, and then departing almost immediately, which is what we would have had to do. So we ended up having a spontaneous Thanksgiving – no traditional anything.
We watched part of the Macy's parade just to see how it would look on the new television. We only made it through a small portion of it because, as always, it's just a big PR extravaganza for NBC and the stars of their TV line-up. Way too commercial for my taste. I grew up watching the J. L. Hudson parade in Detroit that aired on Thanksgiving morning and I'm afraid I've never liked the Macy's Parade. Hudson's was simple and extravagant at the same time: lots of floats, lots of bands, culminating in the arrival of Santa Claus and Christmas Carol (who wore a lovely red and white outfit) on the steps of the downtown Hudson's store. It was magical and for all of us and it wasn't about celebrities.
Hudson's, by the way, was a wonderful department store – beautiful in the way that all flagship department stores of a certain era were. It had a gorgeous main floor, wooden escalators, sumptuous fittings. Some idiot or idiots decided to tear it down many years ago. I've never recovered.
And, in this everything-is-the-same-everywhere-you-go age, it was taken over by….get ready for it… Macy's.
I can't go there. It's too depressing.
Back to yesterday. We took time to count our blessings. We made a simple dinner which was decidedly non-Thanksgiving-like. We shoveled some snow. We played Crazy Eights – a card game that was played a lot in my home when I was a kid. I taught it to Don and we had the best time! We played for hours and laughed and laughed. We're going to play it again today.
And we discovered that Netflix has old episodes of Mystery Science Theater 3000! Oh my goodness, I laughed so hard I was crying.
Perfect end for the day.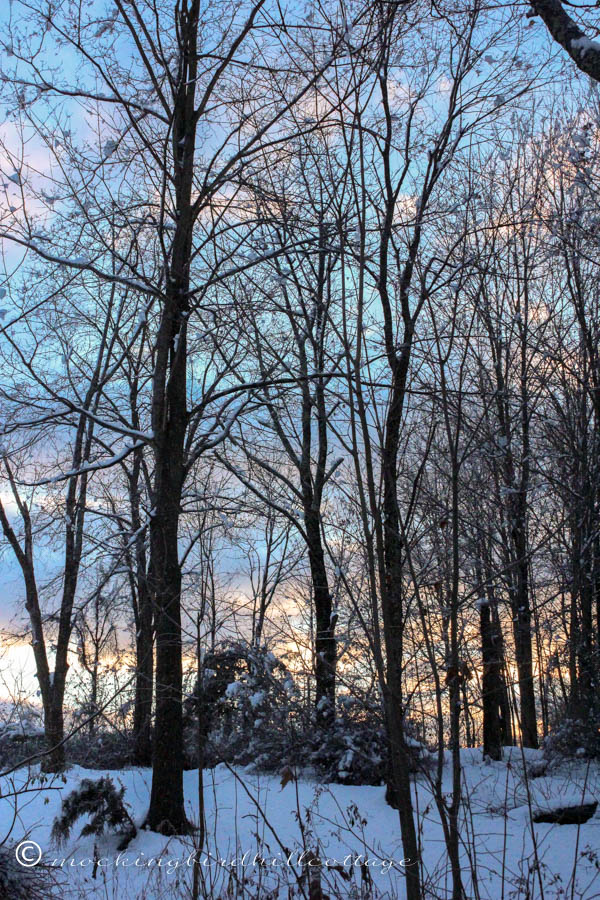 This morning.
I would be remiss if I didn't mention the passing of the great crime writer, P.D. James. I wrote a quick post about it yesterday on Just Let Me Finish This Page. She died yesterday at the age of 94. I read all her novels, starting with An Unsuitable Job for a Woman, which was written in 1972 and featured Cordelia Gray, who surely must have been the model for a whole generation of female police detectives to come. I had always loved mysteries, and when I was a teenager the whole gothic mystery/romance genre was very big. When I discovered P.D. James, I entered a world of grown-up crime novels, with complicated characters and plots, plots that didn't revolve around a romance, but did, in fact, revolve around a murder or two that were never prettified, and writing that was unsparing in the depiction of the pain and loss and sorrow and anger and rage that surrounds any such death.
Many years ago, when I was living in Cambridge, I went to an event where P.D. James spoke. It was held in the sanctuary of a church. Afterward, she signed a copy of her latest book for me. She was highly intelligent, charming and funny, a wonderful speaker.
Rest in Peace, P.D. James. And thank you for years and years of reading pleasure. You set the bar for all who followed you.
An appreciation of P.D. James written by Louise Penny.
Happy Friday.