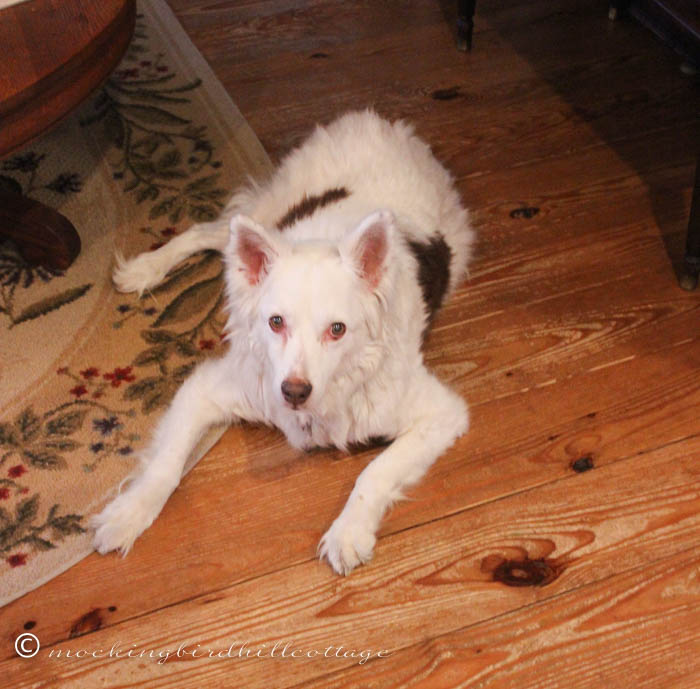 A grudging moment from a girl who usually turns her head away when she sees my camera.
Like Greta Garbo, she doesn't want to be photographed. No paparazi. She just wants to be left alone.
We are adjusting, all of us, to this time in her life. When does she need help going up and down the steps, when is she strong enough to handle them on her own? How do we handle her sometimes insane pacing and frantic activity in the evenings? How do we know when its okay for her to run a little on her walks and when the better choice is to rein her in? How do we handle the hearing loss? And the little messes that sometimes occur?
With love. Without judgment. With compassion.
We learned that during Riley's long illness.
We're finding our way. I used to get very frustrated with that pacing I referred to; constantly jumping up and down the stairs, going into the kitchen, coming back down to the den, over and over and over again, an almost panicked look in her eyes. I'd let her out. She'd pace outside. I'd let her back in. She'd pace inside. I'd lose the thread of whatever I was watching on television. Up. Down. Pace.
I asked myself a thousand questions: is something wrong with her urinary tract? is she constipated? does she hear something outside? is she hungry? is she thirsty? what is she trying to tell me? Finally, just before Don returned home, I did a search online and I read several articles about just this thing. It's not about any of those questions. It just is.
A fairly common occurrence with very senior dogs, it often happens during the night. With Scout, it seems to be happening in the evenings. I meditated, asked for answers, and got the message, "Just let her be." Don said pretty much the same thing when he got home and, believe me, it's much easier to handle all that frantic activity with him by my side. It doesn't happen every night, but it does happen most nights. It's part of who Scout is now.
Her hind end muscles are getting weaker – just like Riley's did. I sometimes hold her up while she eats. I did the same thing with Riley. It depends on the day – often the time of day. But she is remarkably strong for her age. At times, she has the friskiness of a pup. She'll lope. She'll gallop. She'll pounce. She'll leap up both steps leading up from the den to the living room like a horse effortlessly clearing a jump.
She'll be 16 in January. She's the light of my life. She's the girl who is magical, who is wondrous, who has enriched our lives beyond measure.
I have to work hard at being patient with her at times and it doesn't always come easily to me. But if I stop and let go of all the other distractions, the things that supposedly are important but really aren't, and focus on her needs, then it is suddenly quite easy. Because what could possibly be more important than this creature? Nothing.
That's my goal. It's a lesson I keep re-learning, one that started with Riley and continues with Scout.
She helps me grow, that girl. She helps me develop patience. She makes me a better person. Or at least, a person trying very hard to be a better person.
She is the great teacher. And I have many lessons to learn.
Happy Wednesday.
(New post with some interesting links up on Just Let Me Finish This Page.)