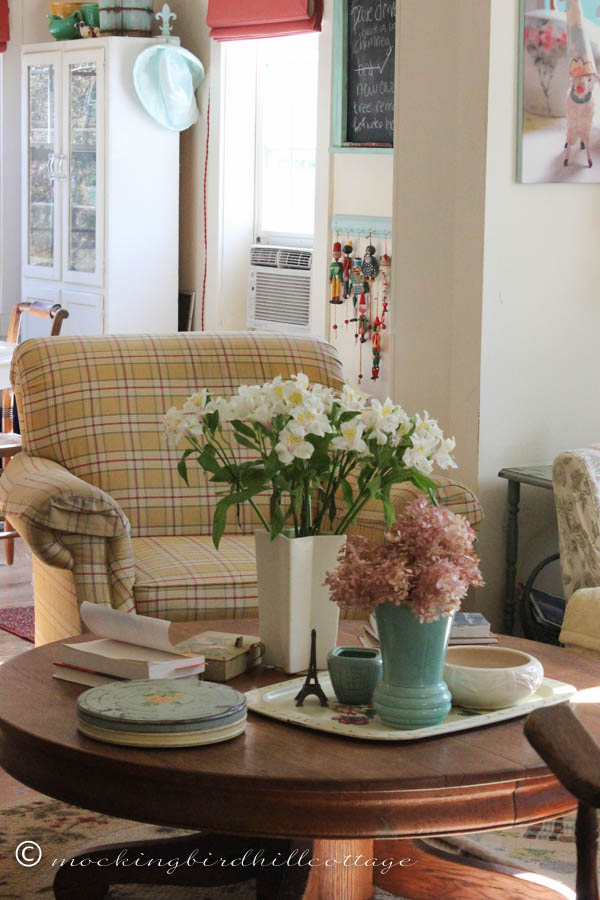 A certain someone is ensconced in that yellow chair as I write this.
A dog, who is usually in my tunnel, is sleeping next to him.
It's a sunny and beautiful day and the Mockingbird Hill Cottage pack is back together again.
I drove to New Haven and landed at the theater in time to meet Don at the stage door as the closing performance ended. I chatted with the cast (such lovely people) and then joined them all onstage for a final toast with the Artistic Director, who also directed Our Town.
Then we loaded up the car and drove home (with a stop at Trader Joe's, of course.)
Scout was thrilled to see her dad. It took her a moment or two to realize it was him, but then…oh, such a happy girl!
Since we had grabbed a late lunch on the way home, I scrambled some eggs and Don made some toast and that was dinner.
We were saving room for a decadent chocolate cake we bought at Trader Joe's. We had to celebrate, don't you think? It was so incredibly good that I'm still thinking about it.
Meanwhile, Don was suitably awed by the new television and we watched a great documentary on Netflix, 20 Feet from Stardom. It's about backup singers and it won the Oscar last year.
I recommend it highly. Very moving. Beautifully done.
Happy Saturday.