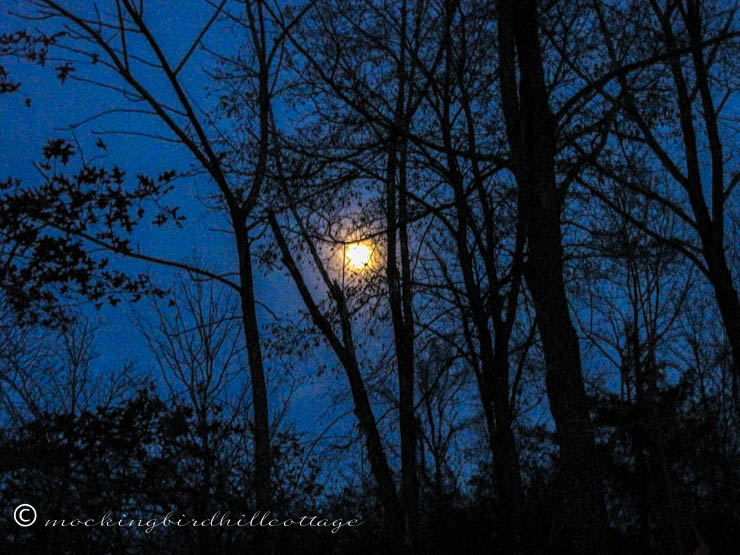 My favorite time of the evening; not fully dark, on its way to being dark, with blacks and deep blues and the moon shining brightly.
Mysterious. Magical. Simply lovely.
I have much to do around here, but I don't seem to be doing it.
I want to put shelves in the den, but I've decided I want Don's input before I do it. So that has to wait until next week.
I want to start painting the kitchen, but I need Don's help moving things and keeping Scout out of the kitchen. So that has to wait until next week.
I was going to re-caulk the bathtub because whatever I did the last time didn't work very well. But hacking away at the old caulk, cleaning that all up, applying the new caulk, waiting for it to dry? Too many hours. And I find I'm not in the mood to tackle it at the moment.
I do have to go to the laundromat. Today. Sigh.
Oh, it's not that I'm a stranger to laundromats. If I had some sort of running tally of how many times I've been to a laundromat, I'm sure I would be astounded. Many years of apartment living = many years of laundromats. I remember when I moved into a new apartment at the beginning of my last year of graduate school. There was a washer and dryer in the building. I thought I'd died and gone to heaven.
But then I moved to Boston for my first teaching job and it was back to the laundromat.
It does change the way you think of things. I can't tell you how many times I've had the thought, "I'll just throw that in the washer" since I've been back, only to remember that my washer doesn't work. Again, a First World Problem. And in the end…annoying, but no biggie.
So today I gather everything up, drive to the neighboring town, take along my Kindle, and do some laundry. I can People Watch, too.
T-minus two days and counting until Don is home again. He's still suffering from that cold, very like the one I had. The coughing stage hangs on for dear life. He needs to be with his girls. That's the best medicine.
Another night photo:
There was a new post up on Just Let Me Finish This Page yesterday. I neglected to mention it here. And I'm adding a short post today with news about an interesting contest you might want to enter. The information on that contest came via an email from author Wendy Tyson, so thank you Wendy!
Happy Wednesday.