Awake at 5 AM.
In the early morning lamplight – a view of the tabletop next to my blogging chair.
How do I manage to cram so much onto such a small space? You'll see: at least two eyeglass cases; notebooks; pieces of paper with handwritten notes to myself; earbuds; coffee mug full of hot Peet's French Roast; my iPhone; a piece of Hull pottery full of pens, pencils and a nail file; my pencil case in a piece of fifties-era pottery; the vintage lamp.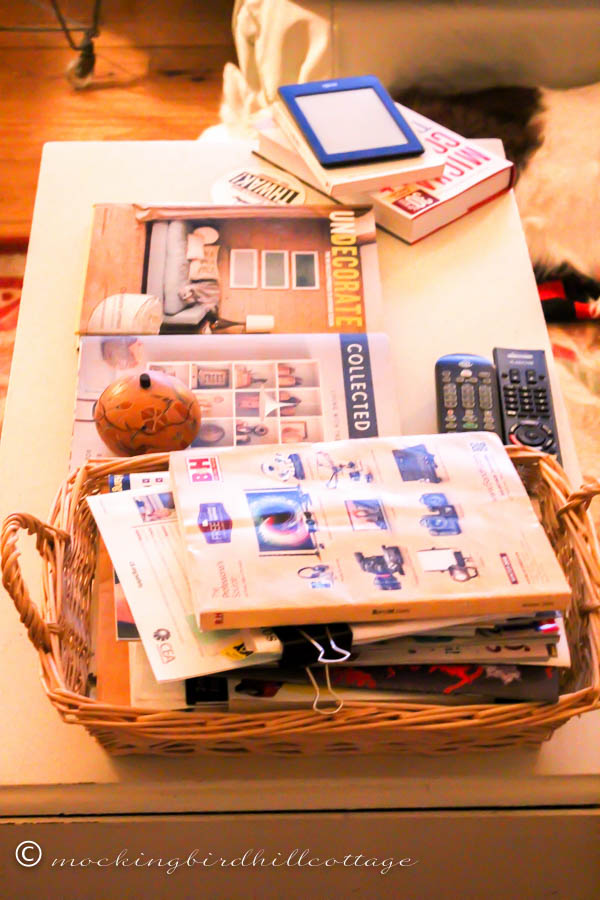 And a view of the coffee table in the den: a basket full of reading material, catalogs, new television warranties, etc.; the remotes, two coffee table books, Collected (more on this book later) and Undecorate (more on this later in the post); a wooden piece that Don gave me; my Kindle, where I'm currently reading a wonderful book that I'll review next week; a spiritual book I find inspiring; and Michael Connelly's newest (yes I bought it) The Burning Room.
And Scout, in her tunnel position.
Will there be any room for Don's things? No. But he tends to pile his stuff on the coffee table in the living room. So it all works out. I just have to rearrange things in the evening so that we can put our feet up on the coffee table.
The other day I picked up a package sent to me by Barbara, a lovely reader of this blog. She had written me to say she wanted to send me some miniatures. Of course, I said.
The box was heavy.
Inside? A treasure trove of wonderful gifts, most of them completely unexpected. I kept gasping as I opened each beautifully wrapped package. Let me share them with you.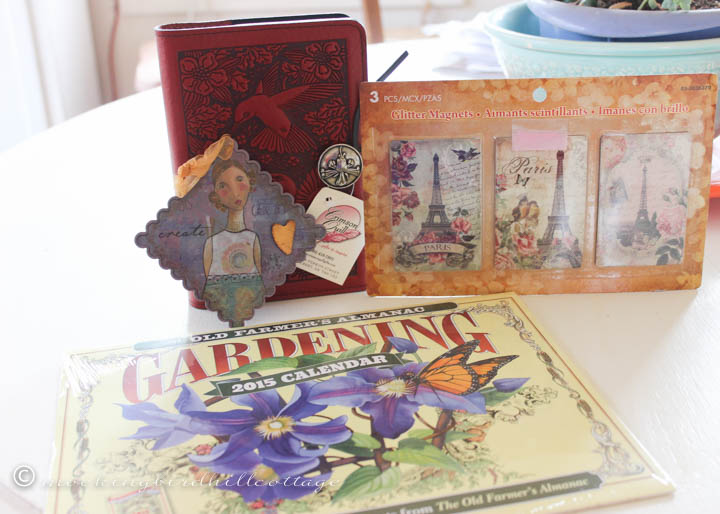 Paris/Eiffel Tower Magnets, a Kelly Rae Roberts "Create" ornament, a beautiful red leather journal with a bird design, and the Old Farmer's Almanac 2015 calendar.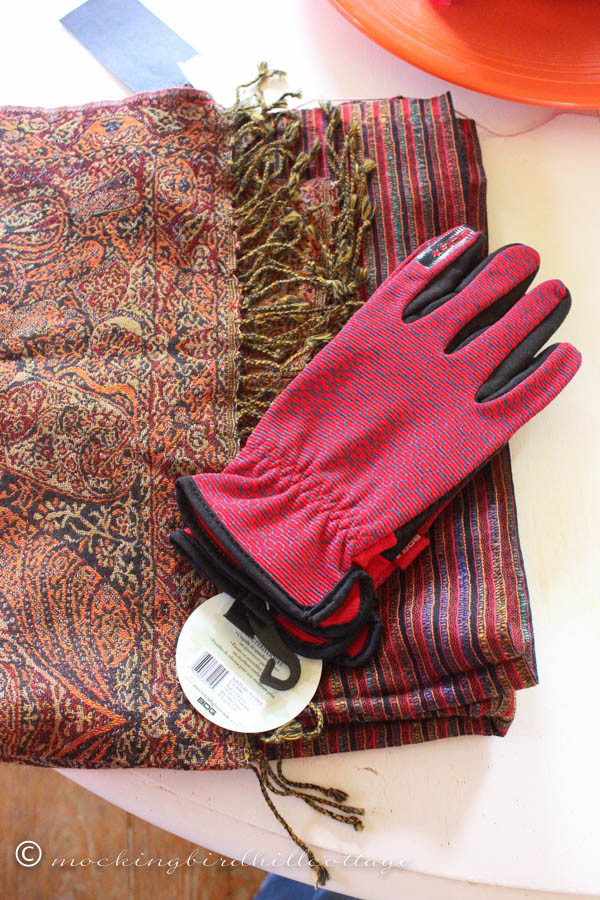 A beautiful handwoven scarf and a pair of gloves. How did Barbara know that my winter gloves are in terrible shape?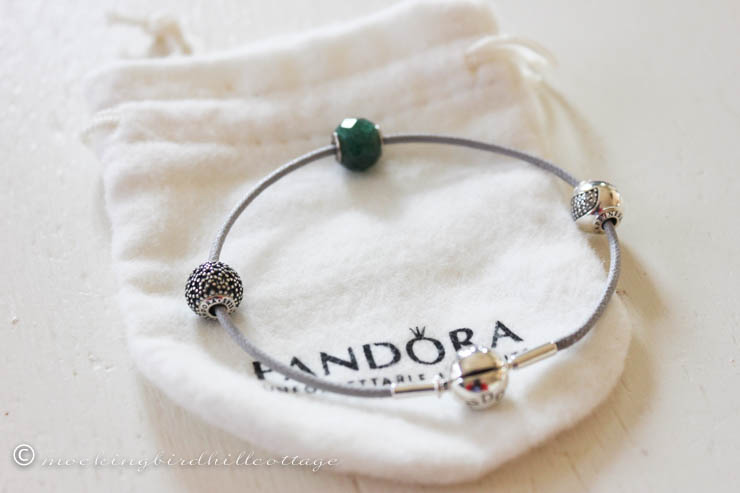 A lovely bracelet, with charms representing Wellness, Prosperity, and Happiness. Perfect. I feel blessed.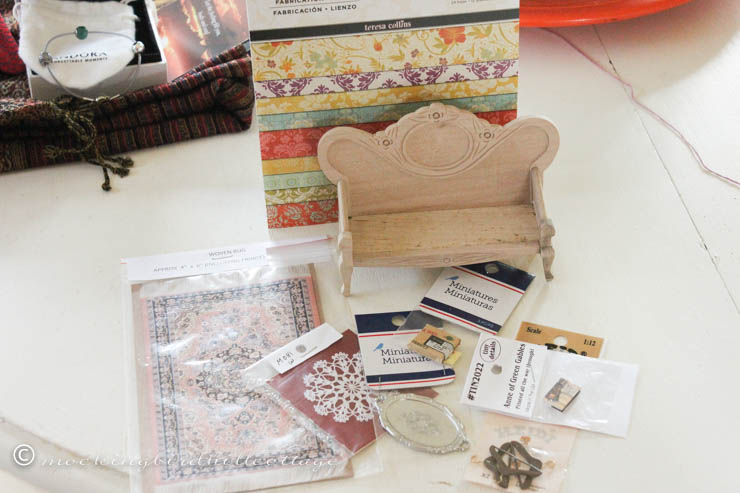 Miniatures and beautiful card stock.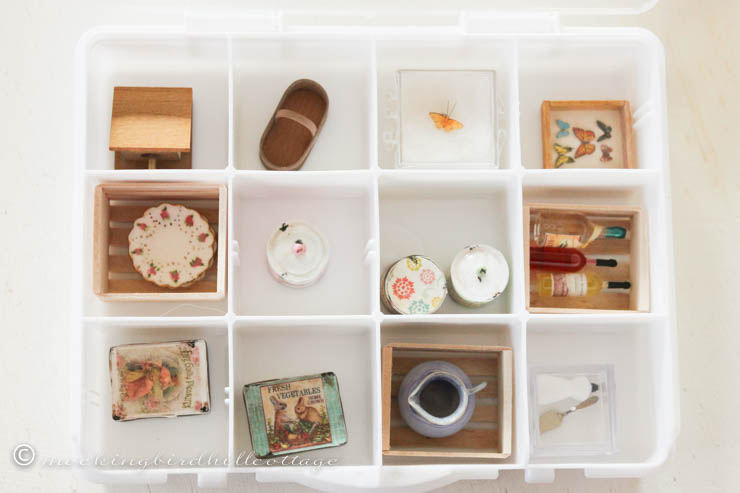 More miniatures. Oh, my heavens!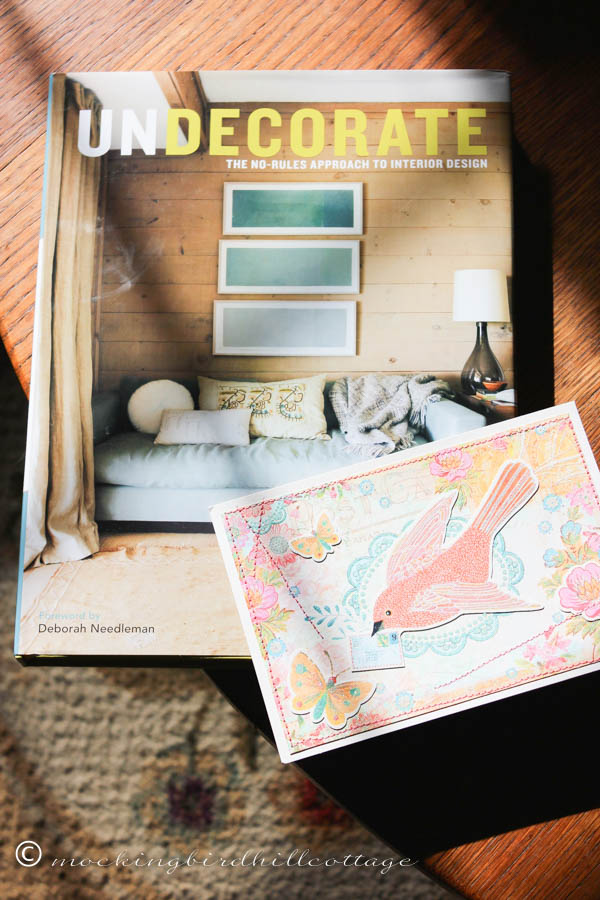 And a copy of Undecorate along with a beautiful card. I wrote about Undecorate on this blog a few years ago. I loved the whole concept of the book: real people living real lives whose rooms reflect their personalities. Rooms that don't look impossibly perfect. I spent a long time in the bookstore thumbing through the pages, and though I wanted my very own copy, I never did get one. Just recently, when I was at the Strand in NYC, I saw it again and was very tempted, but I had already bought some books. So I held off. Again.
But here it is – from Barbara.
Honestly, and I'm not saying this with any sense of false modesty, I don't know what I did to deserve this. Time and again, I am amazed and humbled by the generosity of this blog's readers. Blown away would be an even better way to put it. I've been so blessed by all of you; via comments and emails and the very fact that you stop in to share some time with me, with unexpected gifts from the heart, by your loving support when I need it most.
This blog has been so much more than a daily journal. It has opened up a whole world to me that I certainly wouldn't have known otherwise. It has brought all of you into my life. What a blessing you are.
I wrote Barbara, of course, but I want to say it here, as well. Thank you.
I told Barbara that I'm thinking of it as my first birthday present, though the actual day isn't until two weeks from tomorrow. (And even though I received it in late October, I'm considering Teresa's gift of the egg cup to be a birthday present, too.)  I'm going to make November my Birthday Month.
On a very sad note – if you missed my post about the death of dear Judy Clark's husband, John, please scroll down one post. He died yesterday after a valiant and brave battle with cancer.
Happy Thursday.