So far, the weather 'event' is simply rain and lots of it. But I expect that to change as the day goes on. Predictions still vary, but the prevailing thought seems to be a wintry mix.
The dire predictions sure spurred me on, which probably is a good thing. We got our tree yesterday (a few days earlier than is our norm), I hung the outdoor lights on the porch railing, the ornaments have been brought inside from the shed. We'll decorate the tree this evening.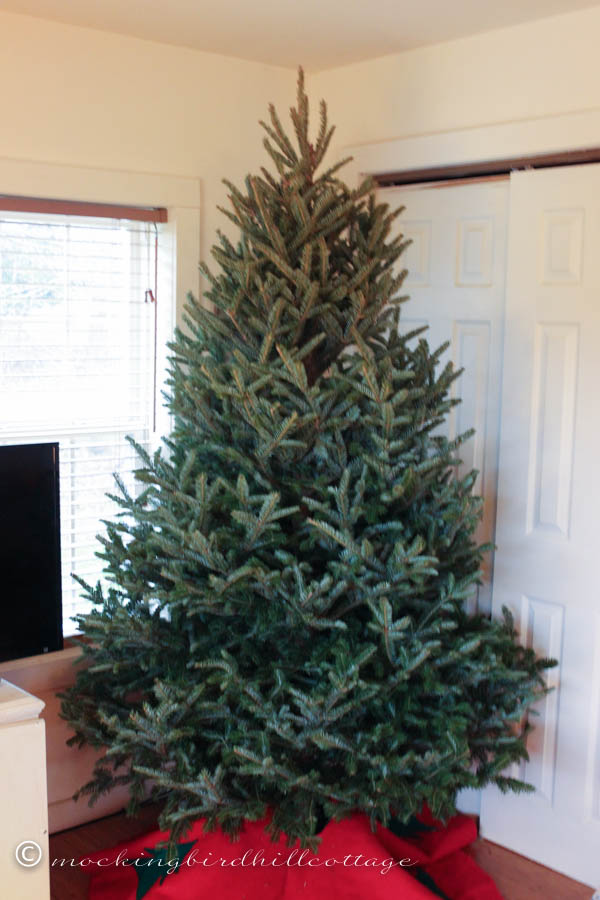 Not sure why the upper portion of the tree looks like it's a different color. It isn't. Probably the early morning light combined with the lamp light in the den. We always buy a real tree and our preference – since the days in which we first celebrated Christmas together – is for a Noble Fir. I'll say this: it sure smells good here as I sit in my blogging chair!
Even with the weather predictions, I am proud to say I have stayed true to my 'nothing until the second week of December' rule. Of course, that probably only matters to me, but it does matter, because it nicely separates Thanksgiving from the Christmas season. Two different holidays. Two different seasons. Don feels the same way, maybe even more so, because he always needs to be motivated to get the tree. I think even the second week of December is too early for him!
And though I admire and applaud everyone's Christmas decorations and tours here in Blogland, I would feel overwhelmed by having to meet a deadline that is just too soon for me. Besides, we decorate for us. Except for a slight variation here and there, we use the same beloved ornaments on our tree every year. We'll put up the little white tree in the living room. I'll put together the little Christmas snow scene in my vintage Necco jar. We'll hang a wreath on the door. And that will be it. Oh, and the dollhouse will be decorated, of course!
You know what? It's just the right amount for this little cottage. Simple. Serene. And, hopefully, pretty!
So far, except for the bare tree, the only decoration I have is this: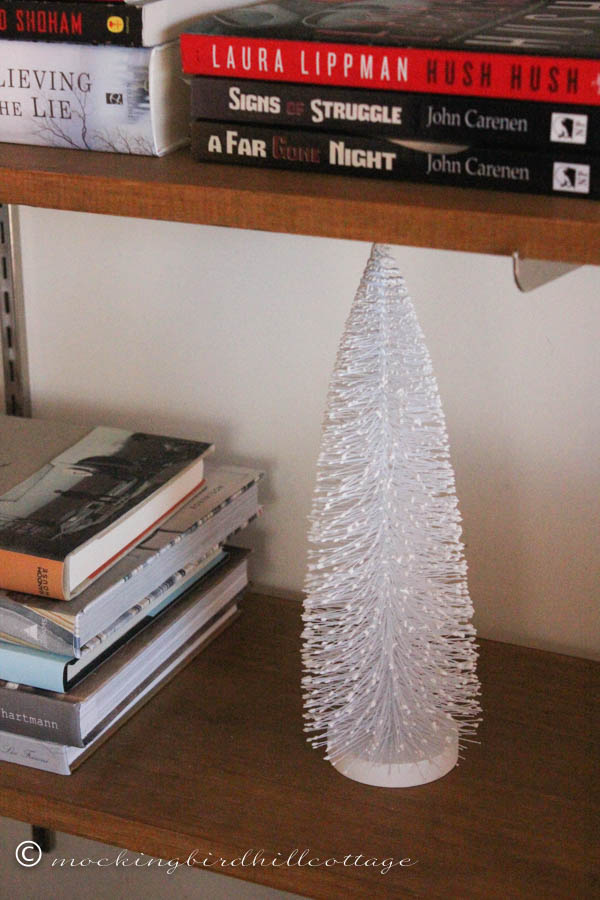 On sale for $3.00 at Target. I have an excessive fondness for bottle brush anything.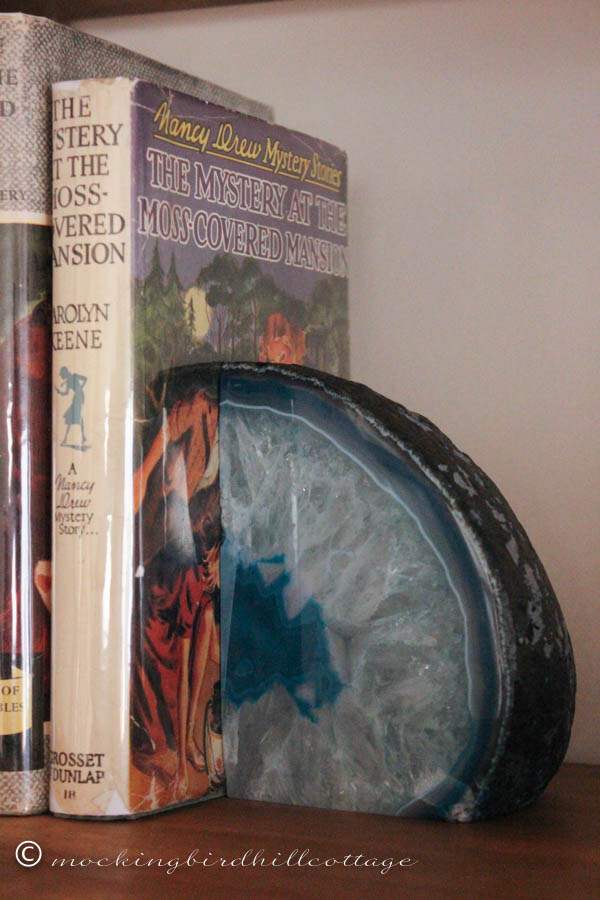 I also found this agate bookend at Target. It's really heavy. I love agates and geodes and crystals and there were only two left (on sale) so I grabbed one. After all, the books on the new bookshelves need bookends, right?
I've given us a deadline. By Thursday night at 10:00, each of us must submit a list of what we want for Christmas. Right now, neither of us can think of anything except socks. Pathetic. As a girl who has a birthday in late November, it is sometimes hard to come up with yet another list of ideas. I'm trying.
By the way, Don just came in and presented me with a plate of hash browns, raisin toast and an avocado omelet.
Oh my god. That man makes a great breakfast.
I have a few dollhouse-related projects that I'm going to tackle today. It seems to be the perfect day for little projects. Hint: one of them has to do with Christmas.
Happy Tuesday.