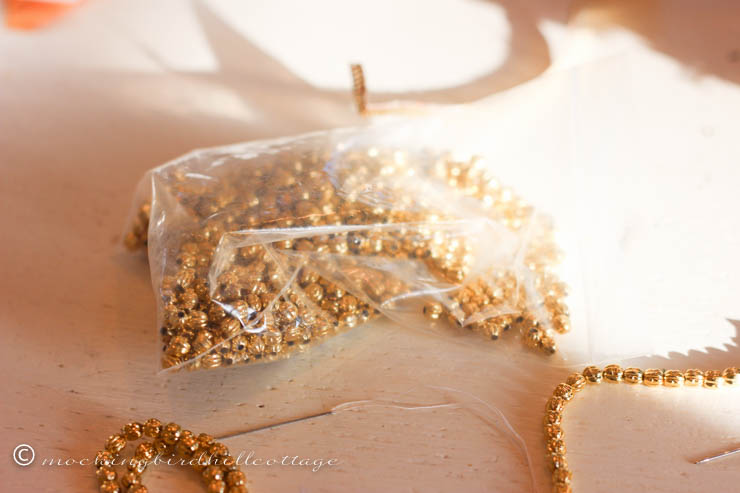 I've taken to stringing beads.
There was a time, a few years back, where I became excited at the possibility of making jewelry. I purchased beads and tools and wire – everything one might need to fashion an earring or a necklace. And, in fact, I did make some earrings, some of which I still wear. And I made a necklace, which remains unfinished to this day.
It wasn't for me.
But I have these supplies, you see, and I find myself dipping into them occasionally for the dollhouse. For example, the doorknob on the front door is made from a jewelry finding.
Since I want the newly made dollhouse Christmas tree to last, I am hesitant to glue anything to it. Ideally, I'd like it to be like a real-sized Christmas tree; ornaments go on, ornaments come off, and the tree is unchanged. That would give me some decorating leeway from year to year.
Today I planned on making tiny individual ornaments. However, I quickly realized that I did not have either the skill or the patience for that little exercise.  Oh, no.
"What about a beaded garland?" said I. Which led to a long bead stringing session, longer than I had planned. I took breaks to do the dishes, vacuum, dust, take a shower, and do the laundry.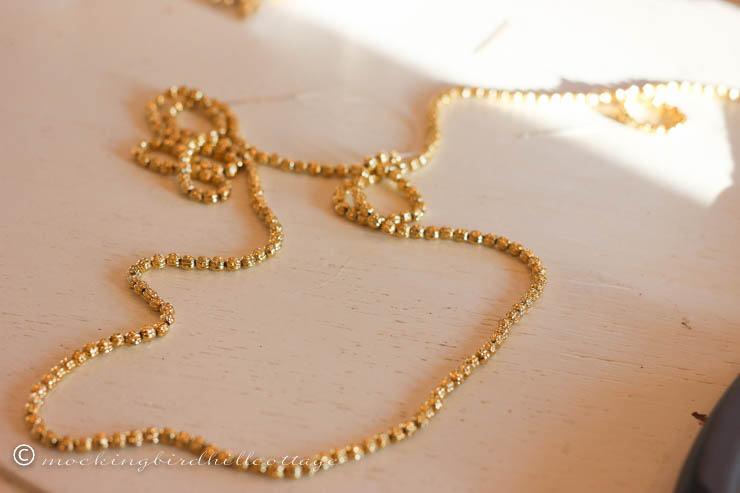 Lots and lots of beads.
I ended up with this, which I will most likely tweak and tweak again. I also plan to add another garland in multi-colored beads.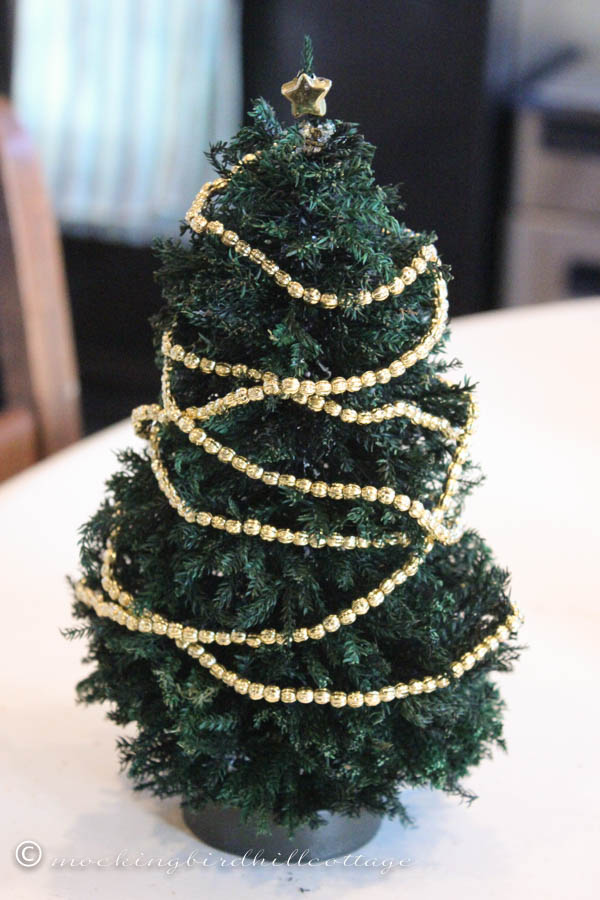 Caroline might like a bit more on the tree. We'll have to negotiate.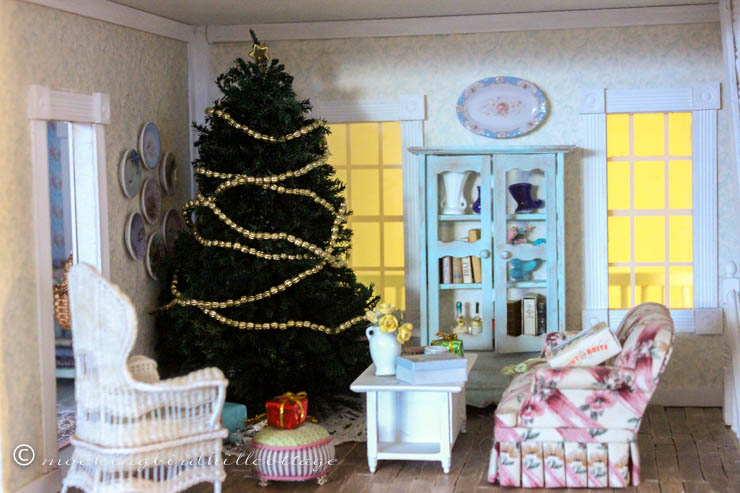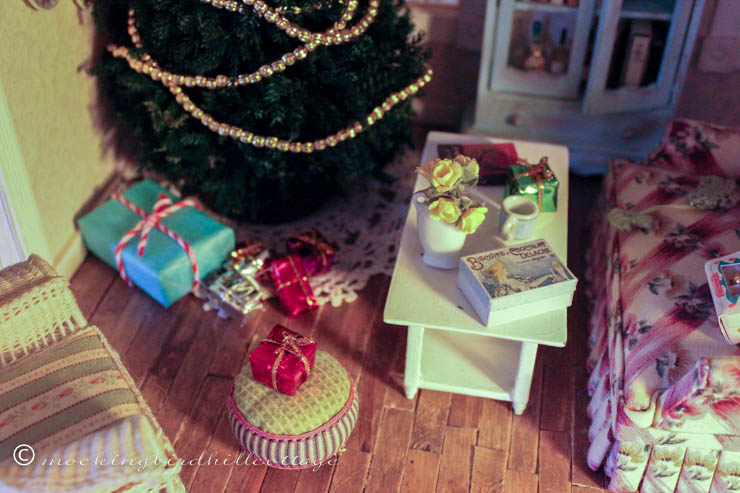 Caroline has been wrapping presents. I haven't even bought any yet. Caroline, you're embarrassing me.
But it's not quite enough. Caroline agrees. Off to string more beads.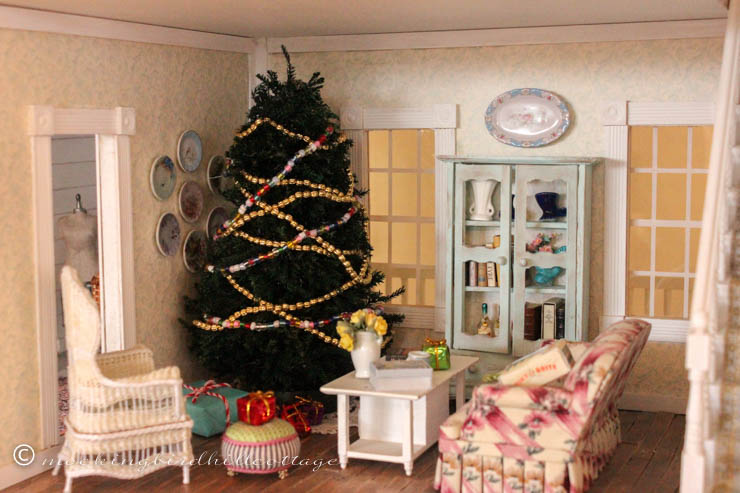 Better! Those are pretty little glass beads that I had in my jewelry stash.
The wreath is on the front door: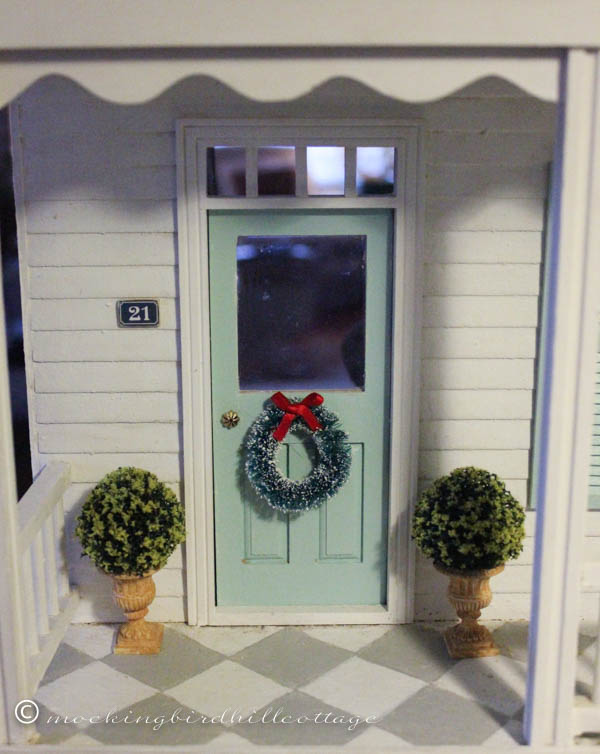 And a quick shot of the new bedroom rug – this time with accurate colors. I didn't want it to be pink. That's why I went with this rug. There's a little bit of pink in it, but it's predominately ecru and light brown.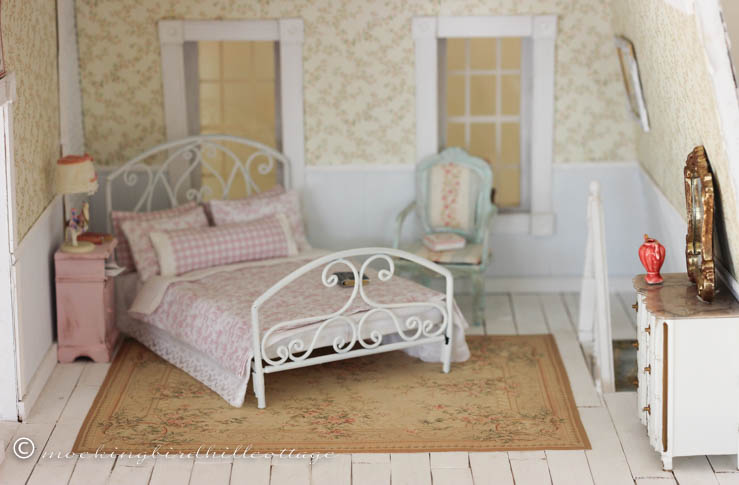 We're off to NYC today. It will be a quick trip. We have our girl to think of and we have to make sure she's not alone too long. We're taking the train this time because it arrives in Grand Central Station, which is absolutely glorious at Christmas (or any time of the year) and then we'll head over to Don's new agents' office, near Times Square. I'll hang around waiting for him, then we'll head up to Rockefeller Center. After gazing at the tree and indulging in hot chocolate, we'll hightail it back to the station and head on home. I wish we could spend a bit more time there but when both of us are going, we just don't have that luxury. Little Scootie (another of my nicknames for her) is more important than anything.
Happy Birthday to my cousin Eileen! Eileen, I hope you're reading this today. Sending lots of love your way.
Happy Sunday.