Welcome to Mockingbird Hill Cottage, chicken wire capital of the world.
Working with chicken wire is not one of my favorite things to do. But that's what we did yesterday when we took advantage of warmer temperatures to construct a temporary corral for Scout. We've worked with chicken wire before – the large corral is also made out of chicken wire and stakes.
But we must have been younger when we put that together. About nine years younger.
And now we have even more chicken wire on the property.
My patience was put to the test. Unrolling the chicken wire was a feat in itself. But gradually we found a kind of rhythm and work progressed, along with muddy jeans and misplaced tools. Why can't I keep track of screwdrivers and wire cutters? Same thing with my scissors when I'm sewing.
Many curse words, of course. That's a given.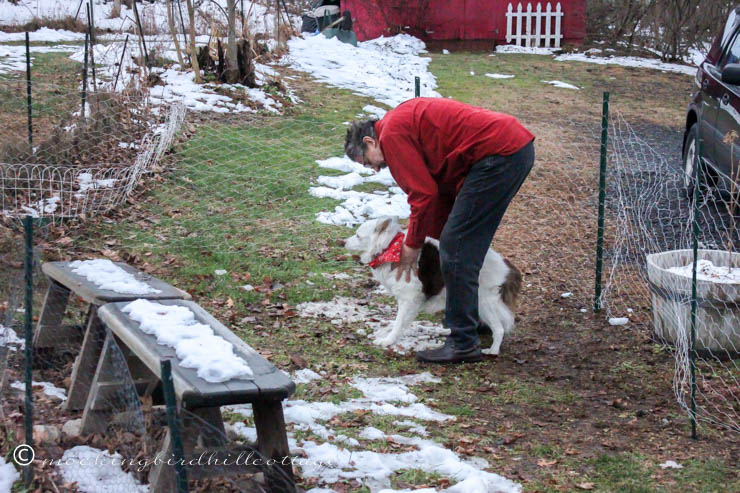 Finito. It ain't a beauty but who cares?
Don is helping Scout get acclimated. She's curious about it and clearly is wondering what the heck her wacky parents are up to now. We've decided that when the snow and ice accumulate, we'll close off the entrance to the corral with a garden bench that can be easily moved into place. We've moved the little gate to a new position and now, when she can't get to the big corral, she will have to go to the right to do her business. On flat ground. We can still exit from the side door via the gate. We're not blocking the oil delivery path.
Roger. Over and out.
It's small, but it will do. We can keep it snow and ice free. It's doable. And that, my friends, is a huge relief. Because that means life will be easier for our girl.
Those benches are covering my newish hydrangea and rose bush. They serve as a reminder not to dump too much snow on the plants, as well as protection from winter winds.
Scout has also developed a fascination for cards.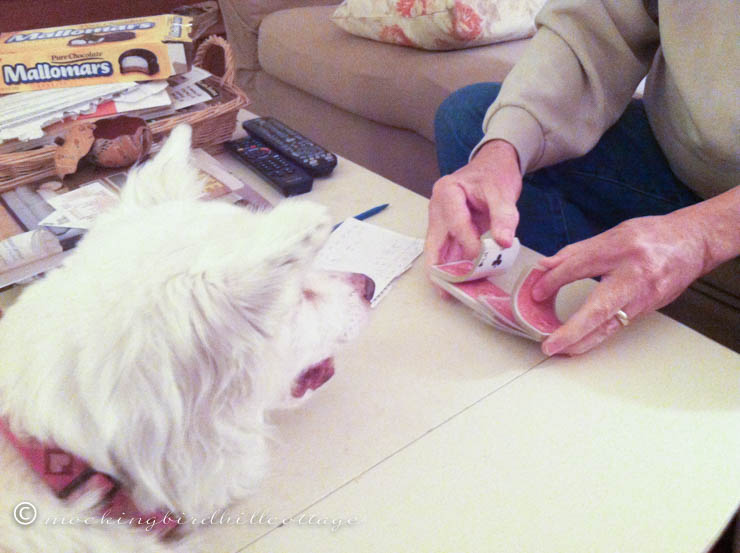 Very grainy – captured with my iPhone at night – but you get the picture. She loves watching Don shuffle the cards.
And yes, those are Mallomars, one of man's greatest inventions, in the background.
Let's close with a recent sunset. This beauty happened the night before the Nor'easter. I just now noticed that little sliver of the moon on the left.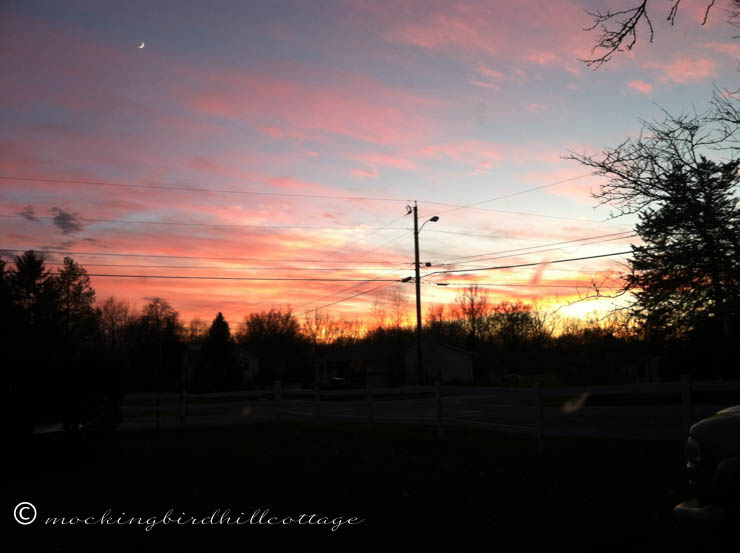 Winter sunsets are spectacular. Maybe it's Mother Nature's way of helping us through the cold and snow and ice and dark skies at 4 pm. It's the least she can do.
Happy Tuesday.