Scoutie is clean once more.
We did the whole thing as quickly as possible. Nevertheless, the whole ordeal really takes a lot out of her. She used to love getting a bath, but since arthritis and achy joints have taken over, she doesn't feel confident standing still so long. So she tenses and gets stressed and, eventually, starts to complain. I can't say that I blame her.
She did feel better afterward and for a while she was quite frisky.
Then it hit her.
She slept – very deeply – on the loveseat. Over the course of a few hours, her head got a wee bit closer to the floor each time I checked on her.
Finally, when I was putting freshly laundered sheets on the bed upstairs, Don called out to me: "You've got to see this!"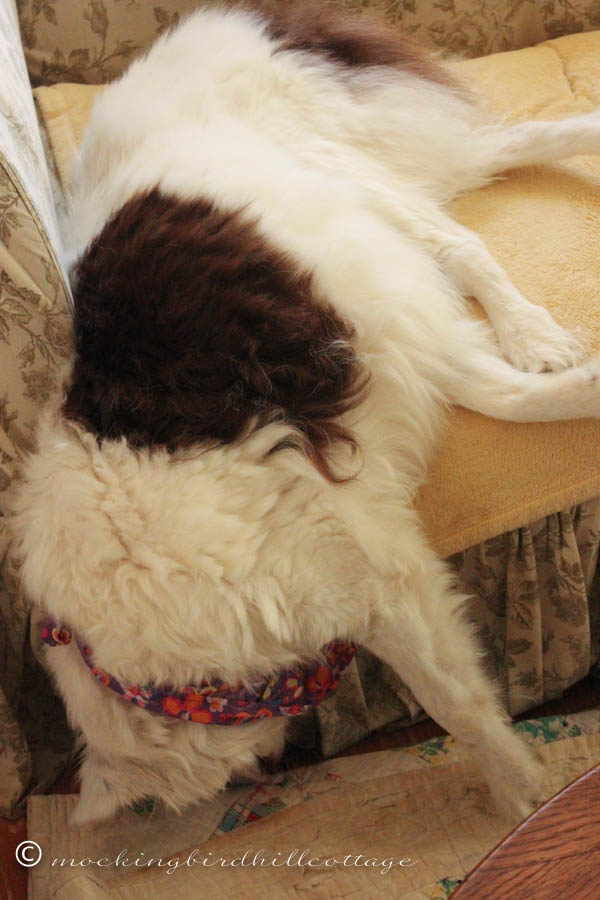 Umm….Scout? How can you sleep that way?
As I watched her, her head started to inch downward and I jumped in and grabbed her, moving her to a new position.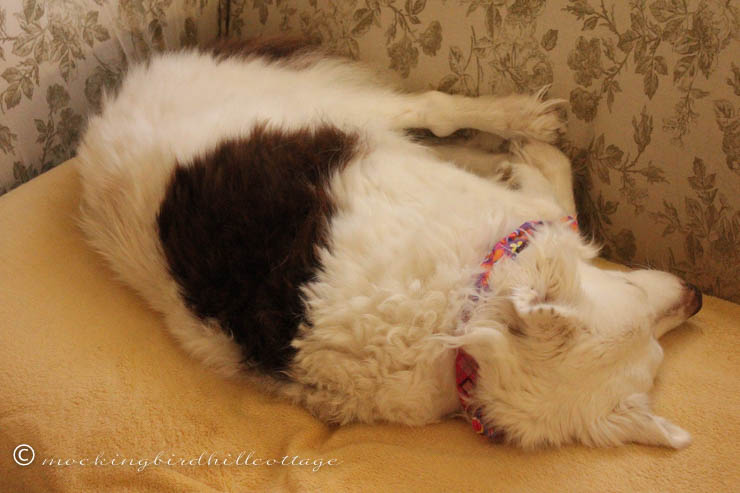 She slept through the whole thing.
Getting a bath is exhausting.
But she sure smells good!
(You can see the swelling on her leg in this photo. It's due to her arthritis.)
I grabbed a slightly better photo of the shower curtain and rod in the dollhouse bathroom.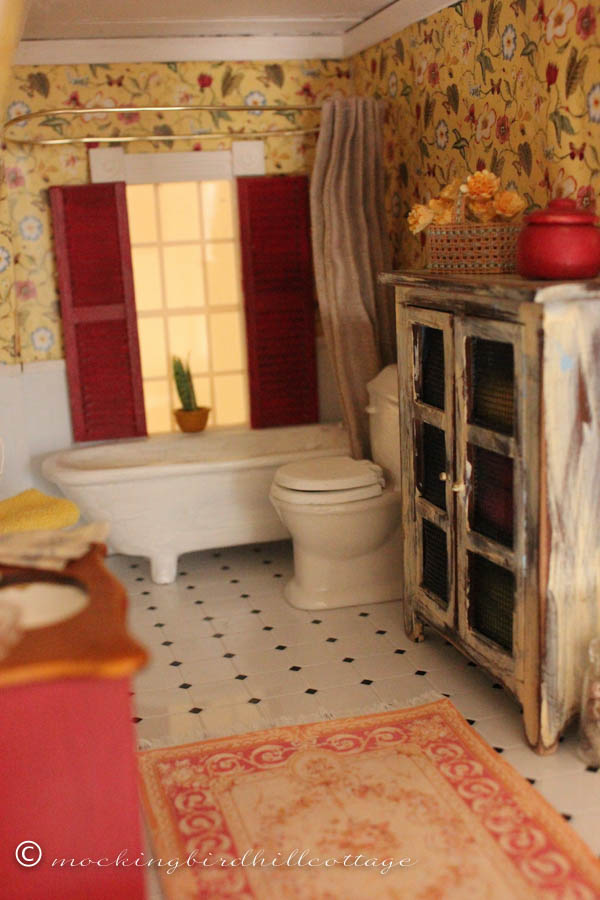 I swear, I have to take hundreds of photos of the dollhouse bathroom and kitchen to get a good shot. The rooms are long and narrow, so the back of the room is at the end of a sort of tunnel. It makes for an often frustrating camera adventure.
Today is a busy one. I'm getting my hair cut (it's way too long!), we're talking to our plumber about replacing the hot water heater (long overdue), we're picking out our Christmas Tree. I've got to grab the ornament bins out of the shed and haul them inside. And, because we live in a small cottage, furniture needs to be rearranged to make room for the tree.
All this is happening today because we have a Nor'easter headed our way. The weather report sounds dire. They are using the word 'event' as in, it will be a Three-Day Event.
Crap. Crap. Crap.
Snow, ice, sleet, rain, wind…you name it. We're getting it.
If you don't see a blog post on any given day, you'll know it's because we've lost power. Fingers crossed that it stays on. The snow is supposed to be heavy and wet. I'm already sick of winter.
Sigh.
Remind me again: Why did we move here from San Diego?
Two more things: There's a new post up on Just Let Me Finish This Page (I sure hope you're enjoying that blog…I'm not always sure people are reading it.) And my longtime blogging friend, Connie, is selling one of her slipcovers – it's quite lovely – and she asked me if I would link to her post. Absolutely!
Happy Monday.