Ah, lazy days. Days when we allow ourselves to let go and do nothing, or do just those things we want to do. Lazy days for this girl include lots of reading. I've been catching up on Design Sponge, a website I love but which had somehow slipped under the radar for me lately. I've also been reading books for purely selfish reasons. I do a lot of reading for book reviews, both on this blog and on Just Let Me Finish This Page. But I'm allowing myself to take a mini vacation from schedules and deadlines. I've pulled out a few books by my new find, John Connolly, and I'm thoroughly enjoying them. I'm just about to finish The White Road. Next up, one of the books by Connolly that I checked out of my local library.
Do you know that I still haven't read Louise Penny's latest? I've been hoarding it for a time when I have a large pocket of free time in which to lose myself in her words. And maybe I'm also hanging onto it because I know that once I'm finished with it, that's it until the next one comes out. Silly, maybe, but books are a true, deep, visceral pleasure for me, so it's not unlike putting aside the last piece of pie or yummy chocolate truffle for later. I know it's out there. I know that I can dive in whenever I want to, but I opt for delayed gratification.
When Don and I were taking a little drive last week, we found a little antique shop and stopped in. The owner was an elderly man, tall and slim, with a thick head of white hair. I think he spends a lot of time alone in the shop because he was very happy to chat with us and he told us of his interesting life, a life where he worked in a wide variety of jobs, with lots of interesting people. I found him charming. While I was taking it all in, I saw a pair of Scottie bookends, probably from the late forties to early fifties. (I have a renewed interest in bookends because of our new bookshelves in the den.) I thought of my blogging friend Becky, who has all sorts of Scottie collectibles and who has her very own real-life Scottie, Duhgall. Becky, I think you'd like these.
They came home with me.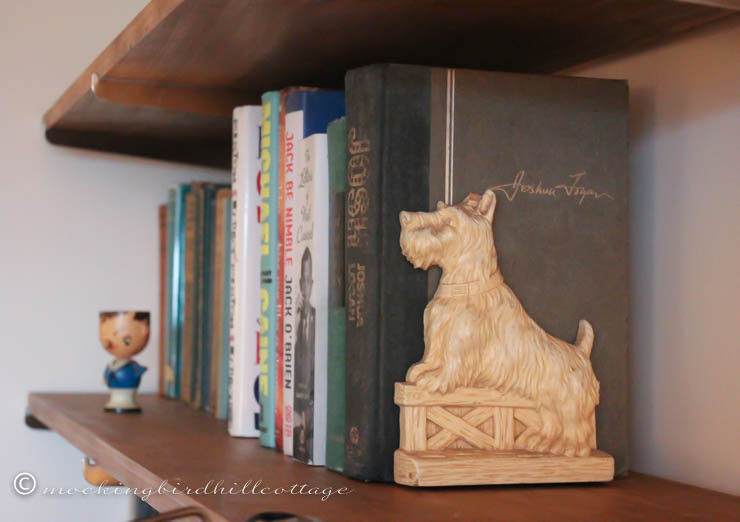 Gosh, I love them.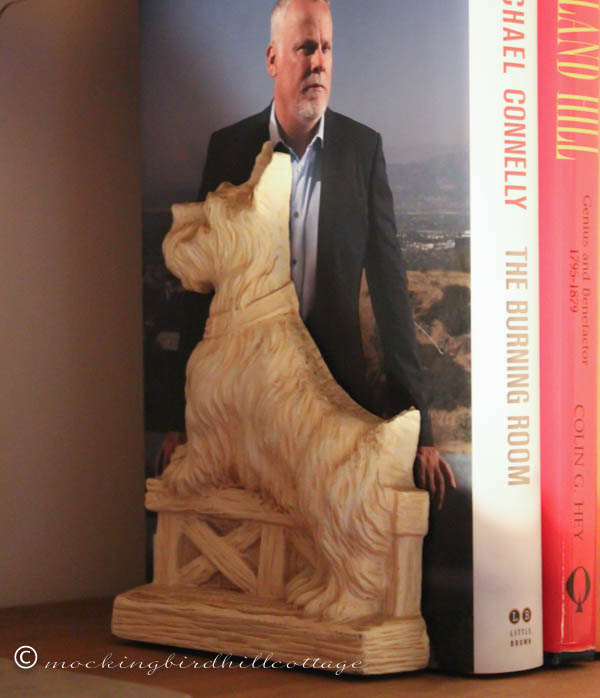 The other one is propping up Michael Connelly. I wonder if he likes Scottie dogs?
In the driving the car department, Don went out yesterday and loaded up all the recyclables to take to our town dump. The car wouldn't start. Nor would the hood open. It sounded like a dead battery to me. We called our insurance company road service for a jump, but realized that if we couldn't get the hood open, the car would have to be towed. Luckily, Don's friend, who is a truck driver, talked us through a way of getting the catch to release. Whew! The tow truck driver came, jumped the battery, and Don drove to our local guy's station, where the battery was replaced.
If it had to happen, it couldn't have happened at a better time. We were both home, it was early afternoon and sunny, neither of us was stranded somewhere with a dead battery. As car problems go, this was a minor one.
Yesterday's sunset for your viewing pleasure: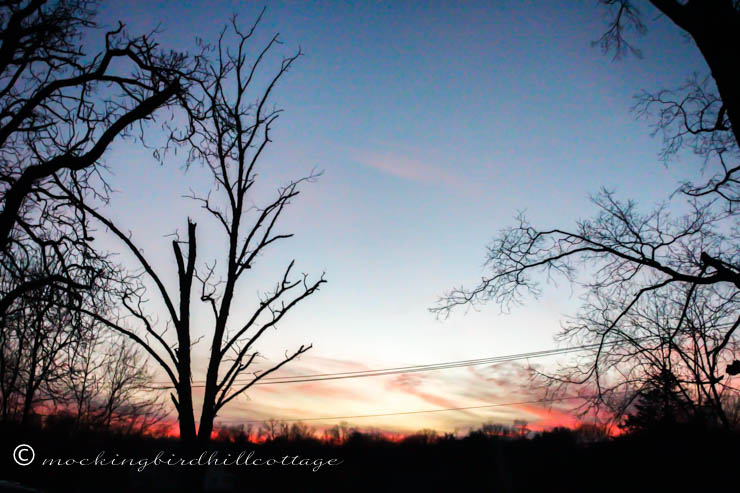 Happy Sunday.