Don and I have lost two friends recently. Both of them lived in our area of the Hudson Valley.
Bob, who was about as good as they come, was diagnosed with Amyotrophic Lateral Sclerosis (Lou Gehrig's Disease) several months ago. It was quite advanced at the time of diagnosis and within a couple of months he was gone. It hit Don especially hard. Bob was always there for us, bringing his chainsaw to help us deal with a fallen tree, checking the brake line on Don's now-gone car, one winter he helped Don unfreeze a pipe in the basement. Always giving, always kind. We can't believe he's gone; here one day and gone the next, much too quickly to take in.
Mery, who was diagnosed with Breast Cancer a few months ago, died on Thanksgiving. Mery owned and ran a café in Saugerties, NY called Café Mezzaluna. Don played there for Sunday Brunch many times, as have most of our musician friends. Mery was a great supporter of musicians, visual artists and writers. There were art exhibits on the wall. Poets read their work. Musicians played their music.
Mery was a force of nature and her spirit was pure and loving. Cheri, Mery's partner in life, was by Mery's side during her illness, all the while continuing to cook the delicious meals that came out of Café Mezzaluna's kitchen. Needless to say, the community is reeling. Cheri is trying to buy the café so that it can continue to be a haven and joyful gathering place for everyone and there's a fund in place to try to raise the money. If it fails, this wonderful place will be no more.
Cheri decided to open up the restaurant for brunch yesterday, so we drove up to Saugerties. I'm so glad we were there; to hug Cherie, to be a source of support, to mourn, to witness, to celebrate Meri and the business into which she poured her heart.
Bittersweet and very sad, yet beautiful.
We grabbed a few minutes after brunch and visited the wonderful used bookstore that is in Saugerties, Our Bookshop. I wrote about it in August on Just Let Me Finish This Page. I wanted to look at the vintage children's books. I'm trying to gather some of my personal favorites from childhood. My mom had some lovely books that she read as a girl, then passed on to us to read, and somehow our estranged sister ended up with them. Mom had all the Anne of Green Gables series, all the Louisa May Alcott books, Daddy Long Legs by Jean Webster, and more titles I can't remember. All from the thirties. All lovely editions.
So I try to buy them when I can.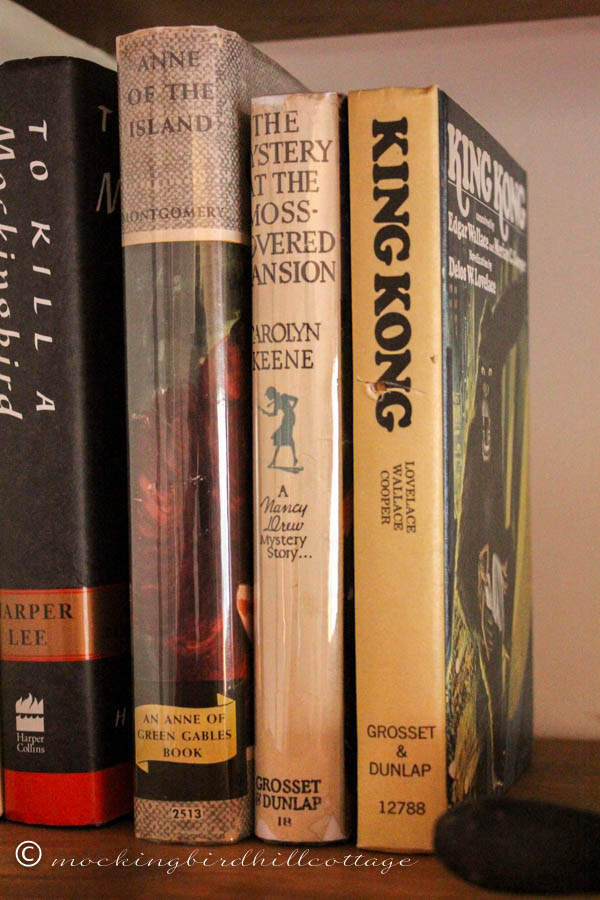 I came home with Anne of the Island by Lucy Maud Montgomery and The Mystery at the Moss-Covered Mansion (A Nancy Drew Mystery) by Carolyn Keene. Don grabbed King Kong. (That's my signed edition of To Kill a Mockingbird on the left.) There was a newer set of the Nancy Drew books in the shop but I didn't like the binding or the look of them. The one that I bought yesterday is lovely.
And, on Saturday, some carpeting arrived for the dollhouse.
Actually, two runners. I got them from a wonderful Etsy seller, Maison de Petite. The runner that she was selling came in a wider width than my narrow stairs could accommodate, so she kindly reduced the size for me. But I underestimated the length, so I'm ordering 3 more – one that will cover the remaining steps and, since I like the look so much, two more for the stairs leading to the bedroom from the den.
Isn't it beautiful?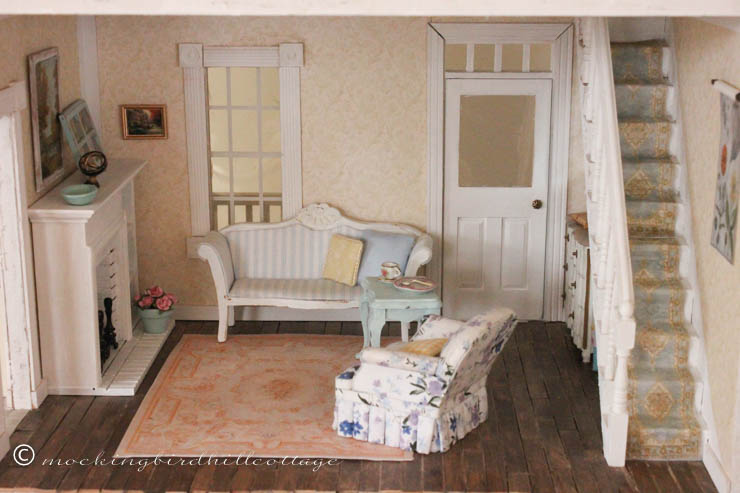 Dollhouses become special worlds, don't they? No sickness, no sadness, no too-young deaths, no heartbreak. They're happy, carefree little worlds. I think that's why so many of us love our little miniature havens.
New post up on Just Let Me Finish This Page.
Happy Monday.