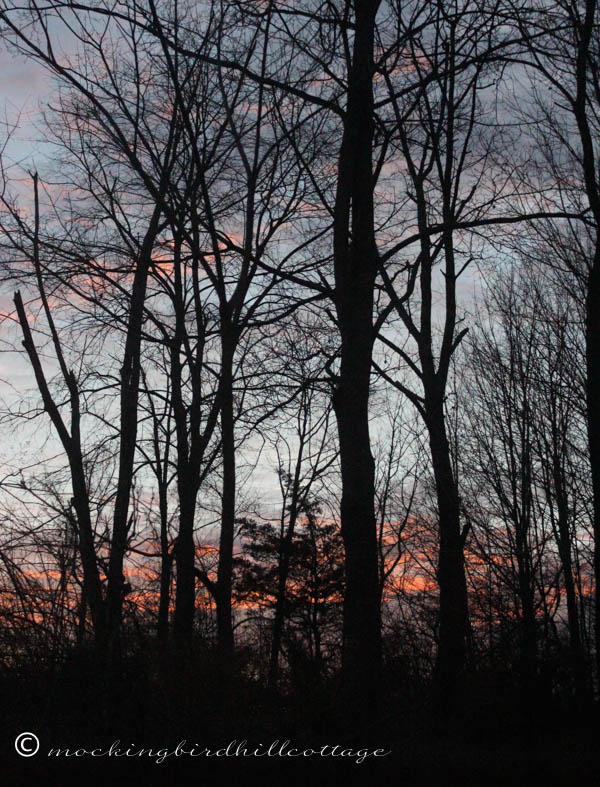 This morning's sunrise as seen from the kitchen window – fleeting, of course. If I don't grab the camera immediately, it's gone within seconds.
One of my presents from Don was the first in a series that will eventually live on our bookshelves.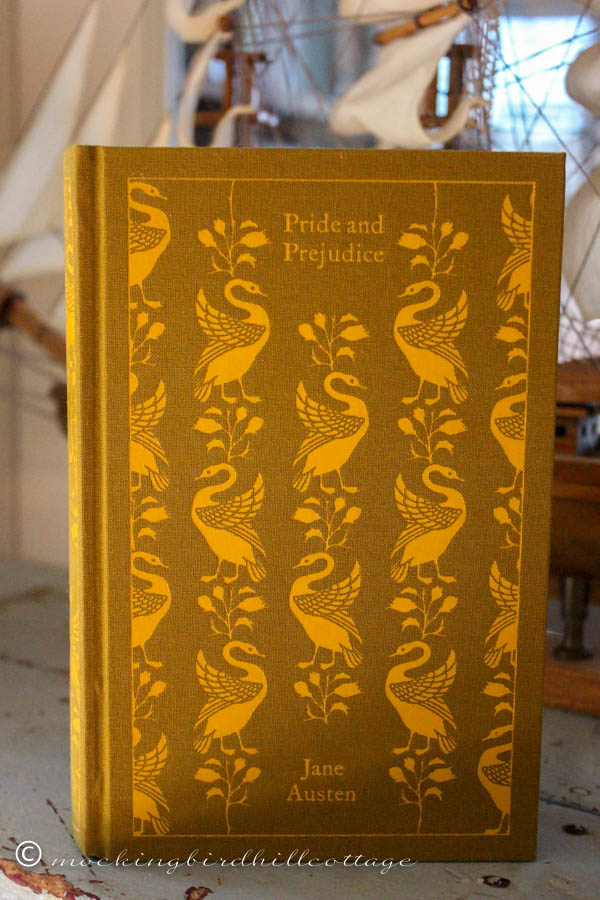 Pride and Prejudice by Jane Austen, which is part of a set of her novels issued by Penguin Hardcover Classics. The beautiful book covers are designed by Coralie Bickford-Smith.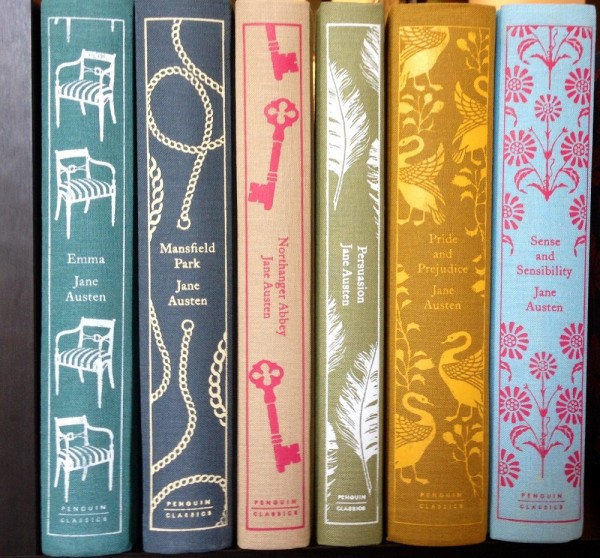 Photo courtesy of Amazon.com
I am a true devotee of Jane Austen. I've read Pride and Prejudice many times and never tire of it. I have several copies scattered around the house, but none as nice as this. Next up? I think Sense and Sensibility. I have to save up my pennies.
Beautiful. It makes me happy.
Don also bought me a book on writing the novel. I started a novel several years ago, which I recently re-read. Even with the perspective that comes from distance which I was sure would make me cringe, I was pleased with what I wrote. I don't want to go back to that novel, though it was a great teacher. I have another idea for a novel in mind and Don, being my biggest cheerleader, is gently but firmly urging me to start writing it in 2015. It's a goal I've set for myself. When I heard Louise Penny speak this year, she spoke about writing her first novel; that it was important for her to say she'd done it, that she'd actually finished writing a book. She had no idea what might happen and wasn't concerned with that. She just wanted to write a book, to say she'd done it. That really inspired me, because it's a sane way to approach book writing. Even if nothing ever comes of it, I'll have crossed an item off my list,. (I have a list of dreams floating around in my head and writing a novel is one of them.)
In all modesty, I know I'm a good writer and I feel it's a gift that's been given to me. My minor in college was English Language and Literature. At one time, I was working on my Master's in English Literature. Theater eventually won out, but writing is in my bones. I'm the first to say that I have a lot to learn, as any writer worth his/her salt would tell you. This blog has been a great teacher and the discipline of crafting a post every day has been enormously important to my growth.
I'm only telling you about this because I think putting it out there is important. Don knows about my dream, of course. Now, you do. We'll see what happens.
My big gift was something I wouldn't necessarily have bought for myself because I would have felt slightly guilty and/or selfish. A bit of background: As long as I have been teaching and coaching and carting books and scripts and paperwork and Filofaxes and wallets, and now, Kindles and phones around with me, I've been searching for the perfect tote/handbag. I like a big bag. I like the option of a shoulder and/or cross body bag. I've tried everything (canvas totes, briefcases, big purses, even Trader Joe's vinyl tote bags) but I've never been completely happy with any one of them.
Then my friend and reader and fellow book lover, Melanie, sent me an email that mentioned Levenger's, a wonderful company that caters to readers and writers. I used to get their catalog years ago, so I was familiar with them. I clicked on their site (by the way, they carry Blackwing pencils!) and, in the course of ooohing and aaahing over everything, I saw a bag. Perhaps…THE bag. I fell in love with it. I visited the site again and again. But I didn't think I should ask for it for Christmas. Too costly. One day, in the midst of yet another conversation between Don and me that consisted of "Please tell me what you want for Christmas!" I went to the site. Everything was 40% off. Hello! I sent the link to Don. He loved it. I told him it would be my big present.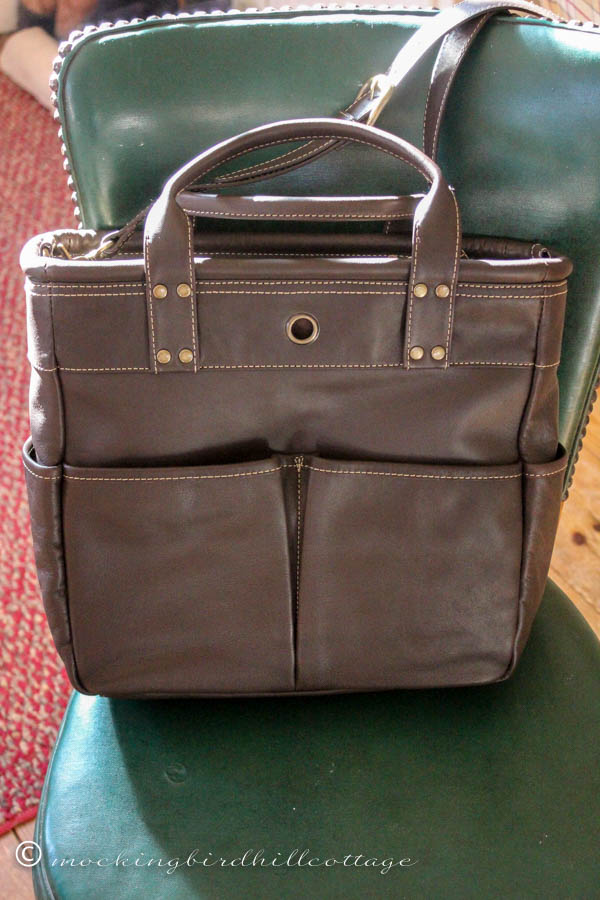 It's gorgeous. Those pockets are on every side of the bag. It's big enough and deep enough to hold a large script, my laptop, my Kindle, a reference book or two – anything I need to throw in there on any given day. And it's stylish!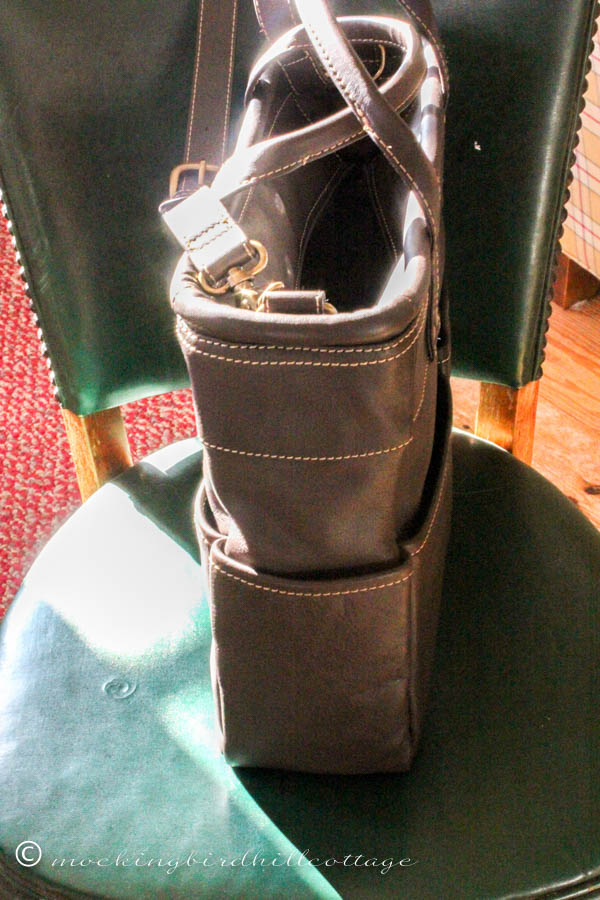 It has a removable strap, so it can be also be carried by the handles. I tend to prefer a shoulder strap, so I imagine I'll use that the most. It has a zipper. It's beautifully made. It's called the St. Tropez Tote.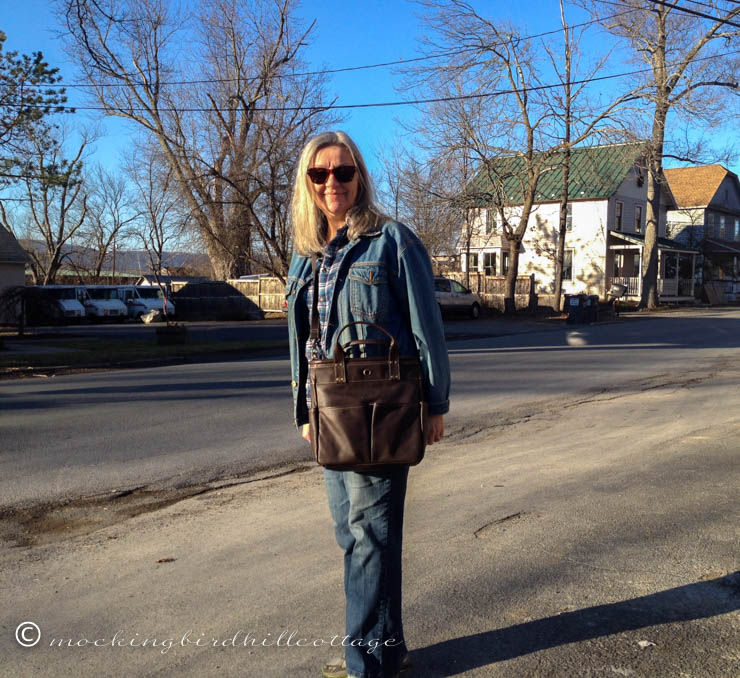 Even though this photo is slightly dorky, you get an idea of its size. I'm using the cross body strap. Yes, that's a jean jacket I'm wearing at the end of December. The temperature hit 50 degrees yesterday! We went for a family drive.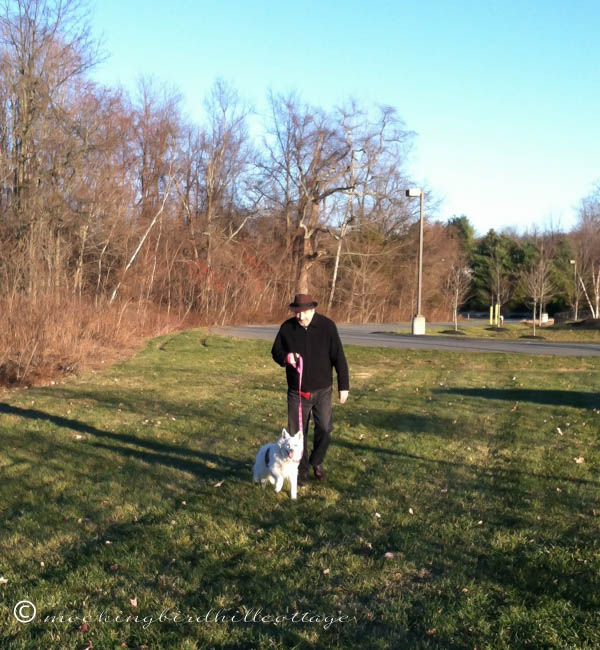 There they are! Scoutie is running. She's galloping. And she's going to be 16 years old one week from tomorrow.
Two of my very favorite beings on this planet. I love them so much.
Happy Saturday.