Yesterday was one of those days where I was mildly, and sometimes not so mildly, irritated all day. It started with the discovery that my email had been hacked (don't open any links from me) and went on from there.
You know that sort of day, don't you?
When the time came around to decorate the tree, neither of us felt like it. I started to doze in my chair. Don started to doze in his chair. Thank goodness for my husband, who eventually said, "Let's put on some Christmas music."
And off we went.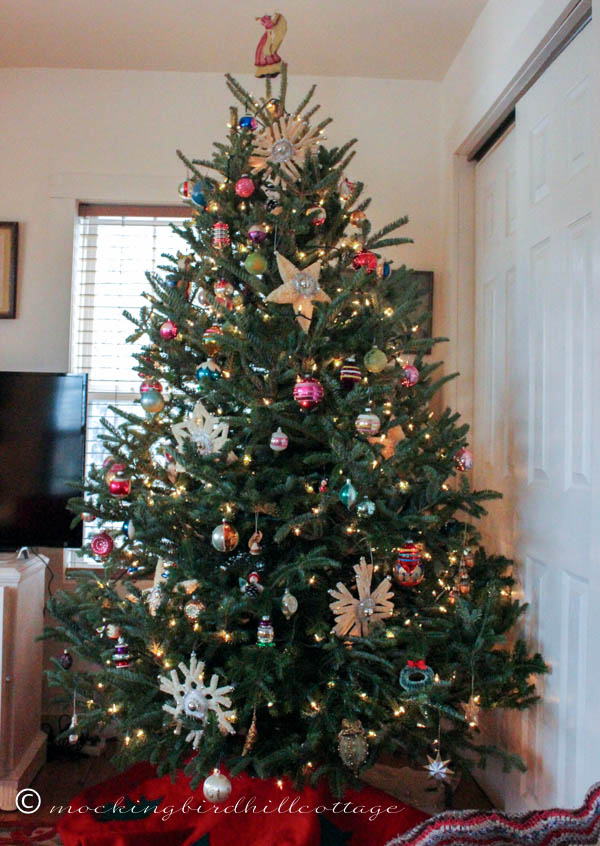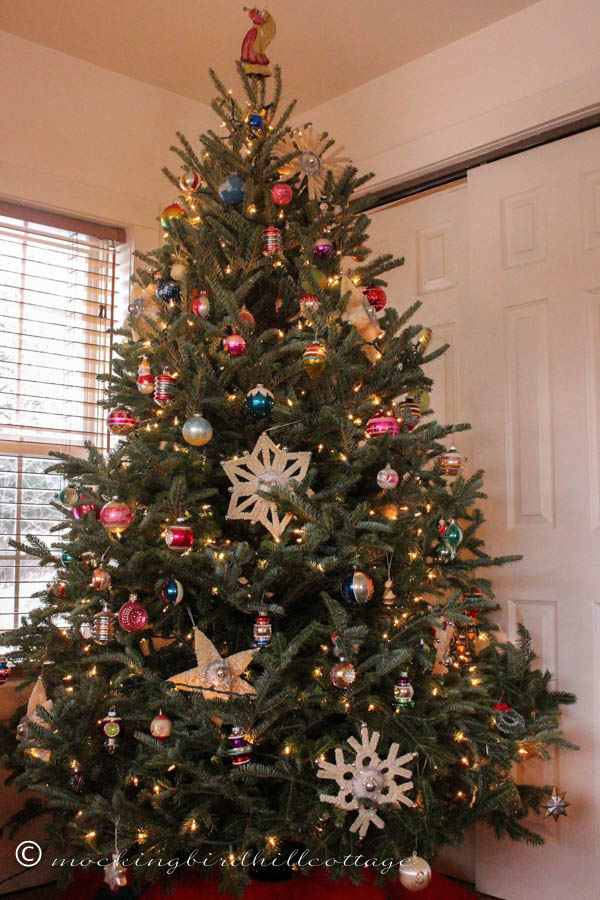 Simple. I have to tweak a few things, some segments of cord are bit too evident, but this is basically it. Our ornaments are a collection of vintage Shiny Brites that I've gathered over the years and ornaments that have a special meaning for us.
Since the tree is in the den, I can't really get a distance shot. Even these shots involve some gymnastics on my part.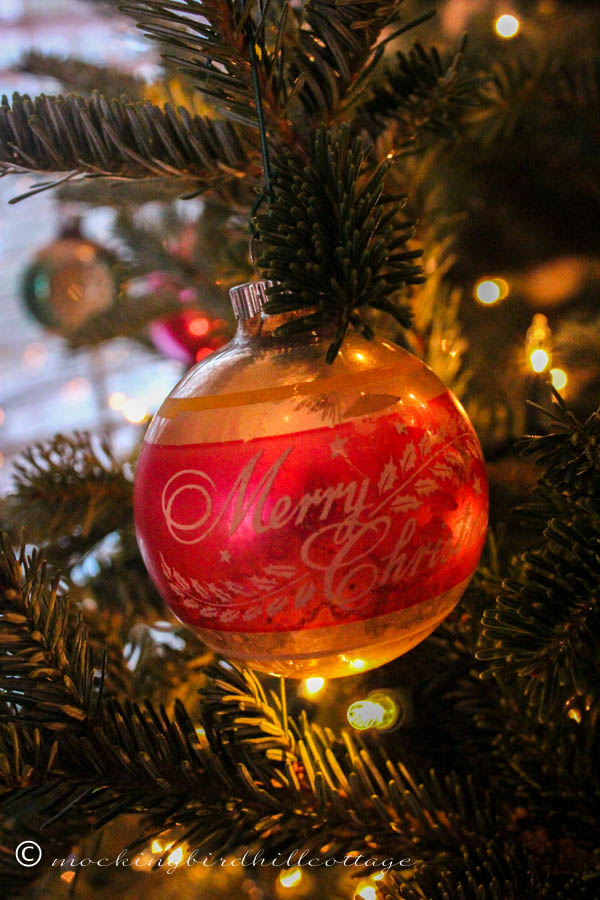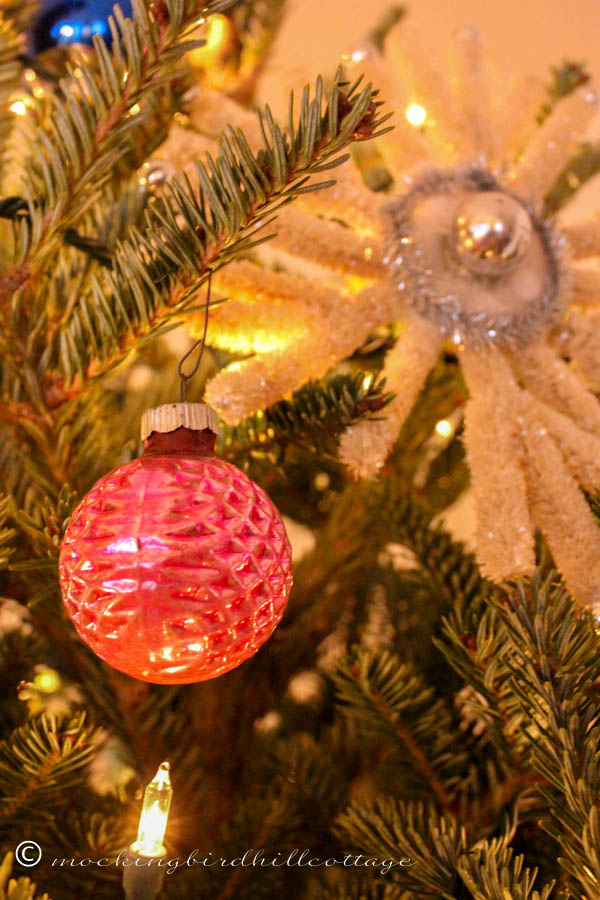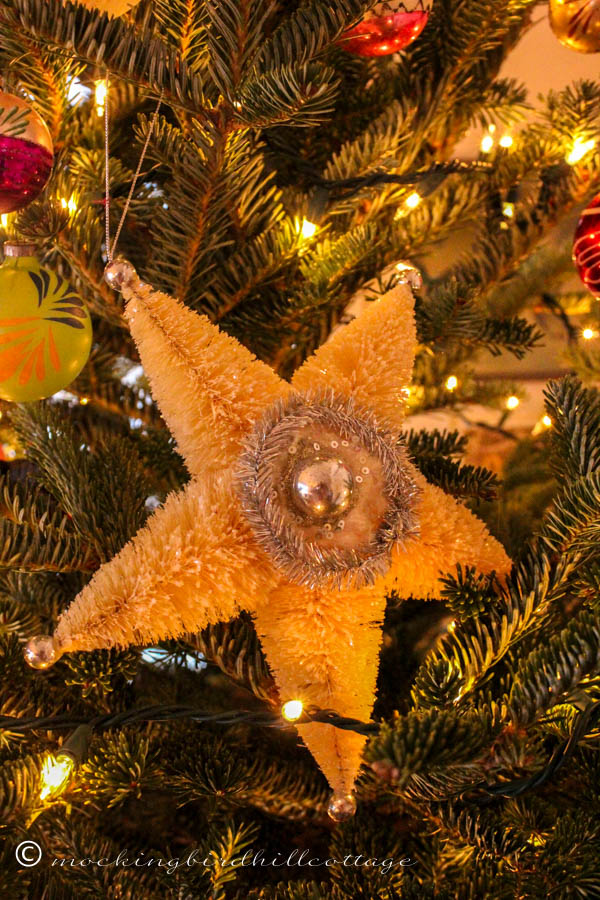 I love them all, but my favorites are the bottle brush ornaments. They're big and old-fashioned and I think they provide some wonderful contrast to the rest of the ornaments, giving the eye a place to land for a moment or two.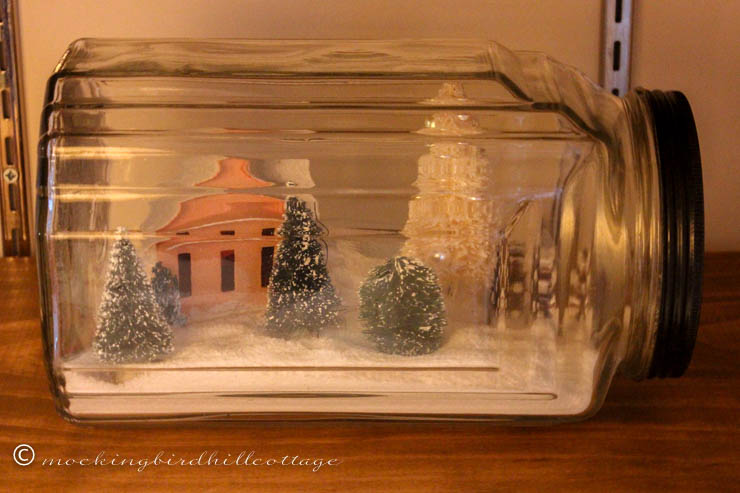 The Necco Snow Globe is in its new holiday home on our bookshelves. For those of you who are newer to the blog, I found this vintage Necco Candy jar a few years ago and fell in love with it. It's quite large and was clearly used for display in a store. I lived not too far from the factory where Necco candy is made when I resided in Cambridge, so that makes this even more special. It has graduated sides with a definite Art Deco feel (love Art Deco, always have.)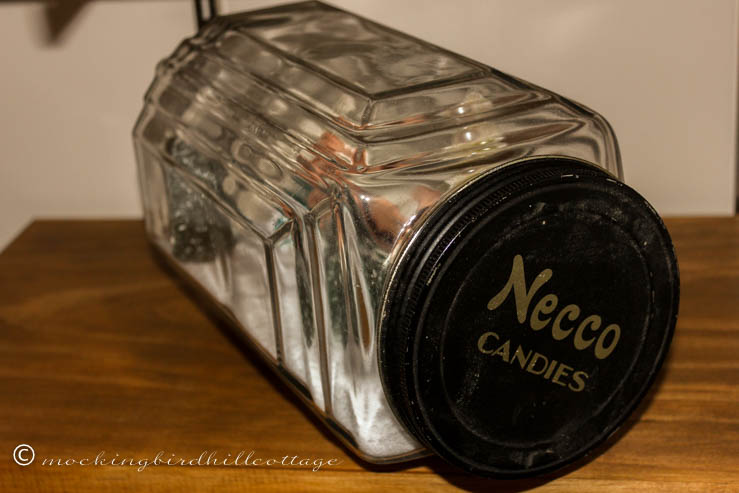 The font on the lid of the jar is definitely Art Deco.
It holds various things throughout the year. Sometimes I leave it empty. At Christmas time, it becomes a snow globe. By the way, I use Kosher Salt for the snow. The kind of fake snow you can buy in the store doesn't do it for me. The pieces are too big. Kosher Salt works beautifully.
There's a wreath on the door. The lights are up on the porch. I'm still debating whether to put the little white tree in the living room this year.
I probably will.
I use less and less each year. I think it works better. Those decorations that I do use stand out more.
I got a late night call from a former colleague of mine last night and I'm going to do a wee bit of coaching for him tomorrow, which means I'll be traveling to Manhattan. Don and I are planning to go into the city on Sunday, as well. He has a quick meeting with his new agents and then we'll pop on over to see the tree at Rockefeller Center, something we always plan to do, but rarely get to do.
There will be a book review on Just Let Me Finish This Page today. I'm off to write it right now!
Happy Thursday.