Today, I'm returning to the Who, What, Where Series. Normally, I'd be highlighting the bedroom, because it's next in the sequence. But I'm waiting on a new element, so I'm going to pop over to the bathroom instead.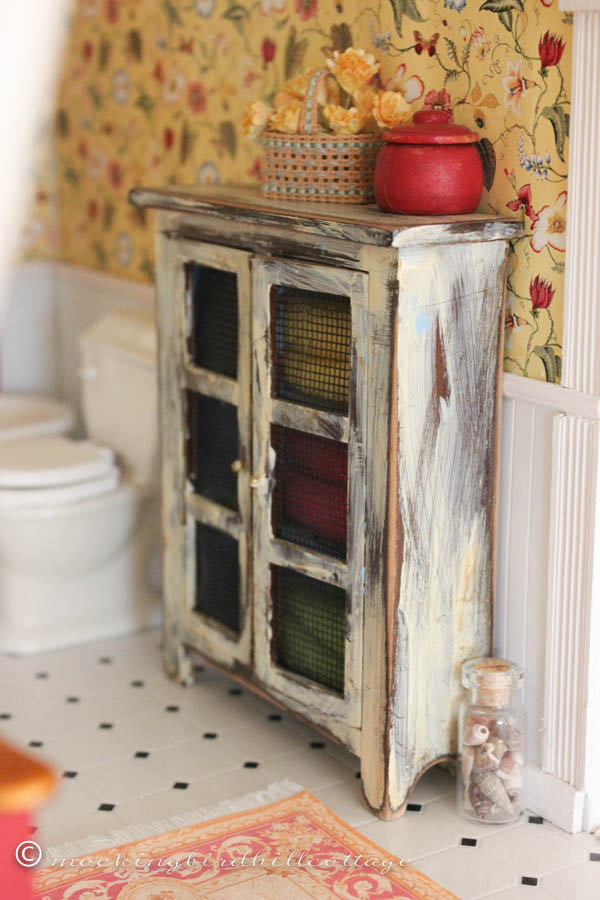 For the life of me, I couldn't get an acceptable full-on shot of the bathroom, so we'll skip that and go right to the elements of the room.
Wallpaper: Itsy Bitsy Mini; Beadboard, moldings & chair rail: miniatures.com; Tile floor: found in a craft store.
Pie Safe: I asked Marsha to purchase one for me at a miniature show out in California, I'm afraid I don't know who the maker is; Towels: made by me from baby washcloths; Glass container with shells: a gift from Marsha; Wicker basket: a gift that was handmade by Casey; Flowers: from my stash; Red wooden container: part of a gift package from Maryanne. It was unfinished wood and I painted it red; Toilet: part of a bag of minis given to me by Heidi. I originally didn't want to use it, but I couldn't find anything better, so I painted it and there it is.
Rug: from A LavenderDilly, an Etsy Shop; Sink/Cabinet: from miniatures.com. I painted it red; Faucets & Taps: from miniatures.com; Glass soap dish: a gift from Jayne; Hand Towel: a gift from Norma; Mirror: part of a compact that I took apart. Casey advised me to paint the edge black; Flip Flops: a gift from Jill; Chair: made by me from a pattern in Léa's book.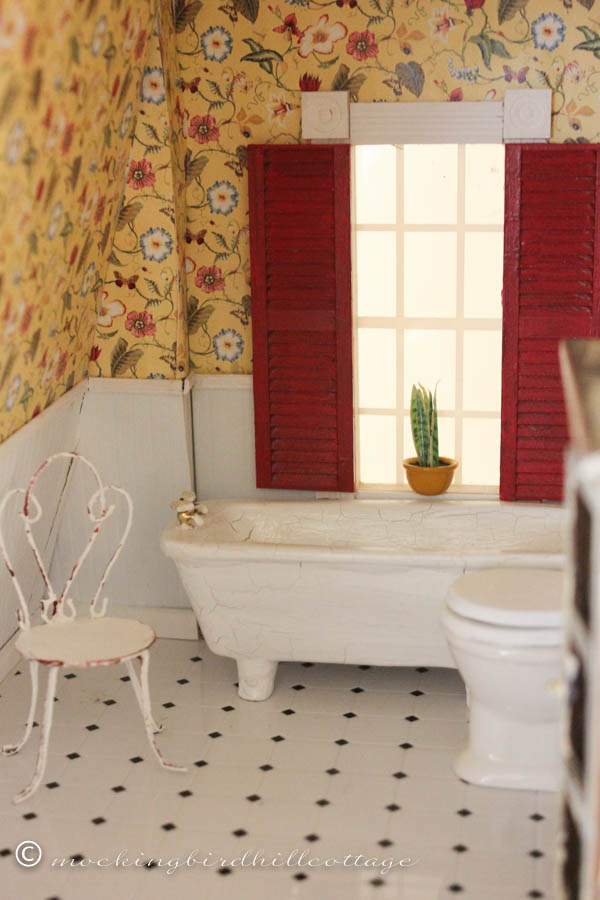 Tub: from a bag of things from Heidi. I painted it and the paint crackled. I ended up liking it; Shutters: from my stash, painted by me; Sansiveria plant in pot: a gift from Jayne.
I have plans for a few more additions; a shower curtain rod and shower curtain (wish me luck!) a vanity, and towel racks. It's a work in progress.
Sources:
miniatures.com
itsybitsymini
A LavenderDilly
Happy Saturday.