Meanwhile, back at the ranch…
I was amazed at all the comments on yesterday's post. Truly amazed. At one point, I sat Don down and read many of them to him out loud. When we were in the car, I read some more. (He was a captive audience.)
You brought tears to my eyes, you wonderful people. Yes, you did.
Thank you. If I needed some sort of jump start to get me going, I couldn't have prescribed a better way to do it. I didn't expect this outpouring, but I surely, surely appreciate it.
And by the way, don't spend one minute worrying or feeling guilty about not commenting. That's not why I wrote that. It's simply a change that's happening across the board – to all bloggers. I, myself? I've been a terrible commenter or lack-of-commenter. It's something I'm working on, but I have a long way to go. No guilt, okay? Comment if you have time or are moved to, but only then. I just love knowing you're out there reading the posts.
On to another thing.
Don had been asking me for the last two days if I wanted to go back to Rhinebeck. Rhinebeck, if you remember, is the town across the river that we visited recently. Well, it's been unbelievably cold here, with wind chills taking the temperature well below zero – and I mean well below zero – so I politely declined.
He kept bringing it up. Finally, he said "I think we should go get that Maxfield Parrish print you love."
What??
He'd been thinking about it ever since we saw it.
So, yesterday afternoon amidst frigid temperatures, we set off on our journey and arrived here.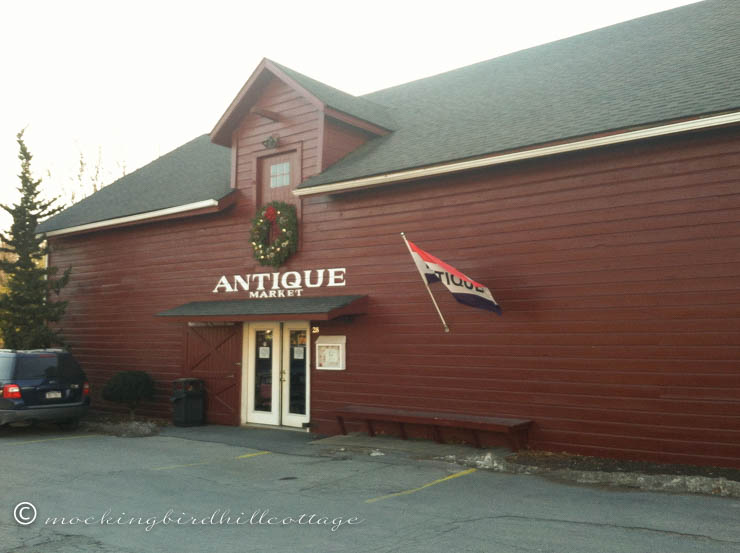 The Antique Market at the Beekman Arms, which is a very, very old inn in the middle of downtown Rhinebeck. Actually, it's America's oldest continually operated inn. We're talking beautiful, old and historic. The Antique Market is behind the Inn.
After looking at the print, then looking at another Maxfield Parrish print (which was more expensive) and almost choosing the other one, then asking some questions which a kind woman working at the desk relayed via the phone to the seller, we went for it. The seller, by the way, collects Maxfield Parrish and now I want to see his home. He doesn't know me, but that doesn't matter. I need to see his collection.
As always in this little cottage, the windows and light (even on this dreary day) make taking a photo of a framed object under glass difficult. So I moved it to the bookshelf to show you.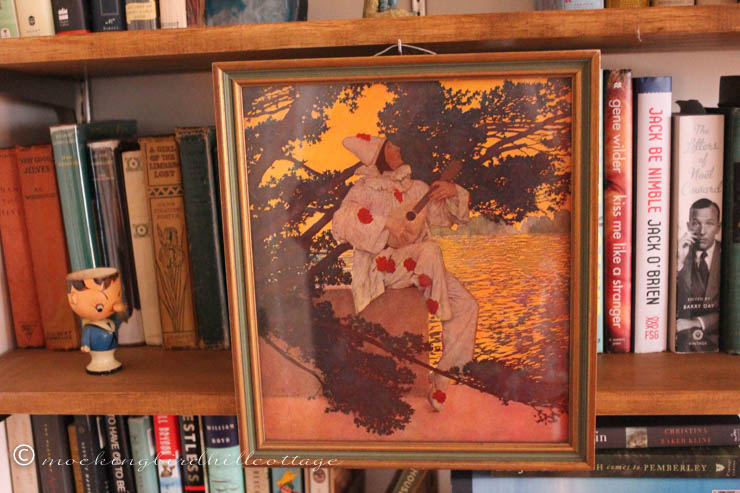 It's called Pierrot's Serenade. I usually go for the deep, luminous blues that Parrish is known for, but this particular print won my heart. The golden hues are incredible. The light in the print is the kind of light that happens in what filmmakers and photographers call the golden hour – that time shortly after sunrise or right before the sunset. Parrish's illustrations are full of that kind of light. The hues are intensely saturated.
He did illustrations for books, magazines, and advertisements and was one of the leading figures of the Golden Age of Illustration, which included our other favorite artist, Norman Rockwell, who named Parrish as his 'idol.' To learn more about him, visit his Wikipedia page where you'll see my all-time favorite illustration The Lantern Bearers.
Someday. Someday.
We're not sure where to put it. Right now, it's hanging over the music cabinet in the den, directly in front of me. But we're not sure if that's where it will stay. I will say that I sure like having it in my sightline as I sit here and blog.
I've wanted one of these original prints for years. Years and years and years.
I'd better stop or you'll think I'm even older than I am.
I'm thrilled to have it. We were talking about Rockwell and Parrish on the way home and decided there is something in both men's work, though they have very different styles, that is heightened, idealized, the kind of world you want to see every day, all the time. The kind of world you long for and need, especially in these troubled times. I think that's why we're so drawn to them.
Excuse me. I must gaze upon my Parrish.
New post up on Just Let Me Finish This Page.
Happy Friday.