Our Christmas tree is still up. We've been planning to take it down today, but neither of us is eager to do the deed. We've had such a lovely holiday season that we just aren't ready to let it go. We gave ourselves the gift of a new water heater, shower nozzle and heat in the bathroom, we had a beautiful Christmas celebration with presents and coffee cake and Don making Chinese food for dinner, we took little day trips that we thoroughly enjoyed, we listened to beautiful music, we read and played and rang in the New Year, and we celebrated our little girl's 16th birthday.
Somehow, the end of the holiday season signals the harsh reality of several months of winter ahead, winter without the sparkly lights and pretty tree. Sure enough, this morning is cold and very windy with gray skies.
Since we wait until mid-December to decorate, we're not screaming "Take all the decorations down!" by this time. We're still enjoying them. And since I decorated sparingly this year, we're not suffering from an overabundance of the sparkly and glittery.
Will we take it down today? It's a bit dry, but is holding up surprisingly well. Hmmm. We'll have to see.
I tried to get photos of Scout's little birthday celebration, but it was evening and the lighting in the den was not all that conducive to picture-taking. Just as we did last year, we gave her a little plate of treats and peanut butter and put it down in front of her, singing Happy Birthday. She always hesitates for a moment, as if she's thinking "Really? You're going to let me eat off a plate? What's the catch?"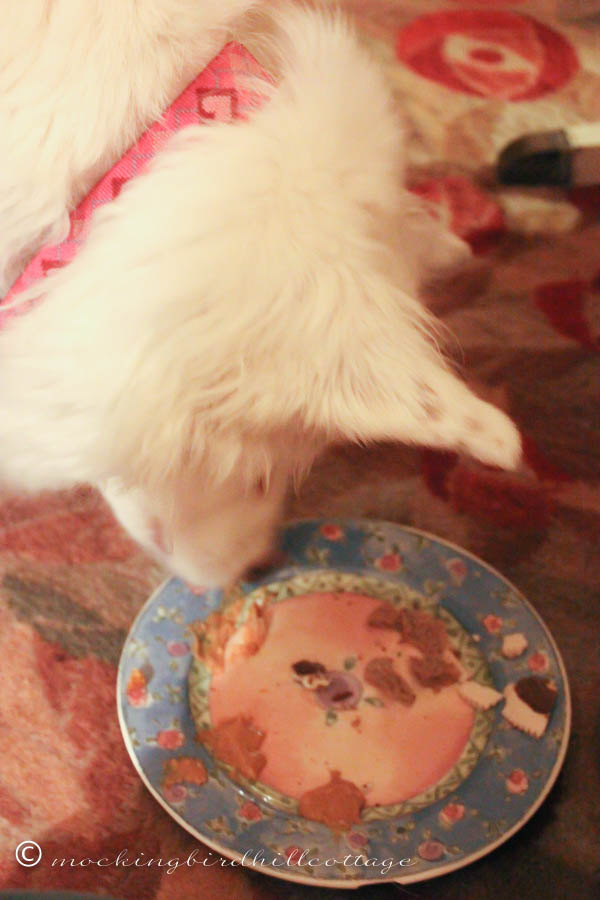 Mmmm-mmmm! Peanut butter!
Scoutie thanks you for all your birthday wishes! I've been reading them to her. She had a good day, that little minx. But she's tired today. There's been a lot of celebrating around this house lately and, frankly, it throws off her routine.
Finally, I thought I'd share with you a photo Don took of me last week when we were eating at the diner in Millbrook. He wanted to capture an expression on my face that he tells me he sees quite often.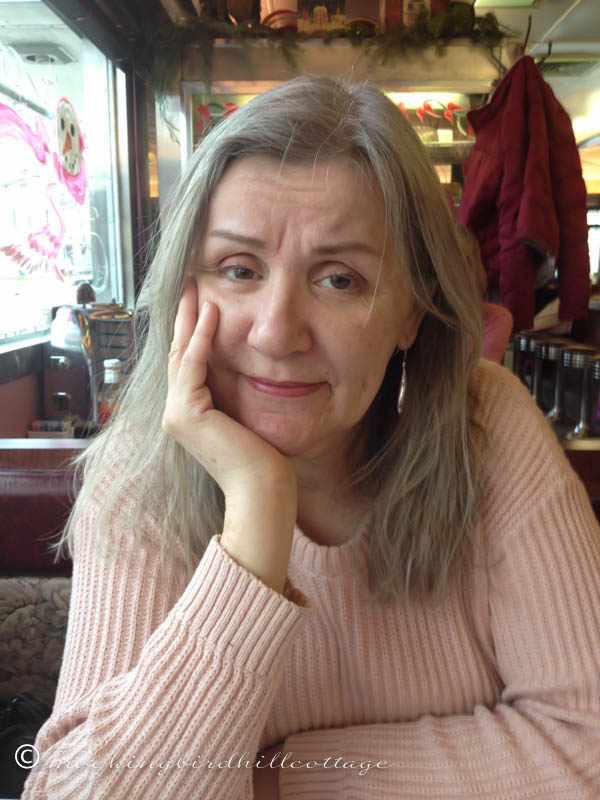 He put it on Facebook with this caption:
This is how Claudia looks at me when I say something stupid.
This then, is pretty much how she looks all the time.
He makes me laugh, that guy.
Happy Monday.