On Sunday, which was our little girl's birthday, we headed to the town-next-door to buy some dog treats at a specialty pet store, which happens to be in the same complex as our local antique center. This antique barn/market is the one I go to most often, simply because it's so close to our home. After a week of day trips to towns across the Hudson River in search of some chairs for our kitchen table, wouldn't you know it? We found two of them just down the road from our cottage.
I spied this one first.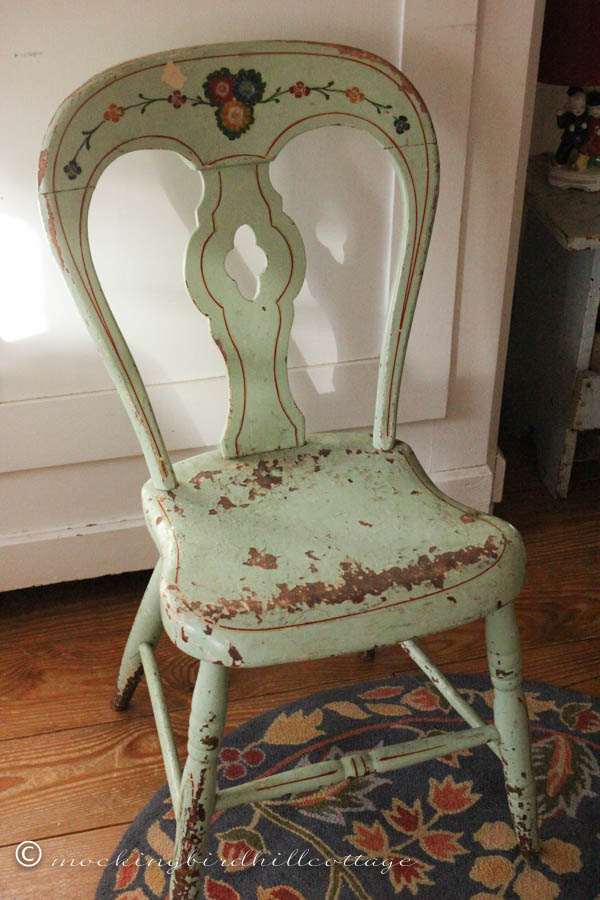 I fell in love. It looks like it should be sitting in a Swiss Chalet somewhere in the Alps, along with Heidi and her grandfather. It's chippy and well-loved-and-used and I knew I wouldn't see another one like it.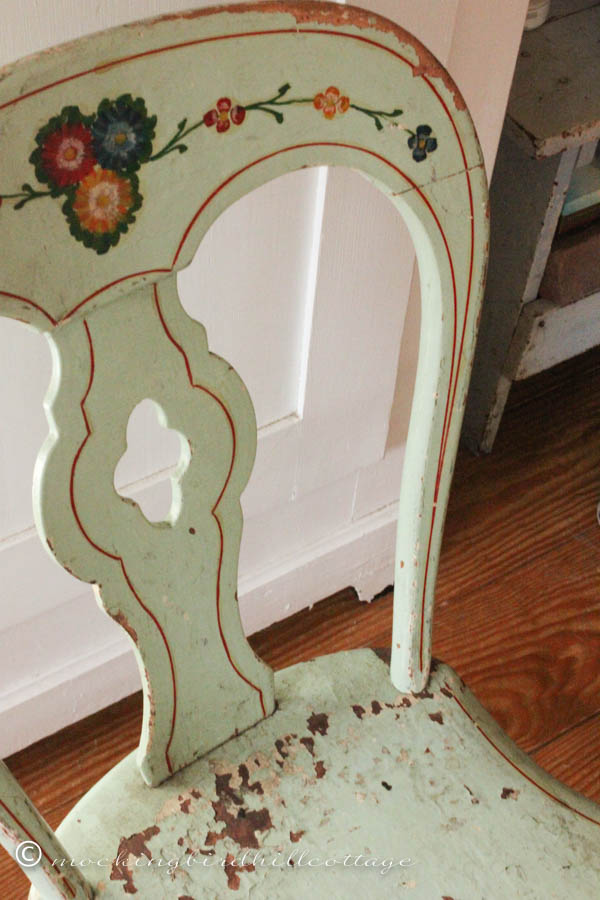 It needs a bit of light sanding and some clear coat. I cleaned it up yesterday (after I took these photos.)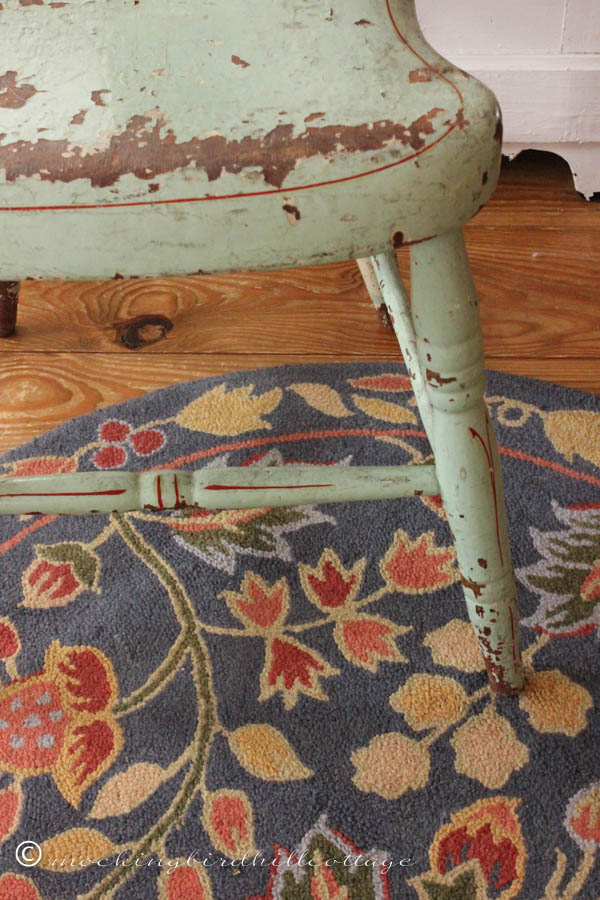 Chippy isn't everyone's cup of tea, but to us, it's a sweet brew. There's a story to these well-worn pieces, isn't there? Where has this chair been? Who sat on it? Was it part of a set? Was it loved?
Once I get it sanded and have applied a few coats of clear coat, those chips will be protected. In the meantime, it's too cold outside to be doing that sort of thing, so it will exist as is for a bit.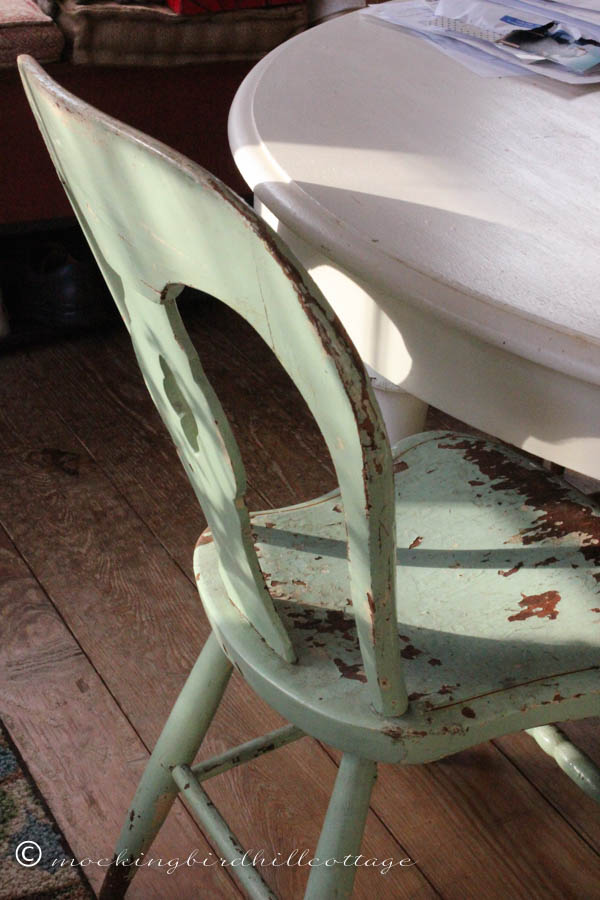 I'm in love.
So, back to the Antique barn – we took the chair downstairs for them to hold and went back upstairs to look around some more and what did I see?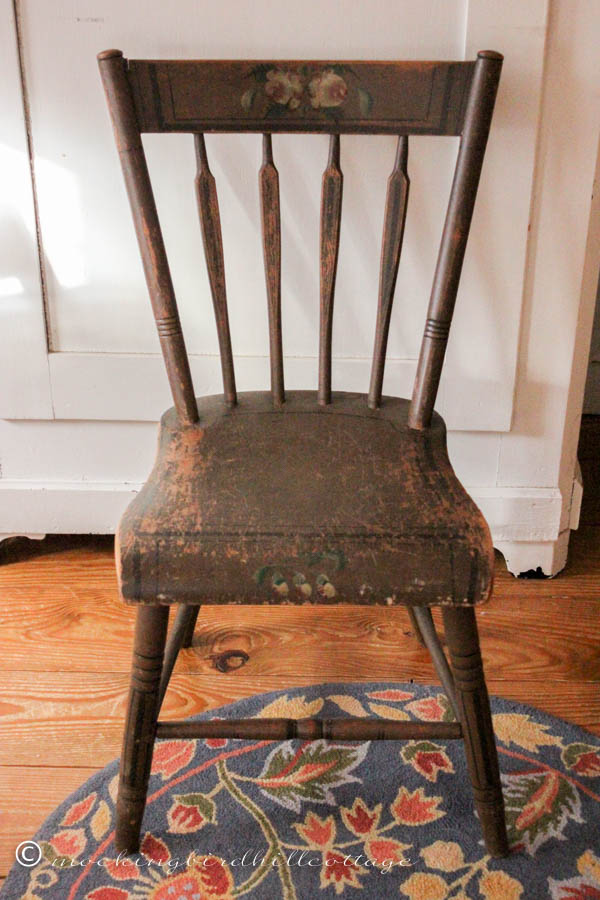 This chair. With flower stencils. This isn't a theme we were looking for. It just happened. (And we will probably confine the flowers to these two chairs.) But it seemed quite serendipitous.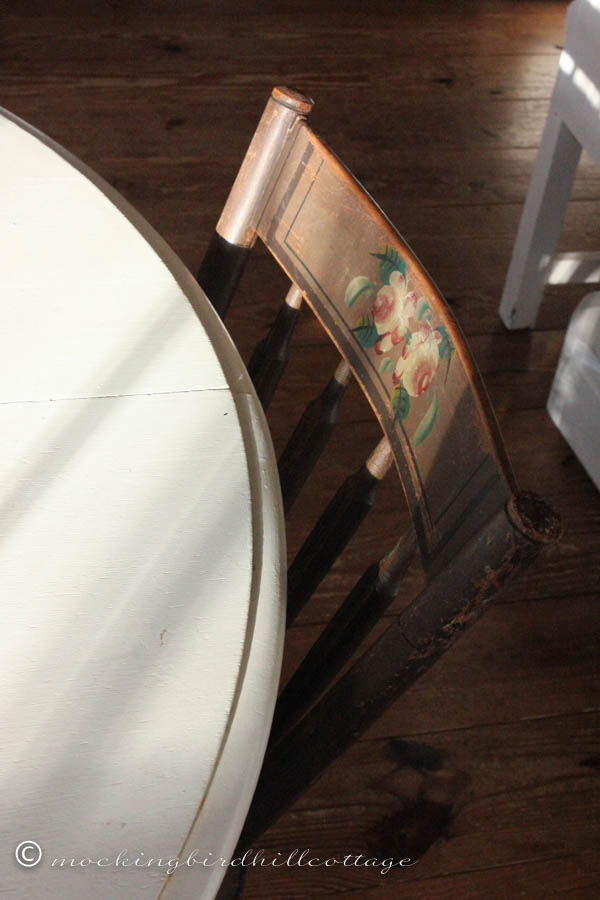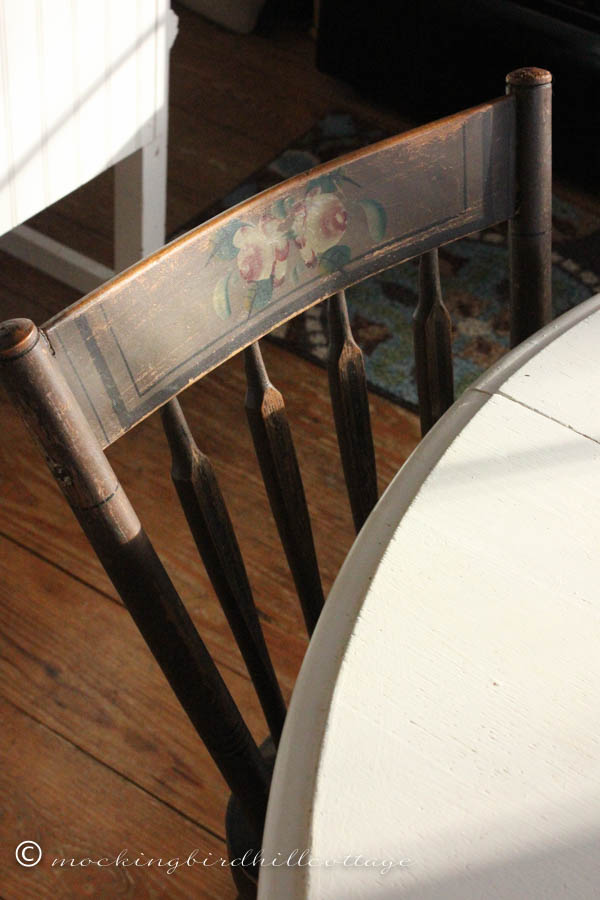 Both chairs are well made and very sturdy. I made Don sit in them as the final test. They were also very inexpensive, so if we end up finding others we like better down the road…no big deal.
We like old. We like used. We like formerly loved. We like weathered and chippy and timeless and, heaven knows, we like a good story.
There you have it. Two new additions to the cottage.
By the way, our other chairs, while lovely to look at, were rickety and kept coming apart. We could have had them professionally re-glued but the expense wasn't worth it to us. They ended up being a big pain in the tush (literally and figuratively.) I still use one of them at the desk, and another is still in use at the table for the time being. Both of them will be replaced at some point. Pretty doesn't always equal practical.
I've entered my cleaning and sorting and purging phase. Yesterday I tackled the little desk near the stairs. More on that tomorrow.
Happy Tuesday.