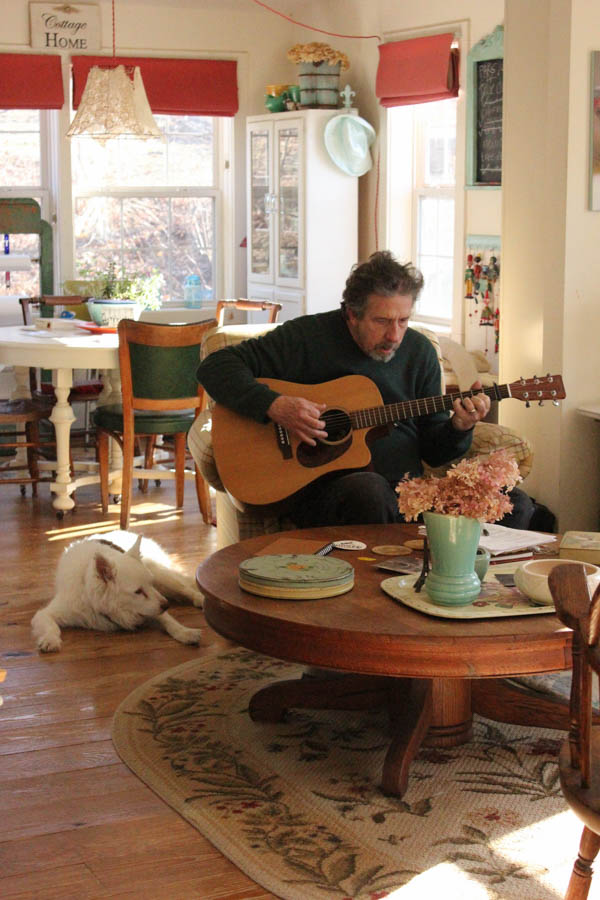 We've been having a lot of 'Grateful Days' lately.
Grateful that we found this cottage, which would be considered by many to be too small, too lacking in storage, too funky. But to us? It's simply perfect. The sunlight pours in its many windows, the open plan downstairs flows beautifully. The kitchen has a high ceiling, perfect for my over 6′4″ husband. The den, which is sunken, has become one of our favorite rooms. Somehow, the addition of the bookshelves put it over the top. Our bedroom is tucked away under the eaves. There's a big old wrap-around porch.
We've been nomadic in the past. For many years, Don's home was often on the road. When I met him, he didn't own much, having shed a lot of his possessions. Just a few boxes. I had lived in many apartments, adding and subtracting possessions as the current living situation dictated. I'd lived in Detroit, Philadelphia, Boston and San Diego, big cities all.
We rented for years, separately and together. Not until we moved out east did we consider the possibility that we might be able to buy a house. Our mortgage payment is hefty since we bought at the height of the market, right before everything went south. As freelancers, that has been a challenge. But it's been a challenge that we've met and I'm very proud of that.
To be honest, there are times we miss renting, simply because everything is the landlord's responsibility. That was a nice little perk, although it's easy to look back at that with rose-colored glasses, isn't it? There were good landlords and not-so-good landlords. Repairs that were made promptly and repairs that were never made. And always, I had the niggling little fear that we might be forced to move, that the rent would increase, that the owner would sell and we'd be searching for a new place.
In the end, the challenges of owning are worth it for us – for now. This is our place. Our little haven. The little cottage in the country I dreamed of for most of my adult years. Who knows? Maybe someday we'll want to sell and rent a little place somewhere else. Maybe we'll want to be rid of the constraints of a mortgage.
But for now, we are grateful. Grateful that we have this roof over our heads, that we have this little  cottage to fill with lots of color and collections and well-loved furniture. Grateful that our little family seems to thrive here. Grateful to have a place where guitars are strummed, where music fills the air, where books are read, where laughter is the best medicine, where sweet dogs can trust that they safe and loved.
Our little girl turns 16 tomorrow. I hope you'll stop by then and say Happy Birthday to her.
Happy Saturday.