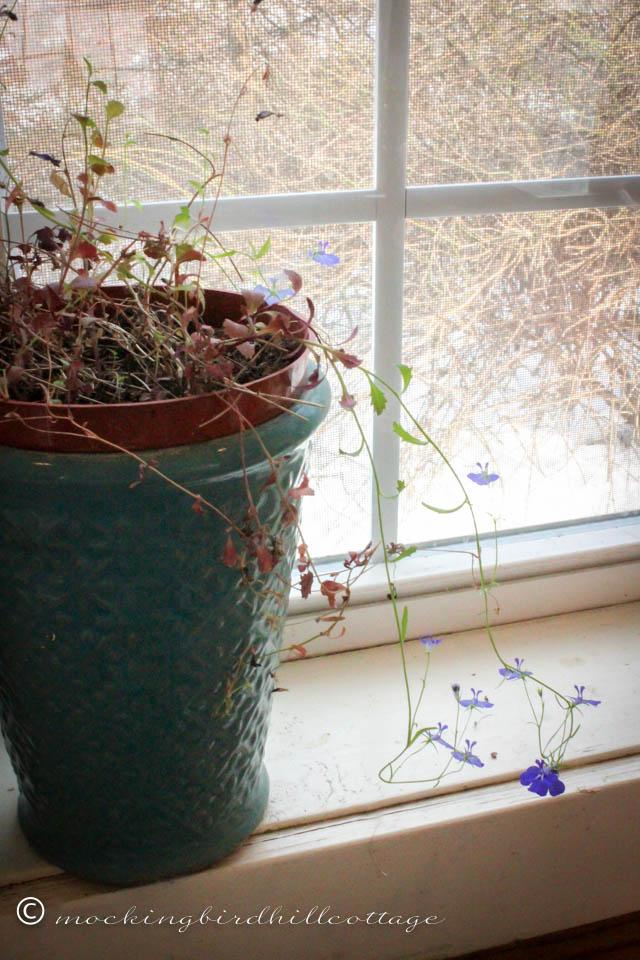 Another porch plant brought in for the winter, this one gracing us with delicate little purple flowers.
I sit here in the early morning lamplight – I seem to be waking up rather early these days – sipping coffee, while Don plays his guitar quietly in the living room, Scoutie sleeping by his side.
I'd say that's a nice way to begin the day.
Speaking of coffee, our neighborhood market ran out of Peet's French Roast and we were forced to try another brand until new stock came in. The brand, which shall be nameless, was okay. But just okay. When I went to Target on Friday, the very first thing I did was run for the coffee aisle and replenish my stock of Peet's. Since it was on sale, I grabbed two.
I didn't actually 'run' for the coffee aisle. A better description would be 'walked briskly.'
There's everything else and then there's Peet's.
We got about six inches of heavy, wet snow yesterday with big, fat flakes falling during the night and well into the day. Drum roll: Don got to use the snow blower. He was very happy. I shoveled Scout's small corral and all the paths to the house and shed. All in all, I got some good exercise and, in terms of yesterday's post, I felt better because of it. Just enough shoveling. But not shoveling to the point of exhaustion which would have been the case pre-snow blower.
Then we had some frozen pizza.
Then, to test out the effects of the snow blower on the long, uphill driveway, Don got in the car and went to the store to buy some Vitamin D, per your advice.
Then we watched Coal Miner's Daughter  on TCM. I hadn't seen it since it first came out in 1980, so it was like watching it for the first time. Sissy Spacek and Tommy Lee Jones were wonderful. Last Sunday we watched To Kill a Mockingbird. Thursday we watched Singin' In The Rain. All in all, a great week for movies on TCM. Do I even need to say that both Don and I cried when Scout said "Hey, Boo" in TKAM?
No, of course I don't.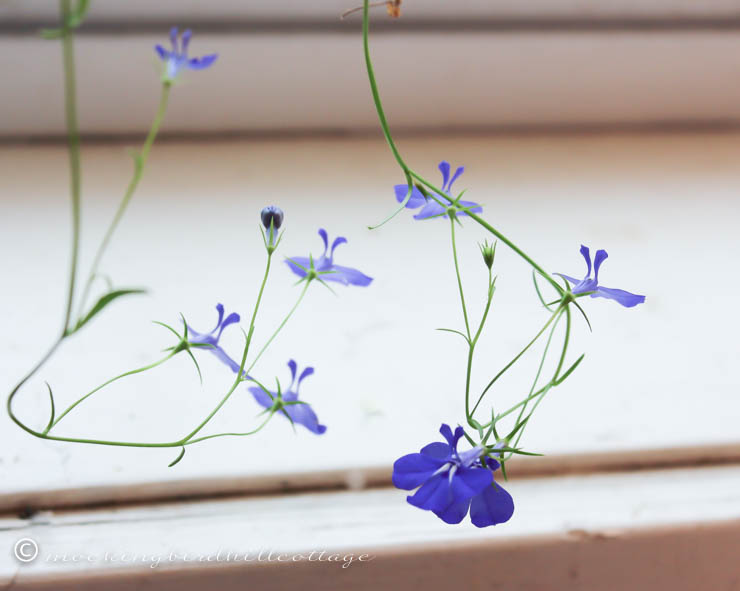 I'm almost finished with John Connolly's The Reapers. (Goodness, I love his books.) Then I have to take a break from all things Connolly and start reading some books scheduled for review.
Remember the quilt I pieced when I was working in Hartford a couple of years ago? I started hand quilting it at the time, then I lost interest and put it away. I hauled it downstairs the other day and it now sits on top of the basket across the room from me here in the den – taunting me. I do believe I'm going to get back into the hand quilting, which will take a long while to finish as I apparently decided to quilt overlapping circles that are dense and close together. That means the amount of quilting per square is on the heavy side. That also means that I have continue that pattern or it will look bizarre, so it will take a lot of time. This is the kind of project where I have to erase the enormity of the whole picture from my mind and truly do it 'one day at a time.'
How is your Sunday shaping up? I hope you are having a relaxing, happy, wonderful day.
Happy Sunday.