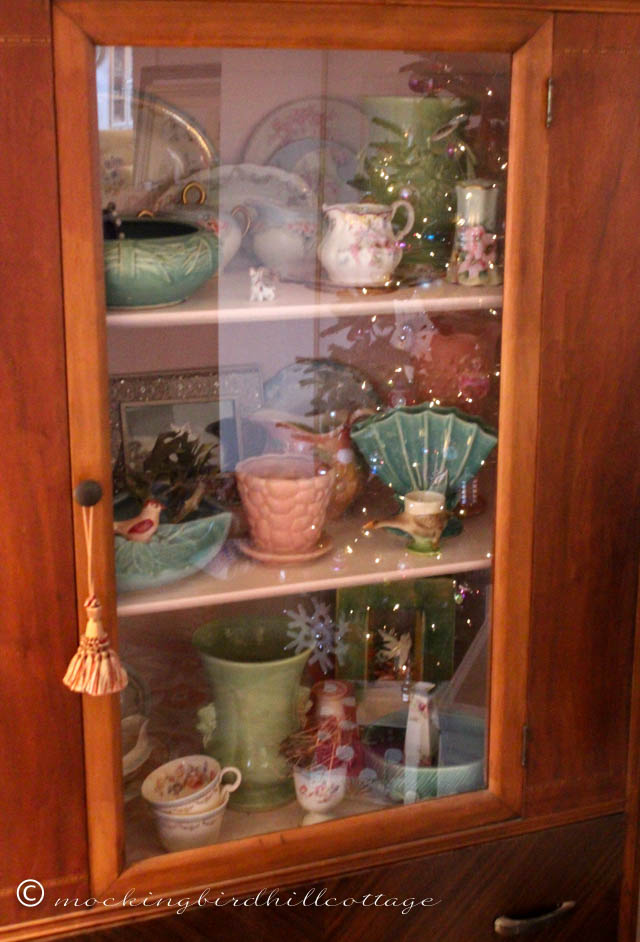 Absolutely nothing to do with this post, except to tell you the tree is still up. We like it that way.
Some days, like today, I wake up and have no idea what the hell I'm going to write about. It happened a couple of days ago, as well. And I think to myself, for a split second, maybe it's time to let it go and move on.
Just for a split second.
Trying to come up with new and original content every day is sometimes overwhelming. At other times, it's a breeze. But it's the days when nothing seems interesting or exciting or momentous in any way, where the internet itself gets to me, whether through hacked emails or hacking attempts on this blog or the sheer enormity of the internet juggernaut that seems to be careening out of control, or when I get tired of my own voice – those are the hard days.
I don't pull content or photos from elsewhere on the web, though I suppose that might make things easier. But I'm an original content blogger. It's just the way I'm wired. I'm all for adapting and change but that's one change I cannot bring myself to make. I can't do it any other way – this blog is my voice, my thoughts, my 'brand' if you will, no one else's. It's why I consistently turn down offers that come from writers or companies wanting to do guest posts. And, believe me, there are a lot of them in my inbox on any given day. No judgment here, just a sense of what is right for me.
Blogging has changed and change can be good. I recently read a great post from a well-known blogger, Tsh Oxenreider of The Art of Simple. Here's the link if you're interested. In the post she explores the way blogging has changed in the eight years she's been at it and proceeds to clarify her blogging intentions.
It resonated with me because these are the things many of us wrestle with. I'll admit it: I liked her conclusions.
What's changed?
Comments are down – Yes, they are, though I am pleased to have a loyal group of readers who comment on a daily basis. But I only have to go back about a year ago to see that I used to get many more comments. The reasons cited? Lots more blogs out there, lots more social media that competes for a reader's attention. I love the conversation that goes on here and I answer almost every comment. But I've been a less than constant commenter on other's blogs. I need to work on that. Let me add that I appreciate that you read the blog whether you comment or not. Truly. Don't feel you have to.
Threaded comments (which allow the back-and-forth conversations we have) are one of the best things to happen to this blog, in my humble opinion.
Attention spans are shorter – Oy. Don't get me going on this one. It's true. Many readers seem to want to read things in shorter doses. Or they prefer Instagram or Facebook. Or Twitter. I use all those platforms, but very sparingly indeed, because I'm all about the power of the written word here on this blog. Not captions under Instagram photos, though I certainly enjoy seeing them. Not whatever the word limit is on a tweet. And Facebook is nice, but if I have a choice to write here on the blog or post an update on MHC's Facebook page, guess what's going to win out?
If you have a short attention span, you're probably not going to keep reading this blog. I don't care that the conventional wisdom seems to be 'write shorter posts.' That ain't me.
As for Pinterest, I constantly read how much traffic it drives to blogs and I know it's true. It's a fact. I use Pinterest, but not very often. And I find I use it because I feel I 'should.' That's not a good reason to spend time there that I could be spending elsewhere in my life. So no more 'shoulds' for me. I'll only be there when I want to be there. If I have less traffic, so be it.
Ad income is down – Yes, it is. Ads, especially banner ads like those on this blog, are not as good a source of income as they used to be. Advertisements on blogs are evolving. It's troubling for those of us who count on ad income to help pay some bills, so many bloggers are doing more and more sponsored content and I totally understand that. I don't do very much of it here, just the occasional post. These are all things I have to wrestle with as I move forward. I will explore other options as long as the integrity of this blog remains my first priority. I'm heading toward my seventh anniversary of blogging (on February 17th) and I've put in a lot of time and effort to bring the blog to where it is at this point in time. It must be my authentic (a word that is overused these days, sorry!) voice. There's no other option.
Tsh says, "As for me, I'm all over old-fashioned blogging." Me, too. That, for me, means original content, longer posts, posts where my voice is the one you're hearing, not that of a sponsor (unless it's something I really believe in and even then, you'll hear my voice.) I post every day. That may change, it may not. If there's a day where I simply can't come up with anything, I'll take it as an indication that I just might need a day off.
I used to post about blogging more often. I used to post tips about photo editing and all sorts of things related to blogging. I even had plans to start a blogging-help-kind-of-blog. But two things made me stop doing that. Number one: There's already a lot of content out there about blogging, lots and lots of blogging advice. I also realized that I've grown averse to giving advice because there are as many ways to blog as there are bloggers. My way is most likely not your way, nor should it be.
But here's the other thing: A lot of my readers don't blog. They like reading blogs but don't really care about they whys and hows of blogging.
So, my friends, posts like this one will be few and far between.
I'm in a reflective stage as I head toward my blogging anniversary on February 17th. Seven years. Who'd have thunk it? It has been a joy and a challenge. It has been very hard and effortless. But above all, it has been a tremendously rewarding creative outlet for my thoughts and ideas. It has been the writing discipline that I needed. It has taught me the joy of the camera. It has brought you into my life.
So thanks for your patience as I sort through and clarify my feelings about this blog and blogging in general.
I'm still here.
Happy Thursday.