When you live in a small house and have an even smaller budget, you have to be, shall we say, "creative" with your solutions. Case in point: both Don and I freelance, therefore, all of our work related materials live here. We don't leave the house and 'go to an office.' In my case, I write two blogs here, have tons of reference materials (including books) for my coaching work and my book reviews, all receipts for both the blog and my work away from home are kept here, along with a lot of the other paperwork that goes along with paying household bills.
We have the guest bedroom/office/Don's studio, where there are two file cabinets – one for me, one for Don. Mine holds dialect research and other 'must save' information. Don uses the desk in that room for his work. But the rest of the room is filled with a bed, a linen cabinet, a fax machine, and all of Don's guitars and music paraphernalia. It can't simply be an office/studio space. It also has to function as a guest room.
Then I have the 'studio' in the upstairs hallway – but that's where the sewing machines live. (I sometimes fantasize about storing the machines and using that worktop as a desk. We'll see.)
A few years back, Don came home with a freebie he found on the curb. It was an ugly computer desk. My first response was, "Take it back." But then I  accepted Don's challenge and reimagined it with paint and vintage fabric. To read more about that, click here. For a while, it sat in the den, but I decided I wanted a separate place to go when I had to do paperwork.
Where is there any extra space in this little cottage? Well, we have a little cupboard under the stairs where we store things that we don't need to get to very often, which means that most of the time it's wasted space. So why not put the desk there?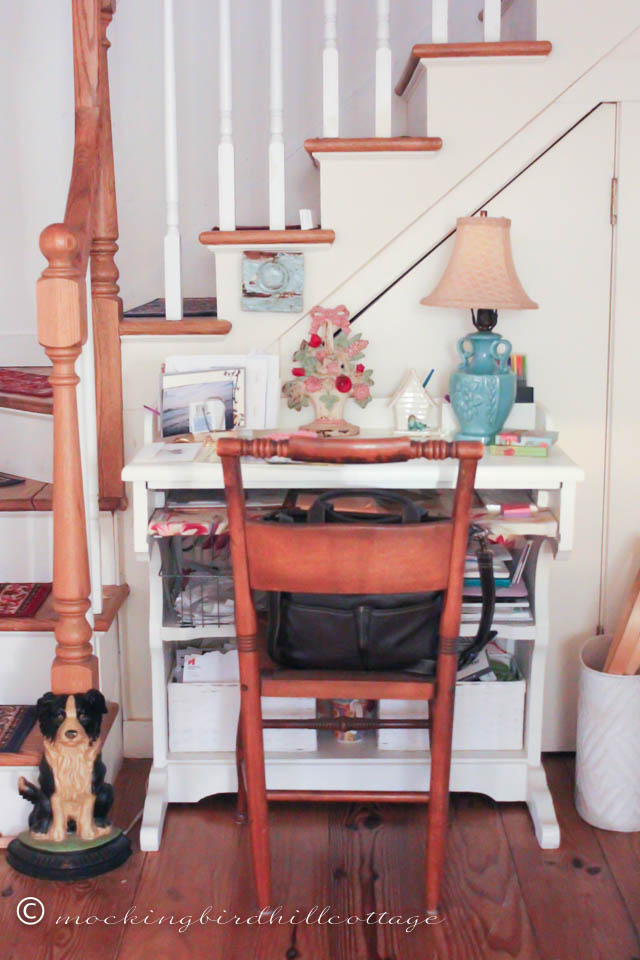 You can see the little closet behind the desk. When I need to access it, I move the desk away from the wall. It's a bit of a pain, but this is the kind of thing you do when you live in a small space. You compromise.
The chair, by the way, is one of the chairs I am longing to get rid of. Soon.
Monday dawned and I knew I had to tackle this area, which had boxes stacked on top of the desk and baskets overflowing with paperwork. I sat on the floor, pulled out the baskets and sorted like a madwoman.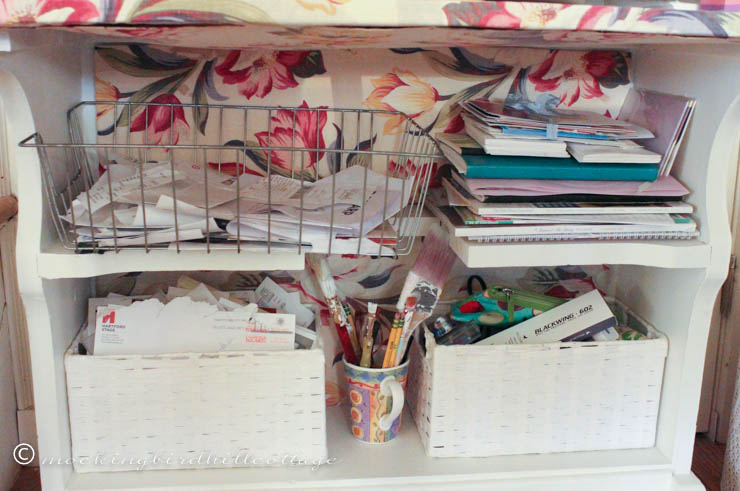 On the shelves beneath the desk: the wire basket holds all our paid bills, the stack to the right of it holds old agendas and notebooks, the basket on the left on the lower shelf holds all my receipts and paperwork for both the blog and my coaching work, the one on the right holds chargers, cords and my beloved Blackwings. The paint brushes in the cup are used for work on the dollhouse.
2014 paid bills/receipts have been gathered together with a giant rubber band and are now sitting in the big white cupboard in the living room. Everything else has been sorted, rearranged or dumped in the trash.
The top of the desk has been cleaned off and is ready for 2015.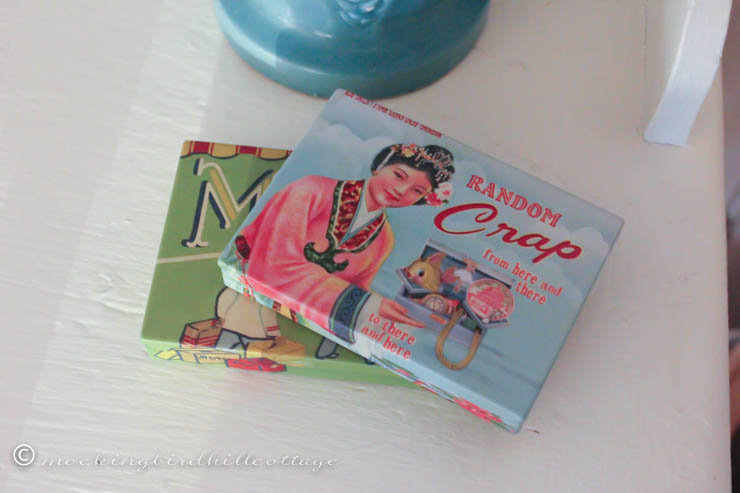 My tins. The green one holds business cards that I want to hang on to.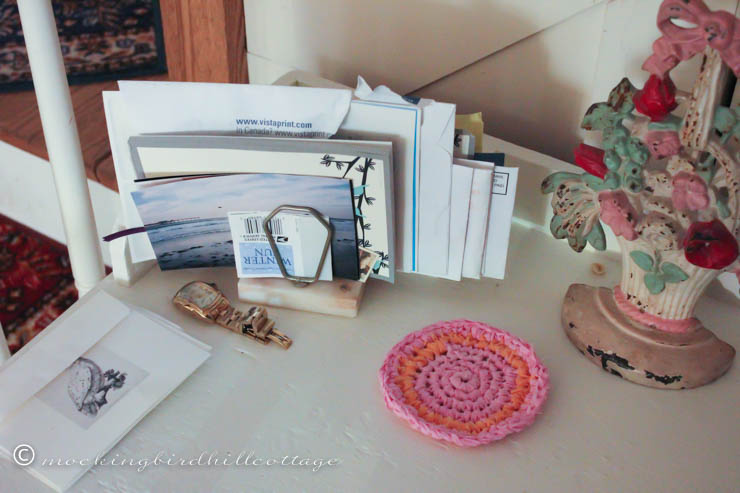 The coaster was actually a rug made by someone for that mini swap. But it's out of scale and too thick for the dollhouse, so I thought I'd repurpose it as a coaster. (My watch needs a new battery, that's why it's sitting there.)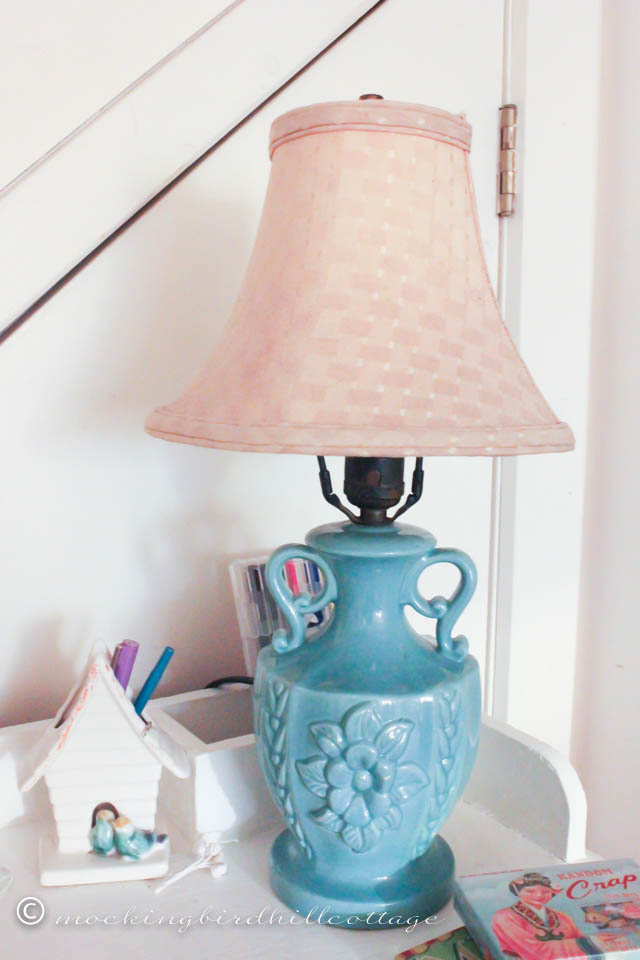 My lamp find from the Country Living Fair with its temporary lampshade solution. Note to self: get on that. The little cottage with the two birds wall pocket was a gift from Judy.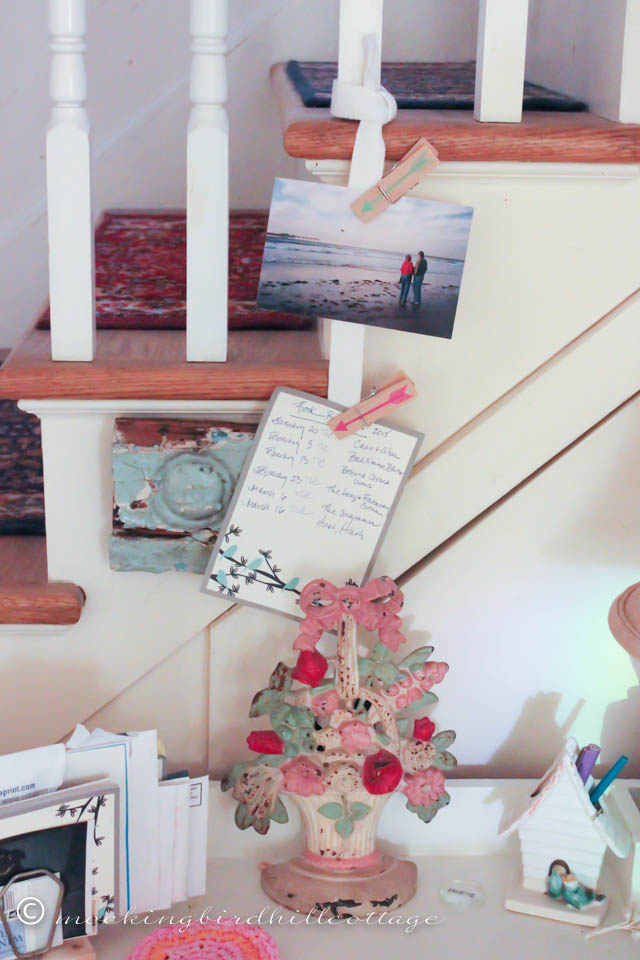 Instead of trying to fit some sort of pin board in here, at least until I find one that works, I tied some thick trim I had to one of the spindles. Then I used oversized clothespins (I think I found them in the $1 bin at Target) to hold notes, one of which is my upcoming book review schedule. That photo is of Don and I on the beach in San Diego.
The wind chill today is below zero. I'm thinking I'd like to be back on that beach.
The doorstop was an auction find.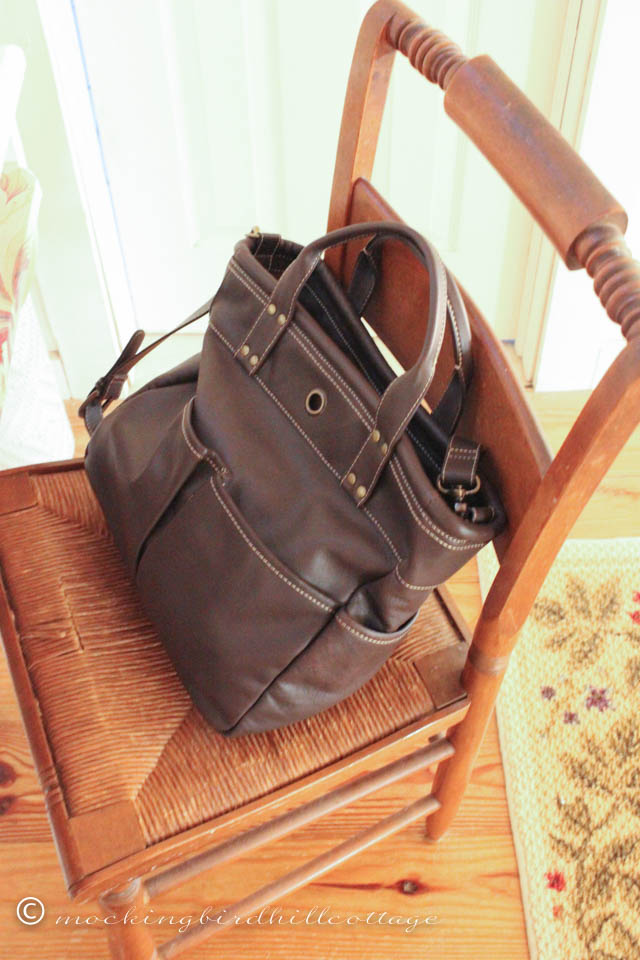 And my new tote bag lives on the chair.
No, the desk isn't elegant. It's sort of funky. It was free. Total cost? $0. The paint I had on hand, the vintage fabric was in my stash. I'd say you can't beat the price.
I've taken a rarely used space and made it into a work area for a girl with several irons in the fire.
That would be me.
Happy Wednesday.