No, not the Pentel, like the pen.
Not Pantone, like the colors.
No, my friends, I've come up with the newest trend in decorating. Magazines will come calling. Bloggers will be begging me for interviews. My work will appear in decorating books. I'll be deluged with offers from major companies to use – for free – their appliances, their furniture, their lighting fixtures. You'll start to see countless posts here on MHC where the tag line is something like, "Thanks to (fill in the blank) who graciously provided all of the major appliances in the kitchen."
Bear with me. We're constantly seeing mantels on decorating/home/DIY blogs. Right? Mantels redone for each season, or holiday. Vignettes (you know how tired of that term I am) on the mantels. Garlands draped from the mantel. Sparkly lights along the top of the mantel. Striking artwork or architectural salvage hung over the mantel.
Those of us without a fireplace or a faux mantel are left out of the loop. I didn't grow up with a fireplace. The only time I've ever  had a fireplace – and it was non-working – was when Don and I rented a little Craftsman cottage in San Diego. Would I like a fireplace? Yes. But, for now, there are no fireplaces at Mockingbird Hill Cottage. Nor will there be in the conceivable future.
Wait a minute. Hold on.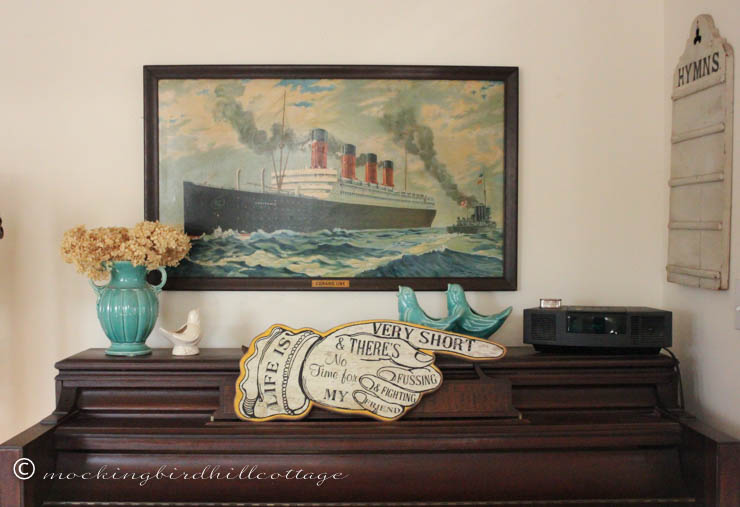 I have a piano. I decorate the top of the piano. I hang things above the piano.
Piano + mantel = Pantel.
Are you with me?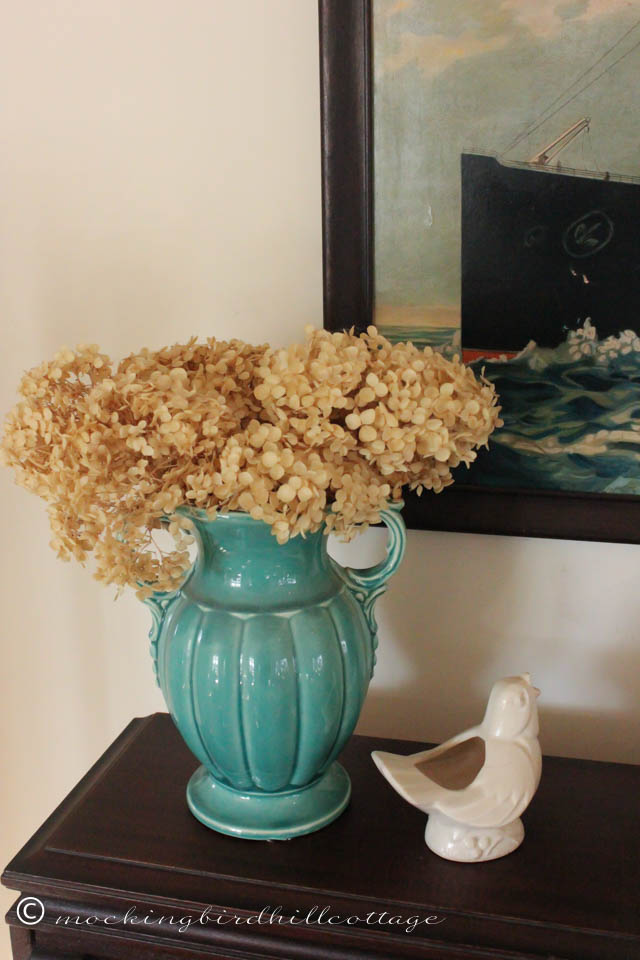 A beautiful McCoy vase filled with dried hydrangeas from my garden. A little white McCoy singing bird.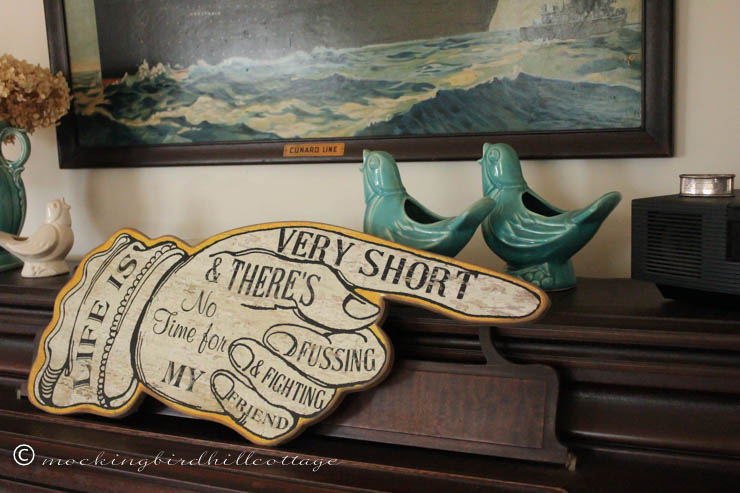 A funky sign. Two more McCoy birds in Aqua. A Bose radio/CD player topped with an antique napkin ring engraved with the name 'Claudia.'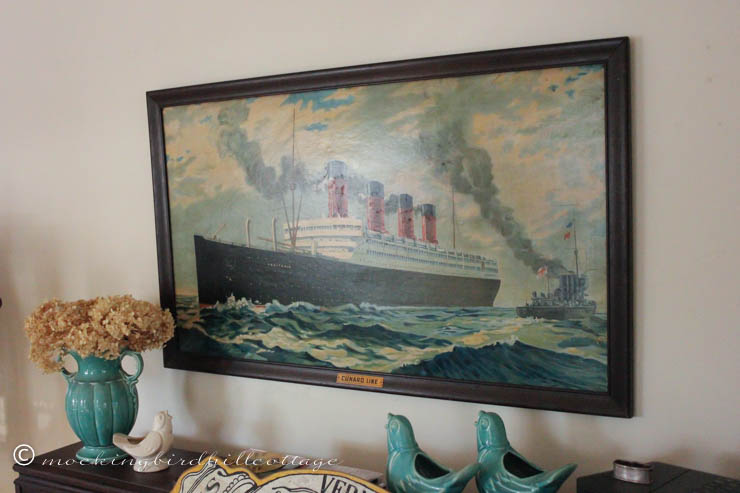 The antique lithograph of the Aquitania hanging above the pantel.
I have a Pantel.
I don't change it out very often. I'm not one to change things up to herald a new season. Once I've hit upon an arrangement I like, I tend to keep it there for a while. I like this arrangement. Therefore, it's staying.
But it's my version of a mantel. It's certainly as wide as many mantels. Wider, even.
It's just as pretty as many mantels. It's made of mahogany, for goodness sake!
It even plays music (and I'm not talking about the Bose, though that's nice.) I was just making it play some music the other day. Take that, mantels. Where's your music?
I find I'm liking it even more now that I've coined the term 'Pantel.'
Everyone has a mantel. That's so old school.
But a pantel, now that's a horse of a different color.
What do you think?
Happy Saturday.