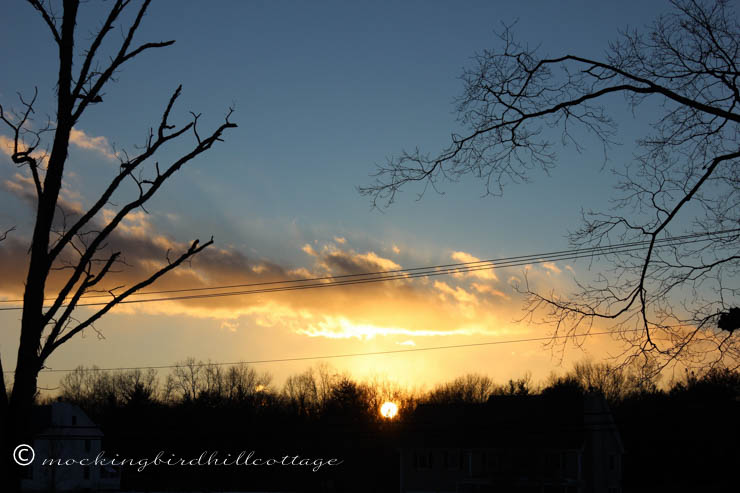 The last few days have brought a realization. The pieces of a puzzle have come together for me at this point in time.
Winter, after a lifetime of winters, is different for me now. I was raised in the Midwest, have lived in Boston and Philadelphia and New York State – all places that see their share of tough winters. I've only spent eight years of my life in a place that was sunny and warm in the winter. The conclusion being: I'm used to winter. I come from tough stock. I've braved all sorts of wintery experiences. I can handle it.
But I can't. Starting with last year, which was admittedly an extreme year for winter in my neck of the woods, I have crossed a sort of divide. Winter brings a kind of depression to me. I feel down. I feel distant. I have to force myself to do something other than those routine daily chores that are done without thinking.
Almost as soon as January entered the picture, with all the holiday celebrations come and gone, I felt a change coming over me. I became a bit detached, for want of a better word. I couldn't understand it at first, but as I put those puzzle pieces together, a pattern emerged. A bit of lethargy, more than a little testiness on my part, no feeling of get-up-and-go. Nothing seemed to hold my interest for very long.
I think, after years and years of winters, winters that had no effect on me other than the usual hassles of shoveling and inconvenience (cold temperatures have never really bothered me), I've entered a new phase. I get depressed in the winter.
This is not to be confused with clinical depression, which is an entirely different thing.
So maybe I'll call it the Doldrums.
This is seasonal. It's a mix of Seasonal Affective Disorder, feeling shut in, unable to work in the garden, endless gray skies and extreme weather, along with a lack of work that often comes in the winter. There's probably more to it than that, but that's a good start.
It's such a strange change for me. Almost like I'm dealing with someone other than myself. Did reaching the 60 year mark also mark a mood change? I mentioned it to my dad yesterday and he immediately said, "It's because you're older." He said it very firmly, with no hesitation. He's been there, he said.
I know all about full spectrum lights and SAD. I need to get more exercise, force myself to take walks on a gray, wintry day, and my sister suggested some Vitamin D. I'm pretty sure I know what to do to combat this feeling. Nevertheless, it's a wee bit bewildering and baffling. It's a new Winter-Me. I can't say I'm entirely comfortable with it and I suppose that goes with the territory.
Yesterday, I was determined to be cheery and I pulled it off, for the most part. Today, we're being inundated with snow as a result of a Nor'easter. Another challenge. Being in the country is lovely most of the time, but in the winter it can be tough. Cities also bring challenges, but you're out and about along with lots of other people, so there is less of a feeling of isolation. Isolation that I normally love and embrace.
Blogging helps because it forces me to write something every day. It helps me to see the beauty of daily life – even in the winter.
Ah well. Do any of you suffer from this winter malady? Do you find yourself with a case of the blues during these days of less daylight and more weather challenges?
Do you get a case of the Doldrums?
(You may occasionally see an ad on one of the photos in a post. I'm experimenting with avenues for more ad income, which has been very low as of late. Just giving you a heads up.)
Happy Saturday.